The Buffalo Beauts are heading to Minnesota for their first two meetings against the Whitecaps this season. Both currently undefeated teams are set to face each other in back-to-back contests on Oct. 27 and Oct. 28 at Minnesota's TRIA Orthopedic Rink in St. Paul. But of all the Beauts on the team, defender Jordyn Burns may be the most readied and most prepared for the two upcoming contests. The 26-year-old Burns is a native of  Chanhassen, Minnesota and played two of her three years of NCAA hockey at the University of Minnesota. She won the 2013 National Championship with the Golden Gophers.
"I'm really looking forward to it," Burns told THW after an Oct. 22 practice. "Going home is always amazing, and playing with the girls that I grew up with or in college with."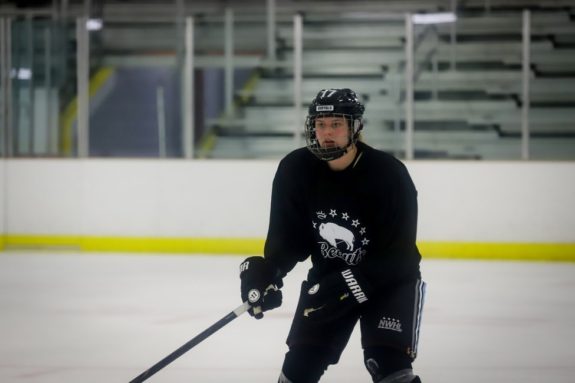 This weekend's showing between the Beauts and the Whitecaps is decisively a battle between the two very best teams in the NWHL. Burns' Beauts have won both of their regular season games – one on the road and one at home against the Connecticut Whale – by an assertive combined score of 11-0. The Beauts have yet to give up a goal. The Whitecaps are undefeated in four games – all against the Metropolitan Riveters – and were the more potent team in each game, fully outscoring the Rivs 18-6.
Burns' Familiarity With the Opposition
So what will be a difference maker for Buffalo? Well, at least in Burns' case it comes down to familiarity. Four of the opposing Whitecaps' most key players are former teammates of hers. Not only did Burns win an NCAA title with Whitecaps goalie Amanda Leveille, but the two are former Isobel Cup teammates together when the Beauts won the NWHL title in the 2016-17 season. While playing for the Golden Gophers she was also teammates with Whitecaps (and USA Olympians) Lee Stecklein and Hannah Brandt, as well talented forward Katie Schipper.
Certainly Beauts coaches Ric Seiling and Craig Muni would have familiarity with Leveille's tendencies too. As would seven other Beauts besides Burns that remain with the team from the 2016-17 Cup-winning season. Burns' familiarity though and having a sense of the lay of the land is the most encompassing however. We asked Burns if she felt her experience in having these players as teammates before could lead to her advantage.
Happy Birthday, @jburns_17! 🎉🎈 pic.twitter.com/CuRgFPP99C

— Buffalo Beauts (@BuffaloBeauts) September 29, 2018
"I definitely think it helps," she said. "I played with them all in college. I obviously grew up playing with Hannah Brandt a little more just because we were in the same level growing up – U14 all the way up. I definitely think there's a bit of an advantage. There's tendencies. Obviously with them in college, I know what they're capable of and how big of threats they all are. I think it will help. Hopefully I have some good insight to give to the team, because I won't be able to cover them just myself. We're going to need to have the whole team with our heads on a swivel."
The Buffalo Defense Is Armed and Ready
Of the eight players from the Beauts' championship season, five of them are defenders. Burns, Jacquie Greco, Emily Pfalzer, Sarah Casorso and Lisa Chesson all played on the 2016-17 squad and have developed a really nice chemistry between them. It is worth noting that Pflazer was not on the Beauts for the 2017-18 season, as she was centralized with the USA Women's National Team and took part in the Olympics, but that has not seemed to matter in terms of inner cohesiveness. These blueliners play interchangeably and consistently support one another – it has been a staple of the Buffalo Beauts since these defenders first came together as teammates. That type of unity was extended last season to include All-Star defender Sarah Edney, who has proven to be one of the best rearguards on the team.
Now the Beauts have two new defenders – a stalwart Clarkson Cup and Isobel Cup champion in Blake Bolden and a standout rookie in Savannah Harmon. According to Burns it was not even a matter of incorporating or meshing with the two newcomers. Rather, it's as if Bolden and Harmon have been on the team all along.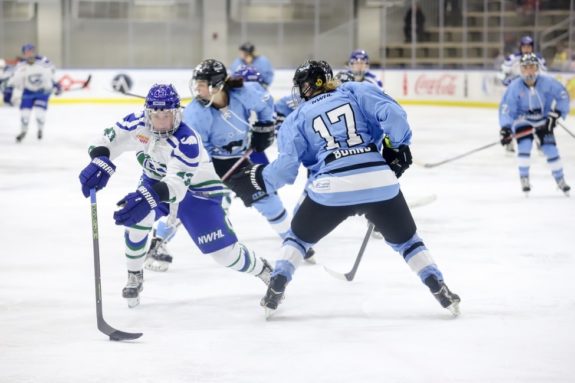 "They fit right in, right from the get-go," Burns explained. "We're giving them as much ice as we possibly can. We're immersing them in our culture as a Beauts hockey team. On the ice and off the ice, we're all great friends. So I think the chemistry off the ice has really helped on ice. Obviously we can't wait for Blake Bolden to move to Buffalo so we can have her a little more – we just have her for games right now. Harmon has been amazing. She's here at every practice. She's such a great girl. It's been really easy just because everyone is open to being a part of the team and wanting the team to be successful, so we are all buying into that. That helps."
Burns Getting the Tap on the Shoulder
Burns is a quieter persona who doesn't mind flying under the radar. Her responsibility to defense has been noted enough that she was named an NWHL All-Star last season too. Anything that she might lack in flashiness is more than made up for – at least tenfold – in her character and the respect that she shows her teammates. When the Beauts have newcomers like Bolden or rookies like Harmon, Annika Zalewski, and Juls Iafallo, Burns is one of the players who puts them at ease and brings a permeating comfort for everyone.
"I haven't always seen as much ice as a lot of people have, even in college," she shared about herself. "I think my role within the team is welcoming players, making them really feel a part of it. Help them any way that I can. I think it's something I've really learned to take on, whether it's on the ice or off the ice. I like to be there for someone. I think within the past couple years I've gotten really good at that sort of leadership role. Hopefully they enjoy having me."
With our next pick, #TeamLeveille will GOPHER a true champ and Minnesota native! It's National and Isobel Cup Champion, Jordyn Burns from the @BuffaloBeauts! #NWHLASG pic.twitter.com/rIFw03Up01

— NWHL (@NWHL) January 23, 2018
It is a bit surprising that Burns has yet to play through the Beauts' first two games this season. Here is a defender that has 30 NWHL regular season games to her credit and four postseason games. Burns has not sat out a Beauts playoff game in her two previous seasons with the team. But with the team venturing to Minnesota this weekend – back where she grew up – combined with the work she has been putting in, it seems very likely that Burns gets the tap on the shoulder against the Whitecaps. Getting her first action of the season in against Minnesota makes sense. You need a shutdown defender against a team whose weaponry is on par with Buffalo's. Burns is looking to generate a little firepower of her own, while keeping her strong points as a defender.
"A lot of our focus this year for defense is being a little more offensively minded," Burns told THW. "I'm not typically one to be so offensively minded. I am one of those stay-at-home 'D'. If you don't notice me, I'm doing my job. But this year and in the offseason I've been focusing on getting up in the play. I need to make myself a little more present within the play. So I've really been focusing on that within practices and whenever I possibly can, jumping up in there."
Making the Difference for Buffalo
The Beauts and the Whitecaps are very evenly matched. Both squads have tremendous goaltending. Each team has firepower. As of Oct. 23, Minnesota's Jonna Curtis leads the NWHL in scoring with seven points (3G, 4A) in four games, while fellow Whitecaps Stecklein and Brandt are presently tied with Buffalo's Hayley Scamurra for second place with six points a piece. Buffalo's Scamurra and Maddie Elia are tied with Curtis and Brandt, and the Riveters' Madison Packer in the league lead for goals with three tallies each. When it comes down to teams being so similarly matched, coaches need to look for advantages wherever they can find them.
An advantage can be found by inserting Burns into the Beauts lineup. She possesses the wherewithal and the defensive strength needed to neutralize a formidable Whitecaps offense. Additionally, Burns will be playing on Minnesota ice. For what that's worth, there is a human factor that comes from playing in familiar confines that can give a slight edge. It is time for the Beauts to tap Burns on the shoulder for these next two games, and then some.
General Manager of the Buffalo Beauts (NWHL). Hockey history writer "The Hockey Writers". Credentialed media for the NHL Combine and 2018 IIHF World Junior Championships in Buffalo, NY, USA. Born and raised in Buffalo, NY. Lifelong hockey fan for over 40 years. Proponent of the women's game.