The Buffalo Beauts not only won their home opener at the HarborCenter, but they did so with exclamation points in tow – seven of them, to be exact. Fans in attendance on Saturday Oct. 13, 2018 were in for a real treat, as the Beauts whitewashed the Connecticut Whale by a score of 7-0. Seven different Beauts skaters tallied goals, including three rookies. The win gives Buffalo a serious 2-0 record to start their season, and an astounding 11 goals scored in only two games.
The hometown fans filled the friendly confines of the HarborCenter, and a sizable crowd was on hand. Buffalo fans likely could not get enough of the action and the goal scoring, but they will have to be patient from here on out. The scheduling for the Beauts over the next few weeks is a little strange. Buffalo will not play a game at the HarborCenter again until Saturday Dec. 8, 2018 when they face the Whale once more. In the meantime they will have two pairs of away games on the weekends of Oct. 27/28 and Nov. 17/18. The Beauts will face the Minnesota Whitecaps and the Boston Pride respectively.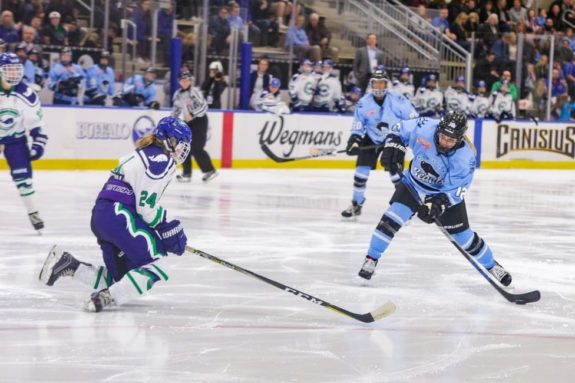 So while Beauts fans in Western New York are holding their horses until December, we feel that there are some important occurrences during the home opener for everyone to ponder over until the next time around. Here are THW's three takeaways from the game and what they will mean in the long run of the season.
1. Dependability Being Found Among the Rookies
While the Beauts possess a slew of first year players, they have three skaters on the team who are rookies in the most traditional sense. Forwards Juls Iafallo (Ohio State) and Annika Zalewski (Colgate) and defender Savannah Harmon (Clarkson) are each playing their first professional seasons after graduating this past spring and coming straight from college to the NWHL. Iafallo, Zalewski, and Harmon each scored a goal in the 7-0 victory. They are the three youngest players on the team, but each has been playing a regular shift and then some.
Harmon opened the scoring for the Beauts when she tallied the game's first goal at 9:48 of the opening period. After scoring, it took her a moment to realize that she had just netted her first professional goal.
"I was just playing a regular shift," Harmon said about the goal after the game, "and then Dani (Cameranesi) made that really great pass. I just tried to shoot, tried to go upstairs, and it went it. Took me a second to realize before it was in. But definitely exciting. Super pumped."
3️⃣ NCAA captains
3️⃣ Frozen Four teams
3️⃣ Rookies signed on the same day
3️⃣ First career #NWHL goals today

Congrats @juls_iafallo, @nikazalewski & @Savannah_Harmon! pic.twitter.com/x9Kcp2Eblt

— Buffalo Beauts (@BuffaloBeauts) October 13, 2018
Through her first two NWHL games Harmon has been seeing a lot of time on the power play. During her four seasons at Clarkson, she was always regarded as an offensively talented defender. In 160 career NCAA games, Harmon scored 30 goals and 83 assists for 113 points. From Harmon's first two NWHL games she presently leads all Buffalo defenders in shots on goal with eight.
Additionally, Zalewski scored Buffalo's second goal of the game when she put home a pass from defender Lisa Chesson. In the third period, Iafallo scored a very memorable first career goal when she netted Buffalo's sixth on the afternoon. A shot from the point sailed wide of the Connecticut net. As it struck the boards, the Whale's backup goalie Sam Walther got caught out of the net trying to play the puck. Iafallo picked the puck up, and swooped to the front of the net on a wraparound to score with a wide open goal. Family and friends of Iafallo's were in abundance in the crowd, and erupted when she scored.
"I think that those three captains were all in the Final Four last year," Head Coach Ric Seiling told THW when asked about Harmon, Zalewski, and Iafallo. "Just their performance on the ice, taking a regular shift, putting some points on the board. I think that really speaks volumes about what we think of them, and we're very pleased with them."
2. Szabados Makes a Marvelous Debut
Beauts goaltender Shannon Szabados demonstrated why many consider her the greatest female goaltender to ever play. One could not have asked for a better performance from the heralded goalie making her NWHL debut. Do not let the lopsided 7-0 score fool you. Were it not for Szabados, the Whale would have had at least three goals on the board.
During the course of the game she made three stops that prevented sure tallies. The most head-shaking save of them all came with less than a second on the clock in the second period. Szabados came out and challenged the shooter square on. Closing off space, she spread eagle and made a point-blank stop on Connecticut's Kateřina Mrázová at the last possible moment.
"It was great. Any time we go anywhere with our Beauts gear on, people are pumped to meet us. It gives us an extra boost as a player." pic.twitter.com/xUEhgVLl1s

— Buffalo Beauts (@BuffaloBeauts) October 13, 2018
The 7-0 victory could not have been scripted any better from a goaltending standpoint – the best goaltender in the world earns a shutout in her first game by making showstopper saves. Szabados turned aside all 22 shots that Connecticut sent her way. The work was distributed fairly even, as the shot distribution on Szabados was 8-5-9 through the three periods. Szabados had plenty of reasons to smile when she met with the media after the game, and genuinely appeared pleased with her performance and atmosphere of the game.
"It was awesome," she stated. "I was looking forward to this day for a while. Had it marked on the calendar. The crowd was amazing, so it didn't make it too hard to get into the game. Obviously, the girls played well in front of me."
3. Blake Bolden Betters All Those Around Her
It is little wonder that the Beauts pursued defender Blake Bolden so aggressively over the summer and ended up bringing her to Buffalo. The former CWHL Clarkson Cup winner and inaugural NWHL Isobel Cup winner has a cannon of a shot, a full head of steam whenever she is on the ice, and an ability to mentor younger players. Bolden's powerful blast earned her Hardest Shot accolades at 87 mph for the 2017 NWHL All-Star Game festivities. With regards to her mentorship, part of Harmon's early success and noticeable confidence stems from the fact that Bolden has been her defense partner most often.
"It was so much fun," Harmon told the media after the game about being paired with Bolden. "I think we got one game under our belt last weekend, and then practice all week. So it was exciting. We were just having fun on the bench. Cracking a couple jokes, it was a lot of fun."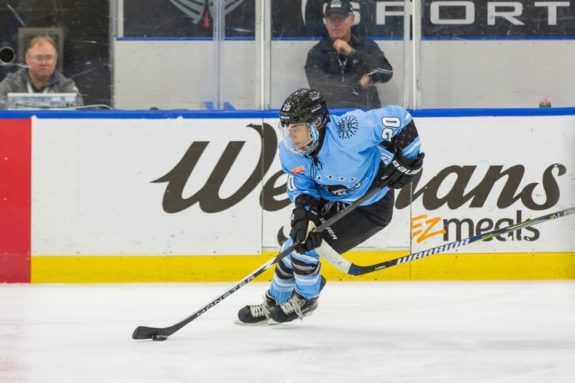 Initially when Bolden signed with the Beauts, she stated that her availability to the team would be somewhat limited until more into the winter. That has not been the case, as she has played in both of Buffalo's regular season games so far this season. Bolden has three shots on goal through the two games, and picked up an assist during the Beauts first meeting with the Whale back on Oct. 7 when she assisted on Hayley Scamurra's second goal of that 4-0 victory.
With Bolden along their blue line, the Beauts have a unique weapon that other NWHL teams just do not have. She visibly out-hustles and out-works the opposition. With just a stride or two, Bolden can accelerate to full speed. Her vision allows her to seek out vulnerabilities in the other team, while she leaves them flatfooted with her quickness.
Basically, the Beauts have Blake Bolden – and you don't.
Be sure to tune in for Buffalo's next game when they face the Whitecaps in Minnesota on Oct. 27 and 28.
General Manager of the Buffalo Beauts (NWHL). Hockey history writer "The Hockey Writers". Credentialed media for the NHL Combine and 2018 IIHF World Junior Championships in Buffalo, NY, USA. Born and raised in Buffalo, NY. Lifelong hockey fan for over 40 years. Proponent of the women's game.