Beginning June 1, NWHL teams can re-sign players from their 2017-18 roster and their draft picks. Additionally, for those players who have completed their college eligibility and want to continue their hockey careers, NWHL Free Agency provides the best opportunity to continue playing at the highest level of professional women's hockey. The fourth season of the NWHL will begin in October as the Metropolitan Riveters defend their Isobel Cup championship, and with the addition of a fifth team – the Minnesota Whitecaps – this will be the most competitive season yet.
My colleague Dan Rice will keep THW readers up-to-date on Metropolitan and Connecticut's signings throughout the summer, while I post updates on Buffalo and Boston. Together we will be keeping readers informed of all of Minnesota's signings. 
All-Star Defender Boulier Signs With Whitecaps
Riveters Add Rookie Blueliner Lexi Slattery
Pride's Top-Scorer Dempsey Re-Signs for 4th Year
The Buffalo Beauts are continuing their penchant for making marquee free agent signings all summer long. Word was release on the morning of Aug. 15, 2018 that two-time NWHL All-Star Blake Bolden is returning to the league from a year in Switzerland by signing with the Beauts. She becomes the seventh defender to have been announced as being a member of the 2018-19 roster. Bolden is not only looking forward to a return to the United States, but she is also enthusiastic about having a fresh start in Buffalo.
"My decision was made pretty quickly. I just felt right about Buffalo."

"You guys know, Buffalo is an amazing city. The team, the atmosphere, the amenities. I wanted to be a part of it all." – @SportBlake pic.twitter.com/iJX4317xcL

— Buffalo Beauts (@BuffaloBeauts) August 15, 2018
"I had been going back and forth with Buffalo," Bolden shared with the media via telephone conference. "Buffalo was the first team that reached out to me when I was making my decision, so (it) was a pretty easy transition. (GM) Nik (Fattey) was very open and explained everything to me. I felt very comfortable. I'm from Cleveland, Ohio, so I felt also that it would be a great opportunity for my family. I just know that Buffalo has a lot of great things going on that I wanted to be a part of, and I really just wanted a change."
THW had a chance to ask Bolden some additional questions as well. We offer her thoughts along with some of our own. Rest assured that the addition of Bolden to Buffalo's defense corps will strengthen both the team's defense and offense.
Previous Successes at the Professional Level
So much of the 5-foot-7 defender's hockey career has been based out of the Boston area of Massachusetts. Bolden's NCAA career saw her play four years at Boston College from the 2009-10 season through 2012-13. In that time she compiled 26 goals and 56 assists for 82 points in 139 games. Her offensive totals still rank her within the top-five for defenders in the history of the school's program in each of the three main offensive categories. Speaking to her defensive strengths and physicality though, Bolden finished her collegiate career as a plus-47 for plus/minus and a total of 187 penalty minutes.
Upon completing her time at BC, Bolden then spent two seasons with the CWHL's Boston Blades. There she would have her name inscribed upon the Clarkson Cup as the Blades took home the league's championship for the 2014-15 season. Many of Bolden's teammates from that squad would end up playing the NWHL, including "new" Beauts teammate Corinne Buie.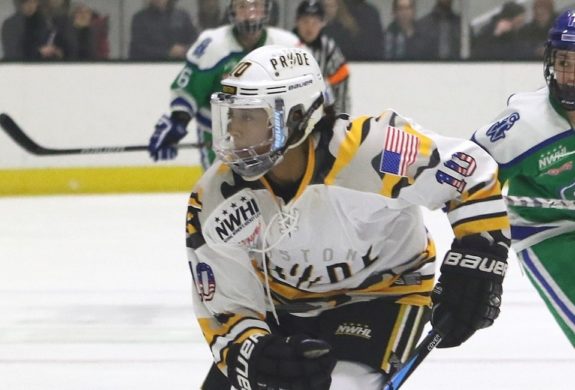 The NWHL would take shape shortly thereafter and Bolden became an inaugural member of the Boston Pride for the 2015-16 season. She became a back-to-back champion that first year as the Pride went on to win the Isobel Cup in the first season of the new league. Bolden played in all 18 of the club's regular season games that year, scoring a goal and eight assists. Likewise, she played in all four postseason games as well where she picked up a pair of goals and an assist. Returning to the Pride for the 2016-17 season, Bolden put up similar numbers (one goal, five assists in 17 games) as the Pride would make a return trip to the Isobel Cup Final where they would lose to the underdog Beauts.
Despite her longevity in the sport and her winning résumé, Bolden's teammates in Buffalo are mostly new faces for her.
"The great thing about Buffalo is that I don't actually know personally a lot of the individuals on the team, and I'm really excited about that," she responded to THW. "Like I said, I really wanted a fresh start and I just checked out a little bit of last night's skate. All the girls were very talented and very skilled. It seems like we're all going to build a really great team together."
What Bolden Will Bring to Buffalo
Bolden made mention of the idea that her play in games will be more sparingly in the fall, but as winter approaches she will be playing on a full-time basis. Once she gets going though, there will be much that Buffalo fans can be excited about. While the Beauts certainly possess a lot of offensively talented blueliners, Bolden might end up being their best in terms of her dynamics.
When THW asked her what attributes she can bring to this particular Buffalo team, she responded with the following:
"My shot. I hope that I can get a lot of shots to the net. Provide a lot of offensive opportunity. My skating ability – I'm pretty fast out there. Just playing good, smart hockey. Making those breakout passes and moving it up to our great forwards that we have up front."
BEAUTS NATION, LET'S GO!! 🔥🔥@SportBlake can't wait to see you! pic.twitter.com/Joz4yfx4WX

— Buffalo Beauts (@BuffaloBeauts) August 15, 2018
The Beauts have made the most signings of the five NWHL teams thus far. They are just about filled up. Here is a look at how their roster is currently shaping out as of Aug. 15:
Goalie: Nicole Hensley, Julia DiTondo, Shannon Szabados.
Defense: Lisa Chesson, Savannah Harmon, Jacquie Greco, Sarah Edney, Jordyn Burns, Sarah Casorso, Blake Bolden.
Forward: Hayley Scamurra, Corinne Buie, Maddie Elia, Dani Cameranesi, Annika Zalewski, Julianna Iafallo, Kelly Babstock, Jordan Juron, Emily Janiga, Taylor Accursi.