Beginning June 1, NWHL teams can re-sign players from their 2017-18 roster and their draft picks. Additionally, for those players who have completed their college eligibility and want to continue their hockey careers, NWHL Free Agency provides the best opportunity to continue playing at the highest level of professional women's hockey. The fourth season of the NWHL will begin in October as the Metropolitan Riveters defend their Isobel Cup championship, and with the addition of a fifth team – the Minnesota Whitecaps – this will be the most competitive season yet.
My colleague Dan Rice will keep THW readers up-to-date on Metropolitan and Connecticut's signings throughout the summer, while I post updates on Buffalo and Boston. Together we will be keeping readers informed of all of Minnesota's signings. 
Pride's Top-Scorer Dempsey Re-Signs for 4th Year
Boston Pride's Fratkin Back for 4th NWHL Season
Whitecaps Sign Forward/Defender Pezon
While the Minnesota Whitecaps are the new kid on the NWHL block, they are quickly becoming a destination for a lot of great talent. They have already acquired the reigning Best Goaltender award winner for the league, and signed three Olympic gold medalists from the 2018 PyeongChang USA women's national hockey team. Now on Aug. 14, 2018 word was released by the NWHL that the Whitecaps have added former Connecticut Whale defender-forward, Amanda Boulier. Acquiring the diminutive skater – Boulier is only 5-foot-1 – has to be considered a steal by the Whitecaps. The Connecticut native could have signed with any of the other teams in the league and would have been closer to home – she didn't. Boulier chose Minnesota.
BREAKING: The @WhitecapsHockey have signed defender Amanda Boulier. Boulier spent her All-Star rookie season last year with the Connecticut Whale.

🔗: https://t.co/3xXZkcU46F pic.twitter.com/RBobX2QQsw

— NWHL (@NWHL) August 14, 2018
"I am thrilled to be joining the Minnesota Whitecaps for their inaugural season in the NWHL," Boulier said in a league press release."The Whitecaps organization already has a rich history dating back to 2004 and I can't wait to be a part of their tradition in the State of Hockey. Thank you to all of the women who came before us and paved the way to the NWHL. I will put my best foot forward as we vie for a historic championship."
THW takes a closer look at how signing Boulier brings the Whitecaps that much closer to an Isobel Cup championship.
A Successful Rookie Season With the Whale
The Whale had a very rough go for the 2017-18 season. In 16 games they won only three times, while scoring a paltry 26 goals. They were were only NWHL team to average less than two goals scored per game. With all of that being said, Boulier was one of a modest collection of bright spots on the roster.
Suiting up for a dozen of Connecticut's regular season contests, she generated a substantial three goals and five assists for eight points. Although she is capable of playing either forward or defense, Boulier fit in mostly as a defender. This speaks further to her effectiveness on offense, as she produced mainly while playing on the back end. Boulier (minus-1) also had the third best plus/minus rating on the squad of any skaters to have played at least 10 games.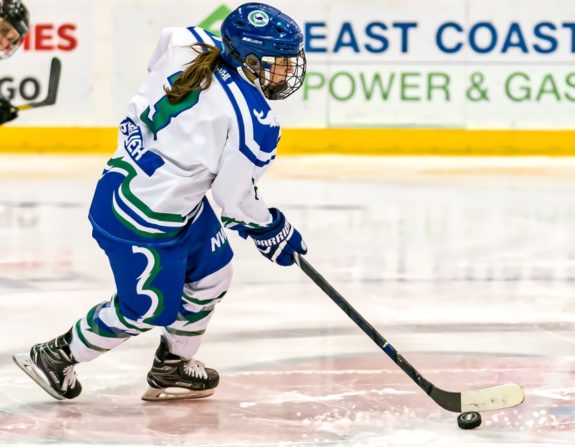 While it was a tough year for Whale supporters to find positives, Boulier's performance undoubtedly caught the attention of the entire league. Not only enough so that she earned a selection to the 2018 NWHL All-Star Game in Minnesota, but obviously she gained enough attention that her stock quickly rose for 2018-19 season. The Whitecaps won what we will affectionately refer to as an Amanda Boulier Sweepstakes. You can bet the ranch that her previous team and the other three teams wish that they could have acquired her services instead.
Minnesota Legitimately Vying for Isobel
Not that they needed it, but Boulier's signing with the Whitecaps only further legitimizes them as the preeminent contenders for the Isobel Cup – them and the Buffalo Beauts. While the Boston Pride are coming up behind them and the reigning champs – the Metropolitan Riveters – are always very dangerous, it really seems that Minnesota and Buffalo will be a clash of titans. We have referred to NWHL free agency as an arms race in the past, and it continues to be so. Each of the five teams is endeavoring to outdo the other by acquiring the most talent that can then be blended with and evened out with role players. With each signing that takes place, there is almost a sense of bravado involved.
Even though the statement on Boulier's signing with the Whitecaps does mention that she will be attending graduate school and instructing young hockey players in Minnesota, very few would have surmised that the blueliner would have ended up with a team not in the New England area. But she is a Whitecap now, and she is a very good one. Boulier has shown to be tremendous skater who can stop and pivot on a dime. More often than not she has made opposing skaters appear sluggish or foolish as she has wheeled through tight areas. Her heads-up, speedy style of play creates opportunities, and with the forwards Minnesota has there is bound to be capitalizing from Boulier feeds and plays.
#Whitecaps fans, help us welcome @Amanda_Boulier to Minnesota 🤗 #RollCaps🌊 @buccigross @nwhl pic.twitter.com/Mt2QqU907Q

— Minnesota Whitecaps (@WhitecapsHockey) August 14, 2018
Keep in mind too that the only true blueliner that the Whitecaps have shared as being under contract is Olympian and NWHL first-round draft choice Lee Stecklein. Meaghan Pezon is a defender-forward like Boulier, but it seems at least for now that she will be utilized more as a forward. Boulier, on the other hand, will likely be inserted right into the defense corps. Potentially having she and Stecklein as a duo will provide some nice looks for the Whitecaps blueliners, particularly on specialty teams.
As of Aug. 14, here is how the Whitecaps roster looks thus far:
Goalie: Amanda Leveille.
Defense: Lee Stecklein, Amanda Boulier. 
Forward: Hannah Brandt, Kate Schipper, Kendall Coyne Schofield, Allie Thunstrom, Meaghan Pezon (defender/forward). 
General Manager of the Buffalo Beauts (NWHL). Hockey history writer "The Hockey Writers". Credentialed media for the NHL Combine and 2018 IIHF World Junior Championships in Buffalo, NY, USA. Born and raised in Buffalo, NY. Lifelong hockey fan for over 40 years. Proponent of the women's game.