Beginning June 1, NWHL teams can re-sign players from their 2017-18 roster and their draft picks. Additionally, for those players who have completed their college eligibility and want to continue their hockey careers, NWHL Free Agency provides the best opportunity to continue playing at the highest level of professional women's hockey. The fourth season of the NWHL will begin in October as the Metropolitan Riveters defend their Isobel Cup championship, and with the addition of a fifth team – the Minnesota Whitecaps – this will be the most competitive season yet.
My colleague Dan Rice will keep THW readers up-to-date on Metropolitan and Connecticut's signings throughout the summer, while I post updates on Buffalo and Boston. Together we will be keeping readers informed of all of Minnesota's signings. 
Boston Pride's Fratkin Back for 4th NWHL Season
Whitecaps Sign Forward/Defender Pezon
All-Star Bender Is Back for Third Year With Pride
The Boston Pride have just made their most necessary re-signing of the NWHL offseason. On Aug. 14, 2018 word was announced that "The Pack" had re-signed original member of the team and their leading scorer during the 2017-18 season, Jillian Dempsey. Having already begun to comprise a roster built from returning veterans blended with new talent, getting Dempsey back into the fold immediately vaults Boston's chances of winning a second Isobel Cup.
BREAKING: Yet another original NWHLer returns to @TheBostonPride as they re-sign their leading scorer, Jillian Dempsey.

🔗: https://t.co/2cXn6Swv6o pic.twitter.com/cITmQGtKeO

— NWHL (@NWHL) August 14, 2018
"Jillian's return is crucial for us," said Pride head coach Paul Mara in the press release about the signing. "She is one of our top leaders and best all-around players. There isn't a coach in hockey who wouldn't want Jillian on their team. She is as tenacious as she is talented."
THW takes a closer at what makes Dempsey so valuable to Boston, and why fans of the team can be ecstatic over her return.
Winner of the Clarkson Cup and the Isobel Cup
Through the first three NWHL seasons, only Brianna Decker (61) and Hilary Knight (48) have scored more career points for the Pride than Dempsey's 44 in 51 total games. She is also one of those special few who won the CWHL's Clarkson Cup with the Boston Blades the year prior to the NWHL's inaugural 2015-16 season. Then in the league's first year, she and many of her Blades teammates helped the Pride win the first ever Isobel Cup. Dempsey played in every regular season and playoff game that first year. During the four postseason games that it took the Pride to win Lady Isobel, she scored a pair of playoff goals and added three assists.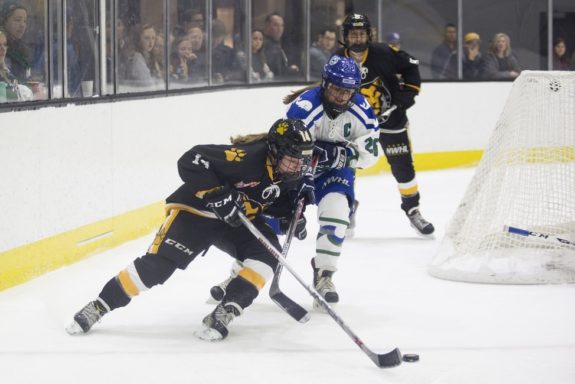 At the time of this latest Boston re-signing, only Dempsey and defender Alyssa Gagliardi have been with the team since the very beginning of the NWHL and won the Clarkson Cup with the Blades. The only other players who could potentially fit that same bill are forward Jordan Smelker and goaltender Brittany Ott. Neither player has been announced to have re-signed with the Pride as of yet. Forward Emily Field and defender Marissa Gedman (who is not yet re-signed) are original members of the Pride and have played the three previous NWHL seasons with the team, but neither was a member of the 2014-15 Boston Blades squad.
Dempsey's longevity with Boston-based teams stems namely from her affinity for the game of hockey and the fact that she is a Massachusetts native. She played her four years of NCAA hockey at Beanpot school Harvard University. There she scored 148 points (76 goals, 72 assists) in just 129 games. More than anything else though, Dempsey is back with the Pride because of her burning passion for the sport.
"I love playing hockey – it's my greatest passion," Dempsey said in the press release. "Having the opportunity to play another season of the game I love and to help grow girls' youth hockey is something I'm very grateful for. I want to get better every day and continue to improve the little things. My goals are to win another Isobel Cup championship and to contribute to my team's success in all three zones of the ice."
Firepower Matched by Few Others
With each signing the Pride have made this summer, their grasp around the Isobel Cup seems to strengthen. Some would argue that they are not the frontrunner for the 2018-19 NWHL season. Even if that were true, they are certainly not far from it. Re-signing Dempsey increases their chances of recapturing the championship exponentially. There is indeed a hurdle that they need to climb over for sure. Many expected the Pride to be back-to-back Cup champions until they were usurped by an underdog Buffalo Beauts team during the 2016-17 season. This most recent campaign – 2017-18 – they recognized afterward that they fell short of the dominance that they once maintained. Dempsey and her returning teammates are looking to make a resurgence.
"It's a new season and a fresh start for our team," she went on to say in the press release. "We did not reach our expectations last season, but found ways to grow and bounce back from tough losses, which will benefit us this season. We expect to take home the Isobel Cup again. That's the ultimate goal for Boston. We want to win the championship. I'm thrilled about the high level of competition throughout the league and ready for some dogfight battles."
Coming in at 11, fearless leader, awesome forward, all star and Team NWHLer…Jillian Dempsey!#ProvePeopleWrong#NWHLBestSellers pic.twitter.com/k6JwSLsirO

— NWHL (@NWHL) May 3, 2018
Despite their early playoff exit, Dempsey scored seven goals and added eight assists for 15 points in 16 regular season games. In the Pride's loss in the semis to the Beauts, she was one of just two members of the team to score a playoff goal. No player for Boston took more face-offs during the regular season than Dempsey did. Out of a total of 339 draws, she won almost exactly half of them (169). That also meant that Dempsey generated the second-most amount of face-off wins in the entire league this past year, trailing only the Metropolitan Riveters Alexa Gruschow.
Look for Dempsey to continue to build upon her numbers during the 2018-19 season. If she does not repeat as the Pride's leading scorer, she will assuredly be within the top-three. She certainly has the enthusiasm to do so.
"It's exciting that the league has added a new team beyond the original four," Dempsey also said. "It was an enjoyable experience playing in the All-Star Game in Minnesota this past season, so it'll be great to play there consistently during the year. I would love for the league to have two games every weekend and for us to double the amount of games in the regular season. I'm eager for when we get to play even more hockey."
With Dempsey's signing, here is how the Pride look as of Aug. 14:
Goalie: Katie Burt.
Defense: Alyssa Gagliardi, Toni Ann Miano, Lauren Kelly, Lexi Bender, Kaleigh Fratkin.
Forward: Emily Field, Dana Trivigno, Denisa Křížová, Haley Skarupa, Jillian Dempsey.