Beginning June 1, NWHL teams can re-sign players from their 2017-18 roster and their draft picks. Additionally, for those players who have completed their college eligibility and want to continue their hockey careers, NWHL Free Agency provides the best opportunity to continue playing at the highest level of professional women's hockey. The fourth season of the NWHL will begin in October as the Metropolitan Riveters defend their Isobel Cup championship, and with the addition of a fifth team – the Minnesota Whitecaps – this will be the most competitive season yet.
My colleague Dan Rice will keep THW readers up-to-date on Metropolitan and Connecticut's signings throughout the summer, while I post updates on Buffalo and Boston. Together we will be keeping readers informed of all of Minnesota's signings. 
Whitecaps Sign Forward/Defender Pezon
All-Star Bender Is Back for Third Year With Pride
Olympian Skarupa Comes Back to the Pride
Many will probably be in agreement when we say that it's time Kaleigh Fratkin's name got onto the Isobel Cup. An original NWHLer who will now be entering her fourth season with the league, few have done more to exemplify the concept of "Grow the Game" than she has. Not necessarily a player in the limelight of things, Fratkin has believed in the NWHL before its first game was ever played. Folks who travel in women's hockey circles know this to be the case. The size of Fratkin's heart is at least as big as her compete level.
Excited to back for season 4 with @TheBostonPride !!! 🦁🦁🦁 #isobelcupalert pic.twitter.com/mC57TSyi6O

— Kaleigh Fratkin (@fratkin13) August 8, 2018
Word was released on the morning of Aug. 8, 2018 that the formidable defender had re-signed with the Pride. Boston's defense is already rather stacked with four talented blueliners previously announced as being under contract. Having the 26-year-old Fratkin back for a second straight season with the team means that there will be no lack of leadership on the roster.
"I decided to play another season because I want to continue to play hockey at the highest level possible and, more importantly, want to be a part of continuing to push the growth of girls' hockey for the younger generations," Fratkin stated in the press release about her signing. "My goal with the Pride is to win an Isobel Cup. I believe we have the team to accomplish it and the organization to support our team to win it."
THW takes a closer look at how having Fratkin back in the fold is a necessary signing in order for the Pride to recapture the Isobel Cup.
Previous Success and Experience
Keep in mind that the year prior to the NWHL's inaugural 2015-16 season, Fratkin became a Clarkson Cup champion with the CWHL's Boston Blades. While many of her Blades teammates ended up joining the Boston Pride in the first NWHL season, Fratkin signed her first contract in the newly formed league to be with the Connecticut Whale. Through her first three seasons in the league, she has played for three of the league's five teams. First as an inaugural member of the Whale, and then the year afterward she would be with the Metropolitan (New York) Riveters. Now Fratkin will be doing back to back seasons with "The Pack".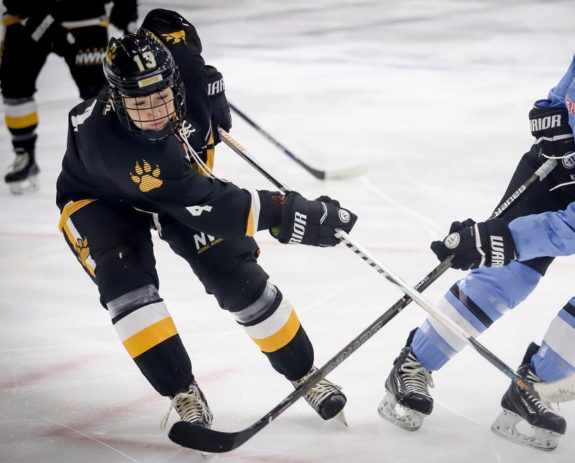 After that Clarkson Cup victory, she has narrowly missed out on earning an Isobel Cup in two separate instances. After donning Connecticut green in place of Boston black in the first NWHL season, Fratkin was playing for the Whale as many of her former Blades teammates won Lady Isobel as newfound members of the Pride. Then after playing for the Riveters during the 2016-17 season and coming up short to the Buffalo Beauts, Metropolitan would go on to win the Cup this past season without Fratkin as she was back playing with Boston. It's just one of those oddball things that happens in professional sports sometimes.
Fratkin Plays Her Own Hard-Nosed Style
Fratkin is a robust defender and does not back down from anyone. She is capable of intimidating other players – without necessarily intending to – just by persistently being physical game in and game out. During the first year Fratkin was the NWHL's league leader in penalty minutes with 40 of them in just 18 games. This past season she tied for fourth overall in the same category with 20 in just 11 games played. Fratkin has not hesitated to put opposing players on their backsides. The fact that she is 5-foot-8 and near the 160-pound mark certainly helps matters.
While she may play a hard-nosed brand of hockey, Fratkin can also contribute offensively from the back end. Coinciding with her 40 PIMs in 2015-16, she finished second overall in scoring for the Whale with 17 points in 18 games. That point total came from five goals and 12 assists. When she joined Boston late into the 2017-18 season, she still managed to put forth five assists in 11 games played. That trailed only Alyssa Gagliardi in points among Boston blueliners, despite Fratkin planning in less games than five of the of the other defenders.
BREAKING: @TheBostonPride have re-signed Kaleigh Fratkin. This will be Fratkin's 2nd season with the Pride and 4th in the NWHL.

🔗: https://t.co/YtqsX19lUr pic.twitter.com/uxchYQJeua

— NWHL (@NWHL) August 8, 2018
There are not many original members of the NWHL left playing in the league. As Season Four approaches and further signings come to fruition, you will likely be able to count the inaugural players on one hand. Fratkin keeps playing because of how much she cares for the league, but even more so out of her desire to create a better tomorrow for young girls who love the game of hockey.
"The league has come a long way from Day 1," Fratkin went on to say in the same press release. "The continual growth in all aspects of this league truly proves the potential of women's professional hockey. I want to thank all the fans, NWHL players and hockey supporters who continue to be dedicated to this league."
With Fratkin's signing, here is how the Pride look as of Aug. 8:
Goalie: Katie Burt.
Defense: Alyssa Gagliardi, Toni Ann Miano, Lauren Kelly, Lexi Bender, Kaleigh Fratkin.
Forward: Emily Field, Dana Trivigno, Denisa Křížová, Haley Skarupa.