Beginning June 1, NWHL teams can re-sign players from their 2017-18 roster and their draft picks. Additionally, for those players who have completed their college eligibility and want to continue their hockey careers, NWHL Free Agency provides the best opportunity to continue playing at the highest level of professional women's hockey. The fourth season of the NWHL will begin in October as the Metropolitan Riveters defend their Isobel Cup championship, and with the addition of a fifth team – the Minnesota Whitecaps – this will be the most competitive season yet.
My colleague Dan Rice will keep THW readers up-to-date on Metropolitan and Connecticut's signings throughout the summer, while I post updates on Buffalo and Boston. Together we will be keeping readers informed of all of Minnesota's signings. 
Accursi, Burns & Casorso All Back with Beauts
Whitecaps Sign Thunstrom After Speed Skating Career
Koelzer Re-Signs, Solidifies Rivs Defense
The day after the Boston Pride announced that they added a high-scoring forward from the Czech Republic, they proceeded to additionally land Haley Skarupa, an Olympic gold medalist for Team USA at the 2018 PyeongChang Winter Games. Official word of the signing came out from the league on the morning of Aug. 3, 2018. For Skarupa, it will be a return to the NWHL team she temporarily departed in order to represent her country in South Korea. With a new found love for hockey and a gold medal draped over her shoulders, she is back with "The Pack" and should immediately be considered the team's premier scorer.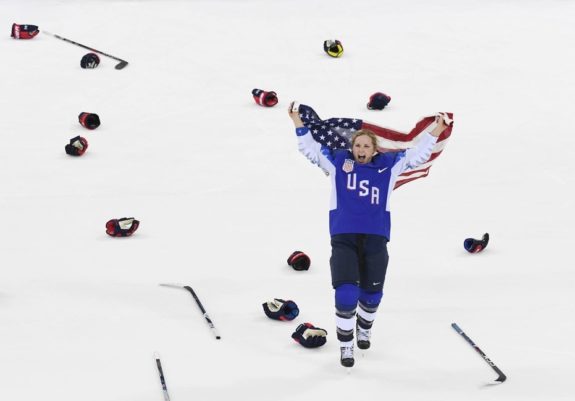 Following along a journey that has taken her to the pinnacle of sport, Skarupa recognizes that women's hockey is blossoming at the right time. These are exciting times for proponents of the women's game, and especially for the athletes themselves who are naturally growing the game they love. Skarupa shared the following in the press release about her signing:
"It has been an incredibly exciting time for women's hockey after our team won gold, and this coming season will be a perfect time to continue the momentum and excitement for women's hockey and the NWHL. I'm really looking forward to being a part of the growth of the sport and inspiring the next generation to achieve their dreams."
THW takes a a closer look at the Skarupa signing and how it propels Boston back towards the top of the list for legitimate Isobel Cup contenders.
From PyeongChang Back to Boston
Skarupa played in all five games for Team USA during the Olympics. Playing primarily on the fourth line, she completed the tournament having registered three shots on goal. Her largest piece of action came during USA's second game of the Olympics, played against the Olympic Athletes from Russia. Skarupa played nine shifts and saw over seven minutes in ice time. The fact that a player of her caliber was used so sparingly during the Olympics speaks to the overall depth and talent of the American team.
Before heading to join Team USA in South Korea, Skarupa scored five points (two goals, three assists) in five games for the Pride in the NWHL. Newly named Pride head coach Paul Mara was an assistant coach with the Women's National Team, and is very familiar with what the high-scoring forward can bring to his NWHL roster.
BREAKING: @TheBostonPride have signed Team USA Olympic Gold Medalist Haley Skarupa (@skrooops28).

🔗: https://t.co/wCJaD263gV pic.twitter.com/tnYqppXGzR

— NWHL (@NWHL) August 3, 2018
"We're very happy to have Haley back with the Pride," Mara said. "She's a great player who will continue to develop and be an essential part of our lineup."
Should Mara decide to put Skarupa on a forward line with rookie Denisa Křížová, he could easily have one of the deadliest combinations in the league. Keep in mind too that Skarupa's first season in the NWHL came with the Connecticut Whale during the 2016-17 season. She was well more than a point per game player, having scored 11 goals and 11 assists for 22 points in only 16 games. With seven skaters currently signed to Boston's roster, Mara has at least two elite scorers in Skarupa and Křížová. The great thing for Boston fans to consider is that there is still room for roughly 15 more signings to come, give or take.
An Abundance of Scoring at Boston College
Of the eight players currently named to the Pride roster, only defender Alyssa Gagliardi did not play college hockey at a Boston-area school. Skarupa's four years playing in the NCAA saw her reach prolific scoring proportions for Boston College. From 2012 until 2016, she scored a staggering 115 goals and 129 assists for 244 points in only 144 games.
There is very little question that Skarupa's finest season at BC was her senior year. Playing in 41 games, she set career highs in goals (35), assists (44), points (79), power play goals (12) and game-winners (nine). That same year Skarupa had two games in which she scored five points in each contest, and four games in which she scored four points a piece. At only 24 years of age, she has plenty more years to put up sizable amounts of goals and points. Better yet for the Pride faithful, Skarupa is fully poised to get going in Boston.
She said she wanted to be just like me, I told her, "be better." Taking a stand today for their tomorrow. #BeBoldForChange pic.twitter.com/iFNs9MhL0m

— Haley Skarupa (@skrooops28) March 25, 2017
Skarupa went on to share in the press release, "I've been back training and skating this summer and I'm really excited to get the season started with the Pride. Earning a spot on the National Team is a lot of hard work, but I am up for the challenge to earn another opportunity. It is the utmost honor to represent your country and I never take it for granted… I love the Boston Pride fans and they have a lot to be pumped about for this coming year! The fans are the best."
Autumn is fast approaching and the Boston Pride still have a lot more signings to make and announce before their roster is filled-out for the 2018-19 NWHL season. As of Aug. 3, here is how the Pride look thus far:
Goalie: Katie Burt.
Defense: Alyssa Gagliardi, Toni Ann Miano, Lauren Kelly.
Forward: Emily Field, Dana Trivigno, Denisa Křížová, Haley Skarupa. 
General Manager of the Buffalo Beauts (NWHL). Hockey history writer "The Hockey Writers". Credentialed media for the NHL Combine and 2018 IIHF World Junior Championships in Buffalo, NY, USA. Born and raised in Buffalo, NY. Lifelong hockey fan for over 40 years. Proponent of the women's game.