When you're describing the 2017-18 Boston Bruins, what word comes to mind? You could use many descriptors to summarize last season's Bruins campaign, but one that stands out to me is "budding." Under a head coach taking on his first full NHL season, a rejuvenated Bruins roster budding with fresh young talent exceeded expectations in the Eastern Conference. The team, which many had pinned to finish the season on either edge of the playoff bubble, instead finished with the second-best record among teams in the East. Among those budding young prospects is Ryan Donato, a 22-year-old forward who joined the Bruins after his standout career at Harvard.
Donato was quick to cozy himself up to Bruins fans, netting a goal and two assists in his NHL debut against the Columbus Blue Jackets on March 18. His natural offensive talents are undoubtedly what brought him to Boston after his junior year with the Crimson—he chose to forego his senior year at Harvard to make the jump to the NHL.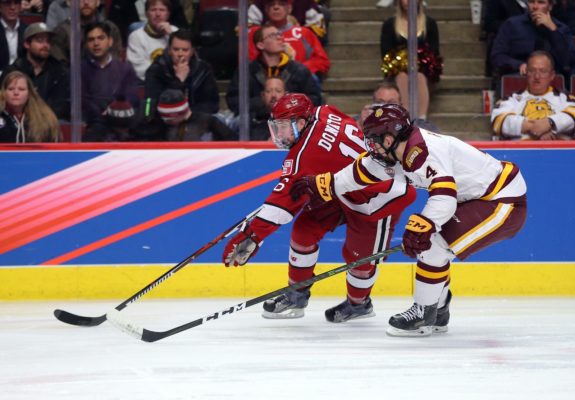 But now, with Boston's pipeline bursting with youngsters aiming to establish themselves as regulars in the NHL, where does Donato fit in?
The Bruins' Youth Logjam
Sports teams constantly deal with problems, although they aren't always bad problems. Without a doubt, Boston's logjam of young prospects is a good issue. The Bruins are spoiled in this sense, with too many NHL-caliber youngsters battling for a chance to secure their dream of being regulars in the NHL.
In particular, Boston's left-wing corps is bursting with talent. At the forefront, the charge is led by Brad Marchand, who finished the season third in scoring among left wingers, behind only Taylor Hall and Alex Ovechkin. Behind Marchand, Boston's left-wing corps is very young, and overflowing with potential. Twenty-one-year-old Jake DeBrusk, after just one season in Boston, has already established himself as the everyday second-line winger on David Krejci's left side. Behind DeBrusk sit 23-year-old Danton Heinen (who can also play center), 21-year-old Anders Bjork, new-Bruin Joakim Nordstrom, and potentially Donato, who can slide into any of the three forward positions.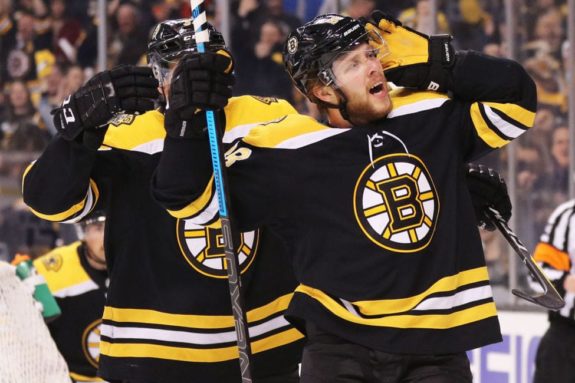 DeBrusk, Heinen, Bjork, and Donato all got their first tastes of NHL action last season, and each showed potential for a bright future, albeit at different levels. With the overflow of young talent not only on Boston's the left side, but across the board, the pressing question is whether or not Donato will have an opportunity to prove himself at the NHL level, and if so, what he'll make of that opportunity.
Donato's Skill Set Fits In
Under the reign of Bruce Cassidy, Boston's offense has transformed into one that capitalizes on the speed, creativity, and pure talent of its forward corps. For this reason, I believe Donato will not only have a chance to prove he belongs in Boston but will earn the nod as well.
Donato's offensive game is budding with opportunity. He's a natural at doing damage in the opposing team's zone, with good vision, strong hockey IQ, smooth hands and a very strong shot. He's not a large player, coming in at six feet, the same height as DeBrusk. That said, similarly to DeBrusk, Donato can use his speed and tenacity to put defenders on their heels in the offensive zone.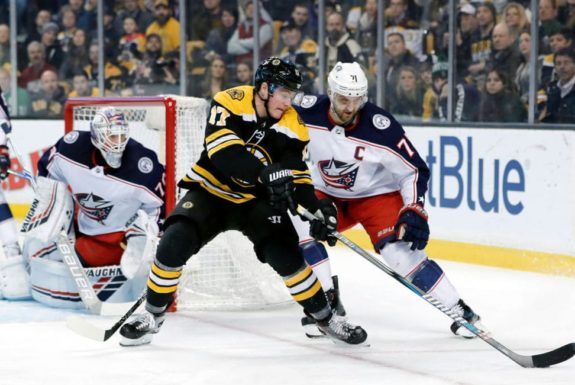 Like Heinen, Donato too is versatile when it comes to positional play. The former Hobey Baker finalist at Harvard can effectively play the wing, or slide into the center position. While the Bruins aren't as deep with centers—Patrice Bergeron and David Krejci are the obvious one-two punch, while any combination of Sean Kuraly, Noel Acciari, Jakub Forsbacka Karlsson and newly-added Chris Wagner could fill the bottom two roles — they may be a bit more hesitant to give Donato that level of defensive responsibility. Still, Donato's versatility as a forward will be helpful, as Cassidy will have more opportunities to slot him into a variety of roles.
Donato's Work Ethic a Boost
As a player who is eager to crack the NHL roster heading into next season, it makes sense that Donato would be putting in a lot of work over the offseason. But, Donato's work ethic this offseason has gone above and beyond and has caught the attention of some veteran teammates who know a thing or two about the battle to establish themselves as regulars in the big show.
Donato joked that Boston's veteran leaders, Patrice Bergeron, Zdeno Chara, and Marchand, were quick to give him a hard time when he made his way in to train this offseason (jokingly, of course). Nonetheless, it was eye-opening for the rookie.
"I came in expecting me to be the only guy there, and those guys were like, 'Where have you been?'" Donato said, per NHL.com's Amalie Benjamin. "They were giving me a hard time."
"As a young guy, you want to be a guy that's around the rinks early to prove a point," Donato said. "When I got there the first day, [Marchand], Bergeron and Chara were all working out. I wasn't shocked. I was happy. I was like, 'Wow, this is really what it means truly to be a pro.'"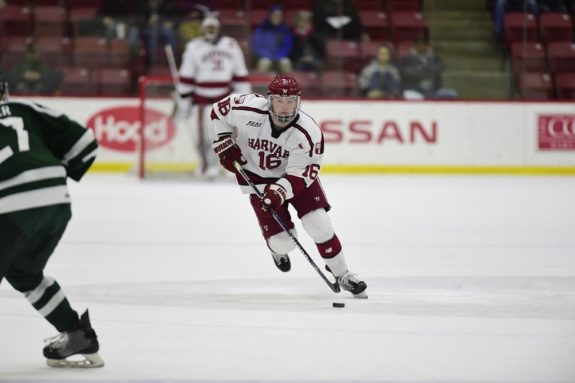 Despite the teasing, Boston's leaders took notice not only of Donato's presence but also of his work ethic.
"The kids that are really eager to make it and that are really driven, they just kind of buy in," Marchand said of Donato's work ethic. "Donato's actually a really good example. He was around for a little bit there at the end of the year. I didn't know the way that he trained or what his dedication level was, but I will say I've been very impressed with the way that he's shown up every single day since the start of the summer.
"For a young kid to come in and to do that, to buy into training right away, you've got to give him a lot of credit. I really respect that of him and I've been impressed by that. Those are the kids that you know will make it."
That extra work could go a long way for Donato, not only with regards to his game but also when it comes to establishing respect among his teammates. For a team with so much young talent, getting a nod from a veteran such as Marchand can go a long way.
Donato still has a way to go to establish himself as a regular NHLer. But if the work ethic that has garnered praise continues to develop his already-talented skillset, then I'd expect to see quite a bit of the youngster in Boston next season, and beyond.