The Boston Bruins didn't panic this summer when they had every reason to panic. The Toronto Maple Leafs were one period worse than Boston in the playoffs and added John Tavares. The Tampa Bay Lightning reached Game 7 of the Eastern Conference Final, and return basically the same team while also pursuing Erik Karlsson. Even the Florida Panthers, who finished a single point out of the playoffs, added Mike Hoffman.
While everyone around them got better, one could argue the Bruins got worse. They lost Riley Nash and Tim Schaller to free agency along with Rick Nash to potential retirement. Anton Khudobin moved on as well, signing with the Dallas Stars. General manager Don Sweeney did make a few moves, replacing Khudobin with Jaro Halak and adding John Moore to his blueline along with Chris Wagner and Joakim Nordstrom to the bottom-six. All in all, however, the Bruins didn't make any big additions this summer.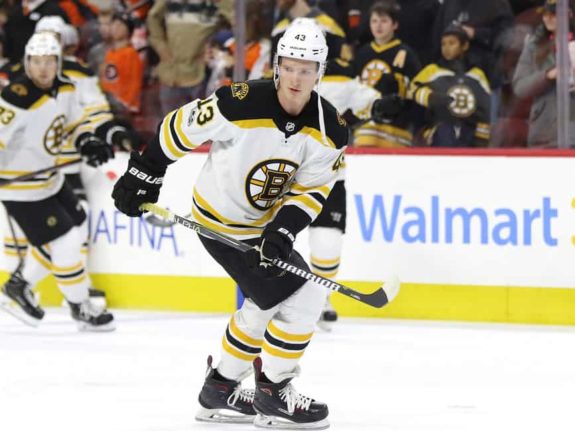 The club wants a bigger body in the top-six, they admitted that much when they traded for Nash at the deadline. With Rick now gone, Boston once again is without that player in their top-six. Sweeney didn't panic, he didn't trade for Milan Lucic and his anchor contract, he didn't throw the bank at James van Riemsdyk like the Philadelphia Flyers did either. He's being patient, and sticking with the draft and develop model that has made the Bruins successful the last two seasons.
The Department of Youth
The Bruins got major contributions up front last year from the likes of Jake DeBrusk, Danton Heinen and David Pasternak, along with solid depth contributions from players like Sean Kuraly, Noel Acciari and later in the season Ryan Donato. Charlie McAvoy and Brandon Carlo emerged on defense for Boston, while Matt Grzelcyk also pushed his way into full-time NHL territory.
There is another group of strong young players pushing up for Boston, too, led by Anders Bjork. Bjork was supposed to be a big part of the team last season, but suffered shoulder issues and only appeared in 30 games. Trent Frederic, Jakob Forsbacka-Karlsson (JFK), Anton Blidh and Peter Cehlarik are all bubbling under at forward, while 2017 first-round pick Urho Vaakanainen along with Jakub Zboril and Jeremy Lauzon lead the charge defensively in terms of prospects. The Bruins system, for a lack of a better term, is loaded. They have young players pushing through at the AHL level, and many more on the way in college and juniors.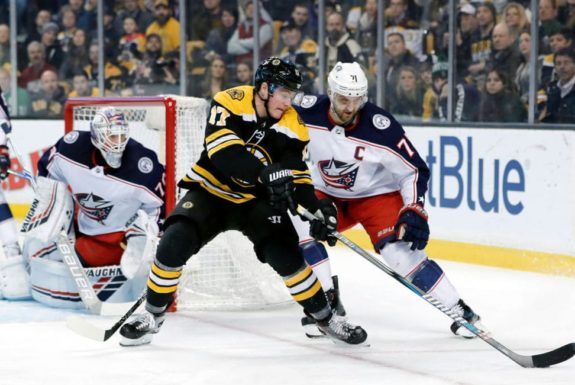 The Bruins could conceivably replace their departed talent exclusively with players from in the system. For example, is it crazy to think a healthy Bjork could replace Rick Nash? I don't think so. What about JFK taking the role of Riley Nash? It'll take some time to adjust to, but that's JFK's skill set. I think he'd fare just fine as a bottom-six center who is forced to play a two-way role.
Final Thoughts
The Bruins could have easily dealt Torey Krug for pennies on the dollar, sending him away for a veteran forward that maybe doesn't possess the same kind of value. They could have signed a free agent deal that would have helped in the short term, but hampered their ability to re-sign the kids and be flexible in the long-term. Don Sweeney had options, but he chose to play it safe and keep his powder dry.
In the end, that is probably the smart move for the Bruins. Odds are, Boston will take a step back in the regular season this year. That said, they should still be a playoff team and should still be a threat out east. Boston is still a developing team, and sometimes people forget that. The Bruins are gambling on young talent, a move that probably keeps the competitive now and lays the foundation for a potential Cup victory in short order.
With youth being served, here is what Boston's lines would look like opening night in Washington if Bruce Cassidy had me calling the shots.
Brad Marchand – Patrice Bergeron – David Pasternak
Jake DeBrusk – David Krejci – Andres Bjork
Ryan Donato – David Backes – Danton Heinen
Sean Kuraly – Jakob Forsbacka-Karlsson – Chris Wagner
Joakim Nordstrom, Noel Acciari
Zdeno Chara – Charlie McAvoy
Torey Krug – Brandon Carlo
John Moore – Adam McQuaid
Kevan Miller
Tuukka Rask
Jaroslav Halak
Thoughts?