The New Jersey Devils have made it clear that the plan is to improve their roster from within the organization for 2018-19. Even though that's the case, there are a couple of needs they could address through a professional tryout (PTO). They've gotten productivity from them in the past, with Lee Stempniak being one example in 2015-16. Here are five free agents that should interest the Devils as PTOs as they move closer to training camp.
Toby Enstrom (Defenseman)
Enstrom had an injury-riddled 2017-18. He played in 43 games, which was his lowest since he played in 22 during the lockout-shortened 2012-13 season. He finished the year with six points, 31 shots on goal, and averaged a career-low 17:02 in ice time.
Enstrom's stats don't look great on the surface, but his underlying numbers tell a different story. The Jets had a 52.34 Corsi For (CF%) and a 59.37% expected goals for (xGF%) when he was on the ice in 2017-18. He also had a significant positive impact, finishing with a relative Corsi For (Rel CF%) of 3.14% and a relative expected goals for (Rel xGF%) of 9.12%.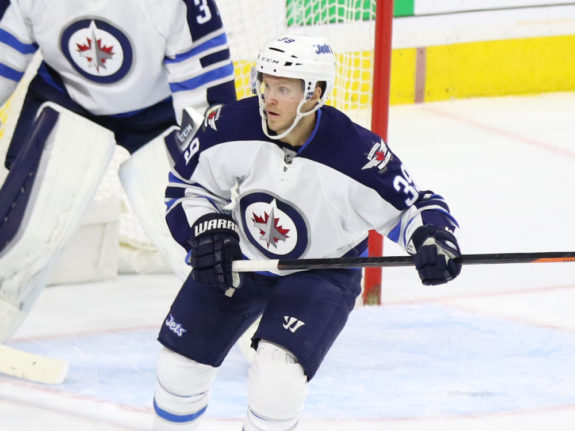 He may not provide offense like he once did, but Enstrom's still solid on defense. He most likely won't be asked to play a top pair role for the Devils but would fit in well as a second or third pair defenseman. The Devils lack depth from their left-handed defensemen, which Enstrom would help provide. If he performs well during the preseason, and his health checks out, he'd be worth a short-term deal.
Nick Shore (Center)
Shore has bounced around a bit. He started 2017-18 with the Los Angeles Kings before ending up with the Ottawa Senators as a part of the Dion Phaneuf trade. He ended the season with the Calgary Flames after being acquired at the trade deadline. The 25-year-old center finished with 19 points in 64 games, which comes out to a 24 point pace over an 82-game season.
Shore has put together good results at five-on-five, even though the point totals haven't been there. He had a positive impact on his team's shot rates when on the ice, finishing with a Rel CF% of 2.78% and a Rel xGF% of 5.89% in 2017-18. He also suppressed shots at a rate of 52.94 shot attempts against per 60 minutes (SAA/60).
The Devils are in pretty good shape at center with Nico Hischier, Pavel Zacha, Travis Zajac, and Brian Boyle. They also have prospects like Michael McLeod who are trying to break through at the position. It still wouldn't hurt to bring in Shore on a PTO. He'd be a better option as a bottom-six forward rather than having a rookie log poor minutes. He's also a solid penalty-killer, which should attract the attention of Devils head coach John Hynes.
Brandon Davidson (Defenseman)
Like Shore, Davidson has moved around from team to team. The 26-year-old has played for the Edmonton Oilers, Montreal Canadiens, and New York Islanders since entering the league in 2014-15 and played for all three in 2017-18. He finished this past season with seven points (four goals, three assists) in 51 games.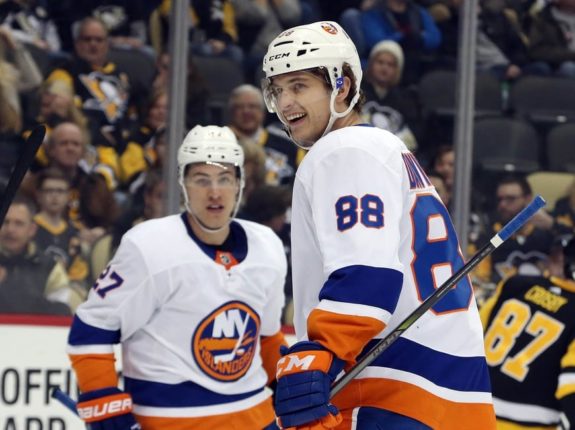 There's almost no offense to Davidson's game, but he has decent results at five-on-five. He finished the season with a CF% of 50.68% and an xGF% of 52.73% when on the ice. He had a neutral impact on shot rates, finishing with a Rel CF% of 0.54% and a Rel xGF% of minus-0.5%. Davidson is also a decent penalty killer and suppresses shots at a high level when down a man.
Davidson isn't anything more than a sixth or seventh defenseman. The Devils could bring him in to compete with Mirco Mueller and Steven Santini, both of whom will be competing for those spots. He'd be a decent depth addition to the roster. However, the team would be better suited bringing in Enstrom if they're looking for someone who could play a more significant role.
Related: Devils Need a Healthy Johansson
Ales Hemsky (Right Wing)
Hemsky has been the victim of the injury bug over the last two seasons. After playing in 75-plus games in each season from 2013 to 2016, he's only played in 22 since. He missed all but seven games of 2017-18 after suffering a concussion at the beginning of the season.
There isn't much use in looking at Hemsky's advanced stats given the lack of ice time over the last two seasons. What matters is his health and whether he's clear of any concussion-like symptoms. If his health checks out, there may be an opportunity with the Devils if he wants to continue his playing career.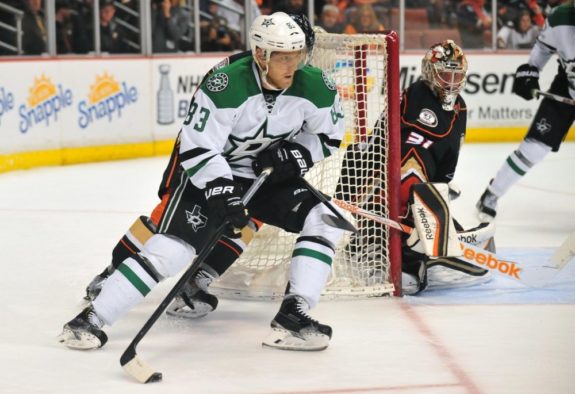 The Devils depth at right-wing is a question mark heading into camp. Kyle Palmieri is a legitimate top-six talent, but the scoring options below him are limited. The team would probably prefer to fill an open spot at right wing with a prospect like Joey Anderson or Blake Speers. At the very least, Hemsky could spur some competition with the team's young players. If he performs well and is healthy, he could help add offense for a minimal price tag.
Tomas Jurco (Left Wing)
The Devils strongest position up front is at left wing. They have Taylor Hall, Marcus Johansson, Miles Wood, and Blake Coleman. They also have Jesper Bratt, who can play either left or right wing. It may not seem like there's a spot for the former Chicago Blackhawk, but Jurco could fit in as a depth option.
Jurco doesn't provide much offense, but he has held his own at five-on-five. The Blackhawks put up a 51.15% CF% and a 51.6% xGF% when he was on the ice over his last 58 games played. He also had a positive impact on his team's shot rates, finishing with a Rel CF% of 1.33% and a Rel xGF% of 3.21%.
Just like his time with the Blackhawks, Jurco would not be a regular for the Devils. However, he'd be a better option as a 13th forward rather than having a prospect remain a healthy scratch on a consistent basis. There may not be much offense from him, but he's capable of playing at the NHL level and would help provide bottom-six depth for a small cost.
*    *    *
Advanced stats from Corsica Hockey