In today's rumor rundown, the Rangers and Kevin Hayes might find ground on a one-year deal but will that signal the end of his time in New York? So too, Milan Lucic recently conducted an interview where it became clear he's not looking to leave to Edmonton and that he doesn't understand why athletes get so upset about being traded. Finally, the Panthers are still shopping and Montreal might be settled into saving money over being competitive.
Kevin Hayes Leaving Rangers?
Larry Brooks of the NY Post is reporting the New York Rangers and Kevin Hayes are not close on a long-term contract and will likely meet on a one-year deal that will take Hayes to unrestricted free agency. They have an arbitration hearing scheduled for Thursday but progress between the two sides has not been made with Hayes seeking between $5.5 million and $6 million per year on a long-term contract.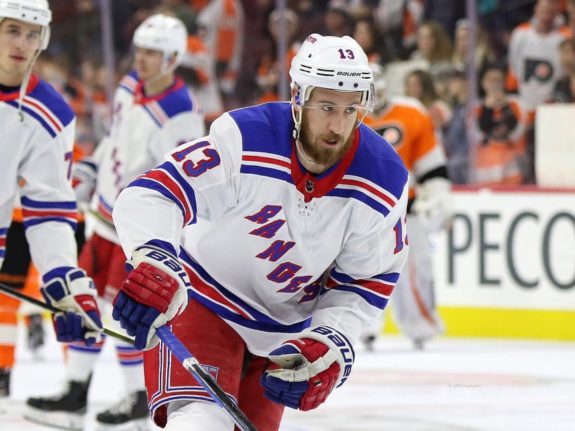 Rangers GM Jeff Gorton doesn't appear ready to commit to Hayes and with the Rangers deep at the center position and Hayes never having posted a 50-point or better season, Brooks believes the Rangers will trade Hayes for a late first-round pick.
If the Rangers do only sign Hayes on a one-year deal, he would then be added to a list of players who could be trade deadline moveable assets. The other two players on that list are Mats Zuccarello and likely Ryan Spooner.
Related: NHL Rumors: Provorov, Faulk, Neal, More
Lucic Happy to Stay, Won't Be Bitter If Traded
After months of trade speculation out of Edmonton, the news was Milan Lucic would be leaving Edmonton and his asking for a trade was inaccurate reporting. During an interview with Ryan Whitney and Paul Bissonnette on the Spittin' Chiclets podcast, Lucic discussed a number of topics including the trade rumors, how well the Oilers organization has treated him since his arrival and how he's looking forward to bouncing back in Edmonton. Lucic said, "I'm excited to come back and have that 'prove people wrong' kind of mentality and get back and be an elite team all over again and for myself personally be an elite player once again."
This is all great news for the Oilers who need Lucic to rebound with a strong season.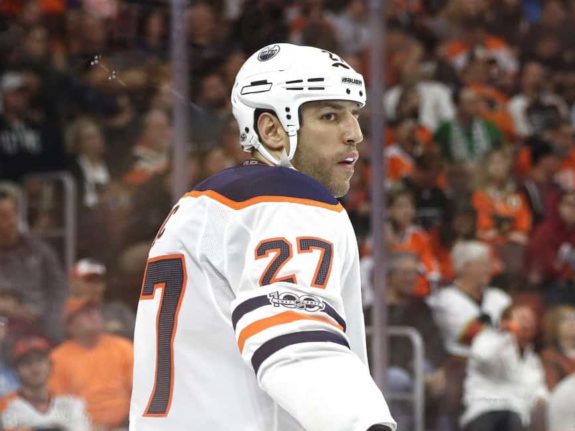 The conversation then turned an interesting direction, suggesting he wouldn't have the right to upset if traded. Lucic used the DeMar DeRozan situation in Toronto as an example of what not to do if you're an athlete who gets moved.
As an athlete, you're not entitled to a heads up and unless your name is Sidney Crosby, Connor McDavid or LeBron James, you're just another player. Lucic feels no sympathy for DeRozan who got traded to one of the best organizations in basketball. The former Raptor is going to the Spurs — a team constantly in the hunt for a title, will be coached by Greg Popovich, make $30 million per year and play in a location that has no state tax. Lucic said," nobody feels bad for you, like fu%$ off."
Authors Note: It's amazing how the storyline has switched gears so dramatically when it comes to Lucic. It will be interesting to watch his upcoming season and how supportive of Edmonton he remains.Were the rumors he was willing to help the Oilers facilitate a trade just him being a grateful player wanting to help his team? Or, did he actually want out? And, is his attitude different because he has a no-trade clause he can use to control where he goes?
Related: NHL Rumors: Matthews, Seguin, Lombardi, More
Panthers Still Looking to Make Moves
Jameson Olive of the Florida Panthers website reports Panthers' general manager Dale Tallon still has his eyes on a number of players available on the market. This has lead to speculation the Panthers could be one of the busier teams over the next few weeks.
So far, the Panthers have added Mike Hoffman from the Senators, signed goaltender Michael Hutchinson to a one-year deal and are looking at prospects like  Henrik Borgstrom and Owen Tippett to take a step forward. With just over $2 million in cap space and a roster full of contracts, a trade might more likely than a straight free agency signing.
Related: NHL Rumors: Nylander, Strome, Reinhart, More
Fans About to Be Unhappy in Montreal
Brendan Kelly of the Montreal Gazette notes this is now the second year in a row the Montreal Canadiens have left significant money in their salary cap when they could have used it to improve the team. This year, with almost $8 million in cap space, insiders are starting to sense the pattern is the club wants to remain a bargain-basement team.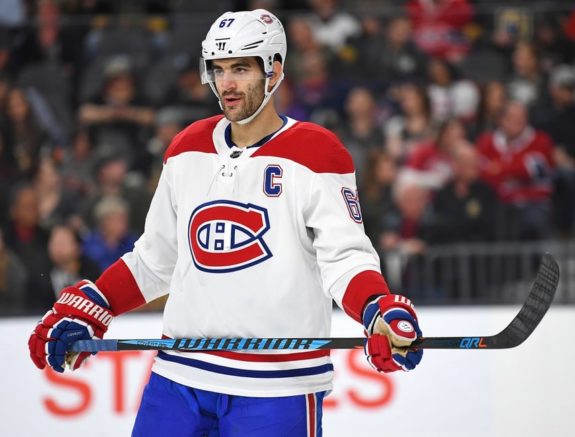 The Canadiens have no free agents that currently need new deals and they are still looking at shipping out one of their best players in Max Pacioretty. Kelly suspects fans won't be happy to hear the club would rather save money than be competitive.
Specifically, when it comes to Pacioretty, Joey Alfieri of NBC Sports lists the Chicago Blackhawks, Edmonton Oilers, Los Angeles Kings, New Jersey Devils and San Jose Sharks as five logical landing spots.