Beginning June 1, NWHL teams can re-sign players from their 2017-18 roster and their draft picks. Additionally, for those players who have completed their college eligibility and want to continue their hockey careers, NWHL Free Agency provides the best opportunity to continue playing at the highest level of professional women's hockey. The fourth season of the NWHL will begin in October as the Metropolitan Riveters defend their Isobel Cup championship, and with the addition of a fifth team – the Minnesota Whitecaps – this will be the most competitive season yet.
My colleague Dan Rice will keep THW readers up-to-date on Metropolitan and Connecticut's signings throughout the summer, while I post updates on Buffalo and Boston. Together we will be keeping readers informed of all of Minnesota's signings. 
Olympian Skarupa Comes Back to the Pride
Pride Sign Czech Scoring Machine Křížová
Accursi, Burns & Casorso All Back with Beauts
Just as much as the Boston Pride have been building up their offensive weaponry, they are equally ensuring strength along their back end. On Aug. 7, 2018 they further solidified their defense corps by bringing back NWHL All-Star blueliner Lexi Bender. The 5-foot-8 defender just turned 25 years old in July, and is seemingly on the cusp of playing her best professional season yet. What is especially nice to see is that the Pride are fully invested in her. Bender was drafted by Boston as the 11th overall pick of the 2015 NWHL Draft – the first draft in the league's history. She has remained an integral part of the team ever since and has continuously improved.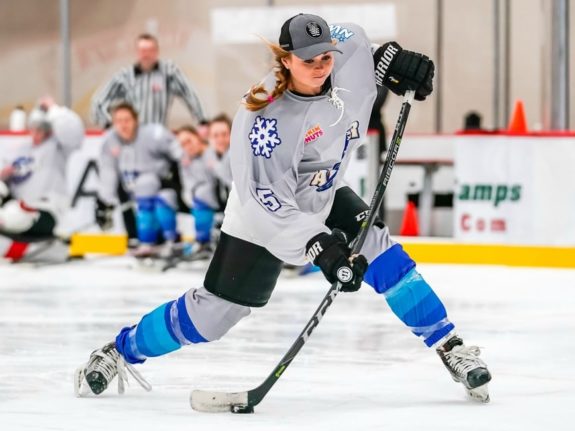 As her signing was announced, Bender made it quite clear that she is determined to get the Isobel Cup back to Boston. She did not mince any words in the press release:
"My goal this year is to do anything and everything I can to help the Pride win the Isobel Cup. I'm sick of seeing pictures of other teams with it all summer!"
The fact that she is back with the Pride is a big step in the right direction toward making Bender's affirmation come to fruition. Keep in mind that she was not yet a member of the team when Boston won the league's first championship during the inaugural 2015-16 season. THW takes a closer look at the Bender signing and how it keeps Boston near the top of the list of viable Cup contenders.
A Blended Defender With Early Successes
Bender possesses an ideal blend of offense and physicality. Her NCAA career at Boston College is a good indicator of that. In 154 career games, she potted 19 goals and 76 assists for 95 points. Certainly very decent numbers for any blueliner. Bender's finest season offensively was her senior year when she scored six goals and assisted on 27 others to have 33 points in 41 games. The physicality seems to be captured by the fact that she put up 142 penalty minutes in those same 154 games. Furthermore, when measuring out defensive capability, Bender finished her NCAA career as a sizable plus-166 for plus/minus.
BREAKING: @TheBostonPride have re-signed defender Lexi Bender.

🔗: https://t.co/gvPlkpLJl1 pic.twitter.com/JW5Rt7Xso2

— NWHL (@NWHL) August 7, 2018
When she made the jump to the professional game during the 2016-17 NWHL season Bender did not miss a beat. She played in all 17 of Boston's regular season games, plus both playoff games. Bender scored a pair of goals and added four assists in her first year. What was most impressive however was that her plus-20 was the second highest plus/minus number on the roster, behind only Alex Carpenter. That was a better number than some very noteworthy teammates, including Hilary Knight, Brianna Decker and Meghan Duggan to name a few.
Though Boston fell to the Buffalo Beauts in the 2017 Isobel Cup Final, Bender still had a solid playoff performance in her rookie season. She was one of only six Boston skaters to score a goal in the postseason, and was second among the team's defenders in plus/minus for the playoffs (plus-three).
Providing Stalwart Defense for "The Pack"
This past season Bender once again played in all 16 regular season games for Boston and their lone playoff game. She is asserting herself as a bit of an "iron woman" in that she has not missed a game yet since she began her pro career with the Pride. Bender's numbers – like Boston's in general – slumped a bit during the 2017-18 season. Despite putting forth 22 shots on net, she finished the regular season with just one assist. Likewise, she finished the season as a less than ideal minus-four. Bender did however put a goal by former Beauts goaltender Amanda Leveille in Boston's opening-round loss to Buffalo in the playoffs. She was one of just two Pride skaters to score postseason goals.
In a way, that playoff goal was part of a few instances in which there was a silver lining to Bender's most recent campaign. Call them "bright spots" on the year, if you will. Her admirable defensive play and reliability saw her receive a nod to the NWHL All-Star Weekend in Minnesota. Similarly, Bender's kindheartedness and character saw her be named Boston's recipient of the league's Foundation Award presented annually to the players most actively involved in applying the core values of hockey to their community, and for being positive ambassadors for advancing the game as a whole.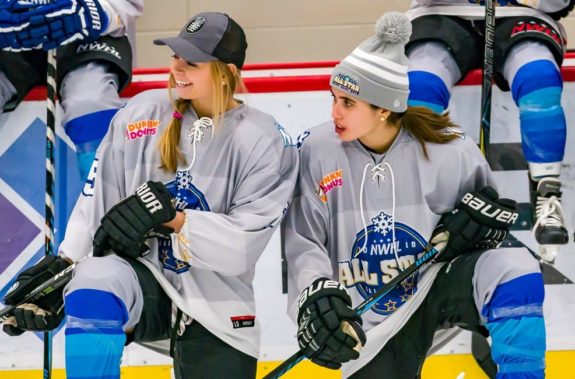 "Giving back to young players is the best part about playing in the NWHL," Bender went on to say in the press release. "It's something I try to never take for granted, and an opportunity I take very seriously."
Such achievements in only her second season give ample cause for excitement toward Bender's upcoming third season in Boston. There is reason to think that the best is yet to come for both she and the Boston Pride. Looking at the four defenders thus far named to "The Pack's" 2018-19 roster, there is also a sense that they shall be rather stingy with giving up goals. Look for Bender to be a vital cog in that respect.
As of Aug. 7, here is how the Pride look thus far:
Goalie: Katie Burt.
Defense: Alyssa Gagliardi, Toni Ann Miano, Lauren Kelly, Lexi Bender.
Forward: Emily Field, Dana Trivigno, Denisa Křížová, Haley Skarupa. 
General Manager of the Buffalo Beauts (NWHL). Hockey history writer "The Hockey Writers". Credentialed media for the NHL Combine and 2018 IIHF World Junior Championships in Buffalo, NY, USA. Born and raised in Buffalo, NY. Lifelong hockey fan for over 40 years. Proponent of the women's game.