Charlie McAvoy is likely the next great Boston Bruins defenseman, but he could be much more than that. The 14th overall draft pick of the 2016 NHL Entry Draft is about to embark on his sophomore season in the NHL following an impressive rookie campaign. The 20-year-old played alongside Zdeno Chara on Boston's top defensive pair last season.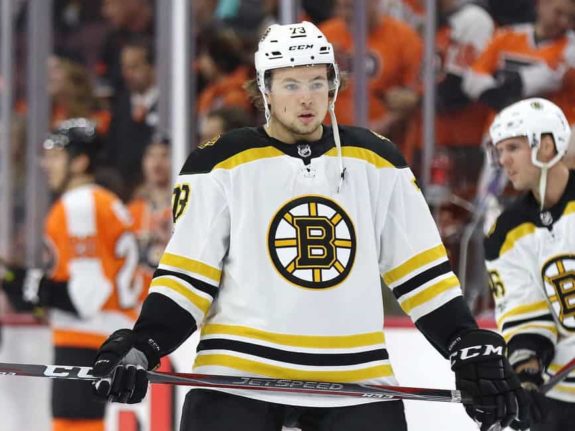 Erik Karlsson is arguably the best defenseman in the league today. The Ottawa Senator has racked up two Norris Trophies (placing second for the award two other times) and is a four-time All-Star. McAvoy, on the other hand, has a long road ahead of him in the NHL. While his ceiling is universally considered high, just how good he could be is up for debate. He has just a single season under his belt but given his solid performance during his rookie year, the 20-year-old will likely follow up with an even better showing during the 2018-19 season.
Charlie McAvoy
In 63 games during his rookie campaign, McAvoy produced seven goals and 25 assists. He logged an average of 22:09 of ice time per game and was trusted with first-pair duties. He played great defense and was mentored by one of the fiercest players in the game: Chara. McAvoy will be handed the defensive reigns when Boston's captain retires, and there is no better way to handle the changing of the guard than by placing the two alongside each other.
McAvoy's biggest strength is his offensive game. He can execute long stretch passes, skate the puck into the opposing team's zone (sometimes very deep into the zone) and shoot. His speed has been one of his greatest assets since his junior-league days. He finished fifth in the Calder Trophy race, an award given to the best rookie in the NHL, and was named to the league's first All-Rookie team.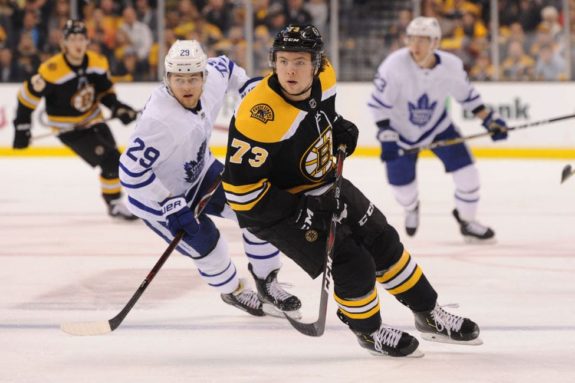 Don't underestimate the New York native's play in his own zone, however. While that part of his game could use the most improvement, he has proven to be a reliable defenseman for Boston and will only get better. One would think his average time on ice will rise in years to come—especially once Chara hangs up his skates. Throughout his career in Boston, the 41-year-old has averaged over 25 minutes of ice time per game. McAvoy will undoubtedly be expected to soak up minutes like those.
Erik Karlsson
The question is, however, just how good McAvoy could be. I decided to run a poll on Twitter to see what the public thinks of the  Bruin's potential. While my following mainly consists of Boston fans, they seemed to be objective in their responses:
Exploring an article on just how good Charlie McAvoy could be and will be looking to use this in the piece (so please share for widespread results):

Will #NHLBruins Charlie McAvoy be as good as #Sens Erik Karlsson some day?

— Drew Johnson (@doobshmoob) August 6, 2018
The majority of the 150 voters do not think McAvoy will be as good as the Senators' Karlsson, who has shown strong offensive numbers and great defense despite being on a struggling team for his entire career. But the 21-year-old edged the 28-year-old during their rookie seasons statistically. Karlsson tallied 26 points compared to McAvoy's 32 during their first years in the league, though the Swede had three fewer appearances than the American.
When Karlsson was age 20 during his sophomore season, he put up 13 goals and 32 assists in 75 games. McAvoy will be a year older during his sophomore campaign, but with numbers exceeding the Senator's during their rookie years, the former Boston University defenseman stands a chance of beating him out again in production. That is, if he can stay healthy.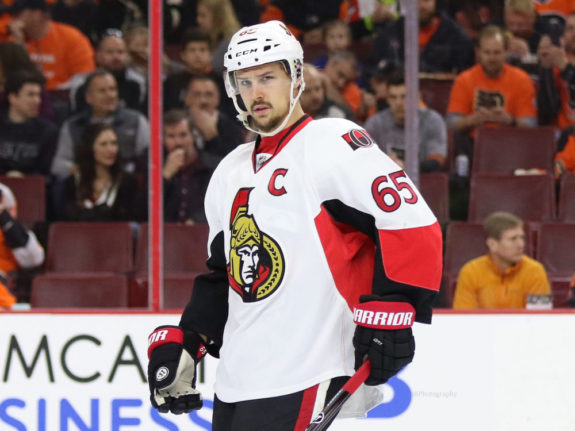 It needs to be noted, however, that Karlsson has earned his way to stardom despite playing on the weaker of the two teams. Throughout the 28-year-old's nine-year NHL career, Ottawa has only made the playoffs in five of those seasons. They aren't expected to make the playoffs once again this year, while the Bruins seem poised for consistent Stanley Cup pushes for seasons to come. Playing with a better team has the ability to make you a better player on both ends of the ice, and one can wonder just how much better Karlsson could be if he were to play with a top contender like the Tampa Bay Lightning.
In short, becoming as good a player as Karlsson is a long shot, but McAvoy is young enough and has the potential to be as good. If he doesn't reach those heights, the soon to be 21-year-old should at least come within shouting distance of that pinnacle. Even that would be a stellar outcome for a mid-first-round draft pick.