The New Jersey Devils were among the biggest surprises in the NHL in 2017-18. They won 44 games and clinched a playoff berth for the first time since their 2011-12 Stanley Cup Final run. They haven't made any significant additions to this point in the offseason and are unlikely to do so barring a trade. Can they repeat last season's success by relying on pieces from within the organization?
Taylor Hall Due for Some Regression
Hall was a big reason for the Devils' success in 2017-18. He finished with a career-high 93 points (39 goals, 54 assists) and was the team's leading scorer by a significant margin. He capped it off with the Hart Trophy at the NHL Awards in June, making him the first Devil to win the award.
Hall had an outstanding season at five-on-five. The Devils outscored their opponents 65-46 and had a 51.25% Corsi For (CF%) and 53.01% expected goals for (xGF%) when Hall was on the ice. He had a positive impact on shot rates, finishing with a relative Corsi For (Rel CF%) of 3.74% and a relative expected goals for (Rel xGF%) of 4.26%. He also averaged 2.38 points per 60 minutes (P/60), which was second-best on the team to Nico Hischier.
Hall had a career year on the power play. He totaled 13 goals, which was the most he had since 2011-12. He also tallied 24 assists, which shattered his previous career-high of 10. The Devils scored 42 of their 54 power play goals when Hall was on the ice. One can only imagine what their power play would have looked like without him.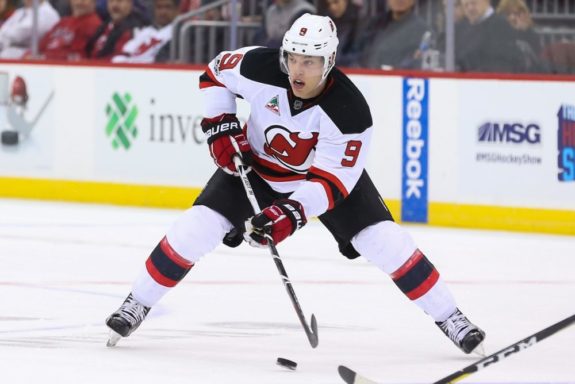 There's no denying Hall's excellence, but he is due for some regression. He shot a career-high 14% and is a 10.9% career shooter. He averaged 17.3 points per 82 games on the power play from 2010 to 2017, so he's likely to regress from the 37 he totaled this season.
Hall is one of the best players in the league, but it'd be unfair to expect him to total 90-plus points again. He has averaged 75 points per 82 games over the last three seasons, so that'd be a reasonable target for 2018-19. The Devils should be in good shape if he ends up in that range.
Devils' Need Next Step from Young Forwards
The Devils had plenty of young forwards contribute significant minutes in 2017-18, and next season should be no different. Hischier wasn't a Calder finalist, but he had a stellar rookie season. He finished with 52 points (20 goals, 32 assists) and had a significant impact as an 18-year-old.
Hischier was one of the best rookie scorers in the NHL at five-on-five, averaging 2.40 P/60 and 2.06 primary points per 60 minutes (P1/60). He also had a positive impact on the Devils' shot rates, finishing with a 1.89% Rel CF% and 1.41% Rel xGF%. It'd be reasonable to expect more than 52 points from him as a second-year pro.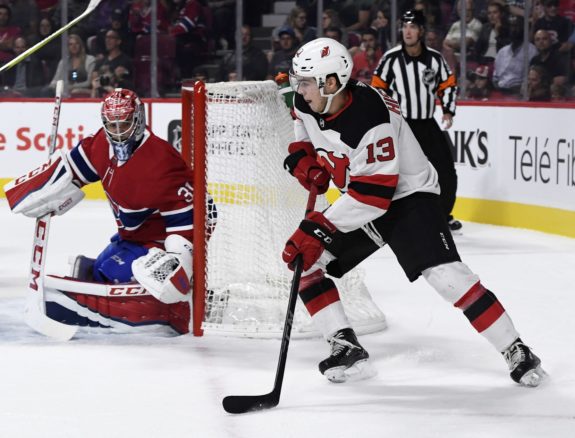 Jesper Bratt was another rookie who stepped up for the Devils. He finished with 35 points (13 goals, 22 assists) in 74 games. However, he had a significant dropoff in production during the second half of the year and had a negative impact at five-on-five for the season. Bratt doesn't need to be a first liner, but the Devils will benefit from him contributing 40-45 points in a middle-six role.
Miles Wood had a strong second pro season after struggling as a rookie in 2016-17. He was the Devils' third-best scorer at five-on-five, averaging 2.02 P/60, and had a positive impact on the team's shot rates. The Devils could use another top-six winger, and Wood is a candidate to step into that role. His scoring rates indicate he may be ready for the opportunity.
Hischier, Bratt, and Wood have to build off their 2017-18 campaigns and add more secondary scoring to relieve some pressure from Hall. The team also needs a prospect like John Quenneville or Michael McLeod to contribute in the NHL. The Devils' offense should be fine if those players can produce.
Devils' Young Defensemen Must Provide Depth
The Devils came into this offseason needing to add a top-four defenseman. They haven't done so at this point, but there is still plenty of time to address it. There could be some issues going forward if they aren't able to acquire another defenseman through the first part of the season.
Andy Greene has been on the team's top pair for quite some time. However, recent results suggest that shouldn't be the case. The Devils have been outshot, out-chanced, and out-attempted by a wide margin when he has been on the ice over the last three seasons. That could spell trouble if they aren't able to find an upgrade sooner than later.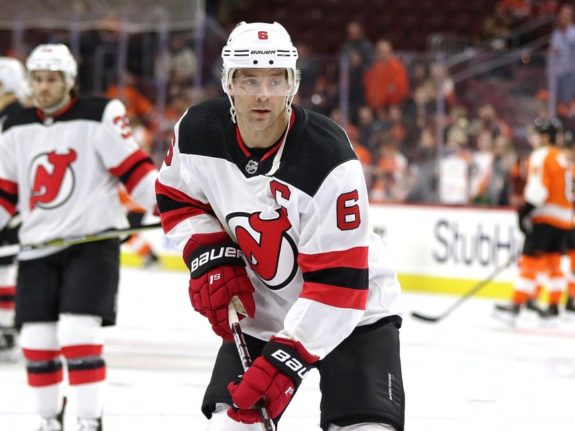 The Devils' X-factors on defense will be Will Butcher and Damon Severson. Severson struggled last season, but his best results came with Butcher — the Devils had a 51.75% CF% and a 52.52% xGF% with them together. They also had a positive impact on the team's shot rates. The two gave up a fair amount of chances as a pair, so they'll have to cut those down. If they're able to do so, they could provide much-needed depth if Greene's struggles worsen.
The Devils have a few options whom will battle for third pair roles in training camp. They signed Egor Yakovlev to a one-year deal after his KHL deal expired this offseason. The 26-year-old left-handed defenseman from Russia will compete with Mirco Mueller for a regular spot. Yakovlev performed well at the World Hockey Championships and could overtake Mueller if he impresses during training camp.
Steven Santini started 2017-18 in New Jersey but struggled mightily in a top-pair role before being demoted to the AHL. He'll get another chance to prove he belongs in the NHL during training camp. Ben Lovejoy posted good results last season after a disastrous 2016-17, but a regular spot isn't guaranteed if Santini shows he's ready to be more than a seventh defenseman.
Related: 6 Devils Prospects Who Could Make the Roster
The Devils Need a Healthy Cory Schneider
I'll have a more in-depth piece on the Devils' goaltending in the coming days, so I won't go into much detail here. The bottom line is they need Cory Schneider to perform as he did in the first half of 2017-18. He struggled with a nagging hip injury throughout the season but had offseason surgery to correct the issue.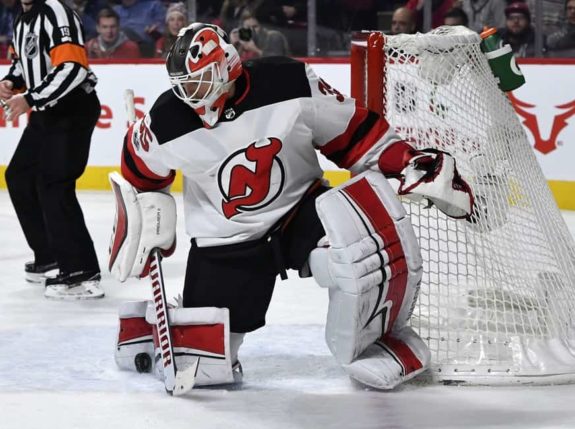 The Devils could be in trouble if Schneider continues to post below league average numbers. Keith Kinkaid stood on his head down the stretch but had a .891 save percentage in his first 21 games played. Which Kinkaid will show up remains a mystery, so it's imperative Schneider returns healthy to help the Devils compete in a challenging Metropolitan Division.
Devils Have the Pieces
The Devils have the pieces to return to the playoffs for a consecutive season. Any team with a player of Hall's caliber will have a respectable offense. If they get continued contributions from their young forwards, as well as a healthy Marcus Johansson, they should be OK.
The Devils' biggest question marks are on their blue line and in net. A healthy Schneider could help mask their defensive flaws. General manager Ray Shero added Sami Vatanen just after Thanksgiving in 2017, so an early season trade is possible if their defense underperforms. If they get sound goaltending and defense, the Devils should return to the playoffs in 2018-19.
*    *    *
Advanced stats from Corsica Hockey