The New Jersey Devils' summer has been quiet to this point. They made some depth signings to help their AHL affiliate, but the bulk of their roster remains the same. Having not made any significant changes, they'll be counting on current roster players and prospects to contribute more scoring next season.
One player who can help add to that is Marcus Johansson, who had the roughest year of his career in 2017-18. After being diagnosed with two concussions and missing 50-plus games to injury, the Devils will need a healthy and productive Johansson to help their secondary scoring for the upcoming season.
Johansson Can Bounce Back From Bad Season
There's no question Johansson had a down year. He had 14 points in 29 games, and his shot rates were not the best — the Devils had a Corsi For (CF%) of 48.75% and an expected goals for (xGF%) of 49.3% when he was on the ice. Their CF% was also 1.25% better with him off the ice, while their xGF% was 1.34% better.
With Johansson only playing in 29 games, it's hard to take anything away from those numbers. He had an xGF% and CF% of 51.8% over his three prior seasons and had a positive impact on the Washington Capitals' shot rates. I'd expect him to return closer to those numbers if he's healthy.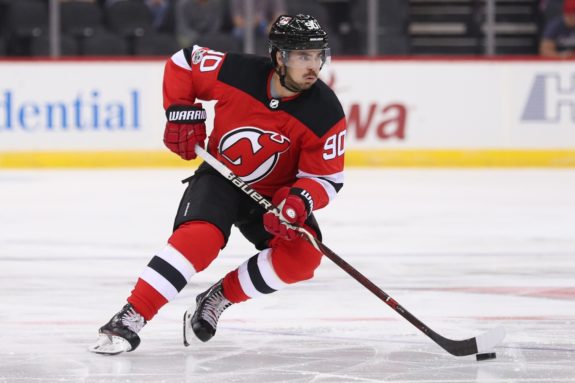 Johansson was an efficient scorer for the Devils, despite having missed a majority of the season. He averaged 1.86 points per 60 minutes (P/60) at five-on-five in just 355 minutes of ice time. That number put him fourth on the team behind Taylor Hall, Nico Hischier, and Miles Wood. Johansson averaged 1.71 P/60 from 2014-17, so he scored at a rate expected of him.
Johansson may not be an elite goal scorer, but he can still be counted on for close to 20 goals in a given season. Where his value comes is in his passing ability. He totaled more than 25 assists in five of six seasons from 2011-17, tallying a career-high 34 assists in 2016-17. Johansson averaged 0.58 primary assists per 60 minutes from 2014-17, which was in the Capitals' top five for players with at least 250 minutes played. If he can produce at these numbers, he should bounce back next season.
Johansson Critical to 2018-19 Devils
With the organization staying quiet in free agency, Johansson will be a crucial part of the 2018-19 Devils. If he can't come through — along with some of their prospects — they will have more secondary scoring problems.
The biggest issue for Johansson will be maintaining his health. A third concussion within a year would require the utmost caution from the Devils. The good news is he played in 80 games or more in three of the prior four seasons. If he can return to that, it'll only benefit the team.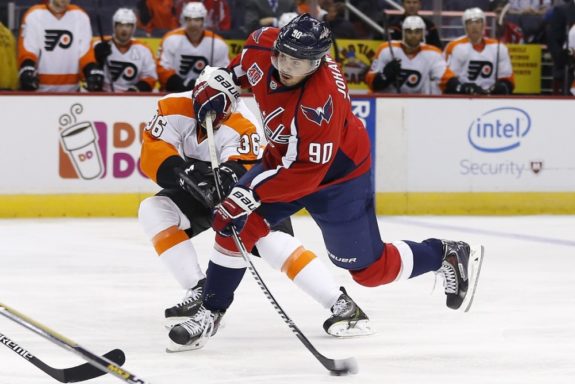 The opportunities for Johansson to succeed are available if he can stay healthy. He'll fit in on the Devils' second line and would give Pavel Zacha a skilled winger to work with on a consistent basis. The Devils used a fair amount of second-line combinations last season. Johansson playing on a regular basis would help stabilize that situation.
Another area where Johansson will have a significant impact is on the Devils' second power play unit, which was one of the worst in the league in 2017-18. The Devils weren't scoring much with the man advantage when Hall wasn't on the ice. Johansson should be able to jump-start the second unit with his passing ability and help make it much more of a threat than it was last season.
Related: 6 Devils Prospects Who Could Make the Roster
Johansson Has to Produce in Final Year of Contract
The Devils weren't able to see what Johansson's fullest capabilities were in 2017-18. The hope is he can give them his best in the final year of his contract. Devils general manager Ray Shero didn't give up second and third round picks to see Johansson walk in free agency in two years' time. That said, he does have to prove he can be a long-term asset for the Devils.
Johansson hopes an early start to training for 2018-19 will put him in a better position to do so. "I feel like I can quickly go back home and start getting ready for next year, and not having to wait to get healthy or feel 100 percent," he told Chris Ryan of NJ Advance Media on May 4. "I can start preparing right away and give myself a head start for next year. I'm really happy about being back, and I was happy about coming back and playing a few games before the season was over."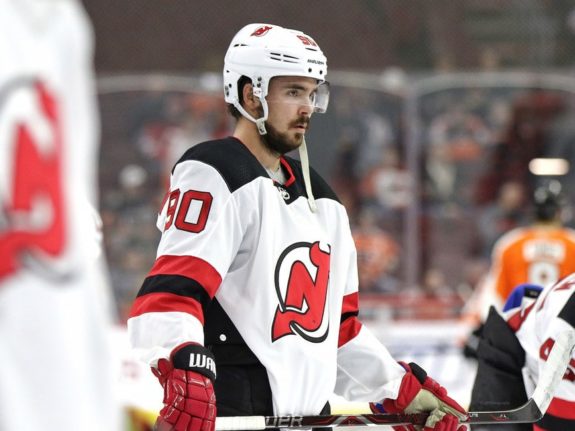 There are legitimate concerns about Johansson's health, and any further head injuries will only raise more questions. That makes 2018-19 a big season for him and is why he has to stay healthy and produce. The Devils need someone behind Hall's line to give them scoring, and Johansson is the best option to do so. If he can, he'll help the Devils repeat their success and will prove his long-term value to the team.
*    *    *
Advanced stats from Corsica Hockey