One of the staples of Ray Shero's tenure as New Jersey Devils general manager has been building from within the organization. That plan was on display last week during the Devils' development camp. After staying quiet in free agency, the organization will be counting on some of those prospects to make the NHL. Here are six players from last week's camp who will be competing for NHL spots in September.
John Quenneville (Forward)
A former first-round pick in 2014, Quenneville completed what was likely his final development camp with the Devils. He barely missed the cut in 2017 and should be a leading candidate to grab a spot up front once training camp begins. After a disappointing season marred by injuries, Quenneville has been hard at work this summer.
"Definitely working on my conditioning, working on my fitness level," Quenneville told Chris Ryan of NJ Advance Media. "Like any (summer), you're rebuilding everything. I'm working on my skating, I'm working on my shooting, I'm working on my offensive tactics. I'm working on everything. Every player needs to work on that."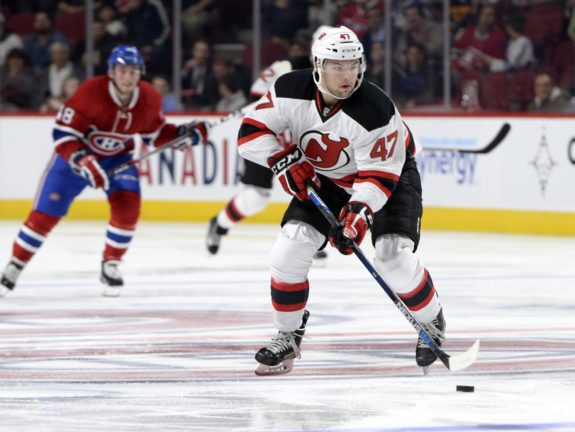 Despite playing in just 43 games, Quenneville totaled 34 points (including 26 primary points) with the Binghamton Devils (AHL) in 2017-18. That would've put him on pace for 60 points in a full 76-game AHL season. There's no doubt the Devils could use another forward with offensive ability, and Quenneville has the skill to provide that. With a strong training camp and preseason, he should be able to break into the NHL come October.
Michael McLeod (Center)
The 12th overall pick in the 2016 NHL Entry Draft, McLeod will begin his first full pro season in September. He was limited in 2017-18 due to a torn meniscus he suffered in the preseason. Once he returned to Mississauga (OHL), he totaled 44 points in 38 games. He finished the season with the Binghamton Devils, tallying one assist in six games.
From the THW Archives: Devils Select McLeod 12th Overall
After a down year in the OHL, McLeod could benefit from a bit of seasoning in the AHL. The Devils are in good shape at center with Nico Hischier, Pavel Zacha, and Travis Zajac. McLeod will get his chance there, but if he cracks the NHL roster, he may begin as a right-winger. The Devils have a need there and could get some depth in their middle-six with McLeod.
Ty Smith (Defense)
Smith was the Devils' first-round selection less than a month ago but was one of the most impressive prospects last week. The young defenseman showed off his skating ability, as well as his decision-making with the puck. He concluded development camp with a hat-trick in the Red vs. White scrimmage at the Devils' practice facility on Saturday.
The team could use a defenseman with a left-handed shot, such as Smith. If Will Butcher moves up a pair, the Devils could use Smith in a similar role to Butcher last season. Butcher was put in offensive situations while being kept out of tough defensive minutes, which would benefit Smith.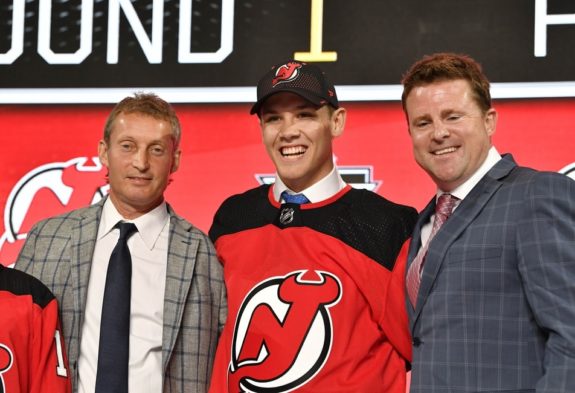 Smith will have to earn his spot on the Devils' NHL roster. There's a long way to go before concluding he'll be playing on opening night, and there's no need to rush him. That said, he took a step forward with his performance in development camp. He'll need to build on what he did last week with a strong training camp and preseason. If his preseason is as impressive as his development camp, he'll have a strong case to play in the NHL. At the very least, the Devils could give him a nine-game audition before returning him to Spokane in the WHL.
Joey Anderson (Right Wing)
Anderson has put together an impressive résumé in his time as a Devils' prospect. He won a national title with the University of Minnesota-Duluth this past spring, finishing his NCAA career with 64 points in 75 games. He also has gold and bronze medals with Team USA from the 2016-17 and 2017-18 World Junior Championships.
The Devils have an opening or two at right-wing, which should give Anderson a good shot at making the team. He's a sound two-way forward, which is something Devils head coach John Hynes looks for in his players. Even if he doesn't make the Devils' opening night roster, it shouldn't be too long before we see him in the NHL.
Brett Seney (Left Wing)
Seney may not have the shine as prospects such as Smith, McLeod, and Quenneville. However, that doesn't mean you shouldn't be keeping a close eye on him. A sixth-round pick in 2015, he finished his NCAA career with 115 points in 139 games for Merrimack College. After signing his entry-level contract in March, he joined Binghamton, where he finished with eight points in 12 games.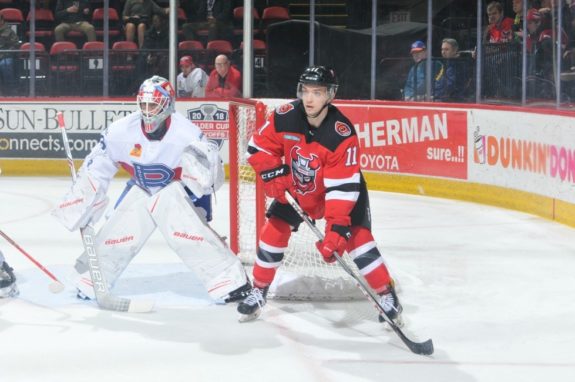 At 5-foot-9, 170 pounds, Seney makes up for lack of size with his strong skating ability. Based on his NCAA production, he has some offensive punch, too. The Devils are in good shape at left-wing with Taylor Hall, Marcus Johansson, Blake Coleman, and Miles Wood. That could force Seney to play on his off side, where the Devils have openings. He had a strong development camp and will make a push during the preseason. Seney may be a dark horse for opening night but could be the Devils' first call-up from the AHL, especially if there's an injury or two. It shouldn't be a surprise to see him in the NHL at some point in 2018-19.
Related: Brett Seney Ready For Next Step
Blake Speers (Right Wing)
A third-round pick in 2015, the Devils' brass thinks highly of Speers. He made the team out of training camp in 2016 and played in three games before being returned to the OHL. He has World Junior experience, capturing a silver medal with Canada in 2016-17.
Despite the accolades, Speers struggled in his first pro season in Binghamton, where he had 19 points in 62 games. He admitted to Binghamton head coach Rick Kowalsky that the transition from the OHL to the AHL was much harder than he expected. "The first thing he said to me, 'I had no idea how hard this league was,'" Kowalsky told Chris Ryan of NJ Advance Media. "'I literally thought I was going to come down to the American League for two weeks or a month, then be an NHL player.'"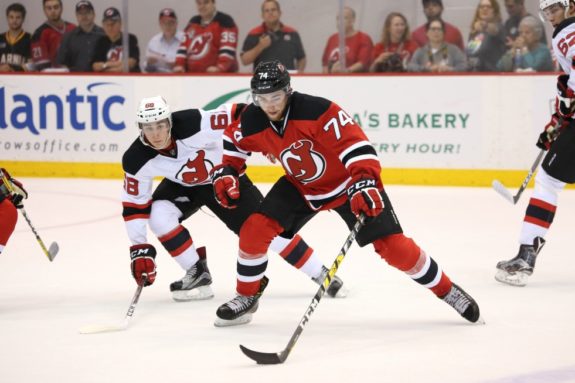 Speers performed well at last week's development camp and will have every opportunity to make the Devils' final roster. He may not be an elite offensive player but can provide depth as a right-wing in the team's middle-six. Speers — along with Quenneville, Anderson, McLeod, and Seney — will be vying for a limited amount of opportunities up front. If he outperforms them, he'll have earned his spot on the opening night roster.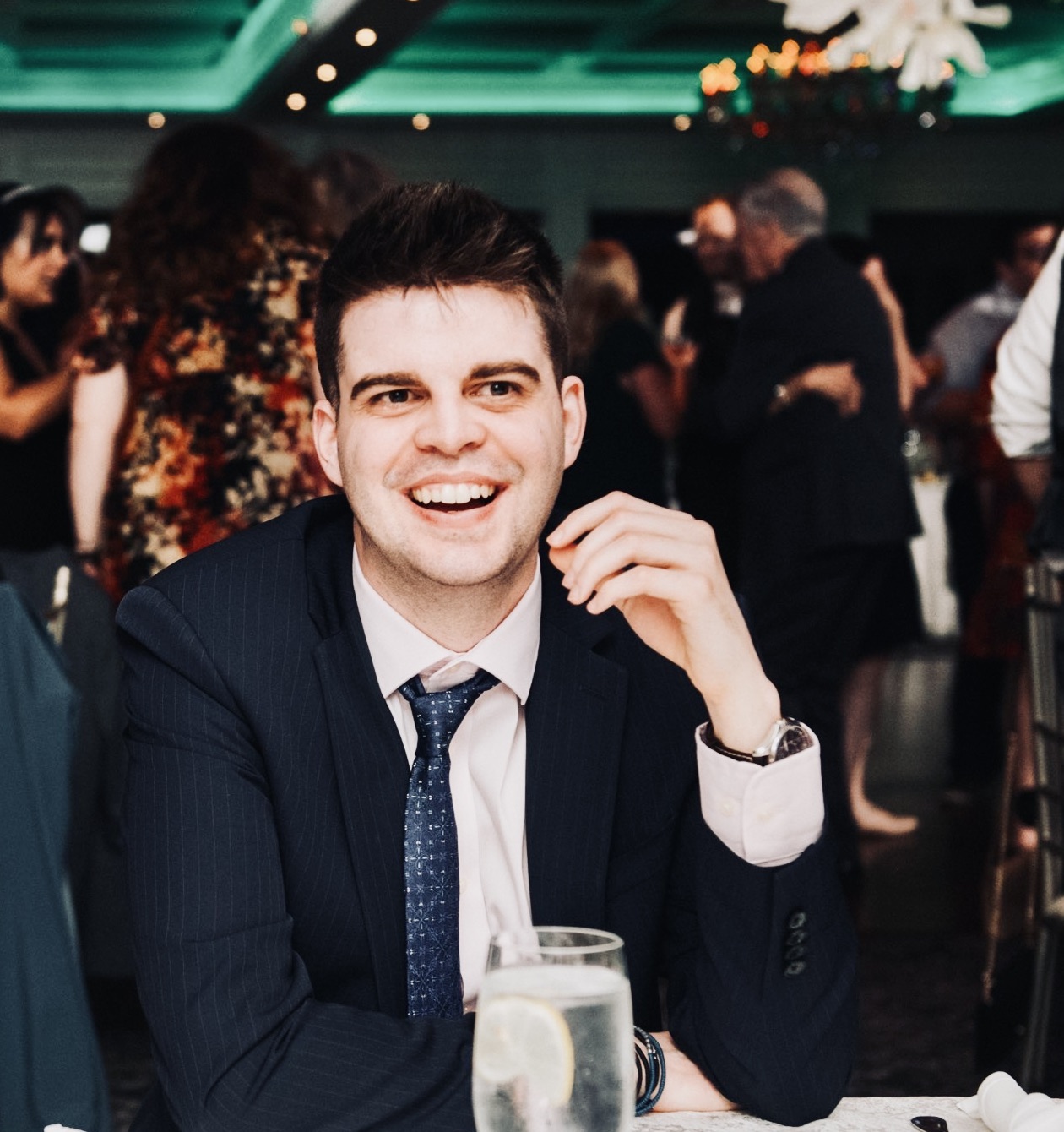 Alex Chauvancy is a New Jersey Devils writer for The Hockey Writers who has a penchant for advanced stats, prospects, signings and trades. He previously wrote for Devils Army Blog, a New Jersey Devils fan blog, from 2015-2017