When John Moore departed for the Boston Bruins in free agency, he left the New Jersey Devils with a spot to fill on the left side of their blue line. General manager Ray Shero stayed quiet in free agency, with Eric Gryba being his lone acquisition on defense. Barring a trade, they'll have to replace Moore from within the organization.
The most obvious choice to step into that role is Will Butcher, who finished with 44 points in 81 games as a rookie this past season. His numbers indicate he's ready for a more significant role and would help the Devils' upgrade their second defense pair.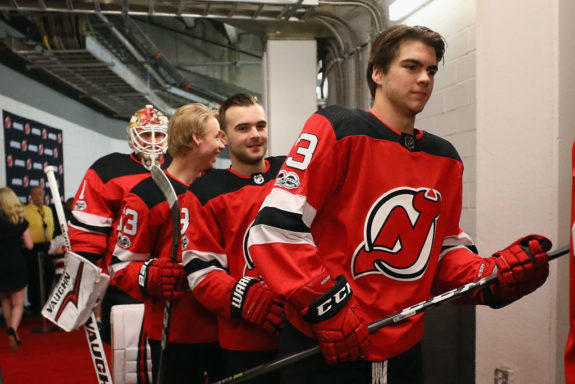 Butcher's Five-On-Five Stats Among Devils' Best
Butcher was one of the best Devils at five-on-five in 2017-18. The team had a 53.2% Corsi (CF%) and an expected goals-for (xGF%) of 55.5% with him on the ice, both of which were the best of any Devils' defenseman. It should come as no surprise that Butcher had a significant positive impact — the Devils' CF% was 6.08% better when he was on the ice, while their xGF% was 6.7% better. He was also the team's top point-producing defenseman, averaging 0.97 points per 60 minutes (P/60).
Butcher also fared well with zone entries and exits. He ranked in a higher percentile than Moore in just about every category, with the most notable difference coming in their zone exit success rates. Butcher ranked in the 91st percentile in the percentage of zone exits with possession and 96th in possession exits per 60 minutes, while Moore ranked 41st and 42nd. Butcher's ability to consistently exit the defensive zone with possession shouldn't go unnoticed. If he's playing against harder competition next season, it'll play a big part in his success.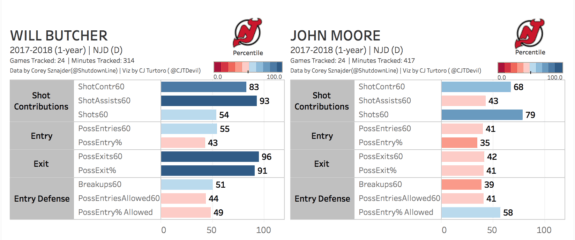 There's one reason to be cautious about Butcher's numbers, and it's because of his deployment. Devils' head coach John Hynes used him in a primarily offensive role and kept him out of tough defensive situations. However, he made the most of his minutes, so it's a good sign he's ready to take a step forward in 2018-19.
Butcher Gained Valuable Experience at the World Championships
Butcher's season didn't come to a close after the Tampa Bay Lightning eliminated the Devils from the playoffs. He was added to Team USA's roster for the 2018 World Hockey Championships in Copenhagen, Denmark. What the Devils wanted from Butcher was playing time in tougher defensive situations, such as the penalty kill.
"…It was awesome to be asked and an honor to represent the United States, but this is a challenge too. I'm getting to play a little bit of a different role. I didn't play PK at all this year and I'm out there on the PK now and I really like the challenge and opportunity to improve my game. It's been a lot of fun for me," Butcher told Julie Robenhymer of NHL.com.
Butcher also continued his trend of being a consistent and successful passer. He finished the tournament completing 66.5% of his passes, putting him in the top 10 amongst defensemen. He continued to build on his superb rookie season with a strong showing in Copenhagen. That should help him prepare for a new role next season.
Related: Butcher's Rookie Season Proves He Was a Steal
Expect Butcher & Severson as Devils' 2nd Pair
Butcher spent a majority of 2017-18 paired with Ben Lovejoy. That will change if he moves up a pair and would make Damon Severson his most likely defense partner. The two saw time together this past season and had favorable results — the Devils had a 51.7% CF% and 52.5% xGF% in the 233 minutes they were on the ice together. The Devils' CF% was also 3.38% better with them on the ice, while their xGF% was 2.05% better.
There are a couple of things to note. Like most of Butcher's minutes, the two were sheltered and kept out of tough defensive situations. They also gave up a fair amount of goals, but the blame isn't all theirs. The Devils five-on-five save percentage was .876% when they were on the ice, which was the worst of any Devils' defense pair to play at least 100 minutes. There isn't any evidence that defensemen can impact save percentage over long stretches of time. With Severson and Butcher only playing 233 minutes together, it's safe to say they were the victims of bad luck.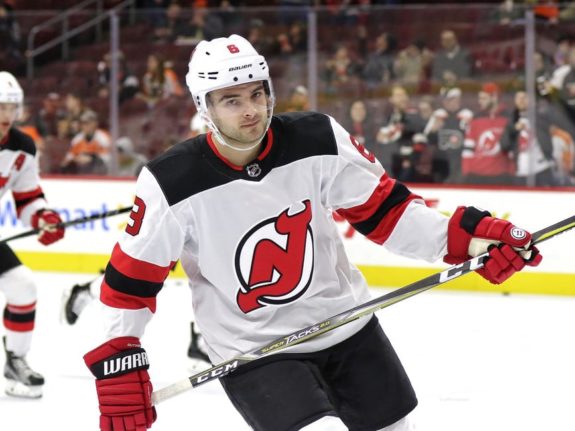 Unless they make a trade, Butcher and Severson will round out the Devils' top-four in 2018-19. Their styles of play compliment each other well. They both have offensive ability and are two of the Devils' better passers on defense. They've also had a positive impact on the team's shot rates. If they end up together, the Devils would be getting an upgrade on their second pair. That would help the team improve their defense without having to resort to outside help.
*    *    *
Advanced stats from Corsica Hockey