Connor Hellebuyck's recent six-year extension looks like fair market value right about now. By the time it's over, the Winnipeg Jets could have another steal on their hands.
Hellebuyck's numbers shot up this year, and he was a huge part of the most successful season in the history of the Jets/Thrashers franchise. His 44 wins, sterling .924 save percentage, and 2.36 GAA earned him a Vezina Trophy nomination that some feel should have been a win.
At first glance, the deal looks like another win for Kevin Cheveldayoff. He locks up yet another home-grown young player who is part of the team's long-term core and keeps the money reasonable. It's more than that, however.
Hellebuyck is a win on more fronts besides just being another Jets prospect who panned out and got locked up. He compares favorably to his peers in both money and results, and his development curve has been handled near perfectly by the team.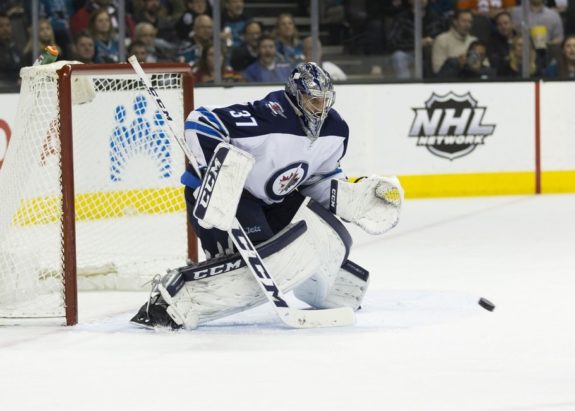 True, there was an undeniable hiccup during the 2016-17 season. Hellebuyck wore goat horns at times that year for a team that wasn't very good defensively in front of him. But other than that, it's been a largely steady upward trend for him.
If that upward trend continues, Hellebuyck will be more than just a great signing. He already looks like he could be the number-one goalie for a powerhouse.
How Hellebuyck Stacks Up
Does anyone remember how long it took Carey Price to be a number-one starting goaltender? It's been rather lost in his otherworldly career since then, but there were some rocky seasons before he posted numbers very similar to Hellebuyck's at the same age of 24.
No one really recalls that now, or the call for him to be traded over Jaroslav Halak, because of what Price has turned into. While Hellebuyck is not inherently another Price, he is another starting goalie who, at the same age, has hit the same upswing.
Here's how Connor Hellebuyck's new contract stacks up against other top goalies: pic.twitter.com/qfQChiMwKh

— NHL Network (@NHLNetwork) July 13, 2018
There's a reason Hellebuyck was such a priority for the Jets this offseason. There's a reason he was signed before Jacob Trouba or Josh Morrissey or Adam Lowry. As the Jets found out in 2016-17, all the talent they can use couldn't erase poor goaltending.
Luckily, the Jets no longer have to worry about that. Only one goaltender who was paid more than Hellebuyck posted a better save percentage, as you see above. None posted more wins.
All this for a goaltender that, at the start of the year, Steve Mason was supposed to be mentoring if not outright supplanting. The Mason experiment ended dismally, but out of the ashes of his season rose Hellebuyck to guide the team in the future.
Hellebuyck's work is indeed a small sample size but, as many observers have pointed out, it was about the same size as Frederik Andersson before he signed with Toronto. Andersson has given the Leafs no reason to regret that deal.
Not surprised at all to see Hellebuyck get that AAV. Leafs gave Andersen a $5-million AAV as an RFA when Andersen hadn't even been a full-time starter yet, so there's your floor. As a Vezina finalist and league wins leader, Hellebuyck deserved what he got.

— Matt Larkin (@THNMattLarkin) July 12, 2018
Hellebuyck has to earn that money now, of course, and there is some additional pressure that comes with a deal that size. If his career is any indication, however, the Commerce Township, Michigan native will keep on rising.
Hellebuyck Rises Slow and Steady
Looking back at Hellebuyck's development, it's a model for how a late-round pick from a lower tier league can blossom. It's a blueprint for how to handle the development of skilled players who need seasoning.
Hellebuyck stunned the NCAA with record-setting seasons in his time at UMass-Lowell, earning the first-ever Mike Richter award in the process. He quickly moved to the AHL, where he continued to impress with two years of save percentages over .920.
He came to the Jets sooner than expected in 2015-16 due to injuries, and while he seemed to dramatically lose his edge toward the end of his 26-game recall, he still managed a .918 save percentage. He won 13 games on the worst Jets team since relocation.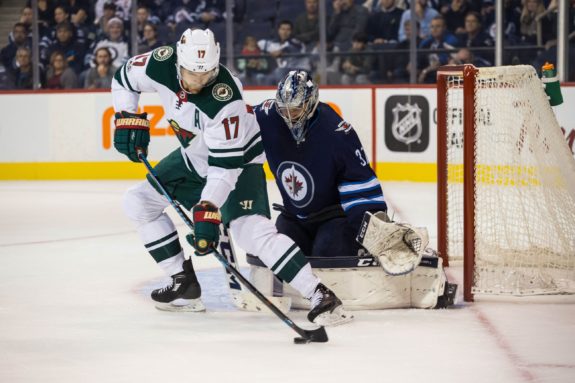 There's no denying 2016-17 was a setback. Looking at some of the goals Hellebuyck let in, they weren't goals befitting a number-one netminder. His .907 save percentage wasn't much of an improvement on ousted starter Ondrej Pavelec.
The Jets preached and displayed patience, however, and were rewarded for it in 2017-18 with a better year than they could've dared hope for. All the Jets needed to be playoff bound was average goaltending. They got stellar goaltending instead and went all the way to the Conference Final.
Hellebuyck shows all the hallmarks of being capable of that sort of goaltending long term. The fluky, soft goals that plagued his 2016-17 were largely cleaned up last year. His rebound control, positioning, and confidence were all better. His 6-foot-4 frame and athleticism certainly didn't go anywhere.
Hellebuyck already stacks up favorably with his peers and has shown a desire, and ability, to get consistently better. Which is why his contract isn't just a shrewd signing. It's another potential steal for the Jets.