The Florida Panthers did much of their offseason heavy lifting prior to the start of National Hockey League free agency Jul. 1, boosting their offense by trading for Mike Hoffman and signing Kontinental Hockey League standout Bogdan Kiselevich to stabilise their blue line.
They've proceeded to also re-sign many of their own restricted free agents, thereby minimising the need to look elsewhere for help.
However, they did dip their toe into the free agent water by signing goaltender Michael Hutchinson, formerly of the Winnipeg Jets, to a one-year, $1.3 million one-way contract.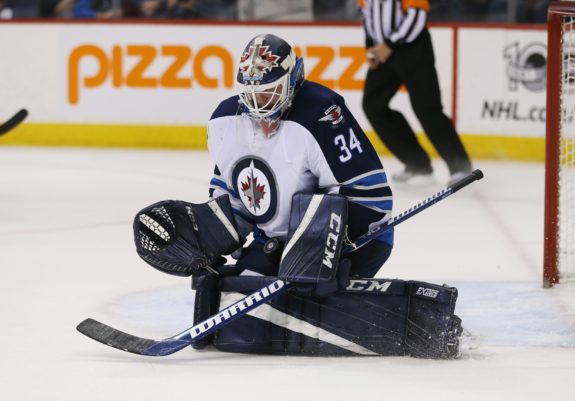 With Roberto Luongo (four more years at $4.533 million against the salary cap) and James Reimer (three more years at $3.4 million) locked up for the foreseeable future, what does Hutchinson mean for the Panthers?
Panthers' Rationale for Signing Hutchinson
When Panthers' general manager Dale Tallon was asked about the signing, he commented, "As we saw last year, it takes an army – it takes at least three."
And so it did, with injuries to Luongo and Reimer necessitating the insertion of Harri Sateri, who played in nine games for the Panthers this past season. Given the histories of both Luongo and Reimer, it's not unreasonable to suggest Hutchinson will have to fill a similar role this coming season.
Hutchinson Brings Healthy Competition to Panthers' Crease
In 102 NHL games (87 of them starts), Hutchinson is 43-39-11, with a .910 save percentage and three shutouts. While these numbers aren't exactly terrible, they also don't inspire tremendous confidence.
That said, Hutchinson has shown flashes of brilliance in the past at the NHL level, despite playing behind a Jets team that hasn't always been the stoutest defensively. It's also worth noting that, with a .935 SV% with the American Hockey League's Manitoba Moose this past season, Hutchinson finished just .001 % behind Garret Sparks of the Toronto Marlies, who was named the AHL's top goaltender for 2017-18.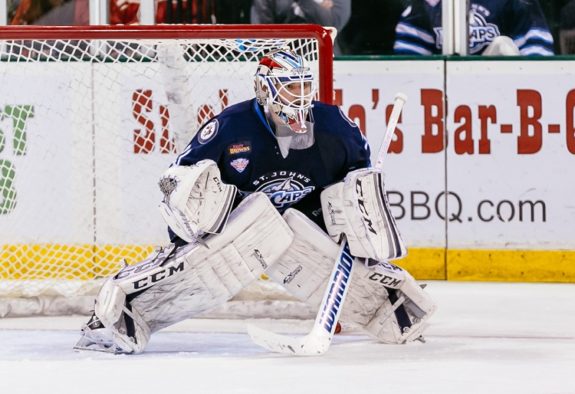 Certainly, the AHL is a lot different than the NHL; Hutchinson has generally shown quite well there throughout his career, despite never really being able to rise much above mediocrity at the NHL level.
Still, though, Hutchinson has the potential to push Luongo and Reimer for playing time, particularly the latter. It's not unusual for Reimer to start the season agonisingly slow. Additionally, throughout his career, Reimer's struggled to find consistency in spot duty, though it should be pointed out he went 9-2-1 down the stretch last season as the clear backup to Luongo.
If either of these traits present this coming season, as much as it'd be nice for the Panthers to wait around for Reimer to find his game, the Atlantic Division is set to be perhaps the most competitive in the league, with nearly every team showing marked improvement (on paper, anyway). The Panthers will have very little margin for error, so Hutchinson provides them a viable backup plan should Reimer be unable to adequately spell Luongo.
A backup backup plan, if you will.
Panthers' Hutchinson Provides Injury Contingency
That all said, though having Hutchinson pushing him might help, Reimer's proven his entire career he can reliably provide league-average (or better) netminding. Luongo, for his part, might as well have been made in Switzerland, as you can set your watch to his consistency.
The more likely need between the Panthers' pipes will be injury relief.
Luongo, for all his excellence, has missed significant time the past two seasons, courtesy hand, groin and rib ailments in 2017-18, and a hip injury the year before, which followed hip surgery in the summer of 2016. After his injuries this past season, there were even concerns (since alleviated) his career might be over (time stamp is 27:29).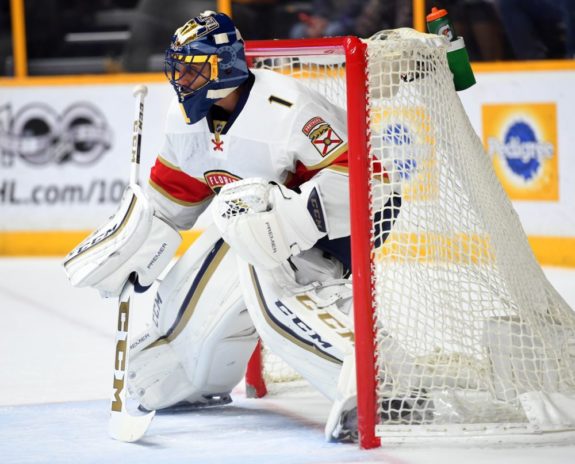 Despite returning to the lineup and starting 18 of Florida's final 30 games (going 12-5-1), recent history suggests Luongo is a risky bet to play the entirety of 2018-19, so having a quality third-stringer like Hutchinson is certainly helpful.
And it's not as though Reimer's been immune to injury, either. Like many goalies, he's suffered groin issues from time to time – notoriously unpredictable injuries with often-uncertain rehabilitation timelines, to go along with a history of concussions and a smattering of other ailments.
Simply put, as contingency plans go, Hutchinson is a pretty darned good option for the Panthers and should be able to hold down the fort should the injury bug bite.
Hutchinson Auditioning for Future with Panthers?
This three-goalie system should serve the Panthers well for the time being, but who knows what the future holds?
Luongo's contract takes a significant dip in real money this coming season, and will do so again for 2019-20. It's entirely possible he retires early, especially if he suffers another injury-plagued campaign. Assuming he plays well this coming season, could Hutchinson replace him on the Cats for 2019-20?
Or, perhaps solid performance by Hutchinson will make Reimer expendable. With three seasons left at $3.4 million per campaign, Reimer would certainly be an attractive piece of trade bait for teams looking to stabilise their goaltending, and would help clear space for a Panthers squad that's getting somewhat tight against the cap.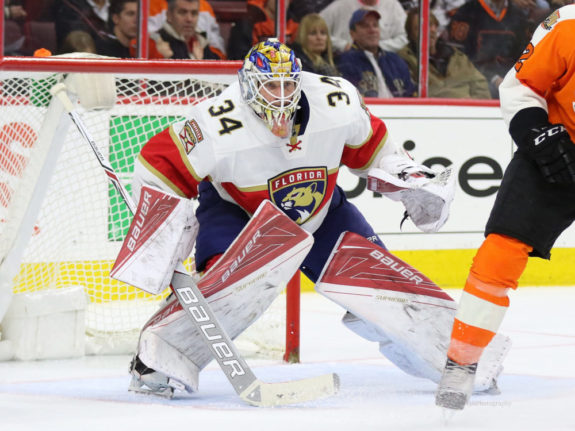 Regardless, should Hutchinson prove himself capable of a full-time NHL role, it's entirely possible he assumes said role with the Panthers, who won't then have to gamble on an unknown quantity, or risk rushing a prospect like Samuel Montembeault.
Hutchinson could also fetch the Panthers a nice return. If he ends up playing games with Florida this upcoming season and performs up to – or even above – expectations, the Cats might just be able to acquire assets in return for a goaltender they picked up for nothing (nothing except money, that is).
Hutchinson's Contract Could Ward Off Waiver Claims
One crucial component of the Hutchinson signing is the one-way nature of the deal, which means Hutchinson will make the same amount of money both against the cap and in real salary ($1.3 million; his deal does not include a signing bonus), regardless of whether he plays in the NHL or AHL.
When asked about giving a goaltender seemingly poised to bounce between the two leagues a one-way contract, Tallon explained, "It's July 1st…if you want to get players, you have to pay."
Not only does this signing show a willingness on the part of the Panthers to spend money they don't necessarily have to (they could've added a goaltender who cost less, and or who would've accepted a two-way contract), it also gives the Panthers a certain measure of protection should Hutchinson be called up and have to pass through waivers to get back to the AHL (i.e. outside of an emergency recall situation).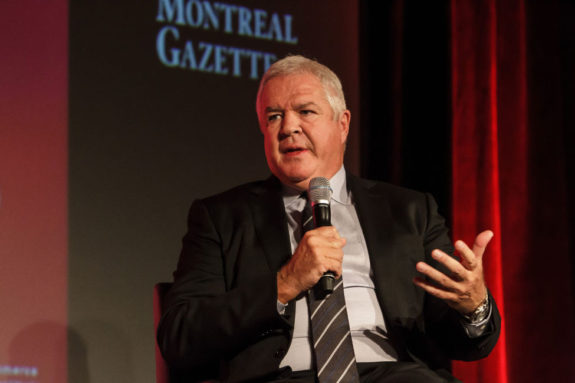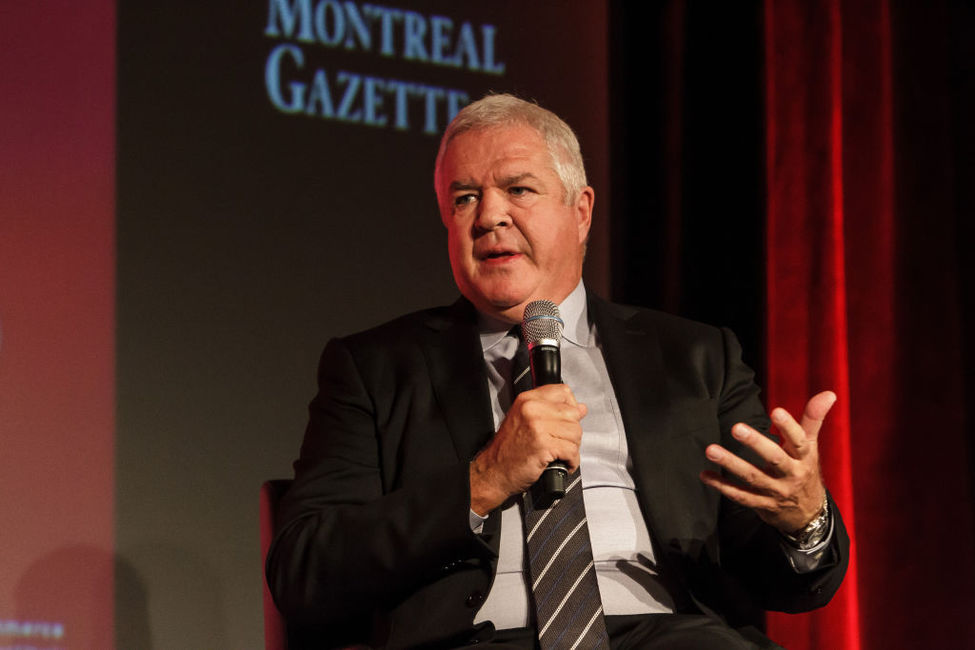 While $1.3 million isn't a lot of money (in NHL salary terms), some teams will be so tight against the cap they won't be able to fit him in, and fitting him in will disrupt the plans of others (regarding the trade deadline, for example). Still other teams aren't going to want to pay that much money for a third-string goaltender, no matter how much he's needed.
Obviously, these are not going to be problems for every team, and probably not even most. However, even if it puts off one team, thereby reducing the likelihood Hutchinson gets claimed, it's an advantage for the Panthers.
A small advantage, to be sure. But an advantage nonetheless.
Little Downside to Hutchinson Signing
In a perfect world, Hutchinson would spend the year with the Panthers' AHL affiliate, the Springfield Thunderbirds, playing whenever and however often is ideal to ensure the optimal development of Montembeault.
However, the Panthers of the last few seasons are the shining example of how rarely things actually go to plan. Hutchinson should be able to push batterymates Luongo and Reimer, while providing valuable injury insurance for the sometimes-fragile duo. Should he prove successful in the Panthers' crease, he might also be a viable option for Florida's future.
And if he doesn't work out? That's fine, too. He's on a one-year contract, so there's no long-term risk, and one certainly couldn't blame the Panthers for trying.
Thus, don't sleep on the Hutchinson signing. It just might be the most critical of all the Panthers' activities this offseason.
Up until now, anyway.
Peter Ferrell covers the Florida Panthers and Toronto Maple Leafs, with a side of jersey and logo (over)analysis, for The Hockey Writers.