Late round draft picks are often a gamble, but the New Jersey Devils may have found a sweet reward in Brett Seney – who they selected in the 6th Round at the 2015 NHL Draft. The native of London, Ontario just completed a consistent four years at Merrimack College in March and upon completion of his collegiate career, the 22-year-old signed a two-year deal with the Devils. 
"I was drafted in 2015 so it was a couple of years ago, it was definitely a special day for me and my family," Seney told The Hockey Writers during the Devils' annual July Development Camp. "It was a great honor being drafted by New Jersey, it's a great organization. It's crazy how fast the time goes, (now) seeing these new guys come in (here) that were just drafted."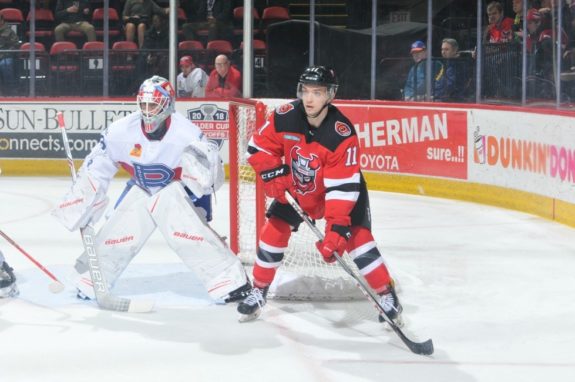 College vs Juniors
This is Seney's third Development Camp in New Jersey (2015, 2016) and the Canadian kid explained to us why he chose the college route for his development as opposed to playing junior hockey. "For me personally I was kind of a late grower so my draft year in the OHL I was a smaller guy, so I started looking towards the college route where you can take a little longer to develop," he said.
"Also I thought it was important to get my education as well and that definitely influenced me to come down to the States. It really worked out for me and I'm happy with my decision," he added. With 42 goals and 115 points over his 139 games at Merrimack, we'd agree that things worked out decently for Seney.
FANS: Senior Brett Seney is a nominee for the @HobeyBakerAward!

Head to https://t.co/UeJ5866xmq and cast your vote (1/day). #GoMack pic.twitter.com/SNvklYaN9V

— Merrimack Men's Hockey (@MerrimackMIH) January 16, 2018
"I grew a lot there. In college you work out a lot, you don't play as many games. That was a part of my game that I needed to work on, getting stronger and a little heavier," he explained. "Also it was a great experience, Merrimack College is a great school. I really enjoyed my four years there."
NCAA to AHL to the NHL
After signing his deal with the Devils on March 16 Seney agreed to an amateur tryout (ATO) with their AHL affiliate in Binghamton for the remainder of their season, and he did quite well for himself. With eight points (three goals) over the twelve games he played in Seney definitely got off to a good start to his pro career, and he showed some feistiness too — 16 penalty minutes.
"I had a little stint there and it's different than college; obviously you don't have to worry about school so you have a little more time off," he said of his first foray into pro hockey. "It's a lifestyle. Everything you do you have to relate it back to how it's going to help you on the ice. It was a little learning curve for me and some of the veterans in Binghamton definitely helped me adjust to it. It was a great experience and I'm really happy with how it worked out."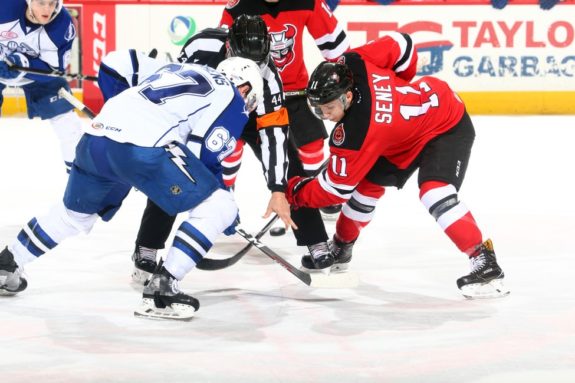 The sky is the limit this upcoming season for Seney, and it would be a dream come true to make his NHL debut at some point during the 2018-19 campaign. "For sure. The coaching staff has made it clear that at training camp (in September) there are spots open, so I have faith in myself that I can crack this squad come September. But it's a lot of hard work and every other guy in this locker room has the same goal. We're all going to be working towards that, it's a big summer ahead."
Get Up Shorty
As a smaller player Seney definitely isn't going to back down from bigger players, no matter the league. That's just his style. But he also admitted he has to be a little smarter and not put his team at a disadvantage. "I may not be the biggest guy. Us smaller guys maybe have to make up for it with heart, I'm not afraid to go out there and mix it up with the guys," Seney told THW. "Like you said, 16 penalty minutes, I've got to maybe cut down on some of those a bit. But no matter what level I'm playing at I always try to play my game the same."
As Seney alluded to, he's not the biggest guy, standing at 5'9" and weighing 170 lbs. In today's new-era NHL smaller and quicker players are in now, but that doesn't mean there weren't smaller statured players for him to idolize growing up as an aspiring hockey player.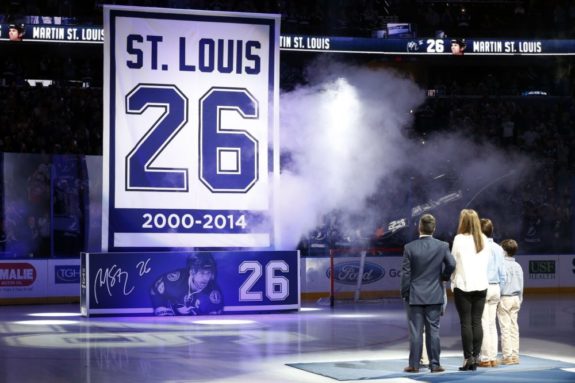 "Personally it was probably Martin St. Louis," he responded with a grin when asked about some of his favorite players were growing up. "It was pretty awesome to see him get inducted into the Hall of Fame a few weeks ago; that's pretty special. In this day and age a guy like Tyler Johnson or Brad Marchand – I know he's not the most liked guy in the league, but those are some guys that I can see modeling my game around."
Finally, we asked would he rather score a goal or assist on a goal. He answered with a smirk, "I don't know, I've always been kind of a setup guy growing up."
Dan Rice is in his 9th year of reporting for THW & has covered NJ Devils home games for 15+ years at various websites. He began his journey working for legendary broadcaster/writer Stan Fischler from 2002-04 & completed an internship at the ECHL; he also has been writing features for the NWHL (nwhl.zone) website since 2016.