It's a good thing the Montreal Canadiens swear up and down they're not rebuilding and are aiming for a playoff spot instead. Because, barring a miraculous turnaround, they could be stuck with perennial-30-goal-scorer Max Pacioretty.
That is, up until the end of the season, at which point Pacioretty will have no reason to stay. If you believe recent reports that the Habs have let him know they have no intention of negotiating an extension with him, anyway.
An NHL source tells @MAGodin that the Canadiens have informed Max Pacioretty they will not negotiate a contract extension with him: https://t.co/pEbnuIo3kM

— Аrpon Basu (@ArponBasu) July 10, 2018
Vintage Bergevin?
At first glance this appears to be vintage Canadiens general manager Marc Bergevin: Devalue an asset, as he notoriously did with Alex Galchenyuk, before trading them below fair value. In that sense, maybe Pacioretty is on his way out of town after all, just for far less than what many fans had hoped, some kind of return revolving around a No. 1 center or No. 2 defenseman in the making.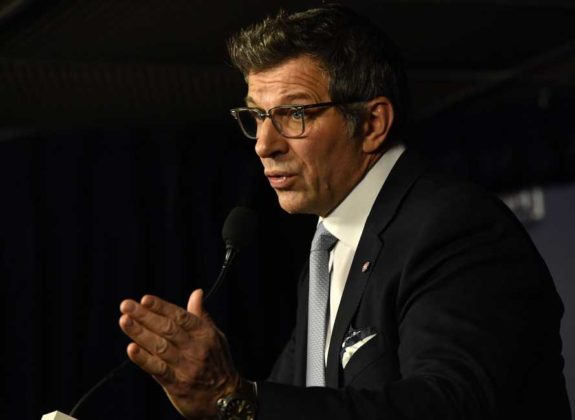 Maybe give the Canadiens the benefit of the doubt here, though. There is the possibility that Pacioretty's new agent, Allan Walsh, could be working the media to try to ameliorate a difficult situation for his client. Walsh has done it before, after all.
However, one of the only ways in which the Habs are completely blameless in all of this is if the reports are a complete fabrication (by Walsh or whoever). Because, if there is even a grain of truth to this, why let your captain know he's as good as out of town when he's still got a year left to play on his contract?
To facilitate a deal? And try to get Pacioretty to go along with just any trade scenario that materializes, like the draft-day one that would have had him go to the Los Angeles Kings? It's probably best to answer that with a question:
How much loyalty to the Habs can Pacioretty have at this point? Enough to blindly accept that however much money he'll be offered by the Habs' future trading partner is more than what he'll make come next July 1? When he's now got even more incentive to put together a bounce-back season following last season's snafu?
Pacioretty Saga Turns into a Snafu
This snafu may very well be worse, because, in spite of the fact Pacioretty was limited to "just" 17 goals, many signs point to it being a fluke. In sharp contrast, in spite of Bergevin defending Pacioretty at his post-mortem press conference, the Habs wanting to trade their captain was one of the worst-kept secrets in hockey. And now it just got a lot tougher.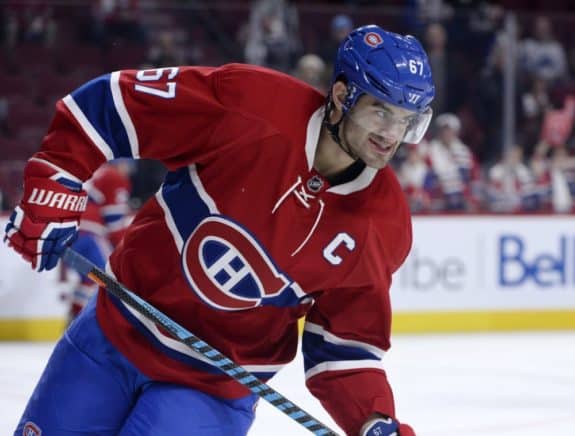 Obviously, the return in any deal would be greater were Pacioretty to agree to an extension with that hypothetical trading partner. Because he has every reason to test the market on his own next summer after earning just $4.5 million on average during his current contract, it's likelier that Bergevin will have to settle for selling Pacioretty as a mere rental. That of course means the Habs would probably end up getting peanuts in comparison.
Now that Bergevin is negotiating from a position of weakness, with every other team in the league under the impression the Habs don't even want the guy? Good luck getting that much. It almost doesn't even matter if the reports are true or not. Perception drives market value.
It almost makes it worth it for the Habs to hold onto him, but then they will surely lose him for nothing if the reports are at all accurate, regardless of how successful he is this coming season. He could realistically score 35 goals once again, prompting the Habs to rethink their stance, and then leave for greener pastures, even if just out of spite.
To a certain extent, only Bergevin and his inner circle know exactly what went down. However, look at this short summary of the Pacioretty saga and determine where the lion's share of the blame would lie if this turns out as disappointingly for the Habs as everyone now expects:
Bergevin's Failure to Trade Pacioretty
Despite trying to, Bergevin failed to trade Pacioretty before the trade deadline during what was a hopeless season. Once that season officially came to a close, Bergevin proceeded to pass the buck by vaguely alluding to attitude problems in the dressing room. That in turn sparked a mini-witch-hunt in the media, which unavoidably implicated Pacioretty, as he is the team captain (for now, anyway).
Bergevin then only came close (but no cigar) to dealing him at the draft, ultimately falling short in finalizing rumored separate deals with the LA Kings and New York Islanders. It would seem, unlike Pacioretty's reputation on the ice, Bergevin is no finisher, unless, as this latest incident would hint at, it's into his own net.
So, to recap: Pacioretty's bad season? Potentially a fluke. This whole situation, even if the recent reports aren't true? Not so much. A lot of the responsibility falls at Bergevin's feet. You could argue that it's only now, with Weber out and another failed season looming, that the need to trade Pacioretty has become truly prevalent. Whereas before Bergevin may have truly thought 2018-19 would serve as a rebound season for himself and the team, now there's no point keeping him around. However, plenty of other general managers have maneuvered similar situation successfully. Those that haven't, well…
There are of course far worse things in the world than hanging on to your captain, who's capable of scoring 30-plus goals, for what the team has publicly declared will be a season in which they try to make the playoffs. All this latest twist has done is confirm what many accept already as the truth instead: The Habs are rebuilding… and, managerially, things aren't looking good.
Sportsnet's Eric Engels argued last season that a failure to trade Tomas Plekanec would have amounted to a fireable offense. While that specific situation turned out all right, you would have to think an inability to parlay Pacioretty into a sizeable haul would be just as egregious, especially if they end up losing him for pennies on the dollar or nothing at all.
That's unfortunately likelier than ever before.