The beautiful MB Ice Arena, in the shadows of the United Center, was home to the future of the Chicago Blackhawks organization as they held their annual Development Camp last week. Forty-two players from around the globe, including 35 who are either draft picks or under contract, spent five days drilling and trying to impress the Blackhawks brass.
New Format Leads to New Challenges
Last year the Blackhawks changed the format of their camp to focus more on teaching what is expected from the organization and less on game simulation.  In previous years, scrimmages were held at the end of each day of camp, giving a more in-depth look at players in game situations. Now, the camp is four straight days of nothing but drills and just one scrimmage on the final day.
There is only so much you can get from watching a player in individual skating or passing drills without seeing them at full game speed. Case in point, last year Alex DeBrincat had a very poor week. He failed to stand out during the practice sessions and it led to a lot of people believing that he had no shot at making the NHL roster to start the 2017-18 season.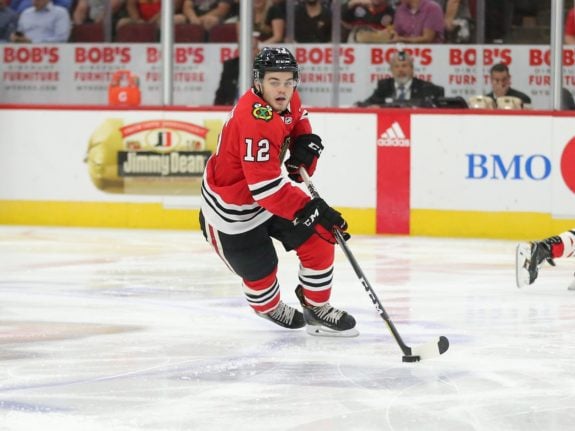 DeBrincat eventually proved his camp critics wrong not only by making the team out of training camp but also leading the Blackhawks with 28 goals in a fantastic rookie season.
Even with just the lone scrimmage, there were those players who separated themselves from the rest of the group as the week progressed.
All Eyes on Top Defensive Prospects
The Blackhawks have had three first-round draft picks in the past two NHL Entry Drafts and used all of them on defensemen. With the current NHL roster in major need of defensive upgrades, many fans are hoping this talented group of young defenders will soon provide a boost to the Blackhawks blue line.
All eyes were focused on 2017 first-round pick Henri Jokiharju throughout the week. The talented defender is going to get a long look at training camp before a decision is made on whether he plays in the NHL or returns to the WHL this season. There are those who are hoping he can be the Blackhawks version of Charlie McAvoy, who jumped right into the Boston Bruins lineup last season and immediately bolstered their defense.
Jokiharju certainly did nothing to squash the optimism surrounding his potential. While he is not the biggest player on the ice, the Finnish defender held his own in both board battles and 3-on-3 drills. His offensive numbers in the WHL jump off the page, but Jokiharju showed that he can also perform well in his end of the ice too.
''You have to defend bigger guys, and only six defensemen play in a game, so it's harder to make the team,'' Jokiharju recently told Mark Lazerus of the Chicago Sun-Times. ''And if you're a forward, if you make a couple of mistakes, it's not that big. There are always two or three guys defending. If you make a big mistake as a D-man, it's more likely that they score. You have to be ready and be the complete package to make the NHL.''
He will have another chance to show off his skills to the NHL staff when he likely takes part in the Traverse City rookie tournament just prior to the start of training camp.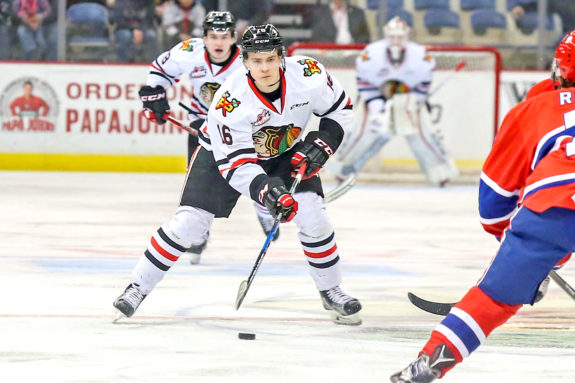 In the meantime, 2018 first-round picks Adam Boqvist (eighth overall) and Nicolas Beaudin (27th overall) also got their first taste of the Blackhawks system just weeks after being drafted. Boqvist was quick to show off the skills that earned him such a high draft pick. Even in drills, he displayed his natural and smooth skating, above average passing and a sneaky good release on his shot.
During Friday's scrimmage, Boqvist was one the most exciting players on the ice. He frequently showed that he is not afraid to jump into the offensive play and created multiple scoring chances with his great vision and fast hands. However, he did try to get cute at times getting him in trouble, including a turnover behind his own net that nearly led to a goal.
Boqvist (26) again gets up in the play, finds a spot in the slot and nearly sets up a goal pic.twitter.com/XuPDZ9yXgI

— Scott Powers (@ByScottPowers) July 20, 2018
Boqvist definitely needs to bulk up and improve his skills in the defensive zone, but at just 17 years old he will have plenty of time to do both. He will spend the 2018-19 season playing in the Ontario Hockey League with the London Knights.
Although Beaudin was rated as one of the top passers in the entire draft, we ranked him to go in the second-round. The 19-year-old defender did not exactly stand out during the week, neither in a good nor a bad way; he was just there. Much like offensive linemen in football, when a defenseman isn't getting noticed it means he is doing what is asked of him. Beaudin will return for another season in the QMJHL after likely heading to Traverse City as well.
Excitement Not Limited to First-Rounders
While much of the hype is surrounding Jokiharju, Boqvist, and Beaudin the Blackhawks have more defensive prospects to be excited about. Chad Krys may have been the best out of the entire group during the week. The 2016 second-round draft pick looked solid during the four days of drills and then formed some good chemistry with Boqvist during Friday's scrimmage. He will return for a third season at Boston University and there is a good chance he turns pro in the spring and finishes the year within the organization.
Dennis Gilbert will be an intriguing player to watch on the crowded Rockford blue line this season. He was the most physical of the group, which was not hard to do when you are bigger than 95 percent of the players on the ice.
Joni Tuulola, who was signed out of Finland late last season, will be another player to watch with the IceHogs this season. He has more of the traditional frame at 6-foot-3 and 181 pounds and skates well. He was paired with his fellow countryman, Jokiharju, last Friday.
Hawks' 2017 second-round pick Ian Mitchell was also very impressive during the week. He has the potential to shoot up the organizational depth chart and be a very good defenseman for a long time.
"Every NHL team has a lot of good defensive prospects," Mitchell told the Blackhawks official website. "Obviously, when you go out there you want to showcase yourself as best as you can and you want to be the best defenseman here. That's my goal going in is I want to prove to everyone I'm a good defenseman and I deserve to play at the next level. There are a lot of good players here and you're all trying to succeed."
Mitchell will return to the University of Denver for his sophomore season and, much like Krys, could turn pro in the spring. The Blackhawks defense may look unappealing for the 2018-19 season, but the future on the back end is very bright.
There is Hope Up Front Too
Two years ago, Alexandre Fortin stole the show at Development Camp and nearly made the NHL roster out of training camp before returning the QMJHL. Fortin's first professional season with the IceHogs was marred by injury. He scored just four goals and 21 points in 53 games and dressed for just one playoff game.
The 21-year-old winger appears to be healthy as he was, by far, the best player of this year's camp. He looked as if he was playing in a different gear than the rest of the group all week long. If he continues this progression, there is a good chance he eventually makes to Chicago at some point this season.
"If I would look at the stats, I would say, 'Oh, it's a bad year for me,' " Fortin said, per the Sun-Times. "But at the same time, it was probably the best year for my future, because I learned so much and I know exactly what I have to do to get to the next level. It really helped me. I can't ask for more."
MacKenzie Entwistle, who was acquired from the Arizona Coyotes in the trade for Marian Hossa's contract, was a late addition to the roster. He stuck out from the rest of the forwards not only because of his size but also because of his skill. He showed off that he can use his size to create space on the ice in order to get pucks to the net.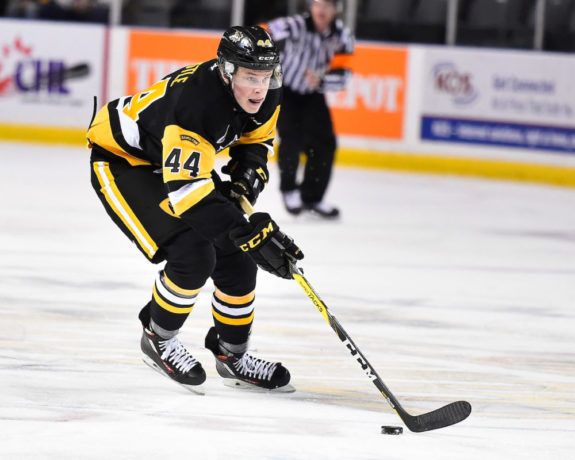 The team's 2018 seventh-round pick Josiah Slavin, younger brother of Carolina Hurricanes' defenseman Josh, had an impressive debut within the Blackhawks organization. He is another big forward, at 6-foot-3 and 190 pounds, who has a bit of a scoring touch as well. He will continue work on his game in the USHL this upcoming year after a 23-goal season in 2017-18.
Tim Sonderlund will be fun to keep on eye on while he plays in Sweden. What he lacks in size, he makes up for in energy. His engine never stops. John Dahlstrom is another prospect who could work his way to a professional contract. He is not the most talented player on the ice, but he constantly played with an edge and you could tell many players dreaded being paired up against him during board drills.
Still Much to be Desired Between the Pipes
Up until last season, the Blackhawks have been very fortunate when it comes to goaltending. Even when Corey Crawford had been injured, they have had the likes of Antti Raanta and Scott Darling to do yeoman's work in relief. They no longer have the luxury and with no NHL ready prospects in the pipeline, Stan Bowman was forced to sign an overpriced and declining veteran in Cam Ward.
Only two of the six goaltenders in the camp were Blackhawks draft picks; 2016 third-rounder Wouter Peeters and 2018 sixth-rounder Alexis Gravel. Peeters look much more relaxed and confident in goal compared to a year ago. Gravel was the best net minder of the six during Friday's scrimmage as he was tested often late in the first period but kept a clean sheet. Both players are at least two to three years away from even being considered for an NHL spot.