The United States has been putting on clinics in recent years at the World Junior Championships — they've medaled the last three years in a row (one gold, two bronze) and now have a total of six medals in the last decade. After the rosters for the USA Hockey Summer Showcase were announced, it looks like the success will continue.
The showcase displays the top forty-one American players eligible for the U20 tournament — a majority of which come from the NCAA. Of those forty-one, here are ten that have a real shot at cracking the roster and making a name for themselves come December.
Forwards
Evan Barratt, Penn State
Evan Barratt's claim to fame comes from his shenanigans with Ryan Lindgren more than it does from his talent, but that's nothing to be afraid of because he does have the talent.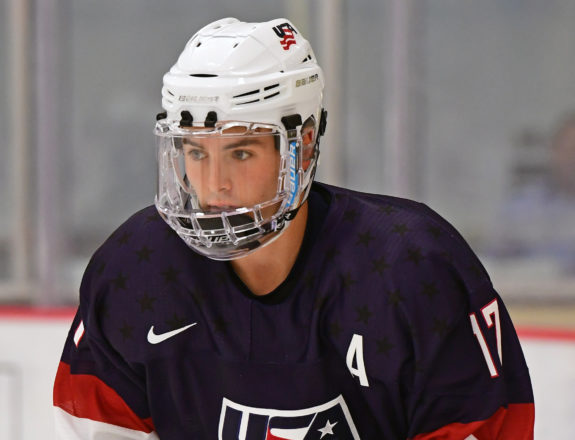 Barratt was best described by Penn State teammate Andrew Sturtz as, "a guy who likes to get the puck below the goal line and just wear guys down. He's a really hard-nosed player and he plays with his heart on his sleeve." Barratt also went on to describe himself as a kid who loves shooting the puck and scoring.
The US has always capitalized on using time and space to fire one past the goalie. Add Barratt into the mix and now he can wear down the opposition so the US can get to work much faster.
Sean Dhooghe, Wisconsin
Sean Dhooge's most recognizable trait is that he's six inches shorter than Johnny Gaudreau. At 5-foot-3, if he makes it into the NHL he would be tied with Roy Worters as the shortest players to play in the big league.
"He doesn't really play like a 5-foot-3 kid. People say that he could play like he's six feet. He's not afraid to go in the corners, he's got a lot of skill, he likes to use his speed and protect the puck. He's got some good offensive skill with the puck and he can shoot the puck and score," older brother Jason said of Sean.
Dhooghe has already won a U18 gold medal, after leading Team USA in scoring with three goals and six assists in seven games. After scoring six goals and tallying 10 assists last season with Wisconsin, it's no question Dhooghe can face off against older, bigger competition. If he can do that, playing against players his age shouldn't be much of a hurdle.
Grant Mismash, North Dakota
Grant Mismash is the kind of player you'd expect to come out of UND: a kid who can shoot the puck but has some grit to his game. He's the living embodiment of the Fighting Hawks' systems.
"Just a shoot-first mentality," Mismash said to Nashville Predators media, "a competitive person who plays with an edge and kind of gets under the skin of other players and likes to shoot the puck and get in those dirty areas and compete hard."
Mismash is one of a handful of players in the showcase that are willing to work in the dirty areas. In the past, Team USA has benefitted from a solid mix of players who stick to the outside and get the puck around the crease for players like Mismash to bang in.
Ryan Poehling, St. Cloud State
Poehling is a to-be junior at, what was, the nation's top program last season in St. Cloud State. While still marinating in the NCAA, Poehling has some of the best hands in the game. He was fourth in scoring on the elite St. Cloud State Huskies with 31 points in 36 games — his teammates who scored more than him were both older and played more games.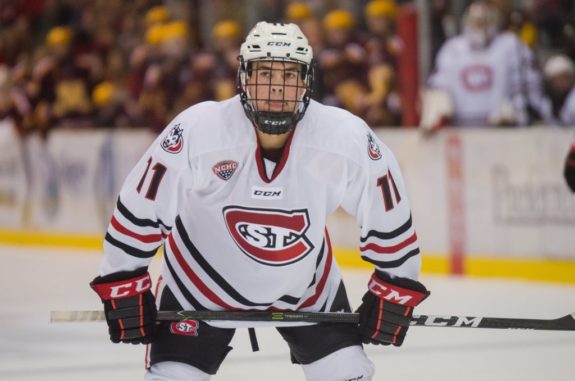 As noted in his scouting report: "Ryan plays a sound game positionally coming back into his own end and has a knack for creating turnovers on the backcheck." Couple defensive responsibility with deadly hands and he's a Team USA dream.
Brady Tkachuk, Boston University
Tkachuk is almost a guaranteed returnee to this year's roster — that is, if the team that drafted him fourth overall this year lets him go this December. That is up to speculation, but assuming he's allowed by the Senators, he'll be a key player to the US this year.
Last year, he was third on Team USA with nine points (3G, 6A) in seven games. He's a big-bodied center who controls the play around the net. Every move he makes has a purpose. He doesn't just hack and slash at the puck haphazardly. He'll be a beast on the attack and will fit well alongside a crafty sniper.
Defensemen
Mikey Anderson, University of Minnesota – Duluth
For the past two years, Mikey's older brother Joey has been a member of Team USA's U20 roster. Last year, the two played together on Team USA and at UMD, but now it's time for Mikey to go out on his own.
"Anderson is a sound, two-way defenseman. Defensively, he's a rock, with great gap control, good reads and a willingness to sacrifice the body," said Corey Pronam of ESPN Insider. "He shows good vision transitioning the puck up ice and solid stick skills when evading pressure. I'd like to see a more explosive gear in his skating, particularly for a player under 6-foot. His point production and shot generation were impressive this season, and he might have more offensive upside than some believe."
Don't be surprised if Anderson is a top-pair guy or a captain/assistant with his versatility and potential. He'd be a perfect fit alongside Quinn Hughes.
Quinn Hughes, Michigan
Quinn Hughes is an elite defenseman and is one of the most NHL-ready of all the players accompanying him on this list. He's fast, he's skillful, he's a hard worker and he's confident. He's a possible franchise defenseman.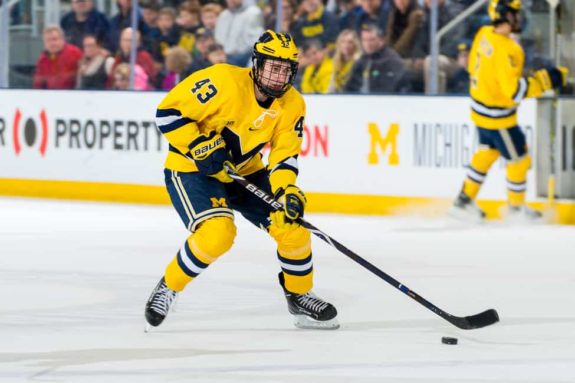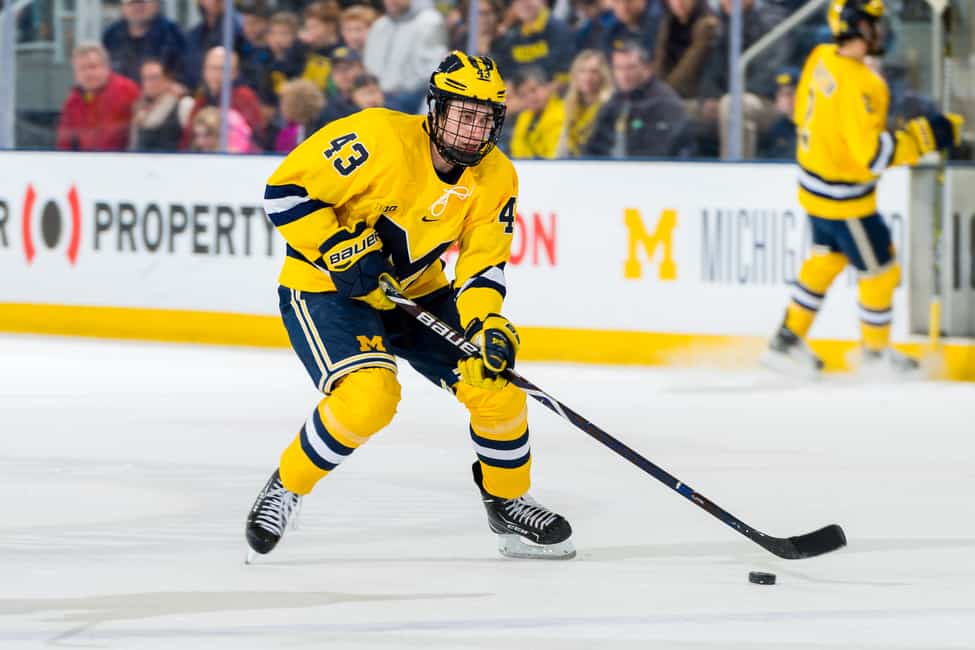 Hughes has already competed at the WJC as well as the World Championships. After success on both stages, he's a shoo-in for a top-pair position with Team USA. That is, as long as he has not signed with the Canucks or he's allowed to go, since Hughes has yet to make a decision of where he'll be playing next season.
Dylan Samberg, University of Minnesota – Duluth
Samberg was paired with Mikey Anderson at UMD and the two went on a tear together, leading their team to the Frozen Four and a National Championship. Samberg credits his time on the U20 roster last year as a major component to his success.
"Coming into this year, you don't really know what to expect. It's a new game. It's a man's game. I just came in trying to work my hardest. I finally got my confidence after I went to the World Juniors. I played well down there. It really helped me when I came back," Samberg told the Duluth News Tribune.
Samberg finished the season with one goal and 12 assists, which tied for third among UMD defenders last season. That's not bad for a true freshman coming from high school instead of the preferred junior system.
Since Samberg was the second-highest scoring American defenseman at the 2018 WJC behind Adam Fox with one goal and three assists in seven games, he should be returning for his second year in the tournament. Who knows what that will do to his confidence and production with UMD.
Reilly Walsh, Harvard University
Walsh is exactly the type of defenseman that makes it to the WJC roster in December and succeeds. He's a defenseman that sits just around the 6-foot mark and has the skating ability to make up for it.
"The son of former NHLer Mike Walsh, the younger Walsh possesses a skating stride that allows him to recover swiftly…He is able to change a game's pace to disrupt opponents' rhythm. Generating speed over his first few glides, he shifts speeds effectively to make up ground laterally," said THW's Jeff Hawkins.
Chris Dilks of SBNation also applauds Walsh as a spark among a sparse Harvard Crimson lineup. Walsh could be considered, in comparison to another player on this roster, as a second-pair Quinn Hughes, which would be the opposite of a problem for Team USA.
Goalies
Cayden Primeau, Northeastern
Northeastern had possibly the best offense in the league, and it was easy for Adam Gaudette and Dylan Sikura to have the years they had when Cayden Primeau was in net. The freshman rightfully stole the net from Northeastern's starter of two years and went on to post a 19-8-5 record as well as a goals-against average that was seventh best in the NCAA and a save percentage that was sixth best.
ROBBERY!!

Cayden Primeau continues to shine for Northeastern… 0-0 in the 2nd. #NCAAHockey pic.twitter.com/WNptyQpgxF

— NCAA Ice Hockey (@NCAAIceHockey) March 24, 2018
Primeau, now a Montreal Canadiens prospect, has already donned the red, white and blue as a member of the U18 team that won gold in 2017. Now he has a chance to come to the U20s as a Beanpot champion as well.
"I didn't think I'd go into college and earn all the accolades I have," Primeau said during a break in the Canadiens' development camp last weekend. "I love challenging myself and I did that every day."
Some of Team USA's recent goaltenders have also been successful, and well-recognized prospects. Some of these names include the Canucks' Thatcher Demko, the Flames' Tyler Parsons and the Maple Leafs' Joseph Woll. Primeau would fit in well alongside those names.