The 2017-18 hockey season has been tumultuous at times, with on-ice surprises and disappointments in equal measure spanning major junior, the college ranks and up into the pros. But the aspiring members of the 2018 National Hockey League draft class have left it all out on the ice as they try to make an impression on scouts from 31 clubs. With the playing season effectively complete, it's time to see how things have shaken out.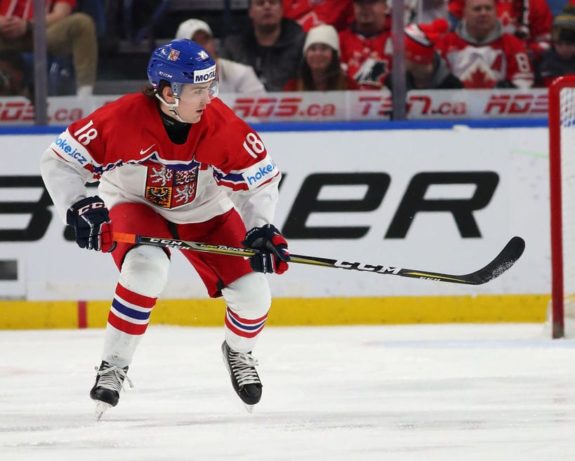 This is the fifth and final edition of my annual NHL Draft rankings. Roughly every other month, I've attempted to rank the top players in this year's draft class as if I were drafting a hockey team from scratch. My main proviso? I want the players that will help my team win consistently – so if there are any questions about where I differ from other rankers, that's the primary divergence. The usual disclaimers apply: I live in Western Canada so I see Western Hockey League players the most often live, followed by the remainder of Canada's prospects – especially those affiliated with Hockey Canada. I have to rely on video for players in the United States and Europe for the most part. I'm also hesitant to draft goalies early due to the sheer number of weird things that can go wrong and derail their development.
For some second opinions, check out the latest rankings from my colleagues Larry Fisher and Brett Slawson.
The First Round (1-31)
No.
Player
Pos.
2017-18 Teams
1
Rasmus Dahlin
D
Frolunda HC (SHL)
Sweden (WJC/Olympics)
2
Andrei Svechnikov
RW
Barrie Colts (OHL)
Russia (WJC)
3
Filip Zadina
RW
Halifax Mooseheads (QMJHL)
Czech Republic (WJC)
4
Brady Tkachuk
LW
Boston University Terriers (NCAA)
United States (WJC)
5
Oliver Wahlstrom
C
U.S. National Development Team (USHL)
United States (U18)
6
Adam Boqvist
D
Brynas IF (SuperElit/SHL)
Almtuna IS (Allsvenskan)
Sweden (U18)
7
Evan Bouchard
D
London Knights (OHL)
8
Quinn Hughes
D
Univ. of Michigan Wolverines (NCAA)
United States (WJC/WC)
9
Joel Farabee
LW
U.S. National Development Team (USHL)
United States (U18)
10
Noah Dobson
D
Acadie-Bathurst Titan (QMJHL)
Canada (Hlinkas)
11
Joseph Veleno
C
Saint John/Drummondville (QMJHL)
Canada (Hlinkas/U18)
12
Ty Smith
D
Spokane Chiefs (WHL)
Canada (Hlinkas/U18)
13
Ryan McLeod
C
Mississauga Steelheads (OHL)
14
Jesperi Kotkaniemi
C
Assat (SM-Liiga)
Finland (Hlinkas/U18)
15
Barrett Hayton
C
Sault Ste. Marie Greyhounds (OHL)
Canada (Hlinkas)
16
Isac Lundestrom
C
Lulea HF (SHL)
Sweden (WJC)
17
Rasmus Kupari
C
Karpat (SM-Liiga/Jr. A Liiga)
Hermes (Mestis)
Finland (Hlinkas/WJC/U18)
18
Akil Thomas
C
Niagara Ice Dogs (OHL)
Canada (Hlinkas/U18)
19
Bode Wilde
D
U.S. National Development Team (USHL)
United States (U18)
20
Jared McIsaac
D
Halifax Mooseheads (QMJHL)
Canada (Hlinkas/U18)
21
Mattias Samuelsson
D
U.S. National Development Team (USHL)
United States (U18)
22
Alexander Alexeyev
D
Red Deer Rebels (WHL)
23
Martin Kaut
RW
HC Dynamo Pardubice (Extraliga)
Czech Republic (WJC)
24
K'Andre Miller
D
U.S. National Development Team (USHL)
United States (U18)
25
Benoit-Olivier Groulx
C
Halifax Mooseheads (QMJHL)
Canada (Hlinkas)
26
Calen Addison
D
Lethbridge Hurricanes (WHL)
Canada (Hlinkas)
27
Rasmus Sandin
D
Rogle BK (SHL)
Sault Ste. Marie Greyhounds (OHL)
Sweden (Hlinkas)
28
Jacob Olofsson
C
Timra IK (Allsvenskan)
Sweden (Hlinkas/U18)
29
Serron Noel
RW
Oshawa Generals (OHL)
Canada (Hlinkas/U18)
30
Grigori Denisenko
LW
Loko Yaroslavl (MHL)
Russia (Hlinkas/WJAC)
31
Jett Woo
D
Moose Jaw Warriors (WHL)
Canada (Hlinkas)
The Second Round (32-62)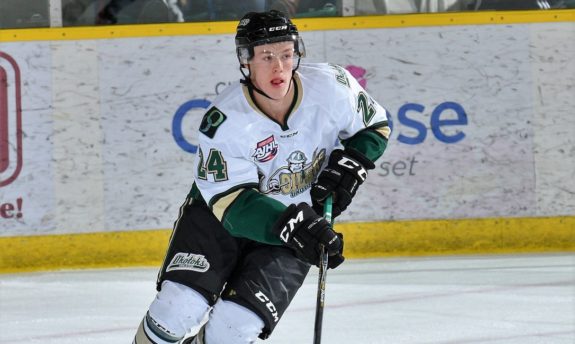 No.
Player
Pos.
2017-18 Teams

32
Ty Dellandrea
C
Flint Firebirds (OHL)
Canada (Hlinkas/U18)
33
Filip Hallander
C
Timra IK (Allsvenskan/SuperElit)
Sweden (Hlinkas)
34
Jack McBain
C
Toronto Jr. Canadians (OJHL)
Canada (Hlinkas/WJAC/U18)
35
Ryan Merkley
D
Guelph Storm (OHL)
Canada (Hlinkas/U18)
36
Vitali Kravtsov
RW
Traktor Chelybinsk (KHL)
Chelmet Chelyabinsk (VHL)
Belye Medvedi Chelyabinsk (MHL)
37
Jesse Ylonen
RW
Espoo United (Mestis)
38
Adam Ginning
D
Linkoping HC (SHL/SuperElit)
Sweden (Hlinkas/U18)
39
Jonny Tychonick
D
Penticton Vees (BCHL)
Canada (WJAC/U18)
40
Jacob Bernard-Docker
D
Okotoks Oilers (AJHL)
Canada (WJAC)
41
Nils Lundkvist
D
Lulea HF (SHL/SuperElit)
Sweden (U18)
42
Alexander Khovanov
C
Moncton Wildcats (QMJHL)
43
Jakub Lauko
C
Pirati Chomutov (Extraliga)
Czech Republic (Hlinkas/WJC/U18)
44
Dominik Bokk
RW
Vaxjo Lakers (SuperElit/SHL/J18)
Germany (WJC-D1)
45
Cole Fonstad
C
Prince Albert Raiders (WHL)
Canada (U18)
46
Philipp Kurashev
C
Quebec Remparts (QMJHL)
Switzerland (WJC)
47
David Gustafsson
C
HV71 (SHL/SuperElit/J18)
Sweden (Hlinkas/U18)
48
Vladislav Kotkov
LW
Chicoutimi Sagueneens (QMJHL)
Russia (WJAC)
49
Niklas Nordgren
RW
HIFK (SM-Liiga/Jr. A Liiga)
Finland (U18)
50
Nicolas Beaudin
D
Drummondville Voltigeurs (QMJHL)
51
Jay O'Brien
C
Thayer Academy (USHS)
Cape Code Whalers (MHSL)
U.S. National Development Team (USHL)
Youngstown Phantoms (USHL)
52
Cameron Hillis
C
Guelph Storm (OHL)
Canada (U18)
53
Jack Drury
C
Waterloo Black Hawks (USHL)
United States (Hlinkas/WJAC)
54
Blake McLaughlin
LW
Chicago Steel (USHL)
United States (Hlinkas/WJAC)
55
Jake Wise
C
U.S. National Development Team (USHL)
United States (U18)
56
Jonathan Gruden
C
U.S. National Development Team (USHL)
United States (U18)
57
Blade Jenkins
LW
Saginaw Spirit (OHL)
United States (Hlinkas)
58
Milos Roman
C
Vancouver Giants (WHL)
Slovakia (WJC)
59
Kevin Bahl
D
Ottawa 67's (OHL)
Canada (Hlinkas/U18)
60
Adam Samuelsson
D
U.S. National Development Team (USHL)
United States (Hlinkas/U18)
61
Olivier Rodrigue
G
Drummondville Voltigeurs (QMJHL)
Canada (Hlinkas/U18)
62
Allan McShane
C
Oshawa Generals (OHL)
Canada (U18)
The Third Round (63-93)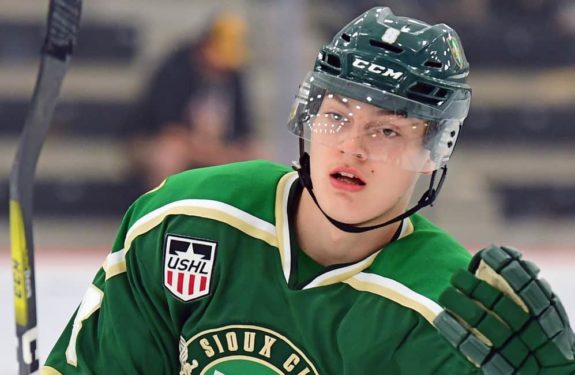 No.
Player
Pos.
2017-18 Teams

63
Nando Eggenberger
LW
HC Davos (NLA/Elite Jr. A)
Switzerland (WJC)
64
Gabriel Fortier
LW
Baie-Comeau Drakkar (QMJHL)
Canada (Hlinkas)
65
Liam Foudy
C
London Knights (OHL)
Canada (U18)
66
Kody Clark
RW
Ottawa 67's (OHL)
67
Martin Fehervary
D
IK Oskarshamn (Allsvenskan)
HV71 (SHL)
Slovakia (WJC/WC)
68
Anderson MacDonald
LW
Moncton Wildcats (QMJHL)
Canada (Hlinkas)
69
Jachym Kondelik
C
Muskegon Lumberjacks (USHL)
Czech Republic (WJAC)
70
Xavier Bernard
D
Drummondville Voltigeurs (QMJHL)
71
Sampo Ranta
LW
Sioux City Musketeers (USHL)
Finland (Hlinkas/U18)
72
Riley Stotts
C
Swift Current/Calgary (WHL)
73
Nathan Dunkley
C
Kingston/London (OHL)
74
Chase Wouters
C
Saskatoon Blades (WHL)
Canada (U18)
75
Xavier Bouchard
D
Baie-Comeau Drakkar (QMJHL)
76
Giovanni Vallati
D
Kitchener Rangers (OHL)
77
Riley Sutter
RW
Everett Silvertips (WHL)
78
Dmitri Zavgorodniy
LW
Rimouski Oceanic (QMJHL)
Russia (Hlinkas/WJAC/U18)
79
Alec Regula
D
London Knights (OHL)
80
Sean Durzi
D
Owen Sound Attack (OHL)
81
Jakub Skarek
G
HC Dukla Jihlava (Extraliga)
HC Litomerice (2.Czech)
Czech Republic (WJC)
82
Toni Utunen
D
Tappara (SM-Liiga)
LeKi (Mestis)
Finland (Hlinkas/U18)
83
Jan Jenik
RW
Billi Tygri Liberec (Extraliga/U20)
HC Benatky nad Jizerou (2.Czech)
Czech Republic (Hlinkas/U18)
84
Curtis Hall
C
Youngstown Phantoms (USHL)
United States (Hlinkas/WJAC)
85
Alexis Gravel
G
Halifax Mooseheads (QMJHL)
Canada (Hlinkas)
86
Filip Kral
D
HC Kometa Brno (Extraliga)
SK Horacka Slavia Trebic (2.Czech)
Spokane Chiefs (WHL)
Czech Republic (WJC)
87
Tyler Madden
C
Central Illinois/Tri-City (USHL)
United States (WJAC)
88
Egor Sokolov
LW
Cape Breton Screaming Eagles (QMJHL)
Russia (Hlinkas)
89
Aidan Dudas
C
Owen Sound Attack (OHL)
Canada (Hlinkas/U18)
90
Ty Emberson
D
U.S. National Development Team (USHL)
United States (U18)
91
Filip Johansson
D
Leksand IF (Allsvenskan/SuperElit/J18)
Sweden (Hlinkas/U18)
92
Slava Demin
D
Wenatchee Wild (BCHL)
U.S. National Development Team (USHL)
United States (Hlinkas)
93
Jordan Harris
D
Kimball Union Academy (USHS)
Youngstown Phantoms (USHL)
The Fourth Round (94-125)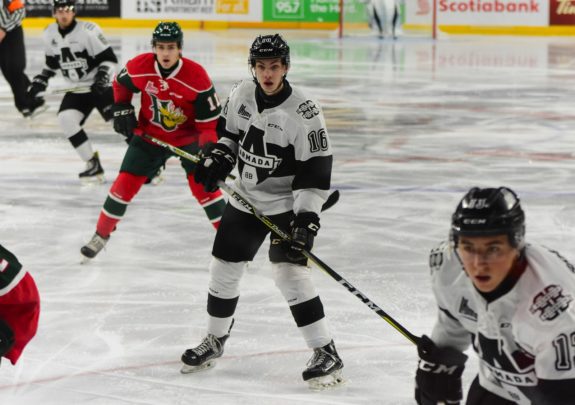 No.
Player
Pos.
2017-18 Teams

94
Declan Chisholm
D
Peterborough Petes (OHL)
95
Kyle Topping
C
Kelowna Rockets (WHL)
96
Semyon Der-Arguchintsev
C
Peterborough Petes (OHL)
97
Matej Pekar
C
Muskegon Lumberjacks (USHL)
Czech Republic (Hlinkas/U18)
98
Ryan Chyzowski
LW
Medicine Hat Tigers (WHL)
99
Albin Eriksson
LW
Skelleftea AIK (SHL/SuperElit/J18)
Sweden (Hlinkas)
100
Linus Nyman
RW
Kingston Frontenacs (OHL)
101
Ryan O'Reilly
RW
Madison Capitols (USHL)
102
Lukas Dostal
G
HC Kometa Brno (Extraliga/U20/U18)
SK Horacka Slavia Trebic (2.Czech)
Czech Republic (Hlinkas/U18)
103
Justin Almeida
C
Moose Jaw Warriors (WHL)
104
Tristen Nielsen
C
Calgary Hitmen (WHL)
105
Kevin Mandolese
G
Cape Breton Screaming Eagles (QMJHL)
Canada (U18)
106
Kirill Nizhnikov
RW
Barrie/Sudbury (OHL)
107
Pavel Gogolev
RW
Peterborough Petes (OHL)
108
Matthew Struthers
C
Owen Sound/North Bay (OHL)
109
Luka Burzan
C
Moose Jaw/Brandon (WHL)
Canada (Hlinkas)
110
Nico Gross
D
Oshawa Generals (OHL)
Switzerland (Hlinkas/WJC/U18)
111
Kristian Reichel
C
Red Deer Rebels (WHL)
Czech Republic (WJC)
112
Vladislav Yeryomenko
D
Calgary Hitmen (WHL)
Belarus (WJC)
113
Patrick Giles
RW
U.S. National Development Team (USHL)
United States (U18)
114
Nikita Rtishchev
RW
Krasnaya Armiya Moskva (MHL)
Russia (Hlinkas/WJAC)
115
Curtis Douglas
C
Barrie/Windsor (OHL)
116
Connor Dewar
C
Everett Silvertips (WHL)
117
Alexander Steeves
C
Dubuque Fighting Saints (USHL)
United States (WJAC)
118
Scott Perunovich
D
Univ. of Minnesota-Duluth (NCAA)
United States (WJC)
119
Logan Hutsko
RW
Boston College (NCAA)
120
Justus Annunen
G
Karpat (Jr. A Liiga/SM-Liiga)
Finland (Hlinkas/U18)
121
Oskar Back
C
Farjastad BK (SHL/SuperElit/J18)
Sweden (Hlinkas/U18)
122
Riley Damiani
C
Kitchener Rangers (OHL)
123
Luke Henman
C
Blainville-Broisbriand Armada (QMJHL)
124
Merrick Rippon
D
Mississauga/Ottawa (OHL)
125
Caleb Everett
D
Saginaw Spirit (OHL)
Honourable Mentions
Here are 10 additional prospects that could creep into the Top 125 selected, depending on the whims and wishes of the 31 NHL clubs on draft weekend:
C Jonatan Berggren – Skelleftea AIK (SuperElit), Sweden (Hlinkas/U18)
C Mitchell Hoelscher – Ottawa 67's (OHL)
D Juuso Ketola – Assat (Jr. B Liiga/U18), Finland (Hlinkas)
G Olof Lindbom – Djurgardens IF (SuperElit/U18), Sweden (Hlinkas/U18)
D Radim Salda – Saint John Sea Dogs (QMJHL), Czech Republic (WJC)
D Spencer Stastney – U.S. National Development Team (USHL), United States (U18)
G Matthew Thiessen – Steinbach Pistons (MJHL)
LW Tyler Weiss – U.S. National Development Team (USHL), United States (U18)
D Wyatte Wylie – Everett Silvertips (WHL)
D Egor Zamula – Regina/Calgary (WHL), Russia (U18)