Alexis Gravel
2016-17 Team: Halifax Mooseheads (#1)
Date of Birth: March 21, 2000
Place of Birth: Berlin, Germany
Ht: 6'3" Wt: 220 lbs.
Position: G
NHL Draft Eligibility: 2018 first-year eligible
Rankings
NHL Central Scouting: 3rd (among NA Goalies)
Future Considerations: 46th
Bob McKenzie: 2nd (among goalies)
Craig Button: 85th
If his stature isn't an indication of how tall this kid stands in net, then it's time to take more into account when judging the 18-year-old Mooseheads' netminder. His numbers over two seasons with Halifax haven't exactly been top-of-the-line statistics, nor has he legitimized himself as a soon-to-be NHL goaltender, but Alexis Gravel has a number of qualities that could translate into a big-league job at some point down the road.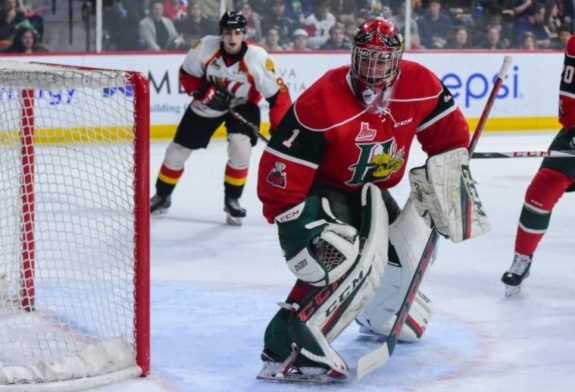 He's tall, quick and his big frame covers the majority of the net. He tends to square up to the shooter and maintains a steady glove – holding it up when the play calls for it. While his post-to-post movement can use a little work, he is able to contain rebounds and cover up when the puck does get away from him.
RELATED: THW's 2018 Draft Guide
Still, some question where he will end up and if he's got what it takes to land an NHL gig eventually. While he managed to post a 20-11-4-1 record this season with the Mooseheads, his 3.38 goals against average and 0.890 save percentage leave room for improvement.
That said it is a step up from his 2016-17 campaign and it should indicate some maturity and development in Gravel's overall game.
Other THW Draft Profiles:
Alexis Gravel – NHL Draft Projection
With the goaltending class not as highly sought after in this year's draft, Gravel is likely going to drop a few rounds before he hears his name called. Chances are that Gravel will have to wait until the late-third round or early-fourth round before he knows what team has taken him.
Quotables
"Boasting great size and strength, Gravel can traverse his crease with ease and makes powerful movements in order to deny lethal scoring opportunities. As a right-handed catching netminder, Gravel affords his opposition with little opportunity, as his ability to follow the play and track the puck stands as one of his best qualities." – Brett Slawson/The Hockey Writers
"An up-and-down season shouldn't detract from how high this big-bodied goalie's upside truly is. Gravel, who catches with his right and, lost his job as team's Canada's go-to guy to Olivier Rodrigue, and was torched five times in a period and a half at the recent Canadian Hockey League Top Prospects Game. In between we've seen an upright butterfly netminder who uses smart positioning, razor-sharp attentiveness and glove-hand quickness that makes opponents rethink seemingly open looks towards his net. Gravel always looks locked in and fights tooth and nail to maintain a visual on the puck, including when it's behind the net. He leaks post-to-post coverage when he favours being upright for too long, and his stick positioning during lateral movements expose what's been a vulnerable five hole. Gravel seems married to the crease and rarely ventures from it during dump-ins or challenging shooting from the points or circles." – Dobber Prospects
Strengths
Size
Quickness
Focus and vision
Positioning
Under Construction (Improvements to Make)
Post-to-post coverage
Closing off the five hole
NHL Potential
Obviously, grabbing a goalie spot in the NHL is much tougher than cracking a lineup as a player – with only 31 starting gigs available. So Gravel won't make the jump to the NHL anytime soon, likely. But if he works out the kinks in his mechanics and utilizes his size in net, there's no reason why he can't push his way to the NHL at some point down the road – at least in some kind of backup role.
Risk-Reward Analysis
Risk – 3/5, Reward – 3/5
Fantasy Hockey Potential
Goaltending – 6.5/10
Awards/Achievements
As a rookie for the Halifax Mooseheads in 2016-17, Gravel put up relatively similar numbers to what he accumulated this past season minus the winning percentage. For his efforts, he was named to the QMJHL All-Rookie Team as part of his first season in the league. This past season, he added to his resume as part of Team Canada at the Hlinka Memorial tournament – helping his team to a gold medal as the team's backup.
Interview/Profile Links
Videos