The unfortunate and abrupt end to the Anaheim Ducks' season brought with it a fair number of question marks moving forward. One thing that was known, however, was the retirement of 13-year veteran Francois Beauchemin. The 37-year-old defenseman had indicated that the 2017-18 season would be his last, and he confirmed it after the Ducks' first-round exit from the Stanley Cup playoffs.
Beauchemin's career was one that saw a late bloomer ultimately develop into a critical player for the Ducks, as he was instrumental in the franchise winning its first (and to date, only) Stanley Cup championship in 2007. That would have been enough to cement his rightful place in Ducks lore, but his unique career that featured three separate stints in Anaheim firmly entrenches him as a revered member of the franchise, even if he doesn't get the same level of spotlight as Teemu Selanne, Paul Kariya, Ryan Getzlaf, or Corey Perry.
Beauchemin Finally Breaks Through
Beauchemin, a native of Quebec, was drafted by the Montreal Canadiens all the way back in 1998. The Habs took him in the third round as the 75th overall selection of that year's Entry Draft. He would spend several years playing junior hockey in the QMJHL before seeing minor-league action with the Quebec Citadelles of the AHL.
Beauchemin's notable offensive numbers in the QMJHL (181 points in 238 games) took a dip as he adjusted to the better competition in the AHL. He put up only 28 points in 109 games from 2000 to 2002, but he finally got his feet wet in the NHL in the 2002-03 season.
That taste, however, proved to be a mere tease. He only suited up for one game with the Canadiens before he was sent back to the Habs' since-relocated AHL affiliate, the Hamilton Bulldogs. He continued to improve there and saw upticks in his point totals (64 points in 152 games across the 2002-03 and 2003-04 seasons) as he evolved to become the team's number-one blueliner.
Nevertheless, Beauchemin would have to wait several years before cracking the NHL again following his tantalizing one-game stint with Montreal. When he finally did make it again, it was not even with the same organization. In 2004, the Canadiens placed Beauchemin on waivers, and he was scooped up by the Columbus Blue Jackets. He figured to get a decent shot at a full-time NHL roster spot, but the 2004-05 NHL lockout delayed that dream even more.
In the end, though, Beauchemin's patience would pay off. He made the Blue Jackets' roster for the 2005-06 season. At age 25, he got a later start to his NHL career than most players, but he had just embarked on what would become a career most hockey players would love to have.
Beauchemin Joins the Ducks, Take 1
Fitting with how his early career had gone to that point, Beauchemin only skated in 11 games with the Jackets before he was on the move again. Of course, it proved to be a defining moment in the defenseman's journey.
Beauchemin was involved in a trade that brought Sergei Fedorov and his bloated contract to Columbus from Anaheim. He and Tyler Wright joined the then-Mighty Ducks.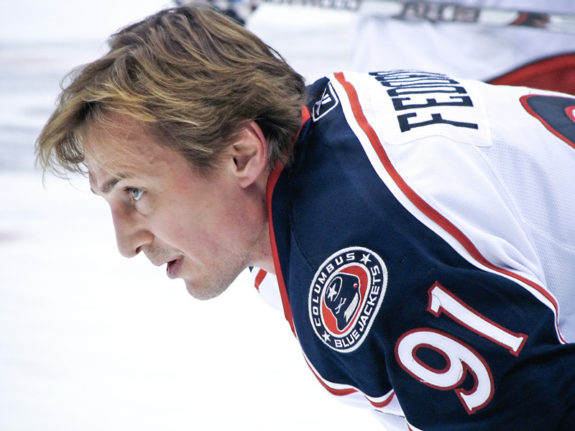 Beauchemin immediately established himself as a top defender for Anaheim, appearing in 61 games for the club while registering an impressive 34 points (eight goals and 26 assists). He averaged a whopping 24:14 of ice time per game—quite a notable number for someone playing his first full NHL season. He helped the Mighty Ducks reach the Western Conference Final before they fell to the red-hot, eighth-seeded Edmonton Oilers in five games.
A year later would bring better (i.e., the ultimate) fortune for Beauchemin and the newly-branded Ducks. Anaheim finished with 110 points before blowing through the playoffs, with a six-game Western Conference Final series against the Detroit Red Wings proving to be their greatest test. They dispatched the Ottawa Senators in five games in the Stanley Cup Final to take home the franchise's first championship.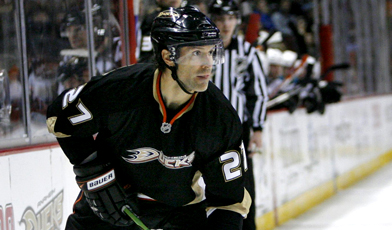 On a deep, balanced team where Getzlaf and Perry were just beginning to make names for themselves at age 21, Beauchemin was a linchpin on the blue line. Eventual Hall-of-Famers Chris Pronger and Scott Niedermayer (how's that for a top two on the blue line?) ate up the most minutes among the defense, but right behind them was Beauchemin, solidifying the defense corps while averaging 25:28 in ice time per game. He also chipped in seven goals and 21 assists, plus an impressive line of 4-4-8 in 20 postseason games.
If anyone had not heard of Francois Beauchemin before this point or was unaware of his importance to the Ducks, that all changed in 2007. He maintained his position in the Ducks' top-four on defense in the 2007-08 season. Early the following season, a torn ACL sidelined him for most of the season, but he was able to return for the playoffs before the Ducks fell in a seven-game second-round series against the Red Wings.
Maple Leafs Stint & Ducks Return
Despite Beauchemin having finally found an NHL home in Anaheim, he and the Ducks parted ways in the 2009 offseason, as the club was too constrained by the salary cap to afford to retain Beauchemin, who had reached unrestricted free agent (UFA) status. The then-29-year-old signed a three-year deal with the Toronto Maple Leafs, but unbeknownst to anyone, his Ducks saga had only just begun.
In 2009-10, Beauchemin was unable to help a long-floundering Leafs team reach the postseason, as they finished with just 74 points. Individually, Beauchemin put up five goals and 12 assists while averaging 25:28 of ice time across all 82 games.
That season would be Beauchemin's only full one in Toronto. After skating in 54 games for the Leafs in the 2010-11 season, the Ducks, battling for playoff position, brought Beauchemin back to Anaheim via trade. They sent the offensively gifted but oft-injured Joffrey Lupul, along with then-prospect Jake Gardiner, to Toronto. Shedding Lupul's salary made it easier for the Ducks to take on Beauchemin's and thereby solidify their defense once again. On that note, it's probably no coincidence that in Beauchemin's one full season in Toronto, the Ducks missed the playoffs.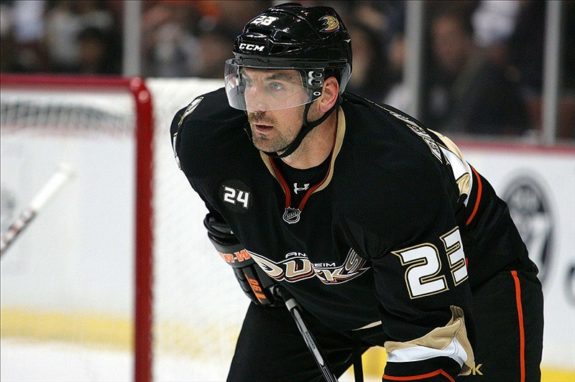 Anaheim would indeed make the postseason in 2011 before bowing out in the first round against the Nashville Predators. The 2011-12 season was the last one in Beauchemin's three-year contract, but this time, the Ducks did not let the defenseman hit the UFA market, as they inked him to a three-year contract extension in January 2012.
He rewarded the team immediately in the lockout-shortened 2012-13 season, notching 24 points (six goals and 18 assists) in 48 games while leading the team in average ice time at 23:27. His offensive totals also led the team's blueliners, and his season earned him recognition as a member of the Second All-Star Team, as voted on by the Professional Hockey Writers Association.
Despite Beauchemin's efforts and the first of five consecutive Pacific Division titles, the Ducks fell once again in the first round to the Red Wings. In 2013-14, Beauchemin's offensive totals (4-13-17) were down and he no longer led the team in total ice time (Cam Fowler took over in that regard), but he still played over 23 minutes a game.
The following season, the Quebec native scored a career-high 11 goals. He continued to play high minutes (22:45 per game) and helped the Ducks get all the way to the Western Conference Final before they lost Game 7 on home ice to the eventual Stanley Cup champion Chicago Blackhawks.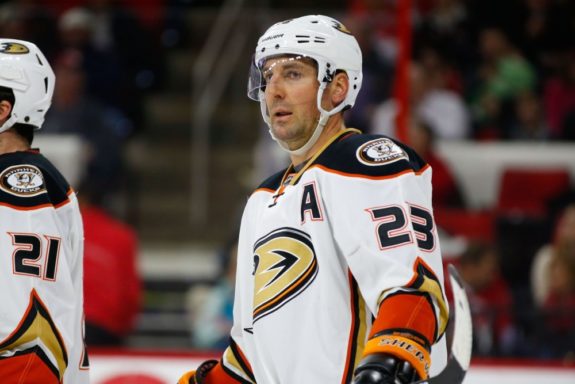 Following that heartbreak, Beauchemin departed Anaheim to cash in with the Colorado Avalanche. At age 35, he signed the most lucrative contract of his career at three years and $13.5 million overall. Given those terms and his career stage, who could blame him?
Beauchemin Joins the Ducks, Take 3
Alas, Colorado's investment in the aging defender ultimately proved to be an imprudent one, mainly because of the terms and the state of its team. Beauchemin performed about as well as anyone could have expected in 2015-16, playing over 25 minutes a night while contributing offensively via 34 points (eight goals and 26 assists). The Avs, however, were in the midst of a decline, proving to be nothing more than a .500 team in 2015-16, a year before they endured a historically bad 48-point campaign.
Beauchemin appeared in 81 games during that ill-fated 2016-17 season. He still managed to put up 18 points and was somehow only a minus-14 while averaging 21:31 of ice time per game on a team that was outscored by 111 goals across the season.
With a clear need to focus on youth, the Avalanche bought out the final year of Beauchemin's contract, which had $4.5 million left. The move also gave the Avalanche more flexibility ahead of the expansion draft for the Vegas Golden Knights, as they would have otherwise had to protect Beauchemin because of the ill-advised no-movement clause they doled out.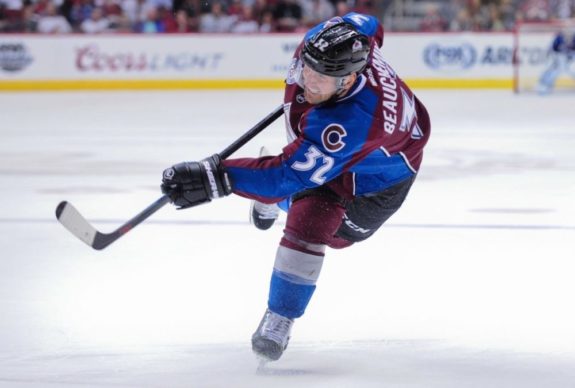 That opened the door for the grizzled veteran's second return to and thus third stint with Anaheim. Facing injuries on the back end to start the year, the Ducks signed Beauchemin to a one-year contract worth $1 million plus $700,000 in performance bonuses.
In his final tour of duty in Orange County, it was clear that the 37-year-old did not have the same jump and overall effectiveness he once did, but that was a known quantity going into the season. Nevertheless, he still gave the Ducks some much-needed depth and seemed to play with renewed fervor down the stretch as Anaheim rallied to a playoff berth. He picked up three goals and 14 assists for 17 points while averaging 17:19 of ice time across 67 games in his final season.
Beauchemin's Legacy
Despite the sour ending to the Ducks' 2017-18 season, Beauchemin can proudly look back on what was an outstanding career as a reliable, minutes-eating defenseman who could chip in at a reasonable clip offensively as well. Another highlight was getting the chance to finish with the team that became his true NHL home.
"When I was [in Anaheim], I always said I wanted to end my career there," Beauchemin said to reporters back when he signed with the Ducks last offseason. "Things changed a couple years ago when I became a free agent, but now that I have a chance to go back and end my career with the Ducks, it couldn't end in a better way. I'm thrilled and excited for that chance."
In all, Beauchemin eclipsed 900 regular-season games played, finishing with 903. The majority—592—came with the Ducks. Across his career, he averaged over 23 minutes of ice time per game. He scored 76 goals and added 212 assists for 288 points. Out of those totals, he recorded 56-140-196 with Anaheim.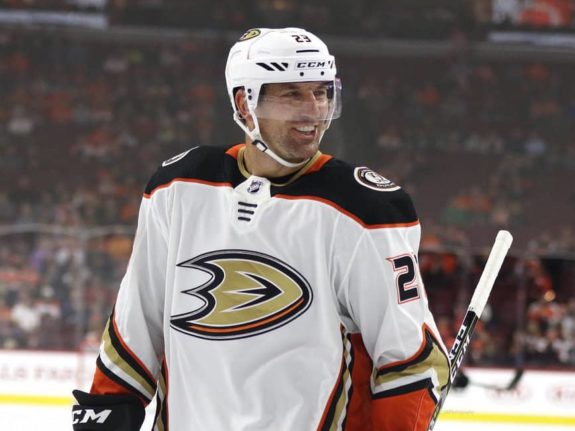 In addition, Beauchemin appeared in 101 career playoff games—all with the Ducks—meaning he played in over 1,000 NHL games in total. He scored 10 goals and 29 assists in his postseason career.
Those 56 regular-season goals in a Ducks sweater are second in franchise history among defensemen, with only Scott Niedermayer's 60 tallies being ahead (though Cam Fowler, with 53 goals as a Duck, will likely pass both players soon). Coincidentally, Beauchemin cites Niedermayer as a key figure in the evolution of his career.
"On that Cup team, I was paired with one of the greatest defensemen of all time in Scott Niedermayer, and I was able to learn so much from him," Beauchemin said via a personally written piece upon re-signing with the Ducks in 2017. "He definitely helped make me a better player. Now it's funny to think that I'm the grizzled veteran that a lot of the young defensemen will look to for leadership and guidance."
Despite his limitations on the ice in the twilight of his career, Beauchemin's ability to positively impact young Ducks defenders like Fowler, Josh Manson, Brandon Montour, and Marcus Pettersson should help all of them as they continue to make their marks in the NHL—just as Niedermayer helped him.
While Beauchemin is not a Hall-of-Famer like Kariya, Selanne, and potentially Getzlaf and/or Perry, his contributions to the Ducks—including his key role in their 2007 Stanley Cup win—were of great significance and will not soon be forgotten by Anaheim fans, nor his ex-teammates, whose respect and admiration for him is clear. Selanne himself said to Beauchemin on Twitter, "…you were a warrior and one of the best teammate(s) ever, thanks for everything and happy retirement…".
At our recent Paint the Ice event, Orange Alliance members had one more chance to show their appreciation for the newly retired @fbeauch23.

The messages left a lasting impression on Beauch. pic.twitter.com/4zfHecWqCt

— Anaheim Ducks (@AnaheimDucks) May 2, 2018
Tom has been with The Hockey Writers for almost four years. After previously covering the LA Kings and the New York Rangers, Tom now covers the Anaheim Ducks.
While in college at Clemson University, the 2016 college football national champions, Tom wrote game summaries and feature articles for the official team website of the Greenville Drive, a Class-A minor-league baseball team and affiliate of the Boston Red Sox. Tom is happy to be able to continue to fulfill his passions for sports and writing with THW.