While the conclusion of the Stanley Cup Playoffs is still close to two months away, the Anaheim Ducks' 2017-18 season is over after an embarrassing first-round sweep at the hands of the San Jose Sharks. Injuries and a number of systematic issues contributed to the Ducks' demise, so this offseason will be about looking for ways to rectify the latter.
Here are some potential paths the Ducks could consider venturing down in this unique and important offseason.
Ducks GM Murray Sheds Light on Future
Carlyle to Be Retained?
After a rough postseason that saw the Ducks win zero games and manage just four goals, starting by looking at bench boss Randy Carlyle is warranted. Given the way Anaheim spiraled out of control and completely lost its focus and poise for much of the series against San Jose, a culture change is something the organization might need to consider.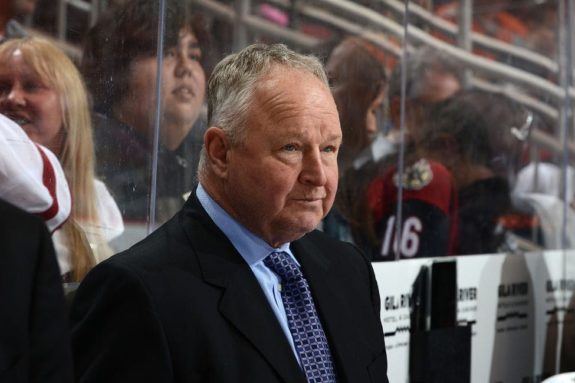 Nevertheless, all indications are that Carlyle will be back behind the bench for the Ducks next season. General manager Bob Murray is electing to take the view that the team overachieved given its injuries and first-half record. Murray was proud of how the Ducks rallied late in the year to not only secure a playoff spot, but also home-ice advantage in the first round as the No. 2 seed in the Pacific Division.
"In all honesty, I thought they did way better than I thought they were going to do. To get to where we finished, (tied for) eighth in the league in points, I never thought that." -Ducks GM Bob Murray
That is indeed commendable and would be the completely correct takeaway even if the Ducks had lost a hard-fought first-round series with a decent showing. But the manner in which they were dismantled and embarrassed while failing to maintain their composure illuminated the need for the club to start fresh. They need to play a style that focuses less on physicality, retribution, and intimidation, and more on speed, skill, creativity, and mental toughness—something the Sharks shattered all too easily.
Ducks Need a New Style
Murray recognizes the importance of such a revamped style.
"We just played a team that was way faster than us," Murray said on breakup day. "And they played the game faster than us."
"Are Logan Couture and Joe Pavelski really fast skaters? Are they?" Murray asked, pointing out that team speed is not necessarily the same thing as individual player speed. "I had one of them in Team Canada. No. They're good hockey players. But if your team plays fast, you can make players faster. And that's the first thing that has to be addressed around here."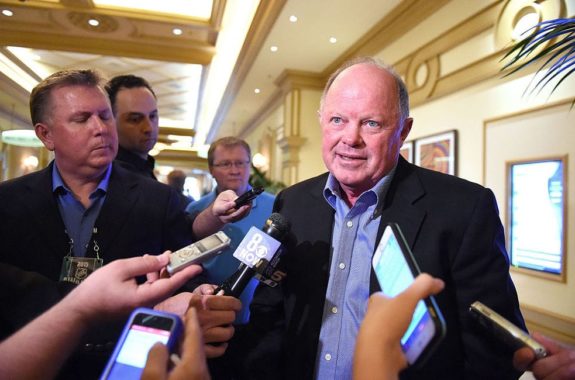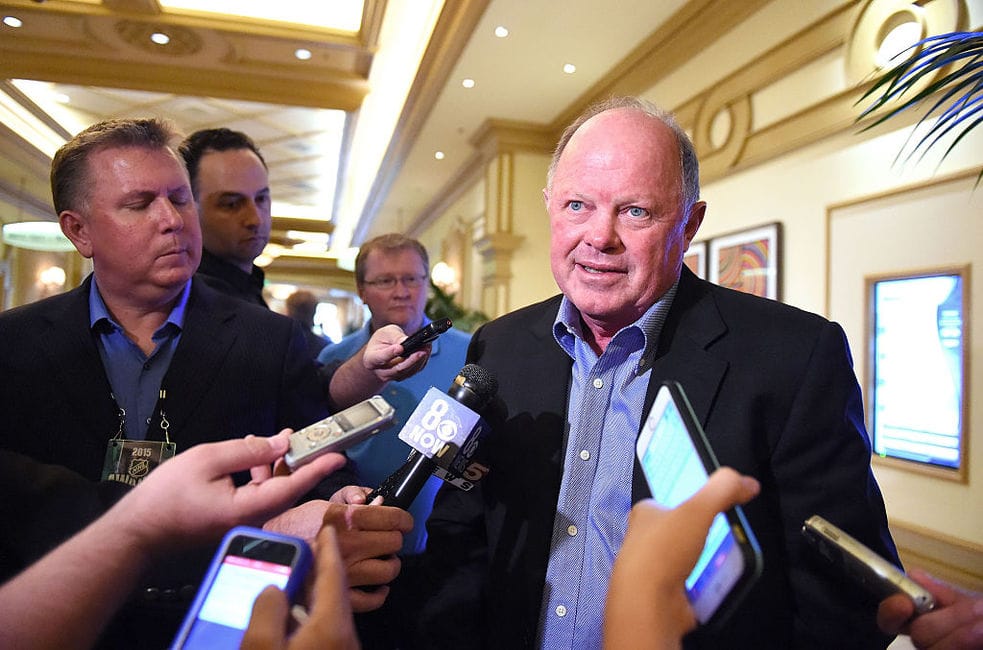 Bringing in a new coach would be a huge initial step in making that change, but it does not seem as though Murray is ready to pull the trigger (even though he already has with respect to assistant coach Trent Yawney, who oversaw the team's defensemen). Carlyle has had a lot of success in the NHL, including a Stanley Cup championship in 2007 in his first stint with the Ducks. He also took the team to the Western Conference Final last season and thus seemed to be a good fit.
But things can change quickly. Now, it appears the Ducks are best suited to move in a new direction and completely redefine the way they play in the modern and ever-evolving NHL. The only hang-up is that Murray does not appear to be on board just yet with respect to a coaching change, even though he sees the need for the team to adopt a new systematic approach.
If Murray is not ready to relieve Carlyle of his coaching duties, he'll have to trust that Carlyle will demonstrate an ability to adapt. Then, even though Murray's comments about team speed versus individual speed seem to contradict the notion of a roster overhaul, he will inevitably have to make at least a few minor roster changes purely based on the realities of every offseason.
Ducks' Pending Free Agents
On the blue line, Anaheim will likely get younger on the bottom pair since veterans Francois Beauchemin and Kevin Bieksa are on their way out. Beauchemin, whose contract is up, has already announced his plans for retirement. The Ducks will also see Bieksa's bloated $4-million average annual value (AAV) come off the books. He saw limited action down the stretch and in the postseason, and his breakup-day comments all but confirmed that he will not return to Anaheim.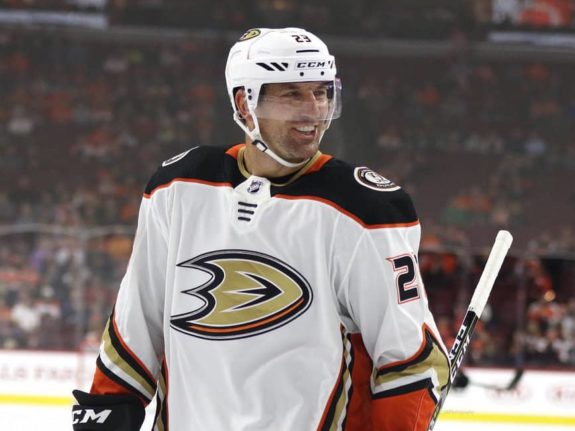 The team's remaining unrestricted free agents (UFAs) at the NHL level are Antoine Vermette, J.T. Brown, Derek Grant, and late-season acquisitions Chris Kelly and Jason Chimera. There is also goaltender Reto Berra, who spent most of the year in the AHL but filled in for the big club at times when John Gibson or Ryan Miller were nursing injuries. Forward Jared Boll, who eventually found himself in the minors after appearing in 10 games for the Ducks this season, is also a UFA.
It seems unlikely that the 35-year-old Vermette, whose playing time dwindled as the season wore on, will be brought back. Ditto for Kelly (37) and Chimera (38). These would be the right moves for a team that could use more youth.
Brown, 27, could be someone the Ducks consider retaining. Grant, 28, would seem less likely than Brown to return, even though he played the best hockey of his fragmented NHL career this year. Keeping him for additional depth, even if some of his action is in the minors, might be a nice insurance policy for a Ducks team that is no stranger to the injury bug. The 31-year-old Berra would also still provide value in the same role he had this season. Boll, on the other hand, should not be back.
Meanwhile, Ondrej Kase and Nick Ritchie, each 22 years old, are restricted free agents (RFAs). They are each due a raise from their entry-level contracts (ELCs), which Kase earned with an excellent, breakout season that saw him score 20 goals in 66 regular-season games.
Ritchie, the 10th overall pick in the 2014 NHL Entry Draft, also seemed primed for a breakout after a 28-point season (14 goals and 14 assists) in 2016-17. Alas, he was unable to build on that production, posting just 27 points (including only 10 goals) this season. He's still young, but given his lack of development this season and his proclivity for unnecessary minor penalties, he's someone the Ducks should possibly consider dangling in the trade market, especially as part of a package for a more established, left-shooting scoring winger if they do not acquire one in free agency (more on that in a bit). A trade of Ritchie might not have to happen this season, either. For him, a short-term bridge deal seems more appropriate than a long-term commitment at this point.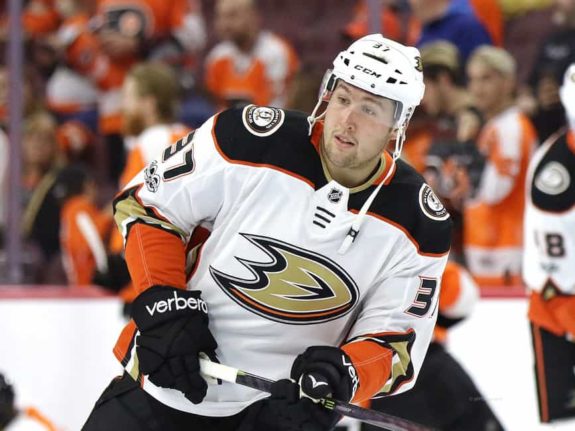 Potential New Faces for Ducks
Prospects Who Could Make the Jump
Assuming some of these departures become official, the Ducks will have some positions to fill but some cap space with which to play. At the conclusion of the regular season, the Ducks had about $3 million in cap space, even with the close-to-being-very-problematic expensive long-term contracts for Ryan Getlzaf, Corey Perry, and Ryan Kesler. Bieksa's contract coming off the books should negate the total increase from the raises for Kase and Ritchie, while the departures of Beauchemin and others, plus a presumed increase to the cap, would give Anaheim even more room.
Even with that space, the Ducks can first look to some internal candidates to fill some of their open spots. Troy Terry, who signed an entry-level contract with the Ducks right after his college season at the University of Denver, should also have an inside track at a roster spot after getting a quick taste of NHL action this season. Sam Steel, a 20-year-old center who has posted a combined 214 points in 120 games for the WHL's Regina Pats over the past two seasons, is ready to move on from junior hockey and could jump straight to the NHL to fill a bottom-six role. In addition, developing power-forward and Max Jones, 20, could be ready to challenge for a role with Anaheim. Steel and Jones were both late first-round picks of the Ducks in 2016, and now they might be on the cusp of cracking the NHL.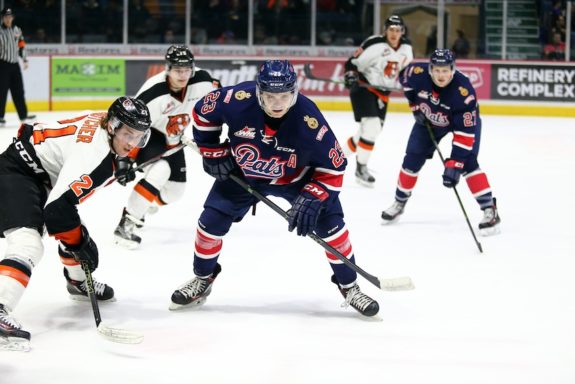 Defenseman Jacob Larsson seemed poised to challenge for a roster spot this season but ultimately did not make the cut. That was the beginning of what evolved into a trying season for one of Anaheim's top prospects—one where he saw several other AHLers get a chance with the injury-plagued Ducks before him. He was called up before Game 4 against the Sharks but did not suit up.
"It's been a lot of injuries this season," said the 20-year-old Larsson, whose season was marred by a difficult recovery from knee surgery that took place about a year ago, in addition to other ailments along the way. "So it's been in and out all the time. I'm not really happy with the season and how it went. I just need to continue doing rehab. Hopefully I have a good summer and come back better next year."
Next season presents a prime opportunity for Larsson to establish himself as a full-time NHLer. Perhaps, too, 24-year-old Andy Welinski will get more of a regular shot in the Ducks' lineup after seeing some action the postseason while Cam Fowler was sidelined with a shoulder injury. Marcus Pettersson also appears to be ready for a full-time gig after becoming a mainstay following his call-up in February. All of these players should have a legitimate chance to earn a third-pairing role behind top-four defenders Fowler, Hampus Lindholm, Josh Manson, and Brandon Montour.
Possible Free-Agent Targets
Beyond their in-house candidates, the Ducks could also look to supplement via free agency.
On defense, 28-year-old John Carlson will be the top player available unless he strikes a new deal with the Washington Capitals prior to hitting the open market on July 1. He'll command a major contract, likely north of $6.5 million per season over a long term, so that's probably not the type of move the Ducks need to be making at this stage. Beyond Carlson and 32-year-old Mike Green, though, most of the remaining defensemen on the market are depth players who would cost much more than any of the youngsters Anaheim could plug in for likely equal if not better efficacy.
Up front is where the Ducks might want to make a more notable UFA signing. James van Riemsdyk, who will be 29 by the time next season starts, is a solid left wing who is good for 25-30 goals a year and actually hit a career-high 36 this season. The Toronto Maple Leafs will likely be unable to afford him given their cap situation and need to lock up RFA William Nylander this offseason before Auston Matthews and Mitch Marner next offseason. van Riemsdyk will be coming off an AAV of $4.25 million, so he'll likely get a bit more than that on the open market, but he is the type of bigger-ticket player who would be a better fit for the Ducks right now than someone like Carlson.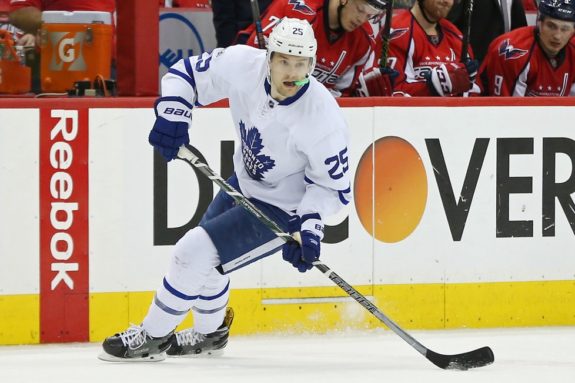 Beyond van Riemsdyk, James Neal could be an interesting consideration if he gets to UFA status on July 1. So too could Josh Bailey of the New York Islanders, though it remains to be seen if he'll be as productive as he suddenly was this season if he is no longer playing alongside John Tavares (and before you ask, no, Tavares—the top pending UFA in this year's class—is likely not a viable option for the Ducks). Then there's Evander Kane, who the Ducks saw go to the San Jose Sharks at the trade deadline before he contributed to Anaheim's ugly postseason demise. He seems to be a good fit in San Jose, but if he does not re-sign there, he's someone for the Ducks to consider.
Other options who should prove to be more cost-effective include one-time Ducks David Perron (although he is another right-handed shot) and Patrick Maroon. Michael Grabner, Leo Komarov, and Antoine Roussel are also names the Ducks might look at, although the latter two are better characterized as agitators and energizers than true scoring threats.
Murray and the Ducks might not end up making a huge splash, but the inevitable turnover of players from this year's club should lead to a much-needed infusion of youth. That and an updated, speed-based style of play will be the keys to improvement for an Anaheim club that needs to be careful but purposeful with its decisions in order to remain a contender.
Tom has been with The Hockey Writers for almost four years. After previously covering the LA Kings and the New York Rangers, Tom now covers the Anaheim Ducks.
While in college at Clemson University, the 2016 college football national champions, Tom wrote game summaries and feature articles for the official team website of the Greenville Drive, a Class-A minor-league baseball team and affiliate of the Boston Red Sox. Tom is happy to be able to continue to fulfill his passions for sports and writing with THW.