Although the Vancouver Canucks season came to a conclusion over two weeks ago, there's still lots to digest after another season out of the playoffs.
With the Sedins now retired, the Canucks will assume a different identity entering next season. Can Brock Boeser improve upon his fantastic rookie season? How about Swedish phenom Elias Pettersson, where does he fit into the mix?
Those are some of the questions that will be asked throughout the summer. For now, let's go back and look at some of the players I profiled and predictions I made in my Canucks season preview.
Offseason Moves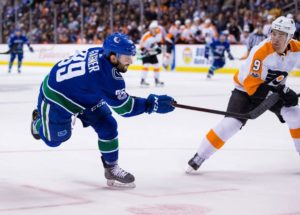 Key Roster Additions
Michael Del Zotto (82 GP, 6-16-22)
Sam Gagner (74 GP, 10-21-31)
Thomas Vanek (with Vancouver, 61 GP, 17-24-41)
Alex Burmistrov (24 GP, 2-4-6)
Anders Nilsson (27 GP, 3.44 GAA, .901 SV%)
Patrick Wiercioch (with Utica (AHL), 58 GP, 10-27-37)
Philip Holm (with Vancouver, 1 GP, 0-0-0)
Key Roster Losses
Ryan Miller (with Anaheim, 28 GP, 2.35 GAA, .928 SV%)
Nikita Tryamkin (with Yekaterinburg – KHL, 53 GP, 9-16-25)
Luca Sbisa (with Vegas, 30 GP, 2-12-14)
Philip Larsen (with Ufa (KHL), 56 GP, 12-28-40)
2017 NHL Entry Draft
Elias Pettersson (1st round, 5th overall). With Vaxjo (SHL): 44 GP, 24-32-56
Kole Lind (2nd round, 33rd overall). With Kelowna (WHL): 58 GP, 39-56-95
Jonah Gadjovich (2nd round, 55th overall). With Owen Sound (OHL): 42 GP, 25-23-48
Michael DiPietro (3rd round, 64th overall). With Windsor (OHL): 56 GP, 2.79 GAA, .910 SV%
Jack Rathbone (4th round, 95th overall). With Dexter (USHS): 16 GP, 10-19-29
Kristoffer Gunnarsson (5th round, 135th overall). With Frolunda (SHL): 46 GP, 0-0-0
Petrus Palmu (6th round, 181st overall). With TPS (SM-Liiga): 59 GP, 17-19-36
Matt Brassard (7th round, 188th overall). With Oshawa (OHL): 67 GP, 16-35-51
Canucks Organizational Changes
The 2017-18 season marked Travis Green's first year behind the bench. After completing the first of a four-year contract, Green led the Canucks to one more win (31) than the previous season under Willie Desjardins.
Where the Canucks did see improvement was in their style of play. Green implemented an up-tempo, puck possession style that meshes well with today's NHL. Unfortunately for Green, the Canucks just didn't have the pieces to succeed under his system.
While Green's style led to more goals, the Canucks also gave up more chances than they did in the previous year. That's to be expected with a more aggressive style, and it doesn't help that the Canucks defence was a mess all year long. Regardless, this Canucks team was more entertaining than the sad-sack group from 2016-17.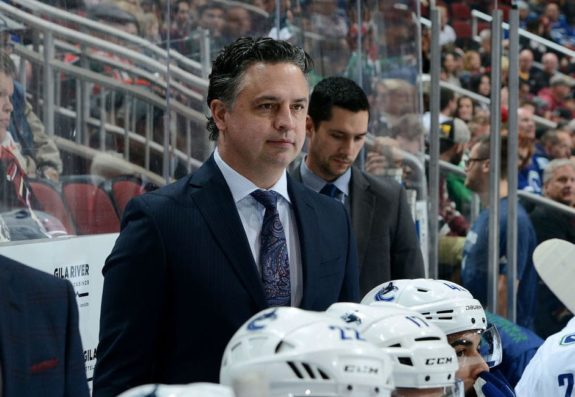 The Canucks also brought Manny Malhotra, Nolan Baumgartner and Newell Brown on board to round out the coaching staff — Doug Jarvis was the only man to survive the 2016-17 firings. On the power play, Brown seemed to make a difference as the Canucks power play jumped from 29th overall (14.1%) to ninth overall (21.4%). Much of that was thanks to Boeser, but the Canucks formed a strong first unit with Boeser, Bo Horvat, the twins and Alex Edler.
There was speculation throughout the year about the contract status of general manager Jim Benning. Despite receiving flak for questionable trades and signings throughout his tenure in Vancouver, he got a three-year contract extension in February.
Forwards
My Projected Lines
Daniel Sedin – Henrik Sedin – Markus Granlund
Sven Baertschi – Bo Horvat – Brock Boeser
Loui Eriksson – Alex Burmistrov – Thomas Vanek
Scottie Upshall (PTO) – Brandon Sutter – Sam Gagner
Extra: Derek Dorsett
*Injured: Brendan Gaunce (out until November)
Actual Opening Night Lines
Sven Baertschi – Bo Horvat – Loui Eriksson
Daniel Sedin – Henrik Sedin – Thomas Vanek
Markus Granlund – Brandon Sutter – Derek Dorsett
Jake Virtanen – Alex Burmistrov – Sam Gagner
Extra: Brock Boeser
Nikolay Goldobin – Bo Horvat – Jake Virtanen
Daniel Sedin – Henrik Sedin – Sam Gagner
Darren Archibald – Brandon Sutter – Tyler Motte
Brenda Leipsic – Adam Gaudette – Jussi Jokinen
Bo Horvat
No matter what expectations are, Horvat continues to shatter them. He came into the season fresh off of his first 20-goal, 50-point campaign. With a better player on his wing, Horvat continued to produce.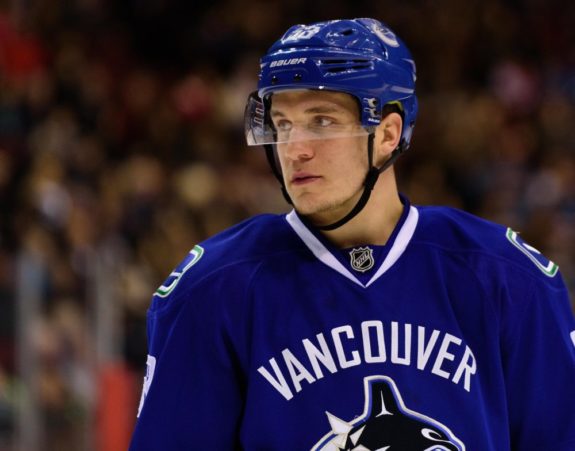 Despite missing 18 games with a high-ankle sprain, Horvat put up a career-best 22 goals. His importance to the roster was magnified after he went down with an injury on Dec. 5 against the Carolina Hurricanes. After that injury, the Canucks season cratered after a promising start.
With the Sedins now retired, Horvat is undoubtedly the Canucks number one centre. It's quite the ascension for a player that many expected to be a solid middle-six player. His skating and strength are still improving, and he now has a bonafide sniper to play with in Boeser.
Loui Eriksson
After Loui Eriksson's abysmal 2016-17 campaign, many expected that the six-million dollar man would improve upon his terrible first season in Vancouver.
So much for that.
In hindsight, he was slightly better than he was during his first campaign in Vancouver. He registered 10 goals and 23 points in 50 games despite playing a more defensive role. That's only one goal and one point less than his 2016-17 season, where he registered 24 points in 65 games.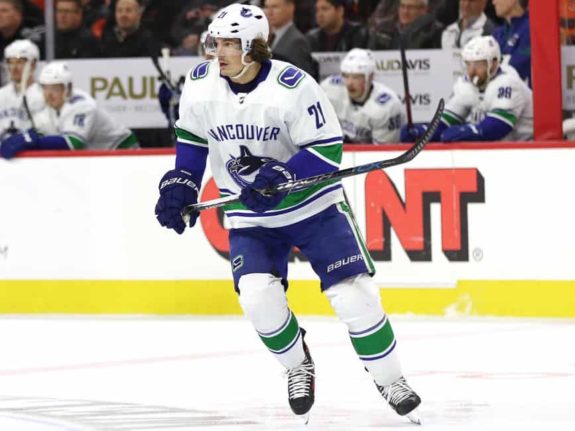 There will be many who suggest that Eriksson will automatically get a bigger opportunity with the Sedins now retired, but he was already averaging more than 16 minutes per game this season. One area where Eriksson could be utilized is on the power play. He was eighth among Canucks forwards in ice time on the power play this season, even though he averaged 5.4 power play goals in ten seasons before arriving in Vancouver.
Sam Gagner
It became abundantly clear as the season prodded along that Benning's free agent signings from July 1 were bound to disappoint. While Sam Gagner falls into that category, it's hard to be angry with his production.
The Canucks bought high on Gagner on July 1 after he put up 50 points with the Columbus Blue Jackets. While that was a good season, he had but 18 points the year before and ended up in the minors with the Philadelphia Flyers organization.
In my season preview, I mentioned that 30 points was probably a realistic target for Gagner. In 74 games this season, Gagner had 10 goals and 31 points. That production is fine for a bottom-six winger, but the problem here is that Gagner could be taking away roster spots from some of the Canucks younger players.
Defence
My Projected Pairings
Alex Edler – Troy Stecher
Ben Hutton – Chris Tanev
Michael Del Zotto – Erik Gudbranson
Extra: Patrick Wiercioch, Alex Biega
Actual Opening Night Pairings
Alex Edler – Chris Tanev
Michael Del Zotto – Erik Gudbranson
Ben Hutton – Troy Stecher
Extras: Derrick Pouliot, Alex Biega
Alex Edler – Troy Stecher
Michael Del Zotto – Derrick Pouliot
Alex Biega – Ashton Sautner
Troy Stecher
Despite being named the Canucks best defenceman by fans in 2016-17, Troy Stecher sure didn't start off the season as the coach's favourite. Travis Green marginalized Stecher early on, as the Richmond native averaged 16:05 through the 2017 portion of the schedule.
As the season progressed, Stecher steadily gained Green's trust. From Jan. 1 onward, he played 20:25 minutes per game. Over the last ten games of the season, Stecher found himself on the first pairing alongside Alex Edler.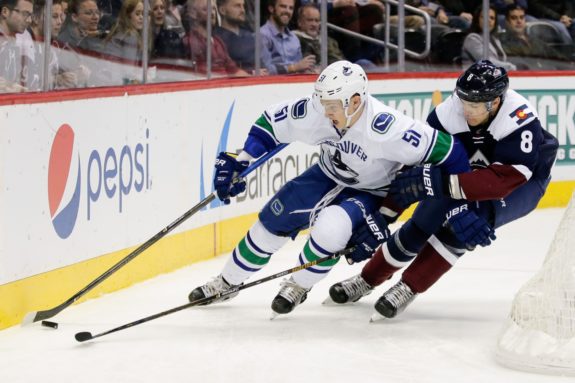 While Stecher's poise in his own end makes him an NHL player, one area where he needs to improve is on offence. He went from 25 points in his rookie season to just 11 this year, although he had almost no power play time this year. If he can start to chip in more on offence, he will cement himself as a member of this Canucks' core for years to come.
Ben Hutton
I originally profiled Chris Tanev in my season preview, but it's impossible not to talk about the tumultuous season that Ben Hutton endured. Once part of a promising Canucks defence, Hutton's third year in the NHL probably couldn't have gone any worse. He had just six assists in 61 games, got publicly ripped by his coach and ended up being a healthy scratch for a dozen games.
Where Hutton stands in this organization now is anyone's guess. Many think he will be traded since his relationship with Green is beyond repair. Others think he could be given a shot at redemption, considering that his trade value is at an all-time low.
Many will also point out that Hutton's underlying numbers were good, especially when he was paired with Tanev. He allowed the fewest scoring chances at even-strength among all Canucks defenders, but also had only one primary point at even strength all season long.
Michael Del Zotto
Every coach seems to have a favourite player that most outside of the organization don't seem to hold in the same regard. Alain Vigneault had Tanner Glass, Willie Desjardins had Jayson Megna, and Green had Michael Del Zotto.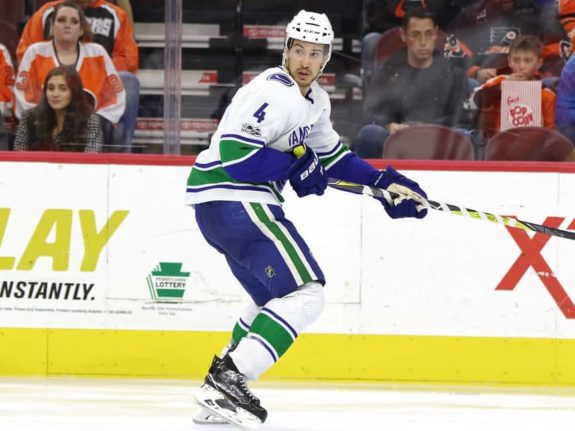 Despite playing in all 82 games while averaging 20:48 per contest, Del Zotto was a defensive nightmare in his own end. He allowed the seventh-most scoring chances at even-strength among all defencemen. He constantly turned the puck over in his own end, and his eyebrow-raising hit total meant that he was often playing without the puck.
Although Hutton's struggled are well-documented, one of the biggest mysteries remains Green's love of Del Zotto versus his treatment of Hutton. Even though Hutton was the better defender, he got shafted by the coach while Del Zotto never lost his spot in the lineup. The Canucks defence needs to be revamped, and that will be hard as long as Del Zotto is playing more than 20 minutes per night.
Goaltending
Coming into the season, it looked like free-agent signing Anders Nilsson would challenge his fellow countryman Jacob Markstrom for playing time. Nilsson posted stellar numbers in a backup role for the Buffalo Sabres in 2016-17, but never recaptured that success in Vancouver.
Aside from his two shutouts in his first three starts, Nilsson ended up being leaky and unreliable when called upon for duty. It meant that Markstrom finally got to be a NHL starter, playing in 60 games for the Canucks throughout the year.
He's virtually locked in as the starter next year, although apparent heir to the crease Thatcher Demko could challenge for minutes next season. Demko had a solid year in the AHL, and could be an improvement on Nilsson at the backup position. Benning has already stated that if Demko earns a spot in training camp, he will be given a spot on the team next season.
Breakout Player: Brock Boeser
This one was an easy prediction to make, although there probably weren't many who saw Boeser storming through the NHL at a 38-goal pace. With 29 goals in 62 games, Boeser was pushing a 40-goal pace if he suited up for all 82 games.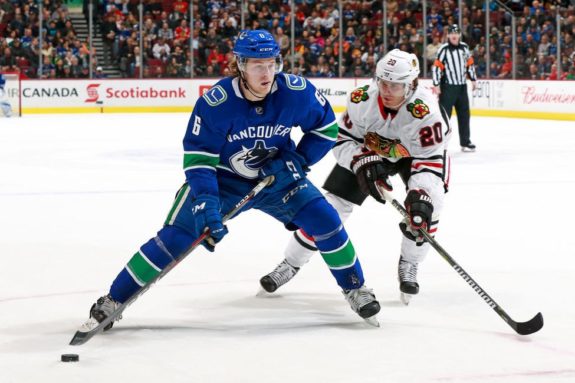 At the beginning of the season, most should have been pleased if Boeser hit 20 goals and 40 points. He crushed those totals with the most exciting Canucks rookie season since Pavel Bure suited up in 1991-92.
Boeser was recently named a finalist for the Calder Trophy. He's probably going to lose out to Vancouver-native Mat Barzal, but that should do nothing to diminish his accomplishments this season. Boeser was 11th in goals-per 60 at even-strength, trailing guys like Connor McDavid, Auston Matthews, Nikita Kucherov and William Karlsson.
Player With the Most to Prove: Jacob Markstrom
Markstrom undoubtedly had much to prove coming into the season, since he had never started more than 33 games in an NHL campaign. Even though he didn't blow the doors off this season, Markstrom cemented himself as a respectable NHL goaltender.
Despite having an up and down season, Markstrom posted a 2.71 GAA and a .912 save percentage. Based on save percentage data at even-strength, Markstrom was a middling starter compared to his peers. That's promising for Markstrom and the Canucks, especially since the Canucks defence was below average.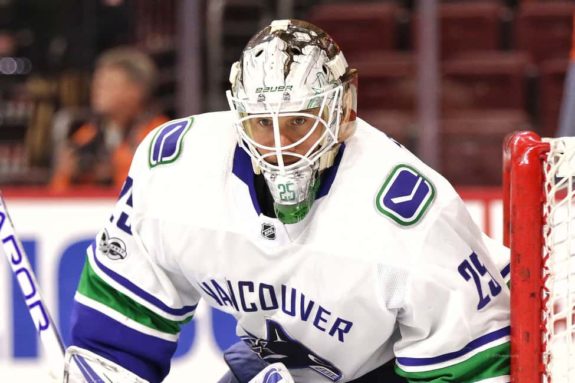 At the end of the year, when the Canucks were out of the playoff hunt, Markstrom continued to improve. He had a penchant for allowing soft goals early on in games, but that disappeared as the season progressed. In his last six starts, Markstrom was 5-0-1 with a .937 save percentage.
Considering that this was Markstrom's first year as an NHL starter, it's hard to be overly disappointed with how everything played out. Chances are that Markstrom is what he is at the NHL level, although his strong finish does raise some eyebrows heading into next season.
Players in the "Call-Up" Line
Forwards
I'll start by saying that I had Jake Virtanen beginning the season in the AHL. Instead, he ended up playing 74 games with the Vancouver Canucks this season, and never saw a minute of AHL action.
Nikolay Goldobin, Reid Boucher and Anton Rodin were players I expected to start in the farm since they didn't make the cut for the opening night line-up. That held true for all three, although all three players are on very different trajectories at the moment.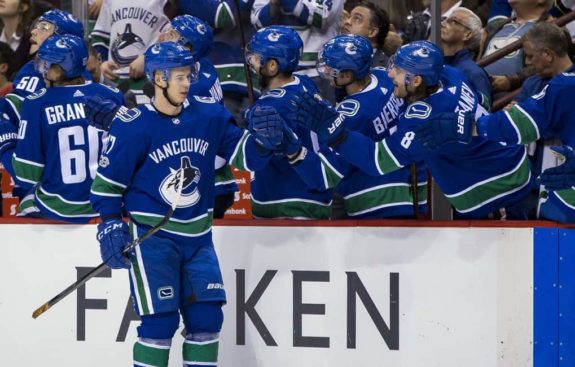 Rodin never got much of a shot in the AHL, and by November the Canucks had terminated his contract. Boucher put up some solid numbers at the AHL level, but couldn't make a pass to save his life with the Canucks. He doesn't seem to figure into the long-term plans.
Goldobin remains one of the most intriguing players on the Canucks roster. He finished strong with seven points over his last 10 games, although it should be noted that he got to play alongside Horvat for most of those games. Still, Goldobin can make plays that few players in the organization can make. He has an extremely enticing skill set, but will he be able to earn Green's trust full-time?
Defence
One player that everyone hoped would get a shot at some point was Jordan Subban. Not only did he not get a taste of NHL action, but he was traded to the Los Angeles Kings for Nic Dowd after both Horvat and Brandon Sutter went down with injury. Although Dowd was a disaster on the ice, perhaps there's some solace after Subban had his worst season as a pro-hockey player in 2017-18.
Alex Biega was another player I had destined for the minors, but he ended up staying with the Canucks organization throughout the season. He looked solid in spot duty, and even scored his first goal in more than three years towards the end of the season.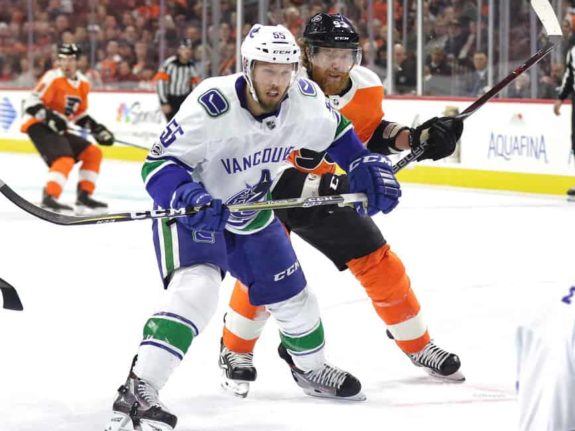 British Columbia native Patrick Wiercioch never got a chance to redeem himself in the NHL, despite posting solid numbers for the Utica Comets. His role on the team was all but eliminated once the Canucks traded for Derrick Pouliot before the beginning of the season.
The last guy people were calling a "dark horse" for a roster spot was Swedish defenceman Philip Holm. He played well in the AHL, but Benning made a schrewd move by trading him to the Vegas Golden Knights for Brendan Leipsic at the trade deadline.
Season Recap
2017-18 Record Prediction: 34-38-10, 78 Points (7th in Pacific Division, 13th in Western Conference, 27th in NHL)
2017-18 Actual Result: 31-40-11, 73 Points (7th in Pacific Division, 14th in Western Conference, 26th in NHL)
There really wasn't much hope that the Canucks would drastically improve this season. Without MVP candidates like Nathan MacKinnon or Taylor Hall on their roster, there was no chance in hell that they would canapault from second-worst to Wild Card this season.
On offence, there were clearly some improvements when players like Horvat and Boeser stepping up. However, Eriksson wasn't much better, Granlund had a steep drop-off and Sven Baertschi leveled-off to some extent.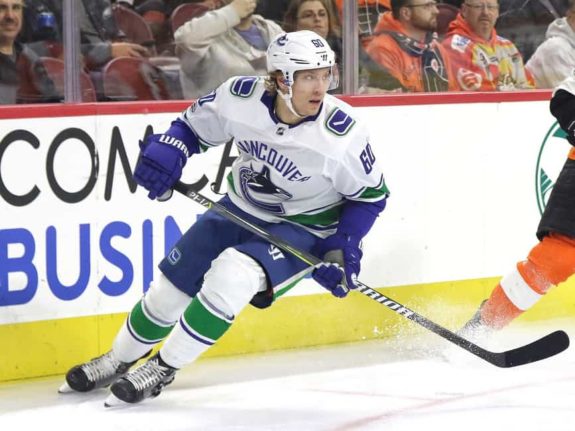 It was on defence where the crux of the Canucks problems lie. Here's what I said in my season preview:
"The defence has some interesting players, and they could be a good unit if they gel. However, there's also the possibility that Hutton doesn't bounce back, Stecher endures a sophomore slump, and Del Zotto and Gudbranson don't work out. Some of those players will likely improve upon last season's performance, but betting on all of them is risky."
While Stecher didn't endure the sophomore slump, all of Hutton, Del Zotto and Gudbranson had middling to poor seasons. That's half of the Canucks defence. You can't have that many question marks on a sub-par team and hope to succeed.
Their struggles could mean that the Canucks go out and make some drastic changes in the offseason to shake up the blueline. Virtually no one back there is untouchable, although the Canucks aren't flush with assets to make a big trade.
With promise on offence and a goalie of the future in waiting, the state of the Canucks moving forward depends on how they build their blue line. A team like the Boston Bruins did a fabulous job of retooling their defence, and they ended up being the league's fourth-best team this season. How Benning handles building his blue line over the next couple of seasons could be defining moments for both his tenure and the organization moving forward.
KPU Journalism Graduate. Trevor has been writing for The Hockey Writers since October 2014. He has contributed articles related to the Ottawa Senators, Vancouver Canucks, and other issues/stories regarding the game of hockey. Trevor currently lives in White Rock, B.C.