Earlier this week, the Washington Capitals finished off the Columbus Blue Jackets in Game 6, setting up a second-round series with a familiar foe. The Pittsburgh Penguins await in Round 2, having dispatched the Philadelphia Flyers, also in Game 6.
This sets up a series hockey fans are pretty acclimated to by now. For the third consecutive year, it'll be the Pens versus the Caps in a playoff series. Both teams deserve to be there — no one gets to and then through the NHL playoffs because of sheer luck — but we can't help but wonder whether or not another round of Sidney Crosby versus Alex Ovechkin is actually good for the sport itself.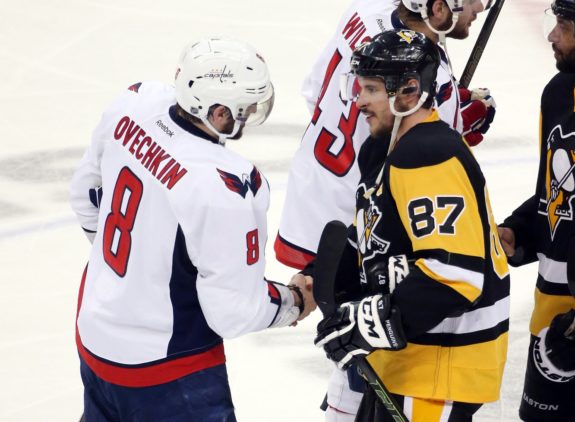 Will it be fun? Probably, but that doesn't mean this semifinal doesn't have a handful of pros and cons in play.
Pro: Crosby vs Ovechkin Is an Easy Sell to Casual Fans
Let's face it: casual NHL fans aren't plugged in from the first day of training camp all the way through to the Stanley Cup Final, especially if their team isn't involved. The playoffs bring the sport's more cursory supporters out of the woodwork, which means that broadcast partners need a quick and punchy way to get them to tune into broadcasts once every 48 hours or so (give or take).
It doesn't get much more quick and punchy than Ovechkin vs Crosby. They've been sharing headlines and arenas since they were teenagers — well, "The Great Eight" technically debuted as a 20-year-old, but you get the point.
Capitals knock out the Blue Jackets. Sets up Washington vs. Pittsburgh.

Ovechkin vs. Crosby again. pic.twitter.com/dr24EVp1Yd

— Brad Galli (@BradGalli) April 24, 2018
The game has plenty of rising stars, but No. 8 and No. 87 are the two players who saw us out of the darkness of the 2005 lockout and reminded us of why we love hockey in the first place. Both men know how to put on a show, and whenever they square off, it leads to emotional and skill-driven play.
What's not to like?
Con: It's Not Just Crosby vs Ovechkin Anymore
Oh, right. The idea that this is just Crosby against Ovechkin is both antiquated and obnoxious. It's what the talking heads on NBCSN will ram down our throats during each and every intermission and in advertisements, but if the Penguins and Capitals were driven by just Crosby and Ovechkin, then they wouldn't be in the second round.
Washington and Pittsburgh both roster some of the most exciting or interesting players in the league – from Phil Kessel and Matt Murray to John Carlson and Braden Holtby, both squads are chock full of quality skaters. We probably shouldn't leave out Evgeni Malkin and the perpetually underappreciated Nicklas Backstrom, either.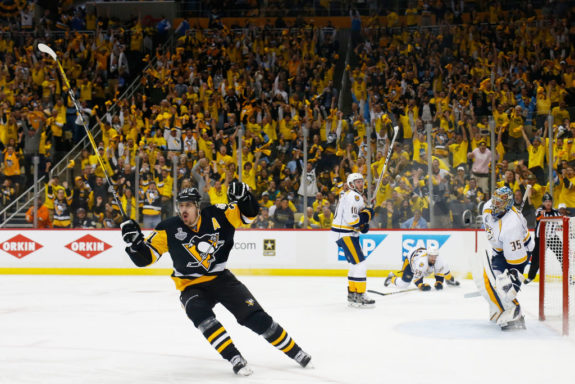 Despite all this talent, all anyone is going to want to talk about is the two captains, which is a bummer because these are two outstanding teams with more to offer than Crosby and Ovechkin.
Pro: Penguins & Capitals Have a Baked-In Rivalry
The NHL loves trying to make us believe that the two teams skating against each other on our televisions are rivals. We're more than four years into the whole Wednesday Night Rivalry schtick, but most of the time, the thought of the two squads involved actually disliking each other is worth an eye roll at best.
Pittsburgh versus the Anaheim Ducks sold as a rivalry game? C'mon.
Related: Penguins Prove They Aren't Tired Of Winning Yet
The league doesn't have to worry about putting the Penguins and Capitals over as a potentially heated encounter, though, because there's plenty of recent history in place. It's the third consecutive time these two teams will meet in the playoffs and we have the wonderful story of the generation's most electric goal scorer trying to finally get to the Eastern Conference Final for the first time in his otherwise illustrious career.
To get there, he'll have to take down Crosby; a player who has gotten the better of him at every turn since they entered the league together 13 years ago. Who doesn't want to see that, even if it's the third consecutive season in which it has happened?
Con: Is it Special if it Happens Every Year?
Let's say your favorite meal on the face of the planet is filet mignon; maybe with a side of roasted duck potatoes and a pleasant pinot noir from Tuscany to wash it all down with.
It's the meal you get on your birthday. Maybe the occasional night out on the town when you're celebrating a wayward friend coming home or a hard-earned promotion.
Over the next 10 years, you know it's something you'll maybe be able to eat 11 or 12 times total. That's part of what makes ordering the meal special, right? The food itself isn't particularly scarce, but the experience is. You know things have to line up just right for that filet mignon to land on your plate, so you savor each and every bite when it's in front of you.
For the third consecutive #StanleyCup Playoffs, the @penguins and @Capitals will meet in the Second Round. pic.twitter.com/9YtD9NV9Pl

— NHL (@NHL) April 24, 2018
Wouldn't it become less memorable if you were able to consume it, say, once a week? Suddenly it's a part of your routine and not this extraordinary thing you get to look forward to at only the most special times in your life.
That's the intriguing question that will linger over this series as it unfolds. How many tricks do Ovechkin and Crosby have left up their sleeves? How many turns can we take before we've seen it all before? Is it a party if it happens every night?
Pro: They Represent the Best of this Generation
Maybe you're sick of the Penguins and Capitals and you were angered by the emergence of this trilogy. Plenty of folks on Twitter seemed to fall into this camp as Washington shook hands with the Blue Jackets on Monday night. Maybe you're on the other side and you are as amped for it as Alex Ovechkin himself claims to be.
The fact remains that Crosby is 30. Ovechkin is 32. We're only going to get a few more opportunities to watch these two titans clash on the grandest of stages. They're both locked in the Eastern Conference, so we'll probably never get a Stanley Cup Final between the two. This is the closest we'll get to see that unfold.
Is it repetitive for those who live and breathe the game? Perhaps on paper, but if you love hockey then why wouldn't you want to see the best two players of this generation square off as often as possible? The postseason isn't rigged — both Pittsburgh and Washington deserve to be where they are.
All we can do now is sit back, enjoy the ride and appreciate it while it lasts. Who knows if this will be the final time we see Crosby face Ovechkin in the playoffs? Then, 10 years from now, with the benefit of hindsight, we'll talk about that classic trio of series and how it brought the best out of the transcendent players of our time.