Now that it's been nearly three weeks since former New York Rangers head coach Alain Vigneault was fired and some of this season's disappointment has faded, it's a good time to reminisce about what was a successful, albeit Stanley Cup-less run. While Rangers fans have largely turned against the charmer, he was the head man for a team that provided plenty of timeless playoff moments.
Over the course of Vigneault's five seasons, the Rangers won six playoff series and delivered countless unforgettable moments. The bitterness of not winning a Cup will remain, but Rangers fans can find some solace in these ones.
5 – Henrik Lundqvist's Brilliance
The King makes 40 saves to keep the Rangers alive in Game 4 of the Stanley Cup Final against Los Angeles (June 11, 2014).
After losing the first three games of the Stanley Cup Final to Los Angeles, the Rangers were hardly a defeated team. Having never trailed during two overtime losses on the road and more than doubling the Kings' shot total in the Game 3 loss at home, the odds were long but not impossible for a comeback. New York, even with their shortcomings, still had plenty of hope.
In Game 4, however, the Blueshirts skaters played, perhaps, their worst game of the series. Outshot 41-19 when all was said and done, it was Henrik Lundqvist's performance, alone, that kept the series alive.
"When everything is on the line, you just have to challenge yourself the right way," Lundqvist said about the team's performance.
4 – Carl Hagelin's Series Clincher
Hagelin's overtime goal gives New York the Game 6 win against Pittsburgh (April 24, 2015).
After winning the President's Cup as the NHL's top team in the regular season and looking for a return trip to the Stanley Cup Final, the Rangers drew Sidney Crosby, Evgeni Malkin and the Pittsburgh Penguins in the first round. While that iteration of the Penguins wasn't as dangerous as others, including the back-to-back Cup winners of the last two seasons, they were bitter rivals and as capable of a first-round upset as any team.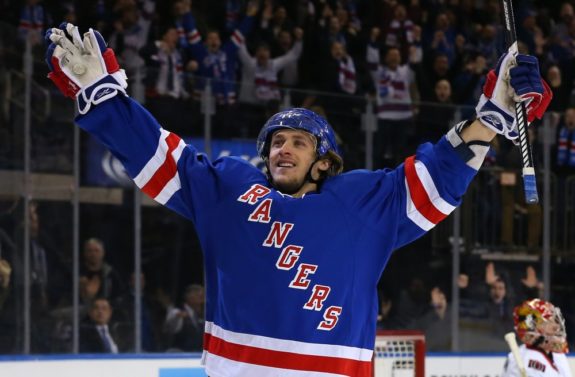 Carl Hagelin's emphatic overtime winner in Game 5 brought any hope of an upset to rest. It was "One of the happiest moments of my life," he said after the game.
Judging by Vigneault's immediate reaction of jumping for joy when the goal was scored, it was one of his as well. And though that season ended in another disappointment, victory over the Pens is always a fond memory.
3 – Derick Brassard's Hat Trick
"Big Game Brass" earns his moniker in Game 6 against Tampa Bay (May 27, 2015).
Facing elimination against the Lightning, the Rangers needed a spark if they were to return to the Stanley Cup Final for the second consecutive year. In full "win or go home" mode, Derick Brassard, always strong in the playoffs, delivered his Rangers opus with a hat trick in the 7-3 road victory.
"Every time we're in that position, this team, we come out and play really well. That's the way we've been playing. Since I've been here with the Rangers, every time we're in an elimination game, that's the way we played," he said. "I don't know if that's a good thing or a bad thing, but we're just gonna go out there at home and try to play our best game."
With his performance in such a tough spot, Brassard endeared himself to Rangers fans and earned a legacy as a strong playoff performer.
2 – Martin St. Louis' Mother's Day Goal
Heavy-hearted St. Louis scores early to give the Rangers the lead (May 11, 2014).
Just three days after the passing of his mother, Martin St. Louis scored an emotional goal that transcended hockey. On Mother's Day, with his father and sister in the crowd, the future Hall-of-Famer gave the Rangers an early lead en route to a Game 6 win against Pittsburgh.
"It's probably one of the cooler things I've been a part of in my professional career," said Derek Stepan.
The emotion on that goal is something that I will never forget.
Though meaningful, the goal was hardly the prettiest of St. Louis' career, as the puck rattled around and bounced in off of his leg.
"I got a pretty good bounce," St. Louis said. "I know (my mother) helped me through this."
Through the playoffs, St. Louis proved himself a true leader for a Rangers club rallying around its grieving star. His overtime snipe against Montreal helped New York surge to the finals, but the Mother's Day goal is an all-time great.
1 – Derek Stepan's Overtime Winner
Stepan's Game 7 overtime goal against the Capitals sent the Rangers back to the Conference Final (May 13, 2015).
Is there any other choice? To this day, Stepan's series winner against the Caps sends chills.
With the goal, the charismatic Stepan, celebrating with awkward leaps reminiscent of Mark Messier's in 1994, cemented his legacy as a Blueshirt. Doc Emrick's call — nearly as iconic as Sam Rosen's "this one will last a lifetime" — and subsequent silence as the Madison Square Garden crowd provided the commentary, was perfect. Without a Stanley Cup, Stepan's Game 7 goal against the Capitals will stand as the most iconic moment of the Vigneault era and the decade of contention that concluded this year.
An Upstater and long-time Rangers follower, I've been writing about the Blueshirts off and on since college. My earliest memory is playing as the Rangers on NHL '95 for SNES, and, inconveniently, started watching as a kid right after the 1994 Cup. I look to find a balance between analytics and eyeballs, and wish it was easier to write about board play.