Just like that, the season is over for the 2017-18 Anaheim Ducks. A difficult year featured the bright spot of a strong regular-season finish and a sixth consecutive playoff berth, only to be quickly snuffed out in a four-game sweep by the team's division and in-state rivals, the San Jose Sharks.
For a veteran, star-laden team that simultaneously boasts a decent crop of young talent, the attainment of exactly zero playoff wins this season is a major disappointment. Several factors veered off course for this year's edition of the Ducks, ultimately culminating in their demise.
Injuries, Injuries, and More Injuries
Eaves, Getzlaf, Kesler, and Fowler All Miss Significant Time
Let's get this one out of the way. The first half of Anaheim's season saw the team endure a plethora of injuries to key contributors. There were so many that it got to the point where the club's only realistic goal was to simply tread water and not fall too far out of contention before the reinforcements were nursed back to health. With all due respect to journeyman Derek Grant, when he is one of your team's most relied-upon offensive weapons, that is, well…suboptimal.
Winger Patrick Eaves, a key trade-deadline pickup in 2017, was diagnosed with Guillain-Barré syndrome early in the regular season. Thankfully, it appears as though Eaves will recover fully and even be ready to play hockey again next season while he also recuperates from shoulder surgery. Nevertheless, he missed essentially all of the 2017-18 season, reducing the Ducks' previously formidable scoring depth.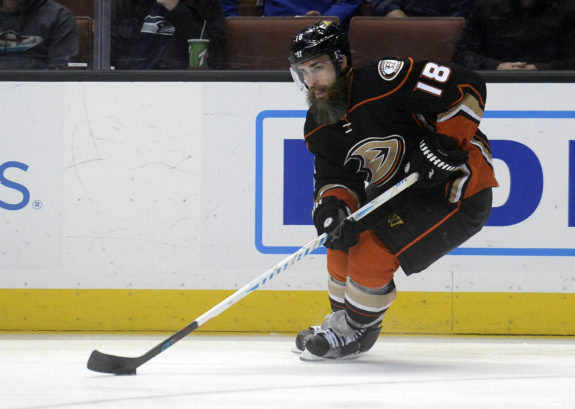 Besides Eaves, Cam Fowler missed significant time with a knee injury early in the season before missing the final few games of the regular season and all four playoff games with a shoulder injury. Ryan Getzlaf missed about a month with a fractured cheekbone suffered via a puck to the face. He was limited to just 56 regular-season games in total.
Ryan Kesler did not suit up until Dec. 27 thanks to offseason hip surgery. In the 44 games he played, he clearly was nowhere close to 100 percent. That begs the question of whether returning when he did was the best move. Perhaps he would have been better off delaying his return or just shutting down completely for the season.
In a breakup-day interview, Kesler spoke to his difficult 2017-18 campaign.
"Learning how to basically skate again, and coming back behind the eight ball when everybody is in mid-season form and you're in training camp mode, is hard. It's not an excuse. I'm way better off now than I was before the surgery." -Ryan Kesler
Other Ducks Injuries
Besides Kesler, Getzlaf, and Fowler, Corey Perry suffered a mid-season knee injury and missed 11 games in all. Star defenseman Hampus Lindholm's offseason surgery delayed the commencement of his campaign; he missed 13 games altogether. Ondrej Kase had several upper-body/concussion issues that forced him out of 16 games. Goaltender John Gibson left several games early with lower-body injuries, mainly the result of on-ice collisions, though he still managed to appear in 60 contests (all starts).
All told, no Ducks player suited up for all 82 games this year—not even iron-man Andrew Cogliano, who saw his streak of 830 consecutive games played end via a somewhat controversial suspension. He played 80 regular-season games, as did Josh Manson and Brandon Montour. No other Anaheim player reached that plateau.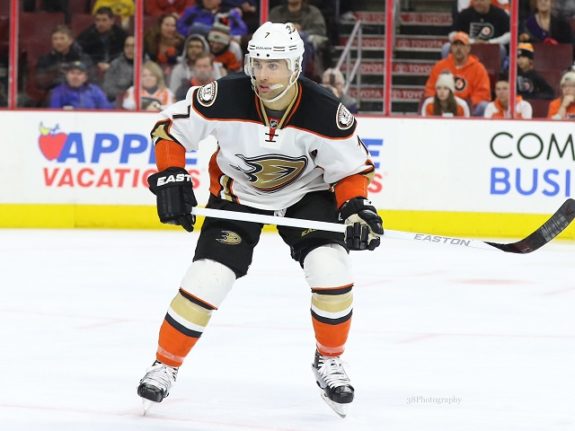 Sure, the team got most of its players back for a good portion of the second half of the season, which is uncoincidentally the time when Anaheim started to ascend and solidify its playoff berth. But the injuries up front cost the team an easier road later in the year and perhaps a shot at challenging the Vegas Golden Knights for the Pacific Division title. The numerous disruptions made it difficult for the Ducks to play with any sort of consistency until the very latter stages of the regular season.
Furthermore, a non-compromised version of Kesler could have made some difference, and Fowler's absence from the Ducks' disastrous postseason showing was all too noticeable.
Penalty Trouble
Granted, injuries are something over which the team has little control, so to move away from something that could be construed more as an excuse than a critique, let's consider the Ducks' on-ice play.
One glaring issue? Way too many penalties, and beyond that, minimal power plays drawn, thus amounting to what was easily the worst penalty differential in the NHL.
Sure, their penalty kill proved to be effective, ranking fifth in the league with an 83.2-percent success rate. Despite that, however, the significant imbalance between shorthanded time and power-play time made it that much more difficult for the oft-battered Ducks to establish consistency and flow in their game. Then, in a volatile, small sample of playoff games against the Sharks, their penalty kill failed them, as San Jose scored six times in 20 attempts with the man-advantage.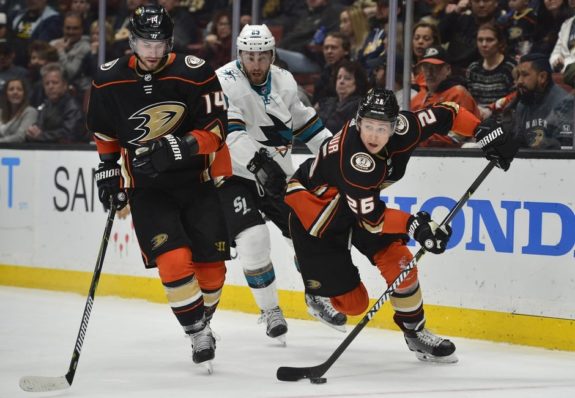 The Ducks also had a weak power play (17.8 percent, ranked 23rd in the league), so with few man-advantage opportunities, more weight was placed on what they could do offensively at even strength. That did not work out spectacularly, as it factored into their paltry goal total of 231 (2.82 per game, good for 19th in the league).
Team Identity and Style of Play
This is admittedly a pretty broad category, so let's break it down a bit.
Overreliance on Physicality Yields Poor Results
The Ducks, especially under Randy Carlyle, have become known for playing a style of hockey that is becoming more and more antiquated in the modern NHL—especially the extreme version of it they inexplicably employed throughout their playoff series against the Sharks. That is, they have played a style predicated on not only physicality but also in mixing things up post-whistle and trying to agitate and rattle opponents that way before, theoretically, pouncing on the scoreboard.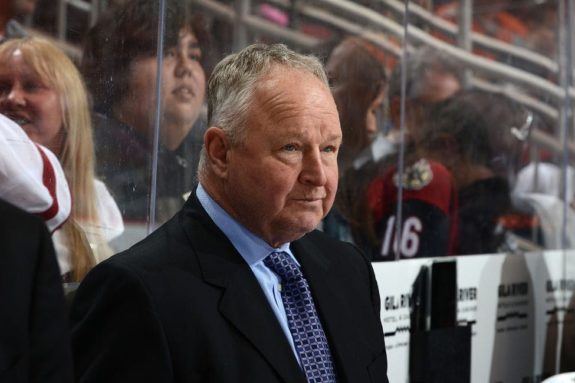 One of the negative byproducts of this style was the aforementioned penalty issue. Without as much of an emphasis on attacking with speed, another problematic side-effect was their deficiency with respect to puck possession, along with their tendency to bleed shot attempts and scoring chances against.
The Ducks' 5-on-5 Corsi-for percentage in the regular season was only 48.62 percent, which was ranked 22nd in the league. They gave up 3,860 total shot attempts at 5-on-5—the 10th-highest total in the NHL. 
Of course, to some extent, these numbers are attributable to the injuries that befell the Ducks, as well as a lack of depth on the back end—mainly after the trade of defenseman Sami Vatanen for forward Adam Henrique—that forced them to rely heavily on deteriorating veterans Kevin Bieksa and Francois Beauchemin before finally inserting 21-year-old rookie Marcus Pettersson into the regular lineup.
Even so, the sheer volume of scoring chances against Anaheim suggests that a systematic problem was very much in play. Yielding that many shot attempts, and high-quality ones at that (their 764 high-danger shot attempts against at 5-on-5 were the eighth-most in the league), speaks to something inherently flawed with a style of play as well as issues with depth/personnel.
Ducks' In-Season Transactions
General manager Bob Murray succinctly acknowledged the team's systematic issues during an interview on Saturday.
"Good goaltending tends to cover up a lot of crap." -Bob Murray
Gibson starred this season, as did Ryan Miller in his backup role, inflating the Ducks' win and point totals while they played subpar hockey for much of the year.
Murray did make a splash on Nov. 30 when he acquired Henrique for Vatanen (with other pieces involved). As the trade deadline drew closer, though, he came to terms with his team's faults and chose to make only a couple of insignificant moves in signing Olympian and longtime NHLer Chris Kelly as a free agent, and then trading Chris Wagner to the New York Islanders for Jason Chimera.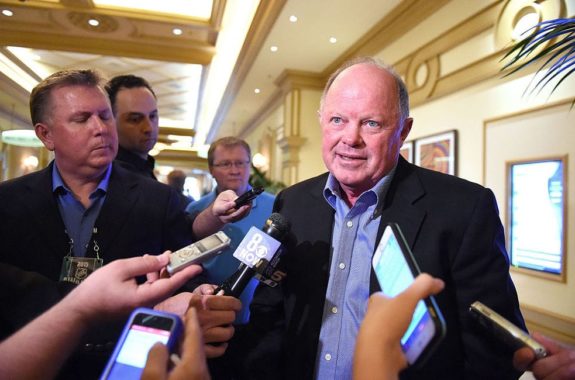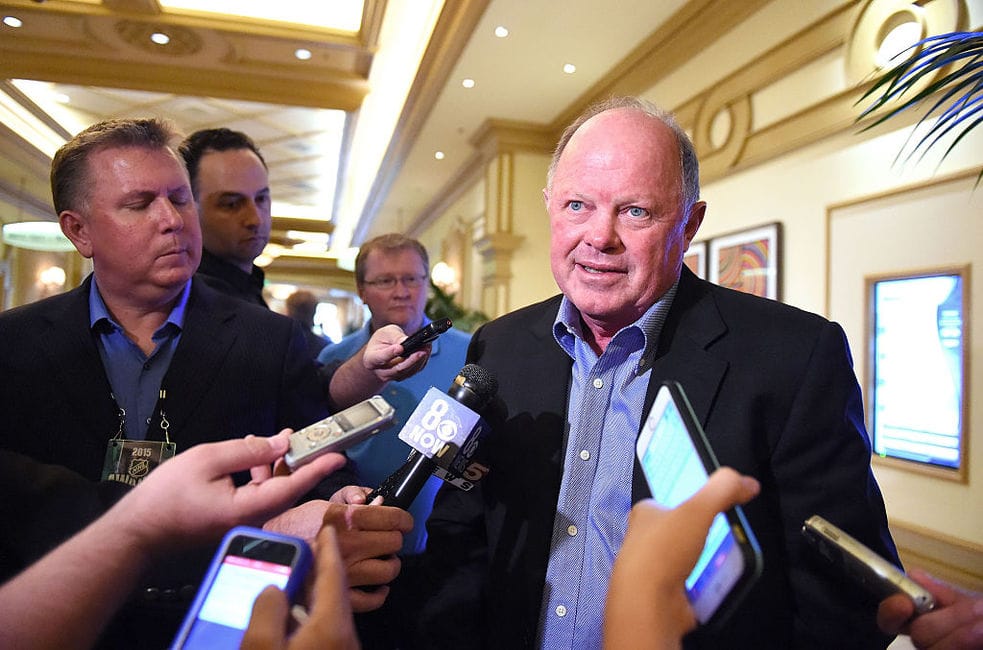 For an overall older team (despite the presence of some excellent young players) that really needs to be in win-now mode, Murray's course of action is very much a debatable one. At the end of the day, his moves predictably did nothing to move the needle and help improve the team; in fact, Chimera only dressed for two of the four postseason games while Kelly was a spectator for all of them.
Disappearance of Scoring in Playoffs
Despite all of these issues, the Ducks were riding high going into their series against the Sharks, and they seemed to have more than a puncher's chance of beating them. They even managed to secure home-ice advantage at the very end of the regular season.
Alas, everything fell apart for the Ducks in the four games. Their aforementioned shortcomings—penalty issues, an over-reliance on physicality, high-quality scoring chances yielded—all reared their ugly heads. 
Still, things would have been a bit more interesting if the Ducks saw any semblance of reliable offense from their primary and secondary scorers. Anaheim managed a measly four goals in the entire series. Jakob Silfverberg, Lindholm, Rakell, and Cogliano each scored once. That's it. No goals from Getzlaf. No points from Perry, Kase, or Henrique, among many others. As the issues in the Ducks' overall game manifested themselves in spectacular fashion, individual players faced an uphill battle and could not find the scoresheet.
Add in the nullification of Anaheim's single biggest (perceived) advantage going into the series—goaltending—and the end result is zero wins and an interesting offseason that could compel the Ducks to make some changes.