'Ducks Drill Down' is a regular, ~weekly column that recaps the latest goings-on with the Anaheim Ducks.
---
They say you want to be playing your best hockey going into the playoffs.
Whether or not you believe that matters to a great extent, the Anaheim Ducks have unquestionably hit a high point of their season. Winners of five in a row to close the regular season, the Ducks head into the playoffs with positive vibes, even despite the absence of Cam Fowler.
Ducks Clinch Second Place
Not only did the Ducks secure a playoff berth, but they also moved up to second in the Pacific Division, meaning they will take on the San Jose Sharks in Round 1 with home-ice advantage. It's quite the accomplishment for a team that dealt with countless injuries throughout the season and spent the vast majority of the campaign teetering between third in the division and the fringe of a wild-card position.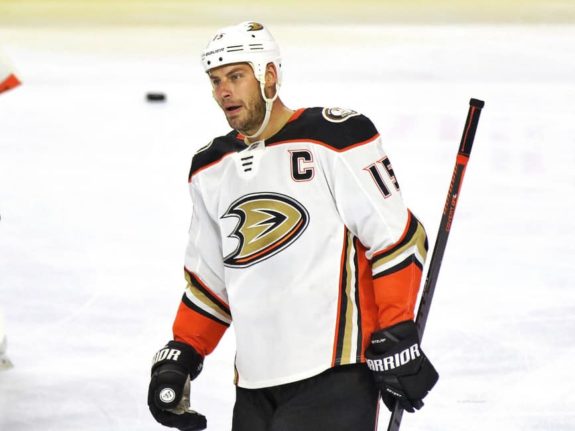 At the season's halfway point, Anaheim found itself with an unimpressive record of 19-14-8, meaning the club was on pace for 92 points, which would not have been good enough for the postseason in this year's Western Conference.
From that point on, the Ducks got a bit healthier and put together a 25-11-5 record over their final 41 games, pushing them past the century mark in points and sealing home-ice advantage in the first round. That bodes well for a club that was a sparkling 26-10-5 at Honda Center this season.
After consecutive come-from-behind victories over the Los Angeles Kings and Colorado Avalanche put Anaheim in the driver's seat for a postseason berth, the team closed out the season with three additional wins against the Minnesota Wild, Dallas Stars, and Arizona Coyotes.
Wednesday night's 3-1 win over the Wild was the official playoff clincher. With the game tied 1-1 late in the third period, the Ducks' unofficial breakout player of the year, Ondrej Kase, netted his 20th goal of the season to put Anaheim ahead for good. Andrew Cogliano added an empty-netter to seal the deal.
"This whole year has been a bit of struggle," Anaheim captain Ryan Getzlaf said after the game. "We accomplished one goal we wanted."
On Saturday night, Ryan Miller and the Ducks concluded the regular season with a 3-0 shutout victory over the Coyotes in Arizona. Coupled with losses that evening by the Sharks and Kings, the Ducks ended up in second place in the Pacific, pitted against the third-seeded Sharks for the first round of the Stanley Cup Playoffs.
"It's kind of crazy to think that way with where we've come from," said head coach Randy Carlyle of the second-place finish after his team's final regular-season contest. "We had a plan and we tried to execute a plan. I'm not standing here saying it was perfect by any means. We had lots of speed bumps along the way, but it's about trying to garner points and move up in the standings."
Notable End-of-Season Totals
Goaltending the Key for Ducks
Goaltending was, without question, the single factor that pushed the Ducks into the postseason more than any other. They finished tied for just 18th in the league in goals scored per game (2.82) and 22nd in 5-on-5 Corsi-for percentage (48.62 percent). Their raw 5-on-5 Corsi-against numbers (3,860 attempts against, the ninth-highest and thus 23rd-worst total in the league) were poor, and their penalty differential was an issue all season.
Despite all that, the Ducks gave up the third-fewest goals in the league, yielding 209 (2.55 per game). John Gibson, in 60 games, put together the best season of his career, finishing with a save percentage of .926—second only to the Nashville Predators' Pekka Rinne (.927) among goaltenders who played in at least 50 games. Gibson also shined with respect to goals saved above average per 60 minutes.
The veteran Miller, in a backup role, also gave the Ducks everything they could have hoped for after they signed him as a free agent last July 1, appearing in 28 games (including 21 starts) and compiling an excellent save percentage of .928. He also started in Anaheim's final four games of the season—all victories—while Gibson sat out with an upper-body injury. Gibson should be ready for the start of the playoffs or very shortly after at worst, as he returned to practice on April 5. Even if the 24-year-old potential Vezina Trophy candidate has to miss more time, though, Anaheim should be in good hands with Miller.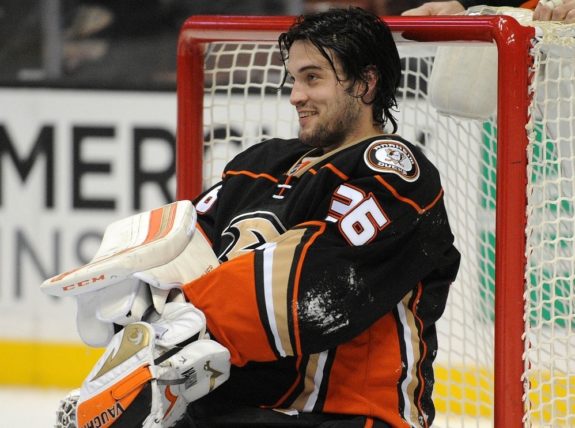 Offensive Totals
Despite their mediocre team numbers from an offensive perspective, the Ducks saw some notable accomplishments from individual players in 2017-18. Rickard Rakell continued his ascension to superstardom in scoring 34 goals and adding 35 assists—both career-highs. His goal and point totals also led the team.
The 32-year-old Getzlaf, who played in only 56 games because of injury, managed a better-than-point-per-game pace with 61 points. The elite playmaker hit that total on the strength of a whopping 50 assists. He and Rakell comprise a formidable duo up front.
Meanwhile, Kase broke out with 20 goals and 18 assists, suggesting that a bright future is on the horizon for the 22-year-old. Josh Manson, Brandon Montour, Cam Fowler, and Hampus Lindholm each poured in over 30 points from the back end. Midseason acquisition Adam Henrique gave Anaheim some much-needed depth, scoring 20 goals in 57 games. Derek Grant, a journeyman center who had never scored an NHL goal, chipped in 12 goals and 12 assists and was an unlikely contributor on whom the Ducks leaned early in the season when it seemed like half of their regular roster was on the shelf with injuries.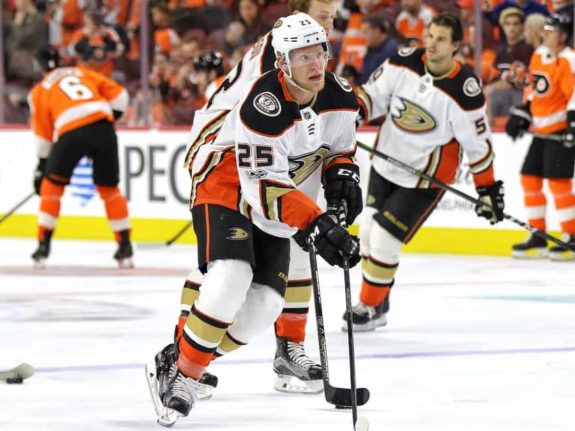 Humboldt Tragedy Shakes Ducks & Hockey Community
In other, more somber news, Friday night saw tragedy strike the hockey world, as a bus accident involving the Humboldt Broncos of the Saskatchewan Junior Hockey League led to the fatalities of 15 people, including at least nine players. Fourteen others suffered injuries.
"Shocked me to the core," said Ducks defenseman Josh Manson, who grew up in Saskatchewan. "Honestly. The most devastating thing. It's the worst-case scenario. It's your biggest nightmare. When you think of how many times I've ridden the bus or hockey players have ridden the bus in their career when they're growing up…
"My brother played in that league this year. Played in La Ronge (for the Ice Wolves). Rode the bus all year. It's tragic. I think about the families. Everybody involved. Just keep them in my prayers. I want to try and help as much as we can."
To that end, per Getzlaf, Ducks players have reached out to see how they can help families and victims, as they and the hockey community will band together to do whatever they can in the wake of this horrific accident.
First-Round Playoff Schedule
As for the NHL postseason, the Ducks will embark on their quest for the Stanley Cup this week, with Game 1 against the Sharks taking place Thursday night at 7:30 Pacific time at Honda Center. From that point, the series will follow a consistent pattern of a game every other day.
Game 2 will be on Saturday, April 14 at 7:30 before the series shifts to San Jose for Games 3 and 4 on the following Monday and Wednesday, respectively. Those contests are also scheduled to begin at 7:30.
Game 5, if necessary, will be back in Anaheim on Friday, April 20. A potential Game 6 would be in San Jose on Sunday, April 22 in San Jose. Then Game 7 would be at Honda Center again on Tuesday, April 24. Start times for Games 5-7 are TBD.
Tom has been with The Hockey Writers for almost four years. After previously covering the LA Kings and the New York Rangers, Tom now covers the Anaheim Ducks.
While in college at Clemson University, the 2016 college football national champions, Tom wrote game summaries and feature articles for the official team website of the Greenville Drive, a Class-A minor-league baseball team and affiliate of the Boston Red Sox. Tom is happy to be able to continue to fulfill his passions for sports and writing with THW.