In the past few days, we've examined the Edmonton Oilers' situation as the 2018 NHL Entry Draft rolls around. The draft lottery will take place on April 28, but right now the Oilers are sitting ninth in the draft order. We've looked at some of the overall options as well as the defense targets. It's time to turn our eye to what forwards could be available.
Earlier this week, I looked at what the selections before the Oilers get to the podium could look like. With this in mind, there's a couple forwards around the Oilers' pick that might be good fits in Edmonton. If the Oilers are going after a forward, they should try to snag the best player available over trying to fill a specific positional need with their first-round pick.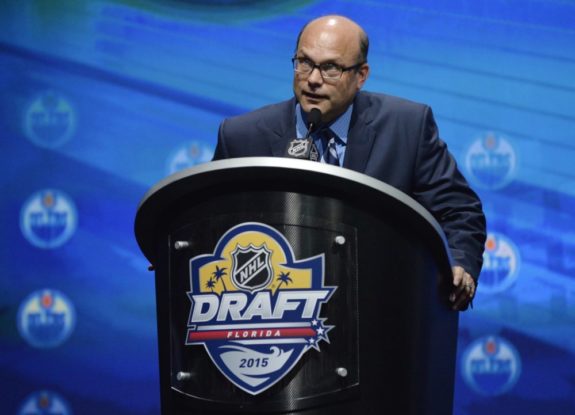 2018 NHL Draft –  Mock Selections

Pick
Team
Player
1
Buffalo Sabres
D Rasmus Dahlin (Frolunda)
2
Ottawa Senators
RW Andrei Svechnikov (Barrie)
3
Arizona Coyotes
LW Filip Zadina (Halifax)
4
Montreal Canadiens
LW Brady Tkachuk (Boston U)
5
Detroit Red Wings
D Evan Bouchard (London)
6
Vancouver Canucks
D Adam Boqvist (Brynas)
7
Chicago Blackhawks
LW Oliver Wahlstrom (USNTDP)
8
New York Rangers
D Quinton Hughes (US U-18)
Joe Veleno – C (Drummondville Voltigeurs)
If the mock draft order goes as predicted, Joe Veleno will hands-down be the best forward available for the Oilers to take. ISS has him ranked 10th amongst all prospects, and NHL Central Scouting has him eighth amongst North American skaters. At 6-foot-1 and 195-pounds, Veleno is a two-way playmaking center with plenty of upside.
Related: Edmonton Oilers – 2018 NHL Draft Options
He was granted exceptional status in the QMJHL for the 2015-16 season, and he's since emerged as one of the more hockey smart centers in his draft class. There's a lot of scouts out there that believe Veleno could quickly join the NHL ranks and adjust to the league faster than most of his peers. Edmonton scouts will have some familiarity with Veleno as well.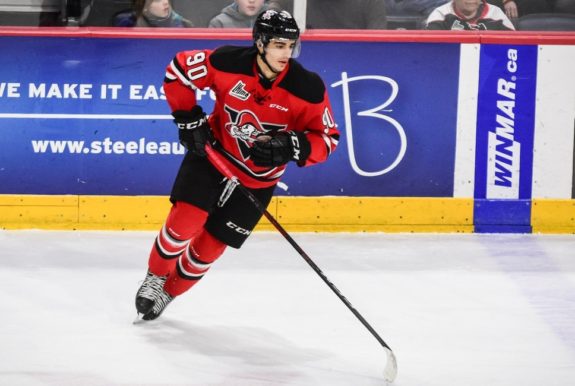 Veleno played on the Saint John Sea Dogs alongside the Oilers' fourth-round pick from last year, Ostap Safin. While captaining a Saint John team that was destined for last place in the QMJHL, Veleno still maintained a point-per-game pace with 31 points in just as many games. A deadline trade to Drummondville really opened up his offensive game.
Related: Joe Veleno – 2018 NHL Draft Prospect Profile
He'd go on to finish the year with 22 goals and 79 points in 64 games and had 11 points in 10 playoff games. Veleno projects as a future top-six center, with a chance of potentially becoming a top-line center. Wouldn't go as far as saying he's the next Patrice Bergeron, but his style of play reflects the NHL veteran very well. Think a lesser version of Bergeron.
Barrett Hayton – C (Sault Ste. Marie Greyhounds)
After Veleno, the next forward that seems to get a lot of love right now is Barrett Hayton. He's ranked ninth by NHL Central Scouting among North American players, and 12th by ISS. Hayton plays on a deep Sault Ste. Marie team that could make a run all the way to the 2018 Memorial Cup. Because of their depth, he's not playing in a starring role.
However, don't let that hinder your opinion of Hayton. He stepped up big when a handful of Greyhounds went to the World Junior Championships and showed he can be a top-line center. Similar to Veleno, he's also a two-way center with playmaking abilities. Like Veleno, there are comparisons to Bergeron and Travis Konecny.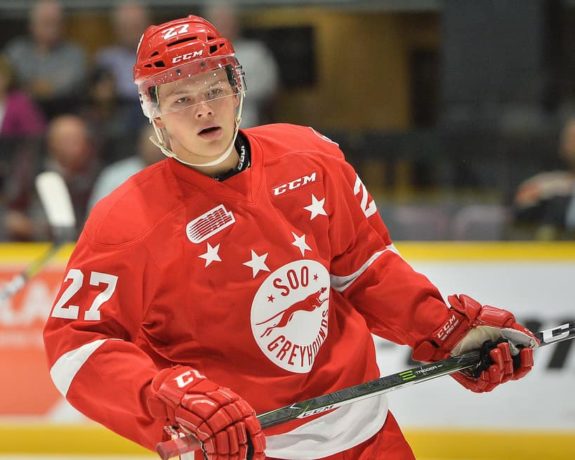 Hayton was a near point-per-game player and will likely be a big piece for Sault Ste. Marie next season. He followed up his 21 goals and 60 points in 63 games with a strong playoff that's seen him score 11 points in 10 games thus far. He projects as a top-six center, and worst case scenario he becomes a reliable middle-six center.
Related: Edmonton Oilers – 2018 NHL Draft: Defense Options
Foot speed has been a question mark, but that's improved this year and he looks like a complete 200-foot player. He plays on both special teams units for the Greyhounds. Hayton might not have elite-level offensive abilities, but he makes up for it with strong play in all three zones. He's a solid team guy and would be a good compliment to Edmonton's skill guys.
Joel Farabee – LW (US NTDP)
This might be the first in a series of deals where the Oilers could potentially move down a few spots to snag a player. Joel Farabee has drawn a lot of attention while playing with two other stud prospects in Oliver Wahlstrom and Jack Hughes. Wahlstrom will likely be gone by the time the Oilers make their pick, and Hughes is the consensus top pick in 2019.
Farabee is no slouch himself. ISS has him ranked 16th, while NHL Central Scouting has him ranked 12th among North Americans. There are comparisons to Columbus Blue Jackets forward Oliver Bjorkstrand in the sense he's a smaller player, but he's got a lethal shot. The thing that stands out most is his skating. He might be the fastest skater in his draft class.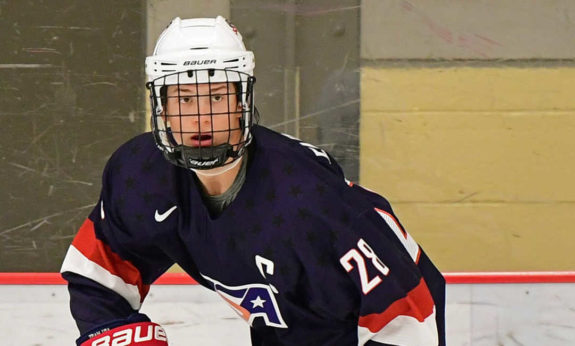 So if you're looking for a winger that can potentially keep up with Connor McDavid and be a scoring solution, Farabee might be an option. As captain of the US National U-18 team, Farabee scored 31 goals and 70 points in 57 games this season. Whatever the style of game, run-and-gun or a battle in the trenches, Farabee can play to that style.
Related: Joel Farabee – 2018 NHL Draft Prospect Profile
He'd be a fantastic character addition to the Oilers. Right now the only left side prospects in the system are Tyler Benson, Braden Christoffer, and Graham McPhee. Farabee would shoot up the depth chart on the left side. It's worth noting he has committed to Boston University next season so he wouldn't make an immediate jump to the pro ranks.
Serron Noel – RW (Oshawa Generals)
We've talked a lot about some of the feature guys like Veleno, Hayton, and Farabee, now let's consider some other options. This is where the Oilers really get into the whole trading-down scenario. Serron Noel is ranked 10th by NHL Central Scouting among North Americans, and 21st by ISS. He'd be a mid to late first-round pick for Edmonton. He's a big 6-foot-5, 209-pound right-shot power forward.
Related: Serron Noel – 2018 NHL Draft Prospect Profile
One concern is his skating which is a work in progress but improving overall. Another is his compete level, he can go invisible on some nights, but on others, he has been Oshawa's best player. You can't ignore the size and intangibles that could land Edmonton a future 20-25 goal scoring power forward. He had 28 goals and 53 points in 63 games this year.
Grigori Denisenko – LW (Loko Yaroslavl)
ISS ranks Grigori Denisenko 13th overall while NHL Central Scouting has him seventh among European skaters. At 5-foot-11 and 165 pounds, he's a diminutive forward with decent offensive potential. Because of his size, there's some thought that he could end up being one of the bigger (pardon the pun) draft-day sliders this year.
Related: Grigori Denisenko – 2018 NHL Draft Prospect Profile
He scored a respectable nine goals and 22 points in 31 games in the MHL. He's quick, elusive, and handles the puck well at high speeds. Denisenko is an exciting scoring-line forward. How he transitions to the NHL game with his size and one-dimensional play remains a concern. Consider this a high-risk, high-reward type of draft pick.
Ryan McLeod – C/LW (Mississauga Steelheads)
The younger brother of Michael McLeod, who went 12th in 2016 to the New Jersey Devils, Ryan McLeod looks like a great prospect. Like his brother, he's a great skater, and he took a bigger role with Mississauga this season. He finished the year with 26 goals and 70 points in 68 games, making him better than a point-per-game player.
He's ranked 24th by ISS, and 16th by NHL Central Scouting, so he's another mid-to-late first-round pick. He projects to be a middle-six forward and can play both center and left wing. At 6-foot-2 and 190-pounds, he's got an NHL ready frame. He could be a fantastic two-way center who that slips lower into the draft rankings due to the overall depth of the class.
Akil Thomas – C (Niagara Ice Dogs)
This will be a popular pick for some Oiler fans who would love for Edmonton to somehow draft last year's fifth-round pick Kirill Maksimov's teammate. Akil Thomas narrowly nudged out Maksimov for Niagara's team scoring lead. He's a skilled center who put up 22 goals and 81 points in 68 games. Thomas plays in all situations and special teams for Niagara.
Related: Akil Thomas – 2018 NHL Draft Prospect Profile
If he fills out his 5-foot-10 and 170-pound frame, he could be a solid player and a top-six contributor. If he's a true center, or better on the wing in the NHL is still a question. Regardless he's a solid skater, has a great shot, and has a very good hockey sense. Expect him to be a late first-round pick, and someone worth watching in 2018-19.
---
Check out our 2018 NHL Draft Guide with new prospects added daily.