There are two crucial needs for the Edmonton Oilers this summer. One of them is finding a top-six winger that can score 20-30 goals and potentially play with Connor McDavid and Ryan Nugent-Hopkins. The other need is to find a top-four offensive defenseman. When it comes to finding an immediate solution for the defense, they may need to look for help via free agency or the trade market.
Related: Oilers Options 2018 NHL Draft
For a long-term solution, there's going to be plenty of options when the Oilers get to the podium. If nothing changes with the draft lottery, Edmonton will be picking ninth overall. Earlier this week, I looked at what the selections before the Oilers get to the podium could look like. With this in mind, there's a couple names that could be future solutions for the Oilers blueline.
2018 NHL DRAFT –  MOCK SELECTIONS

Pick
Team
Player

1

Buffalo Sabres

D Rasmus Dahlin (Frolunda)

2

Ottawa Senators

RW Andrei Svechnikov (Barrie)

3

Arizona Coyotes

LW Filip Zadina (Halifax)

4

Montreal Canadiens

LW Brady Tkachuk (Boston U)

5

Detroit Red Wings

D Evan Bouchard (London)

6

Vancouver Canucks

D Adam Boqvist (Brynas)

7

Chicago Blackhawks

LW Oliver Wahlstrom (USNTDP)

8

New York Rangers

D Quinton Hughes (US U-18)
Noah Dobson (Acadie Bathurst Titan)
We've talked about Noah Dobson before, and it's hard to ignore a few things that stand out about him. He's got a 6-foot-3 and 180 pound frame that's still filling out. Dobson's projected to become a top-four all-around defenseman that can play in all situations. He's not an overly physical guy, and that's one aspect of his game that's still in development.
His offensive game is pretty well developed though. His 17 goals and 69 points in 67 games this season made him a rare point-per-game (1.03) defenseman. For comparison's sake, Darnell Nurse who the Oilers took seventh overall in 2013, had 12 goals and 41 points in 69 games during his draft year.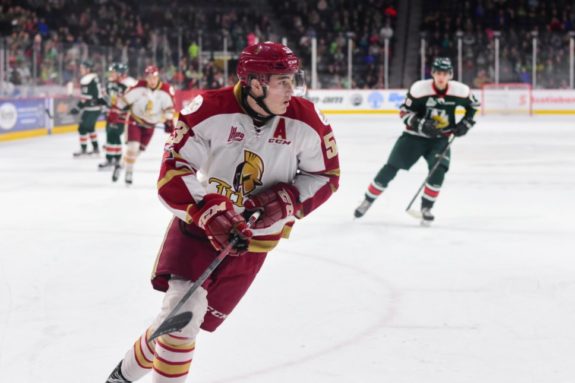 The potential is there for Dobson to have a higher upside than Nurse at the NHL level. If you're a believer in the NHL Equivalence Calculator, those points compare to 27 NHL points. It's not the best indicator for success when it comes to defenders, but maybe that's where he's at in two years. Dobson finished second in defenseman scoring in the QMJHL.
ISS currently has Dobson pegged to go eighth overall, but there's a possibility he's still available when Edmonton gets to the podium. He'd be a few years away from contending for a full-time spot, and the Oilers wouldn't have to rush him into the lineup. Dobson will likely be on the radar for Team Canada for the next edition of the World Junior Championships.
Ty Smith (Spokane Chiefs)
Edmonton scouts will have plenty of knowledge on Ty Smith by the time they make their decision on who they're taking when they get to the podium. Smith is the top defenseman for the Spokane Chiefs and plays alongside the Oilers first-round pick from last year Kailer Yamamoto. ISS currently has him ranked a few picks behind Dobson at 11th.
At 5-foot-10 and 176 pounds, Smith might be a smaller defenseman in comparison to Dobson, but he's got elite level offense. His NHLE calculates to 24 points. Chiarelli really likes the whole lefty-righty pairings, and Smith is a left shot defenseman who generally plays the right side. One of the great qualities is his ability to move the puck with confidence.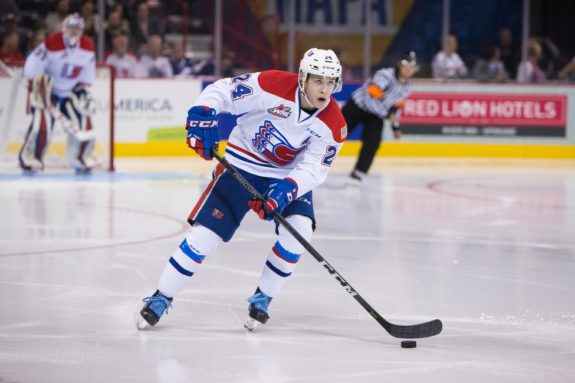 He's very composed and plays a lot bigger than his size would indicate. There's belief he could be that offensive defenseman for Edmonton that can quarterback their power play. The easy comparison is  Tyson Barrie. Torey Krug might be another fair comparison from a style perspective. He finished second in WHL scoring amongst defenseman this season.
Related: Ty Smith – 2018 NHL Draft Prospect Profile
Smith is currently off playing in the World U-18 tournament and is the captain of Team Canada. There's some talk that Smith might be one of the better skating defensemen from his draft class and possesses similar upside to some of the others. In a few years, folks might be talking about how Smith was one of the better defenders from this draft class.
The choice for which defenseman the Oilers take at ninth likely ends after Dobson and Smith. However, there are some other picks that might be sleepers for Edmonton, especially if the draft unfolds as predicted. Remember, this is all being done with the consideration that Bouchard, Boqvist, and Hughes are all off the board by the time the Oilers pick.
Bode Wilde (US U-18 NTDP)
If the organization is hard pressed to add a defenseman with their first-round pick this year, another name to consider is Bode Wilde. It would probably make the most sense to trade down and acquire an asset along the way, but it's an option. He currently sits 20th on the most recent ISS rankings, but Future Considerations has him ranked 11th.
He was the top scoring defenseman for the US National Development Team with 12 goals and 41 points in 52 games. Wilde has already committed to Harvard University next season, but at 6-foot-2 and 196 pounds, he's got a near NHL-ready frame. He's a right shot defenseman, who's got a sound two-way game, and a hard point shot. Could be a sleeper.
Jett Woo (Moose Jaw Warriors)
Another pick where the Oilers might trade down for is if they go after Jett Woo. He projects as a late first-round pick, and is currently ranked 28th amongst North American skaters by NHL Central Scouting. He stands at 6-foot and 205 pounds and draws comparisons to Travis Hamonic. What he lacks in offensive upside, he makes up for in defensive abilities.
Related: Jett Woo – 2018 NHL Draft Prospect Profile
Woo is probably one of the hardest hitting defenders in his draft class and there's some belief he's slipped in draft rankings because of injuries this year. This happens to players every year and would be similar to the situation that landed Edmonton Tyler Benson 32nd overall in the 2016 draft. His physicality would be welcomed by Oiler fans.
Ryan Merkley (Guelph Storm)
Merkley is another pick where the Oilers could trade down. He's a smaller defenseman at 5-foot-11 and 170 pounds. Merkley plays on the same team as Edmonton's third-round pick from last year, Dmitri Samorukov. He could go anywhere from 15th to 25th according to most draft guides. If you remember, Merkley was the first pick from the 2016 OHL Draft.
Related: Ryan Merkley – 2018 NHL Draft Prospect Profile
He's a solid offensive defenseman, but size, character, and defensive abilities are question marks. Merkley is a wild card that could become a solid offensive defenseman, or become the next Ryan Murphy. His 67 points in 63 games were good enough for third amongst all OHL defenders this season. It's a high risk, high reward type pick for Edmonton.
---
Check out our 2018 NHL Draft Guide with new prospects added daily.