Bill Peters is now the former head coach of the Carolina Hurricanes. On Friday, he tendered his resignation to the team, exercising a walk-out clause that was built into his four-year contract. Peters was at the end of year three, and there will now be no year four. The team responded by saying that they will immediately begin the search for a new head coach.
Former Hurricanes great on the ice and current assistant coach Rod Brind'Amour has been mentioned as in the running to replace Peters. While Brind'Amour is deserving of every fan accolade that comes his way for leading the team to a Stanley Cup Finals victory in 2006, he is not what the team needs at this time in a head coach.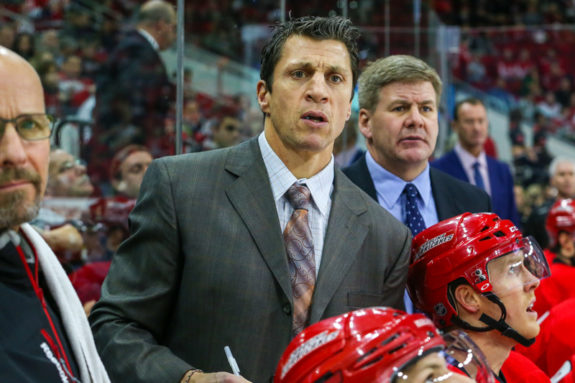 The last two head coaches, Kirk Muller and Peters, did not have prior experience as NHL head coaches. It's time to get serious about the Hurricanes and hire a veteran coach, and a general manager that, has proven winning experience.
The time for promoting guys because the fans love them, or because they did a great job as players, has come and gone. While in no way intended to disrespect Brind'Amour, he should not be the next head coach of the Hurricanes.
Peters' Parting
Peters expressed gratitude for his four years with the team. "I want to thank Tom Dundon, Peter Karmanos and Ron Francis for the trust they put in me to lead the team," said Peters. "I feel the incoming general manager should have the ability to hire his own head coach. I also want to thank Don Waddell and the entire front office and PNC Arena staff."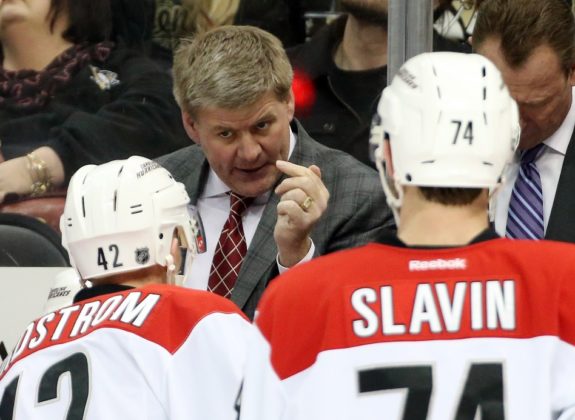 Peters also said, "This business requires hard work and long hours, and I greatly appreciate the efforts of the many people I have worked alongside during the past four years. We enjoyed our time in Raleigh, and my family will always feel a connection to North Carolina. I feel like this is a good time to move on, and I am looking forward to my next challenge."
Just like that the Hurricanes went from a team looking for a general manager, to a team looking for a general manager and a head coach.
The Latest Challenge for Dundon
This is the latest in a series of developments that may be giving Tom Dundon, the relatively new owner of the Hurricanes, a bit of pause over his purchase. The billionaire from Texas bought, what appeared, to be a team that might claw and scratch its way into the playoffs after an eight-year drought.
His newly acquired team of Hurricanes is a team full of young talent with boatloads of potential. A team with a general manager and a head coach that were walking together through the team's rebuild, both having started four years ago.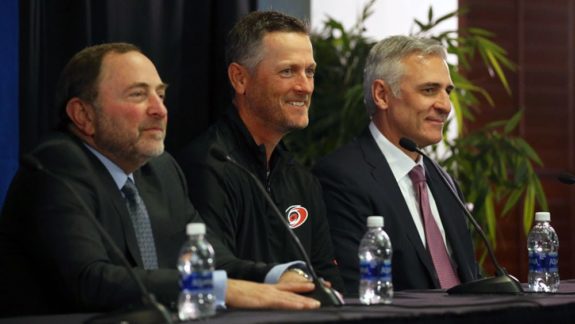 A team with challenges in the area of attendance, but with a fan base that could be persuaded to come back to Raleigh's PNC Arena. All it would take is a little coaxing and mainly a little winning. The future was bright for Dundon's newest venture, and he was ready to roll up his sleeves and get busy with being an owner of an NHL franchise. But, then reality set it for the new owner.
The Winning Didn't Come
Following Dundon's closing the deal to buy the Hurricanes, the team did not live up to expectations. They compiled a record of 17-20-3, essentially posting a losing record over the second half of the season. The intriguing part of the season is that, even while compiling a losing record for their new owner, the Hurricanes were still in the running for a playoff spot almost literally until the very end of the season.
Sadly though, even with the moving up from Charlotte proven scorers like Valentin Zykov and Lucas Wallmark, the Hurricanes just could not do what it took to make the playoffs. Bringing them up was something that fans pleaded for during much of the second half of the season. Their pleas were incited by Peters' mentioning that there were "guys in Charlotte" that certainly wanted to play more than the lineup he had seen after a couple of brutal losses.
The Ron Francis Move
Another challenge that Dundon faced early in his ownership was the reassigning of Francis, who was the team's general manager and executive vice-president of hockey operations. In the first week of March, Dundon decided he had seen enough of the Francis show, and moved him to a new position, president of hockey operations. In a little over two months, Dundon went from having a team that was exciting to watch and could realistically make the playoffs, to having no general manager and having a team that was like a ship slowly sinking in the season's ocean.
Francis was responsible for the Scott Darling debacle that Dundon got to watch, and for not being aggressive in free agency. While Dundon later said he is not going to build the team through free-agency, it is clear that he wants someone more aggressive. Francis had a plan that would probably have eventually netted the team making the playoffs. It appears Dundon did not want to wait for "eventually" so he made the Francis more.
What Now?
Dundon and his management team, led by President of Gale Force Sports & Entertainment Don Waddell, will look for a general manager and head coach. Waddell was quoted as saying that Dundon will not be held by hockey tradition that says a GM should be hired first. Dundon has been successful doing things his way, and he is has proven that works.
While some are already making the argument the Brind'Amour should be given a chance to coach the Hurricanes, based on his intensity and loyalty to the team, it is in the team's best interest to go with experience. Peters is gone, likely to land with the Calgary Flames. The slate is clean in Raleigh for Dundon to mold the team in the image he sees best. That image could be that of Brind'Amour. But, the team needs an experienced, proven winner at the helm to right the ship.
Canes fandom, last decade: "ugh why does this team constantly recycle its old players"

Also Canes fandom, last four hours: "OMG hire the former captain who's never been a head coach ever at any level"

— Tom Workrate (@MrWorkrate) April 20, 2018
Names like Darryl Sutter who has two Stanley Cups should not be overlooked in the Hurricanes' search. Dave Tippett formerly with the Arizona Coyotes who he guided to a Western Conference Final is also available and has been mentioned along with Brind'Amour.
Dundon has a great opportunity in the midst of the Hurricanes' current upheaval. He should weigh carefully the benefits of having an experienced head coach with the benefits of having Brind'Amour who does not have the direct experience as a head coach but has the intensity and love of the fans. Given the playoff drought of nine years, which includes Muller and Peters and their lack of head coaching experience when they were hired, experience may be just what this team needs.