In order to find success next season, the New York Islanders must see added contributions from all facets of their lineup. Perhaps none more so, as proven by the 2014-15 season, will be more important than those from Casey Cizikas and Cal Clutterbuck. Following a disappointing campaign from both players, head coach Doug Weight will need them to bounce back in order to add stability to the bottom-six.
The meat of the Islanders' lineup, comprised of Anders Lee, Mathew Barzal, Josh Bailey, Jordan Eberle, Anthony Beauvillier, and potentially John Tavares, is not an issue. Lee was a 40-goal scorer in 2017-18, and both Tavares and Barzal broke the 80-point plateau. The top-six essentially carried the team to its 35 wins last season, as nothing else seemed to go right.
The depth, however, proved to be an entirely different story for the team. Aside from the aforementioned top-six, no Islander forward had more than 35 points last season. Brock Nelson, who sat at 35 exactly, was the closest. It is a stark reality for the lack of depth the Islanders saw up front.
Cizikas & Clutterbuck Are in for the Long Haul
Cizikas is entering the third year of his five-year contract, which carries a $3.35-million cap hit. Clutterbuck, on the other hand, is entering the second year of his five-year contract, which carries a $3.5 million cap hit. Opinions on the contracts aside, the Islanders dedicated half of a decade to these players to be a part of their core. Due to that, they need to see both of them get on track again if they want to make it back into the playoffs.
Cizikas notched 17 points in 2017-18, his lowest total since 2013-14. His minus-12 was tied for the worst rating of his career, and his analytics were down as well. After two seasons of almost 30 points each, Cizikas dropped the ball hard.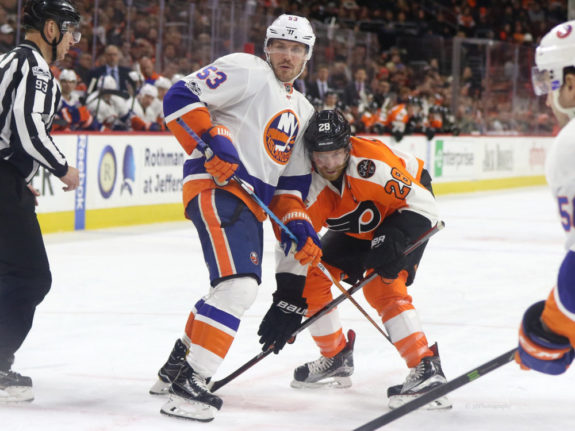 Clutterbuck hit a rough patch as well. His 18 points were the lowest since 2014-15, and his goal total dropped to eight, a large fall from the 12 and 15 goal seasons he has put up in the past. Clutterbuck found himself in the box almost twice as much as 2016-2017 too, which is troubling given the work he has done since becoming an Islander to reduce his penalty minutes.
The correlation between the drop of production from Cizikas and Clutterbuck is evident – it stems from the departure of Matt Martin, who left in free agency in 2016, and the lack of consistent linemates since then.
Islanders' Bottom-Six Plagued by Inconsistency
It is not so much of a defense of Martin and his tenure with the Islanders, but rather a qualm over the lack of support Cizikas and Clutterbuck have received in the years following.
At the start of the 2016-17 season, they played with Jason Chimera on their left. That experiment did not work out, and Chimera saw minutes on other lines in the year and a half until he was traded to Anaheim. Following Chimera, the two Canadians saw a jumble of linemates, including Andrew Ladd, Chris Wagner, Ross Johnston, Shane Prince, and many others. One after another they rotated through, did not mesh, and moved on. It proved to be an utter disaster of asset management and chemistry recognition.
This summer, Garth Snow, or whoever is at the helm of the Islanders' asset management sector, must find a suitable partner for Cizikas and Clutterbuck. There are a number of open options in July, but the trade market should be an option as well.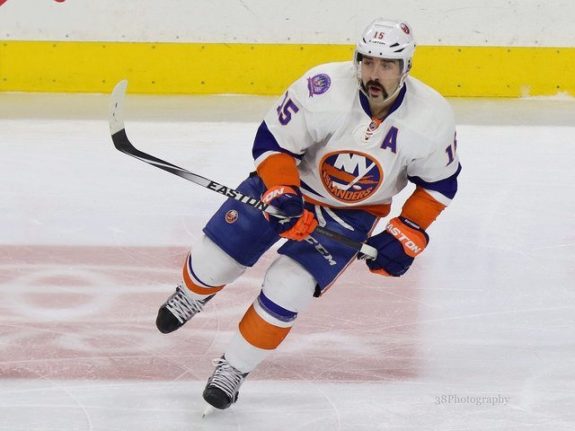 If they are willing to shell out the money, Leo Komarov could be a fit. As an unrestricted free agent this summer, he could be pushed out of Toronto due to a number of young forwards coming up through the system. He tallied 19 points in 74 games this season and is a noted pest. Both of those criteria match what Cizikas and Clutterbuck bring, so it is an enticing proposition, however costly.
If Snow is looking cheaper, Jordan Nolan, son of former Islanders head coach Ted, and Matt Calvert could be options. Nolan brings more physicality to his game, whereas Calvert brings speed and scoring touch. Depending on the route the team will look to go, both can be seen as options.
In terms of fringe options, Magnus Paajarvi, Antoine Roussel, and Brandon Tanev are other options. It would not be surprising, though, if Roussel and Tanev re-signed with the Stars and Jets respectively.
A Reunion Could Be in Order
In terms of trade options, Matt Martin jumps out immediately. He has been exiled in Toronto, only playing 50 games in 2017-18. His contract, which has a cap hit of $2.25 million, runs for two more years. His salary in the final year drops to a reasonable $1.75 million.
The Islanders were reportedly enticed with this option in February, but declined. It is unknown what stopped the process, whether it was money or pride. To get him off of the roster, the Maple Leafs would almost certainly eat a portion of his cap hit.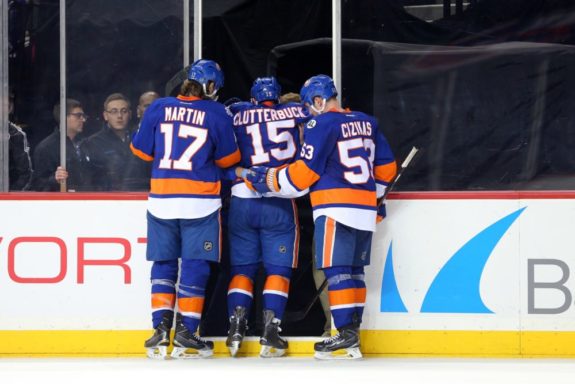 As has been seen so prevalently in the NHL recently, though, reunions do not always work. Albeit on a larger scale, the Chicago Blackhawks tried it with Brandon Saad, and it failed miserably. The Partick Sharp return did not go as planned either. Each player had success in the past with the team but could not find a way to rekindle it after a few years away. That may very well be the case with Martin and the Islanders.
The Martin saga alone calls for months and months of debate. However, the fact of the matter is, the Islanders only have a few months to figure things out. The best options for the fourth line will present themselves in June and July, and they will need to act fast to find their guy.
If they do, and Cizikas and Clutterbuck get back on track, the Islanders will be a considerably better team in 2018-19. The two bring plenty to the table on the penalty kill, but without continual contributions in five-on-five, the team will suffer. For Cizikas and Clutterbuck, it is about consistency, and Snow needs to find it.