A common phrase to hear after a significant setback is one of motivation: "It's only up from here." With the Maple Leafs' frustrating 5-1 loss in game one of the playoffs to the Boston Bruins, positive Leaf fans will be heard saying exactly that.
The question is, how? What needs to be changed to truly "go up" from that crushing defeat that has many wondering if the young squad from Toronto can hold their own in a series with a more experienced Bruins team?
One of those potential changes could come from Leo Komarov. Komarov, 31, is one of the few Leafs players who lined up against the Bruins in their monumental playoff series five years ago. Yet his role from then to puck drop for Game 2 has vastly changed.
Leo Komarov's Current Role
With a lineup guaranteed to be changed as a result of a 3-game suspension to Nazem Kadri, for his controversial hit in the third period, one name that appears to be getting a promotion for his work in the first meeting of the best-of-7 is Leo Komarov. Komarov spent practice on Apr. 13 alongside the top line, working with Auston Matthews and William Nylander. The change is quite the significant boost from his usual spot on the fourth line.
Babcock confirms these will be the Leafs lines in warm-up tonight …

Komarov-Matthews-Nylander
Hyman-Marleau-Marner
JvR-Bozak-Brown
Johnsson*-Plekanec-Kapanen

Rielly-Hainsey
Gardiner-Zaitsev
Dermott-Polak

Andersen starts
McElhinney

* NHL playoff debut

— Mark Masters (@markhmasters) April 14, 2018
Giving Komarov first-line minutes for Game 2 will no doubt be controversial. While Komarov's veteran presence, physical play and penalty kill ability all have benefits that are important in any game, especially a playoff series against a notoriously tough Bruins squad, he's had an inconsistent year. Komarov has had costly giveaways, is third among Leaf starting forwards in penalty minutes and does not create ample chances in the attacking zone due to his lack of speed and, frankly, talent level.
On top of potentially being on line one, Komarov also spent the first game of the series with powerplay minutes and penalty kill time. He played 16 minutes in Game 1, more than Auston Matthews (15:24) and fourth on the team behind only Zach Hyman (16:01), William Nylander (16:44), and Patrick Marleau (17:04). With an increased role, Komarov looks on track to be the Leafs' all-around leader in offensive ice time.
That is terrifying and cannot happen.
What Changes Should Be Made To His Role?
If the Buds want to beat the Bruins, it will not be through physicality. Simply put, the Leafs cannot out-muscle the Bruins regardless of how much effort they put towards it. While they outhit the Bruins in Game 1, the physical edge still went to Boston who seemed way more in their element. The Leafs need to play their way. Physicality is not the Leafs strength; scoring goals and being better than most teams offensively is. To beat Boston, the Leafs will need to continuously—relentlessly—create opportunities and finish them against a team that allowed the third lowest goals against this season.
This means that the Leafs need to give players like Komarov, a player who scored only 7 goals in 74 games, less ice time. Powerplays should not feature a player that consistently missed open opportunities throughout the season to add to his goal total. Without hyperbole, any other player on the offensive side would be an improvement for the overall unit.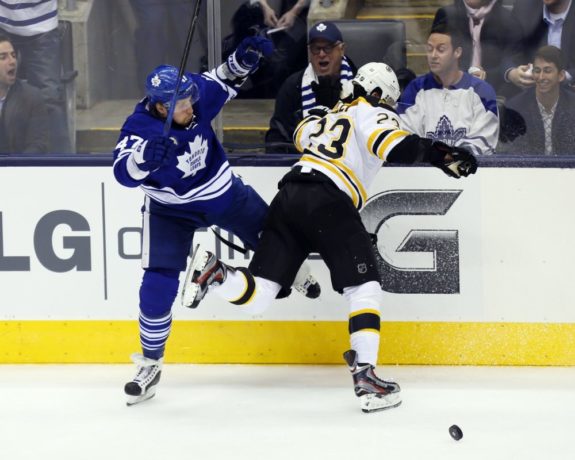 Komarov's role is justified in seeing lineup minutes. He's a decent penalty killer and having his chippy personality against a Bruins crew that promises to bruise and batter a speed-focused Maple Leaf team is beneficial. Beyond that, playing Komarov is not going to truly benefit the Maple Leafs for winning hockey the way they need to. Komarov's ice time should be cut nearly in half for Game 2, although that appears to be extremely unlikely.
Who Takes Over Some Responsibility
Prior to the series' start, it was far from uncommon to see a wide variety of Leaf fans hoping to see Komarov absent from the game day lineup for rising star Andreas Johnnson. Johnnson's nine-game rookie stint came from filling in for an injured Komarov to end the regular season and he presented fans with speed, shooting ability and an unforgettably joyful smile. The 23-year-old's first career NHL goal came after a tremendous effort against the division rival Canadiens in only his second NHL game.
He's a face that the Maple Leafs fans will likely see for Game 2. He practiced with the team and if his previous stint is any indication, he could see time on the powerplay. During his first call-up, Johnnson played significant minutes on the powerplay unit and, hopefully, Babcock and the Leafs coaching staff will choose to utilize him over Komarov in that role. The Leafs regular season powerplay unit, a unit that ranked second in the league with a 25% scoring percentage, cannot afford to go scoreless again. Putting more talented players in the unit is a potential solution.
With regards to five on five play, Komarov playing on the last line should be his reality. Utilizing the speed and talent the Leafs have, it will be important for the Maple Leafs to generate as much offensive pressure as possible for the remainder of the series. Losing Kadri hurts, significantly. But the Leafs should be looking to fill the void he leaves at producing points and finishing chances moreso than his ability to pester and frustrate the Bruins.
Komarov fans argue that he should be matched against the Bruins' top line because of his ability to irritate Marchand and limit their upside. To that, the box score from the first game where he received that opportunity paints a two point night for Marchand, including the opening goal of the series and a minus-1 rating for Komarov. The plan did not work.
When Kadri comes back for Game 5 following his suspension, the Leafs will have had three games to see if Johnnson fits in the lineup for the remainder of the series. If they feel that he does, it may not be a complete shocker to see Komarov go from the  16 minutes in Game 1 to the press box.