Adam Lowry's a big dude, no doubt. His stature, however, is small compared to the contribution he's made to Jets 2-0 round 1 series lead against the Minnesota Wild.
The 6-foot-5, 210 pound centre was a key contributor to the Jets' 3-2 and 4-1 wins at Bell MTS Place. In those two games, he was deft in the face-off dot, unabashedly physical, and jump-started his team's engine with his dogged pursuit of the puck.
Lowry Was Dominant in Key Draws
With the Jets nursing a 3-2 lead late in the third of Wednesday's Game 1, Lowry looked a big challenge straight in the eye and never flinched. With Devan Dubnyk on the bench for Minnesota, Lowry showed himself a face-off wizard. He won three straight draws against Mikko Koivu in the span of fifteen seconds, which meant the Wild couldn't establish puck possession and set up a shooting gallery. His last face-off win, which came with less than 10 seconds left, cemented the Game 1 victory.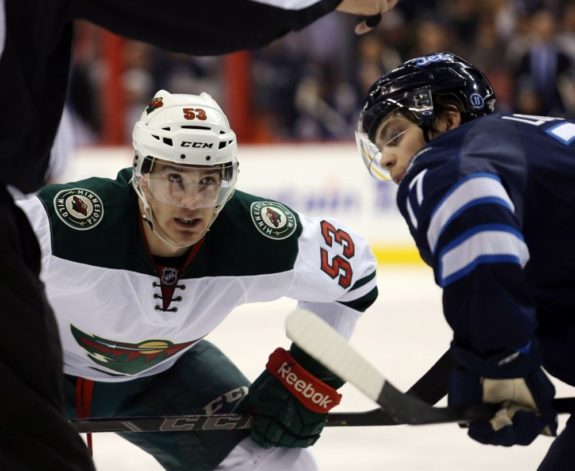 Lowry struggled in the circle over his first two seasons but has dramatically improved over his last two.  He won 55.9 percent of his draws this year, (although he was hampered by injuries and only saw action in 45 games), second only to Bryan Little's 56.0 percent. That's an elite number and nearly a 10 point jump from his 46.3 per cent clip from the 2015-16 season.
In Game 1, he won 69 percent of his draws. In Game 2, his numbers slumped and he only won 33 percent. However, his crucial wins in Game 1 outweigh his lacklustre Game 2 performance.
"You want to be out there in those key situations and you want to be taking those key draws," Lowry said Thursday after an optional practice.
"I think a lot of us in the room, we watch a lot of hockey and see their games and see what they're doing," Lowry continued, when asked if he watches video of other team's centres. "It's more preparing for who you're going to be taking those face-offs against and their tendencies. If you know what they're trying to do and what they're trying to accomplish in the circle, and you have a plan to combat that, I think that's more beneficial."
(An added fun fact for your reading enjoyment — that's the writer's blue phone in the Lowry interview video.)
Lowry Ground His Opponents Down Physically
Everyone knew the matchup between Winnipeg and Minnesota was going to be a physical grinder given the teams' history and geographic proximity. Lowry was one player who answered the bell in Game 1. He was in the thick of the war of attrition that featured 70 hits, a number of them absolutely bone-crunching. He was nasty, surly, and imposed his will on opponents using his size.
Adam Lowry reminds me of Bobby Holik. He's a freight train and will always be a playoff force. Every team in the NHL wants one. #NHLJets

— Phil Aubrey (@Philly_OnAir) April 13, 2018
Really, he did what he's done all season long: crash, bang, and make life generally miserable for his opponents. He racked up 124 hits in the regular season — an average of 2.75 per game — and had a combined five hits in Games 1 and 2. Relentless, workhorse-types typically shine at playoff time, and Lowry's truculence and tenacious physicality certainly has thus far.
Lowry's Fourth Line Turned Tide for Jets in Game 2
Lowry made a different type of contribution in Game 2. While he and his line-mates Brandon Tanev and Joel Armia didn't record any points, they were integral in kickstarting the team and were a big reason for their dominance in the latter two periods.
After a fairly touch-and-go first period Friday night, Paul Maurice opted to go with the Lowry line to start the second. They were ready and injected life into the Jets. They won the face-off, barged straight into the zone, and started pressuring the Wild and Devan Dubnyk. They occupied the offensive zone for nearly two minutes thanks to their tremendous pursuit of the puck.
Ho hum. Just another iteration of an Adam Lowry line hemming a team in their own zone. Jets got a full change out and are still pressuring.

— Murat Ates (@WPGMurat) April 14, 2018
That early shift swung the momentum in the Jets' direction. The other three lines responded to their energy, as did the 15,000 bombastic, white-clad fans in attendance. After that pivotal shift, the Jets peppered the Wild net with shot after shot and carried the play. The mojo Lowry's line built eventually led to Tyler Myers' opening goal at 8:41. It was off to the races from there for the Jets, who dominated periods two and three, outshot the Wild 31-8, and captured a convincing 4-1 victory.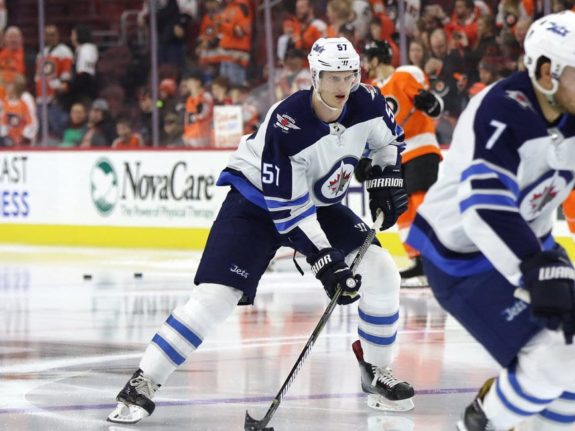 Lowry, Tanev, and Armia did exactly what a fourth line is supposed to do: give their team a kick in the pants by kicking the other team in the pants. Before Game 2, though, Pierre Lebrun praised the Lowry line for being capable of more.
"That was the line that came out and set a physical edge, the tone, gave them energy," Lebrun said. "But the thing is, they're not just a so-called traditional energy line. As Paul Maurice said after the game, they're more than that. Puck possession, chances, time in the offensive zone — they're a dangerous line."
After Game 1, Lowry got some love and was named first star. If the Jets want to make a deep playoff run, they'll need him to keep turning in big, start-worthy performances and do what he did in the first two games.