The NHL Draft Lottery takes place a little over a week from now and the Edmonton Oilers have the ninth-best odds (five percent) of winning the thing. There are various lottery simulators for fans to enjoy as the lottery approaches, namely two, like Tankathon, and NHL Lottery Simulator. Regardless, there are only a few instances where the Oilers would move up into the top three picks of the draft.
It'll be an interesting summer for the Oilers, who gave their general manager Peter Chiarelli a public vote of confidence last week. It'll be up to him to address some of the needs of this organization. At the top of the list for Edmonton is the need for a top-six forward who can score 20-30 goals, and a top four offensive defenseman to help quarterback one of the power play units.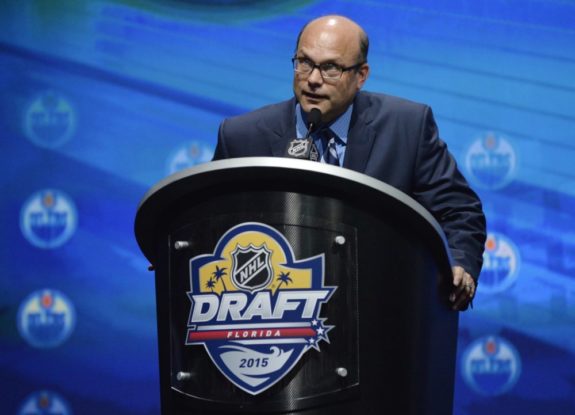 If the Oilers end up in the top three, they'd get a sure-fire future star in Rasmus Dahlin, Andrei Svechnikov, or Filip Zadina. Chiarelli would be smiling ear to ear if that were the case. However, the most likely scenario is that the Oilers will end up picking ninth overall. The only way they pick lower is if someone listed between 10-15 ends up leaping the field.
Related: Takeaways from Nicholson's Press Conference
But again, for argument's sake, let's say the Oilers are picking ninth. Do they trade the pick? Do they keep it and add a piece for the future? What should the Oilers do with their 2018 first round pick?
Predicting How the 2018 NHL Draft Will Unfold
Let's just say the draft unfolds just as the odds are laid right now. The Buffalo Sabres, Ottawa Senators, and Arizona Coyotes would all be picking within the top three. It's obvious who the top three players are this year as they've really separated themselves from the rest of the crop. Where things get interesting are when teams get to No. 4.
Here's how it could potentially go, with a short reasoning as we eliminate names before the Oilers get to make their selection.
1. Buffalo Sabres – D Rasmus Dahlin – The Sabres get a franchise defenseman to go along with a young core of Rasmus Ristolainen, Marco Scandella, and Jake McCabe. Dahlin becomes their lynchpin on the blue line.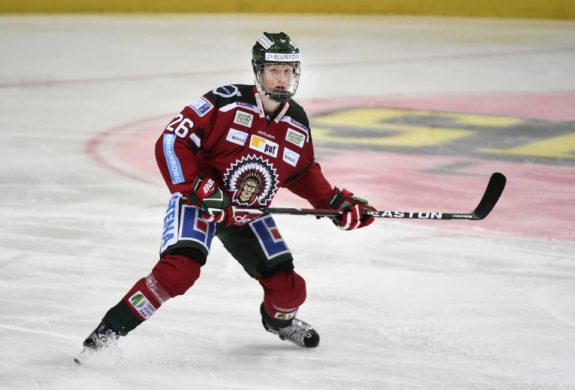 2. Ottawa Senators – RW Andrei Svechnikov – Nearly all draft publications have Svechnikov going after Dahlin. The Senators add a player that has drawn comparables to Jakub Voracek. A strong scoring winger with solid two-way abilities.
3. Arizona Coyotes – LW Filip Zadina – The Coyotes add the consensus third best player in the draft. Zadina's a dynamic scorer, a solid skater, and can be very elusive. Would really compliment the likes of Clayton Keller, and Dylan Strome.
4. Montreal Canadiens – LW Brady Tkachuk – The Canadiens have only drafted four forwards over the past two years, so this time around they'll fill an organizational need. A lot of folks think Brady could be better than his older brother Matthew.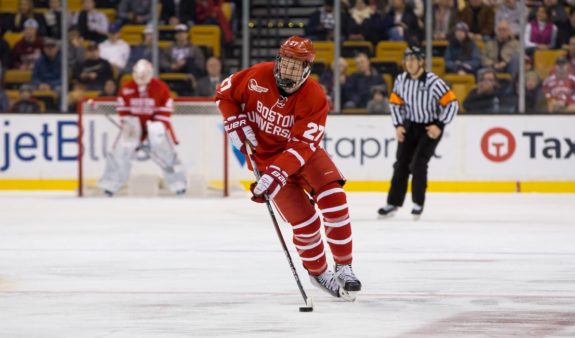 5. Detroit Red Wings – D Evan Bouchard – Helene St. James of the Detroit Free Press believes the Red Wings are very high on Bouchard who had 87 points with the OHL's London Knights. He's a big, sturdy two-way defenseman who could eventually become a top-pairing guy.
6. Vancouver Canucks – D Adam Boqvist – The Canucks fill an organizational need by adding one of the best offensive defensemen in the draft. He's got huge upside despite being a smaller defenseman. Could be a huge pick up for Vancouver.
7. Chicago Blackhawks – LW Oliver Wahlstrom – The Blackhawks will take whoever the best player available is. That player might be a 6-foot-1 198-pound smooth-skating Swede playing in the USHL. Wahlstrom's fast and has a shoot first mentality.
8. New York Rangers – D Quinton Hughes – The Rangers traded away their top defenseman and captain Ryan McDonagh, but they'll add one of the top defenders from the 2018 class. Hughes is an undersized offensive defenseman with high hockey IQ.
Judging by the names that are off the board by now, there are a few names that really stand out that could fill one of the two organizational needs. As we start to amp up draft coverage, here are four names to consider for the Oilers long-term picture.
Related: NHL Draft Guide | 2018 Edition
Ty Smith – Defense (Spokane Chiefs)
At 5-foot-10 and 176-pounds, ISS has Smith ranked as the 11th best prospect overall, and the sixth-best defenseman available. Only Noah Dobson (eighth) and Joe Veleno (10th) outrank him in the latest ISS ratings. Like Boqvist and Hughes before him, he's another undersized defenseman with high offensive upside. He's a left-hander who's got a great shot, and could one day quarterback the Oilers power play.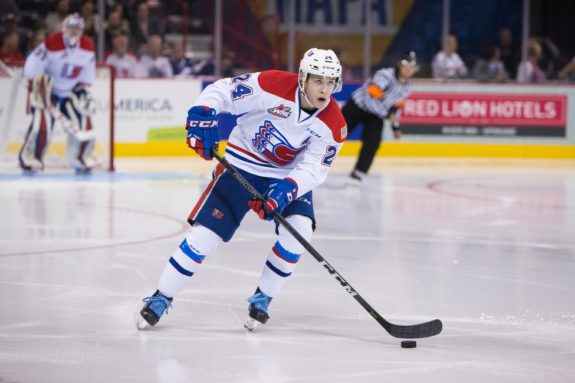 He's not as one dimensional as you'd think, as his defensive game is quite underrated. Smith finished the year with 14 goals and 73 points in 69 games. He was the second-highest scoring defenseman in the WHL this season behind David Quenneville. Edmonton scouts will be very familiar with Smith as he played on the same team as last year's first-round pick Kailer Yamamoto.
Noah Dobson – Defense (Acadie Bathurst Titan)
If you're weighing the two best defensemen available when the Oilers get to the podium, it would be between Smith and Dobson. Almost every draft ranking has Dobson as a top ten pick and ahead of Smith in each ranking. He's a very good skater for his 6-foot-3 and 180-pound frame and plays a solid two-way game. Dobson could, one day, become that top-four defenseman the Oilers can play in all situations.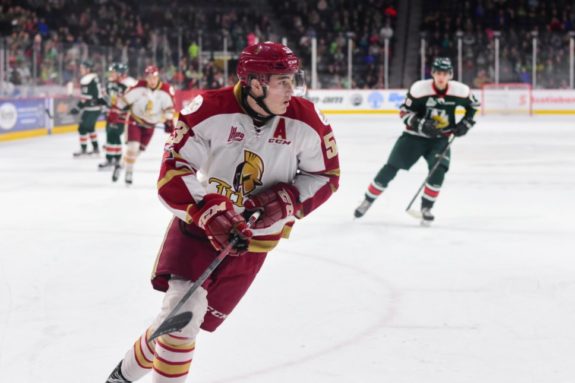 Dobson finished second in defenseman scoring in the QMJHL with 69 points in 67 games. For a bigger guy, you'd wish for him to be a little more physical, but he's still filling out his frame. Dobson has an NHL-level shot already, can play on the power play, and log a ton of ice-time. Dobson's also looked good in the playoffs defensively despite not having stellar offensive numbers. Acadie-Bathhurst takes on the Victoriaville Tigres in the QMJHL semi-final.
Joe Veleno – Center (Drummondville Voltigeurs)
Like Smith, the Oilers spent plenty of time watching Joe Veleno this season. Veleno played for the QMJHL's Saint John Sea Dogs alongside Oilers prospect Ostap Safin. He was eventually traded at the deadline to the Drummondville Voltigeurs, who were eliminated in five games of the QMJHL quarter-final. Veleno scored 22 goals and 79 points in 64 games this season and could become a solid top-six forward in the NHL.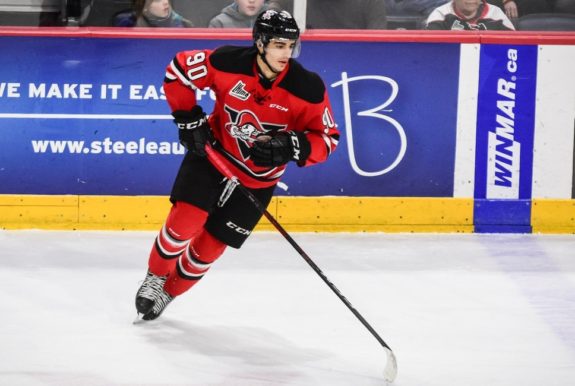 He's a very good playmaking forward that's elusive, and can make plays at varying speeds. If the Oilers are looking to get faster and more dynamic up front, Veleno fits that need. He's got two-way skill, is a responsible center, and he rarely gives up on plays. Veleno is a character guy, and whoever ends up with him will be very lucky. He led Drummondville in playoff scoring with five goals and 11 points in ten games.
Joel Farabee – Left Wing (USNTDP)
This is a newer name to the list we haven't heard much about as the season has gone on — until now. Like Veleno, he has two-way abilities, and one day, Farabee could be a solid top-six contributor for the Oilers. However, he's another smaller guy at 5-foot-11 and 160-pounds. Don't let the size get you though, he's a very competitive guy who, like Yamamoto, punches above his weight-class.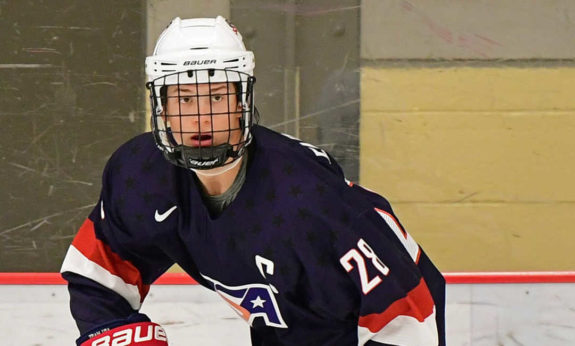 His defensive awareness is very good and gives Edmonton a player that can play on both special team units. Farabee plays with an edge to his game in the essence that he doesn't give up on plays. He's got a high compete level and played much of the year with another top prospect Oliver Wahlstrom (mentioned above). He finished the year with 29 goals and 68 points in 55 games and is committed to Boston University for next season.
Regardless, it'll be interesting to see what direction the Oilers and Chiarelli decide to take. The pick would land the team a solid piece for the future and one that could fill an organizational need. What that need is, I'll leave it to the readers to decide. There's always the possibility of even trading the pick.
So what do you think? Do you agree or disagree with these players being potentially picked by the Oilers? Leave your thoughts in the comment section below.