The playoff series between the Los Angeles Kings and the Vegas Golden Knights came to end Tuesday night as Vegas' Marc-Andre Fleury once again bested the Kings Jonathan Quick for his second 1-0 shutout of the series, giving the Golden Knights the sweep over their Pacific Division rivals.
The battle between Quick and Fleury was one of the marquee storylines coming into the series given their combined five Stanley Cup championships.  Neither goalie disappointed, with Quick posting a 1.55 goals against average and a .947 saves percentage and Fleury being even better at a ridiculous 0.65 and .977.
Championships Ring a Bit Hollow for Fleury
Despite being on back-to-back Stanley Cup Champions in Pittsburgh, the past two seasons had many ups-and-downs for goalie Fleury.  In 2015-16, he had perhaps his best season with a 2.29 GAA and a .921 saves percentage.  After suffering a season-ending concussion, though, Fleury could only sit and watch as Matt Murray stepped between the pipes and helped Pittsburgh to their first Stanley Cup championship in seven years.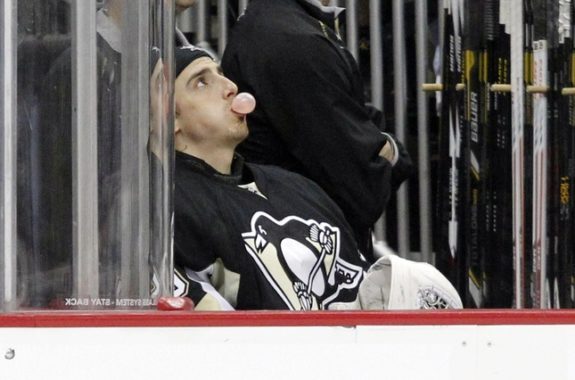 The following season saw Fleury struggle at times, primarily as Murray's backup, with his GAA topping three goals for the first time in 11 years.  But an injury to Murray, literally just before the start of the playoffs (during warmups for game 1), thrust Fleury back into the spotlight.  He would play well through the first two rounds in helping lead Pittsburgh into the Eastern Conference Final.  A disastrous performance in Game 3, in which he allowed 4 goals on only 9 shots in the first 13 minutes of the game, saw him once again reduced to a spectator as Murray came on to lead to Penguins to another Stanley Cup.
Fleury Finds Redemption in Vegas
Fleury was rejuvenated in many ways this season in Vegas after the Penguins left him exposed to the Expansion Draft.  After coming back from an early-season concussion that caused him to miss 25 games, Fleury came back with a vengeance, feeding off the youth and enthusiasm Vegas played with all year long.  He would post career highs with a 2.24 GAA and a .927 saves percentage while leading the expansion Golden Knights to a division title in their inaugural season.
In leading Vegas to a first-round sweep of Los Angeles, Fleury raised his game even more.  He was the number one star of the game in Game 1, posting a 30 save shutout in Vegas 1-0 triumph.  But he was just getting started, as he followed that up by stopping 29 of 30 shots in Vegas 2-1 double-overtime victory in Game 2.  The fact that he only faced 30 shots in a game that lasted 15:23 into a second overtime period is a testament to how dominant his teammates were in front of him that night.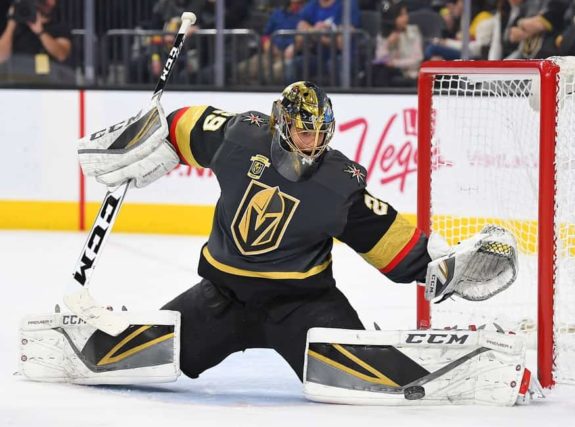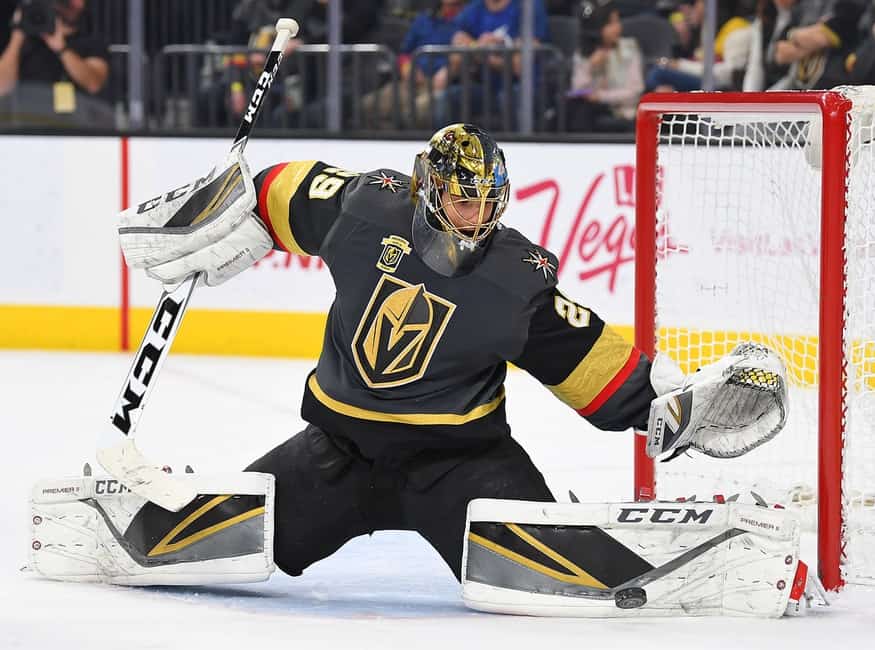 Game 3 was arguably Fleury's best performance of the series, as he once again earned first star honors after stopping 37 of 39 shots. With the Kings coming out hard in the first period, trying to get back in the series at home, Fleury made several terrific saves to keep Vegas in the game and allow them to come back with three third period goals and erase a 1-0 Kings lead.
Game 4 would see Fleury earn his third number one star of the series, this time with a 31 save shutout highlighted by another strong first period, where he stopped all 14 Kings shots.  In what was probably the Kings best period of the series, Fleury made several huge saves at point blank to frustrate the Kings and keep the game scoreless.  If MVP's were given out for the first-round of the playoffs, there is no question Fleury would have won it for Vegas.
Injury and Postseason Failure Drive Quick
At the other end of the ice stood the Kings' Jonathan Quick, who had once had the type of performance Fleury displayed during this series.  In 2012, en route to winning the Conn Smythe Trophy, Quick posted a 1.41 GAA and .946 saves percentage as the Kings won the first Stanley Cup in franchise history.  His last postseason appearance in 2016, though, left a lot to be desired.  In the Kings' five-game loss to San Jose, Quick posted a lackluster 3.02 GAA and a very disappointing .886 saves percentage.  Combine that with missing 59 games last year with a groin injury, and Quick came into this season with a lot to prove.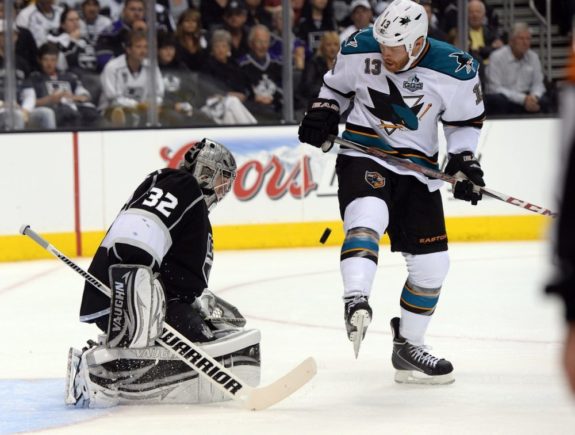 He showed he still had a lot left in his tank, posting his best save percentage (.921) since that magical 2012 season while posting a very respectable 2.40 GAA.  Quick's play was a large reason why the Kings were playing their best hockey down the stretch and seemed poised for a deep playoff run with many, myself included, thinking they would pull the upset over the division champion Golden Knights.
Quick Rises to the Challenge
While that obviously did not happen, one could hardly blame that on Quick.  In Game 1, which was probably the most evenly played game of the series, Quick stopped 27 of 28 shots in a tough 1-0 defeat and earning the third star of the game honors.  Game 2 saw Quick at his very best, earning third-star honors again with a spectacular 54 saves and pretty much single-handedly keeping the Kings in a game that they were, otherwise, thoroughly dominated.
Coming back home for Game 3, Quick did all he could to keep the Kings' hopes alive and preserving a 1-0 lead into the third period.  Unfortunately for Quick and the Kings, his worst period of the series came at exactly the wrong time, as he allowed three third period goals in what would be a crushing 3-2 defeat.  Quick would bounce back, though, and match Fleury save for save in Game 4, earning second-star honors with 20 saves on 21 shots.  The only blemish on the night was former King Brayden McNabb's tally in the second period that ended up the game-winner in another 1-0 Vegas victory.
There are too many instances to recount through the annals of sports history where the reality of the matchup didn't live up to the hype. For those of us who watched every second of this series between two champion goaltenders, the matchup of Marc-Andre Fleury and Jonathan Quick was everything it was billed to be, and so much more.