Edmonton Oilers head coach Todd McLellan had his day with the media, followed by general manager Peter Chiarelli. Then it was Oilers Chief Executive Officer (CEO) Bob Nicholson's day. There's clear disappointment across the board from all areas of the organization. Nicholson's media availability wasn't without some newsworthy quotes, especially considering the status of Chiarelli. If you read between the lines of some of his quotes, you can start to understand what the Oilers' plan might be this offseason.
Related: Takeaways from Chiarelli's Press Conference
There are some clear needs, but some of the bigger questions are looking to already have some answers. There's an evaluation period going on, and fans can expect some changes this summer. Some of those changes might not be the sexy ones you might expect. Scoring, speed, and the defensive depth will likely be addressed if you took anything away from Chiarelli's presser. Nicholson didn't shy away from stating what a bummer of a year it was in Edmonton, and these are some of the takeaways from his availability.
Note: All quotes for this article are attributed to the Edmonton Oilers' official website, and all quotes are from Oilers CEO Bob Nicholson. Further thoughts and analysis are from myself.
Peter Chiarelli Returning as Oilers GM Next Season
As predicted, Oilers general manager Peter Chiarelli got a public vote of confidence and will be back for the 2018-19 season. A day after Chiarelli had his end-of-season press conference, Nicholson addressed the media. Hate it or love it, Chiarelli will get a chance to right the ship after it veered off course in 2017-18.
I'm here today to tell you that the President (of Hockey Operations) and General Manager of the Edmonton Oilers, Peter Chiarelli, will be the general manager next year.
It might not be a popular choice amongst fans, but it's clear that management above Chiarelli believes in the current plan. Whether the fan base believes in that same plan is another story. The biggest takeaway from Nicholson's press conference is that the higher-ups believe this season was a blip on the radar and that the Oilers can once again be a playoff team next year.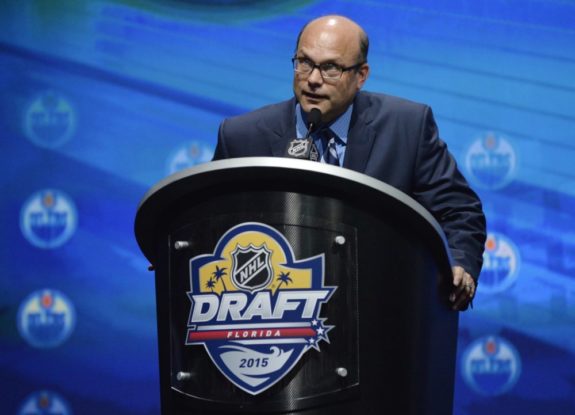 Nicholson spoke proudly of the job Chiarelli has done throughout the organization, playoffs or not. One area that has vastly improved is the scouting and development of prospects. Aside from the obvious mistakes (Griffin Reinhart, Mathew Barzal, etc.), Chiarelli and his scouting team have done a good job finding talent. Sure, Connor McDavid fell into their lap, but Caleb Jones (117th) and Ethan Bear (124th) were great finds in 2015.
The 2016 draft yielded the Oilers Jesse Puljujarvi, Tyler Benson (32nd), Filip Berglund (91st), Dylan Wells (123rd), Graham McPhee (149th), and Aapeli Rasanen (153rd). All of those guys, to varying degrees, have NHL upside. Last year's group included Kailer Yamamoto (22nd), Stuart Skinner (78th), Dmitri Samorukov (84th), Ostap Safin (115th), and Kirill Maksimov (146th). Each of those players looks like he could be a piece for the future.
Nicholson was proud of the group coming in, and in reality, this is the deepest the prospect pool has been in decades. Yes, decades! The real work is trying to address the main roster. There's a need for a top-six scorer, a top-four offensive defenseman to help the power play, and depth scoring. One of the other needs is finding a capable backup the coaching staff can trust behind Cam Talbot.
Whether fans believe it or not, the organization's higher-ups believe in Chiarelli, for now.
Oilers Are Evaluating the Coaching Staff
There's belief that Todd McLellan is safe as the Oilers head coach. If you listen to the tone of his press conference a few days prior, he spoke like a man who was confident he'd be back. Chiarelli seemed to give some support to McLellan as well, but Nicholson said the coaching staff was still under evaluation. If there's going to be a decision, don't expect one in the immediate future.
"I think Todd McLellan's past speaks for itself. He was up for Coach of the Year. Todd is a person that really uses all his assets. He uses his assistant coaches. And in the competitive environment that we're in in the National Hockey League, I think you have to make sure that you use all those resources. We're certainly going to evaluate those, have those discussions on all the resources that are there and how do you put that all together to go forward in a positive manner."
Judging from that snippet, it's pretty clear if any change is happening, it won't be to the head coach; it'll be to the support staff. We all know the stats with the penalty kill and the power play; neither were very good (in fact, they were horrendous). The special teams did turn a corner from Mar. 1 onwards, but it's still a work in progress.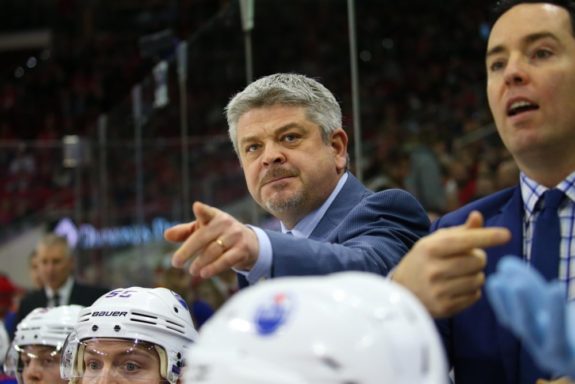 It's quite clear that Paul Coffey is currently being used in a consultant role, but everything seems to point to him eventually joining the coaching staff in some capacity. Nicholson would state that Coffey was a great resource this year, and now that his non-NHL duties have wrapped up, it's being evaluated where to slot him into the organization.
Bet on an announcement of Coffey's new role once the Oilers figure out which assistants they're going to be moving on from. One or both of Jay Woodcroft and Jim Johnson could be gone, and overall there's some uncertainty in regards to the coaching staff. It'll be one of the stories to follow as it develops this summer.
Edmonton's Owner, Daryl Katz, Is Disappointed
It's safe to say any owner in the league would be disappointed if his team was predicted to be a Stanley Cup contender and ended up being in the draft lottery. Nicholson is a true believer in Chiarelli's plan (whatever it may be), and he sees the end goal. The word that kept coming up during Nicholson's press conference was evaluation, evaluation, and more evaluation!
"It's probably no different than everyone in this room and the fans. There's big disappointment. Last year was pretty exciting for the first time under his ownership that we made the playoffs. He's disappointed, angered and wants us to get it right. Certainly, in my discussions, he's waiting to hear the recommendations that I'll make after discussions with Peter."
When referring to Katz's disappointment, it's clear he had the carpet ripped out from under him after making the playoffs for the first time under his ownership. The question now is how Katz deals with the disappointment. Is he going to be like Eugene Melnyk (the Ottawa Senators' owner) and come out publically to criticize his organization? Probably not.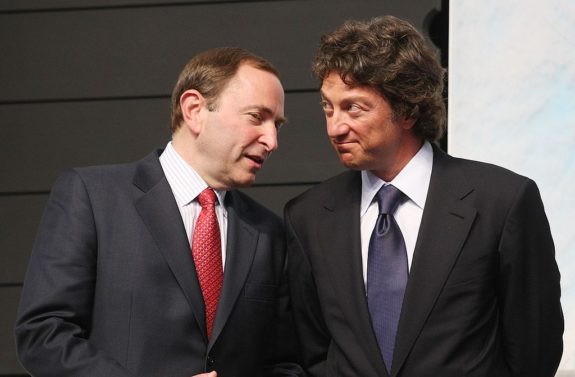 There's a clear hierarchy within this organization, and if anyone's shouldering the brunt of Katz's disappointment, it's Nicholson. At the same time, he's going to be the one selling Katz on the plan going forward. Nicholson stated Katz is waiting to hear some of the recommendations. Now, what could some of those recommendations be?
One of the theories is that the Oilers overachieved in 2016-17, underachieved in 2017-18, and that next year might be more telling of what this team is. Management clearly believes the team underachieved, and from a business perspective, that's an easier thing to sell to your fans than "We screwed up."
So going back to the recommendations, it's clear first and foremost that Chiarelli and McLellan are safe. Nicholson admitted that this team will be a cap team for the foreseeable future once you consider the Connor McDavid and Leon Draisaitl deals. Reading between the lines there, I don't see them being major players in free agency unless they're willing to make wholesale changes under the salary cap.
What Is the Oilers' Plan Going Forward?
With the emphasis on Chiarelli's ability to work with the scouting staff and find players, it's clear one recommendation is to build through the draft. But how many times has Katz heard that? At least this time the results are much more satisfying and look promising compared to years past. The plan might be to accrue more talent through the draft, build organizational depth, and let things percolate.
As far as free agents go, the plan might be to keep finding value players like Ty Rattie to fill the pro roster's depth. For example, Rattie spent most of the year in the AHL before being recalled and scoring nine points in 15 games. Maybe there are options like that out there. You can't rule out a big trade, but it'd have to be one where both teams disperse salary to make it work for the Oilers.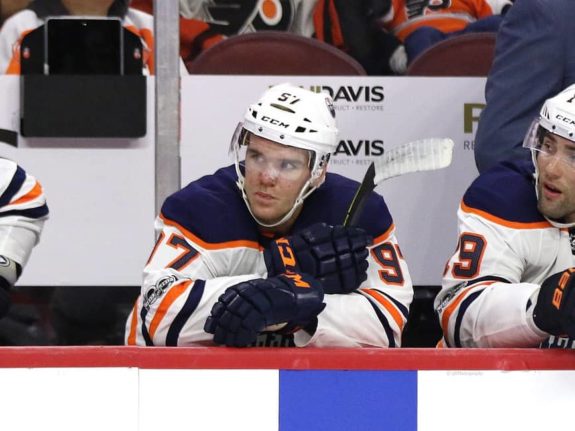 Either way, fans will have to wait for things to unfold, as Nicholson is adamant they won't make hasty changes.
From my own personal side of it, I'm not a person that's going to rush it. We'll announce it when we're ready and do all our homework. I'm not going to put a timeline on that.