Last week we previewed the WHL and OHL playoffs and which Edmonton Oilers prospects would play where. To quickly recap the first round, Kirill Maksimov (Niagara Ice Dogs) is the first Oiler prospect to advance to the second-round. Dmitri Samorukov and his team (Guelph Storm) were the first to be eliminated. Stuart Skinner (Swift Current Broncos) and Cam Hebig (Regina Pats) are headed to Game 7 in their series.
Tyler Benson (Vancouver Giants) looks to punch his ticket to the second-round, and Kailer Yamamoto (Spokane Chiefs) will look to rally back from a 3-1 deficit (now 3-2) to win his series. This will also be the last hurrah in junior for Benson, Hebig, and Yamamoto who will all graduate to the Oilers pro system next season.
Related: Edmonton Oilers – CHL Playoff Primer
They'll be a part of phase two of the retooling down on the farm with the AHL's Bakersfield Condors that saw Ethan Bear and Caleb Jones play their rookie years this season. Here's a quick recap of what's transpired during the CHL's first-round action, and how the Oiler prospects are doing.
Tyler Benson
Benson continues to prove his doubters wrong with strong production during a healthy year. His development seems to be back on track, and he ended the regular season strong for the Vancouver Giants. The 20-year-old has posted 27 goals and 69 points in 58 games this season and ended the regular season with seven points in six games.
He's been hot in the playoffs and has points in all five games of the Giants first-round series against the Victoria Royals. Benson's seven points lead the Giants who look to wrap up their series with a win in Game 6 on home ice. If they win the series, they'll play the Tri-City Americans in the second round. Believe it or not, but this is Benson's first taste of playoff hockey in the WHL.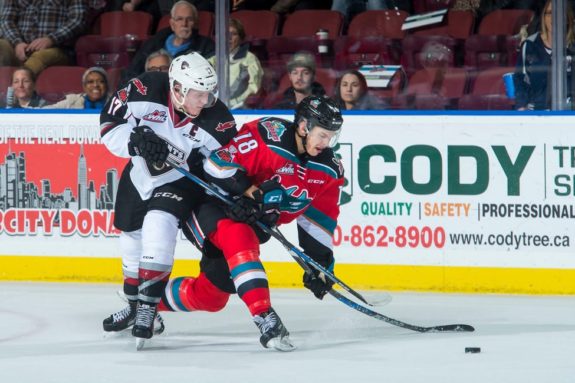 With Benson looking to wrap up his final year of junior, Edmonton fans can look forward to him being a part of phase two of the new era in Bakersfield. The Oilers AHL affiliate is notably weak at forward, and infusing a player like Benson will go a long way in revitalizing the Oilers organizational depth at the pro level.
Related – Tyler Benson: 2016 NHL Draft Prospect Profile
Cam Hebig
The flip side of Skinner in that Broncos and Pats series is another prospect in Hebig who's having a terrific playoff. Edmonton took a flyer on the WHL over-ager who will turn pro and join Benson with the Condors in the AHL next season. So far it looks like a fairly decent pickup as Hebig's proven to be one of the few pure shooters in the Oilers system.
Hebig had 41 goals and 90 points in the WHL this year but has found a new gear in the playoffs. The 21-year-old now has five goals and seven points and is a key reason Regina has pushed that series to Game 7. He had a three-point performance in Game 6 and has twice been the first star in this series.
Another incredible stat is that Hebig is currently second in the WHL with shots on goal during the playoffs with 33 in six games. Only Medicine Hat's Mark Rassell has more (34) this playoff. Even then Hebig's 303 shots during the regular season were good enough for seventh in the WHL. Once you factor in shots per game, Hebig ranks third in the WHL with 4.59.
Kirill Maksimov
Maksimov and the Niagara Ice Dogs made quick work of the Oshawa Generals in their first-round series in the OHL playoffs. Niagara won the series 4-1 and will meet the top-seeded Hamilton Bulldogs in the second-round. Maksimov played his best game of the series in Game 2 when he picked up two assists on the power play, including the eventual game-winner during a 6-1 win.
He's had a modest performance otherwise for Niagara but will need to be a key factor if the Ice Dogs are going to beat the Bulldogs. Maksimov is coming off a stellar year that saw him score 34 goals and 80 points in the regular season, finishing second in team scoring behind Akil Thomas (2018 draft eligible).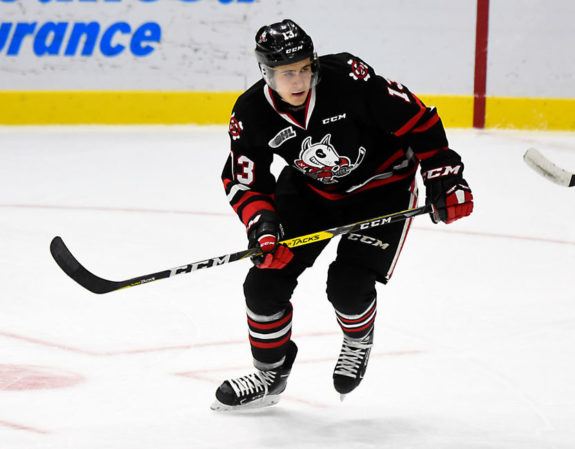 It was uncharacteristic of Maksimov to spend so much time in the penalty box as well. He picked up 14 penalty minutes in that series against Oshawa to lead Niagara. This next series will be a welcomed test for Maksimov and Oiler fans who want to see how he plays when the pressure is on.
Related: Kirill Maksimov – 2017 NHL Draft Prospect Profile
Dmitri Samorukov
Samorukov had a tough series against the Kitchener Rangers, but then again, so did most of the Guelph Storm. Samorukov was the first Oilers prospect to be eliminated from the CHL playoffs, as Guelph lost their series 4-2 to Kitchener. The Rangers had tons of firepower and Guelph was overwhelmed. Not one of their defensemen had a positive plus/minus, including their star Ryan Merkley.
Samorukov finished with a team-worst minus-seven rating. Kitchener torched Guelph with five or more goals in four of the six games in that series. He had an average year for Guelph and there's reason to suggest his overall upside might not be where some might've predicted him to be. If I were a betting man, I'd say Samorukov might be in that No. 5-6 range in the NHL.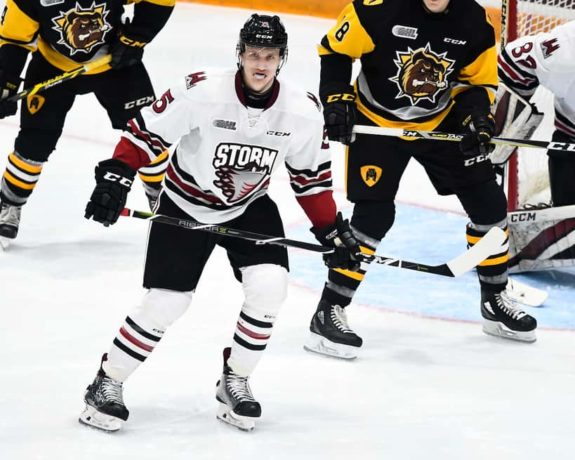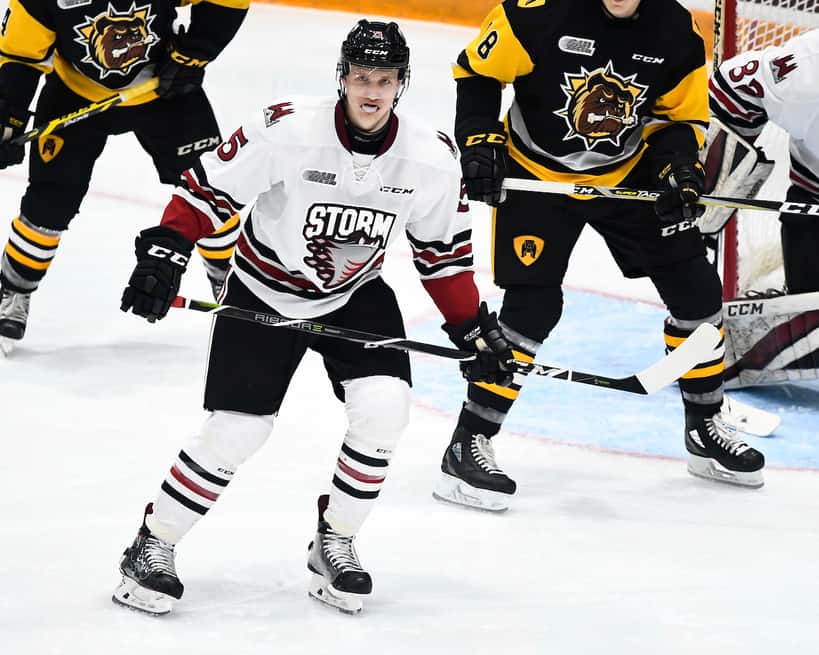 There's an outside possibility the Oilers might entertain having Samorukov join the Condors for the final six games of the AHL season. It would give them a closer look at the 2017 third-round pick who's committed to staying in North America and growing his game. He's expected to return to Guelph for a third OHL season next year.
Related: Dmitri Samorukov – 2017 NHL Draft Prospect Profile
Stuart Skinner
Skinner has been a decent playoff performer during his WHL career, and a trade to the Swift Current Broncos has him primed for another deep playoff drive. He was nearly perfect through the first three games of Swift Current's first-round series against the Regina Pats stopping 103 of 106 shots. If it weren't for being shellacked in Game Six for five goals on 24 shots, Skinner would still be holding some stellar numbers.
Heading into Game 7, Skinner holds a 2.90 goals-against average (GAA), and a .922 save percentage (SV%). He had an impressive 34-save shutout in Game 1 earning him first star honors. He also earned first star honors in Game 3(stopped 39 of 40 shots), and third star honors in Game 5(40 saves). If Skinner can pull together another strong outing in Game 7, he'll work his way towards early MVP consideration.
Of all the Oiler prospects still playing in the CHL playoffs, Skinner (along with Maksimov) might have the best chances at a deep run. Folks are still on the fence about what Skinner's potential might be at the NHL level one day. But after a bounce-back year, he might be the closest thing the Oilers have to a potential No. 1 goalie in their prospect system.
Related: Stuart Skinner – 2017 NHL Draft Prospect Profile
Kailer Yamamoto
Yamamoto finished the regular season on a torrid pace that saw him torch the WHL with 37 points in 19 games. However, in the playoffs, he's been unusually quiet with just three points in five games. The 19-year-old is being relied upon as a key piece in the Spokane Chiefs' chances to upset the powerful Portland Winterhawks.
In Game 1 he fired seven shots on goal in an overtime win but was ultimately held pointless. He then picked up an assist in Game 2 but didn't even register a shot in Game 3. Yamamoto did come up big in Game 5 by scoring his first of the series in overtime to bring Spokane within one win of tying the series after being down 3-1.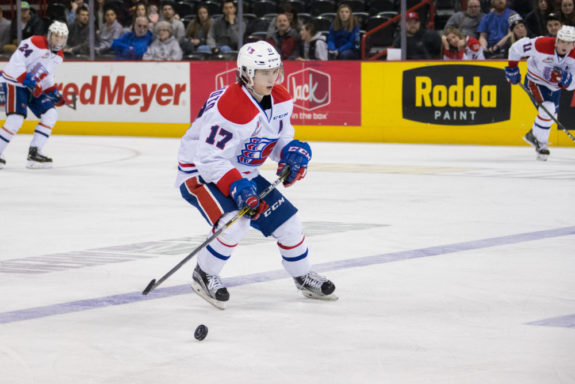 If the Chiefs have any hope of tying, and even winning the series, they'll need more performances like that from Yamamoto. Considering his birth date, Edmonton's first-round pick in 2017 is actually eligible to play in the AHL next season. So if he doesn't make the Oilers, he'd be joining Benson and Hebig in the AHL next year.
Edmonton Oilers regular contributor providing insight on all things Oilers including club history, prospect profiles, trade breakdowns, and everything else in between. Check back regularly for new and exciting content. Follow on Twitter @SanderTHW.