We've talked a fair bit since last June about the Edmonton Oilers and their picks from the 2017 NHL Draft. As promising as Kailer Yamamoto (22nd overall) is, this wasn't a one trick pony draft for the Oilers. Believe it or not, after all these years of poor drafting, something looks like it's clicking from this group. Yamamoto might be the headliner, but don't let him overshadow the accomplishments of two others. One is Ostap Safin; another is Kirill Maksimov.
Maksimov has been affectionately nicknamed Kirill "The Thrill" by fans, and his play shows why. The 18-year-old has an impressive 25 goals in 38 games so far this season to lead the Niagara IceDogs in goal scoring. Overall, that total puts him ninth in the OHL for goal scoring. Despite being a notable omission from Russia's entry for the 2018 World Junior Championships, Maksimov went on a tear in December.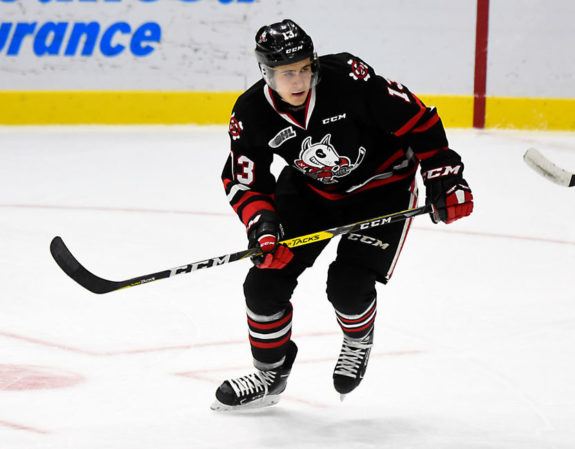 "I've seen him a couple of times and know the other (scouts) have seen him. He's got a great shot. He gets penalty kill time, which is good. He's learning the two-way game, so I like that part of his game. One of his knocks was his skating."
Maksimov Tore up OHL After Team Russia Omission
In ten games in December, Maksimov put up eight goals and 13 points. That run included a six-game goal streak that extended into January. Even then, he was hot in November as well with an eight-game run that totaled 15 points. He's been a hot hand for Niagara this season, and the newfound consistency is an impressive accomplishment in itself.
Last year, Maksimov never put up a streak longer than two games. He's exceeded that multiple times this year. Judging by that, we should assume that Maksimov's become a more consistent scorer and thus a stronger prospect for Edmonton.
For a scoring forward, Maksimov continues to improve. If you look at his shot metrics, he's starting to trust his shooting abilities. Last year he totaled 160 shots in 66 games between the Saginaw Spirit and Niagara. This season he's already up to 141 shots through just 38 games. Hypothetically if he were to play the same 66 games this year, he could finish with a staggering 245 shots.
Related: Oilers 2017 Draft Picks – November Update
His offensive game is at a whole different level in his third season in the OHL. His 25 goals are already more than the 21 he scored last season. Over a full season, Maksimov could end up with 43 goals and 78 points. If we consider Yamamoto, Safin, Tyler Benson, and Maksimov to be Edmonton's top four offensive prospects, Maksimov wouldn't be far off from Benson or Yamamoto's point-per-game totals. In fact, he's got more goals than any of those three players mentioned above.
Oilers Top 4 Offensive Prospects

Player
Draft
Jr. Team
GP
G
A
PTS
PTS/GP

Kailer Yamamoto

22nd, 2017

Spokane

17

5

16

21

1.24

Tyler Benson

32nd, 2016

Vancouver

34

17

26

43

1.27

Kirill Maksimov

146th, 2017

Niagara

38

25

20

45

1.18

Ostap Safin

115th, 2017

Saint John

39

15

21

36

0.92
Maksimov Proving to Be Strong Draft Pick for Oilers
If you take anything out of this, it's that Maksimov has shown early returns on being a fantastic value pick for the Oilers. One difference this year in Maksimov's game is his increased ability to take advantage of his opportunities. If he gets a second or two to set up, he usually gets off an excellent scoring opportunity. He might not have the hardest shot, but he's got a quick release.
So where's his upside? It's early to say, but the high end could be that Maksimov ends up being a top-six forward. If not, he could turn into a middle-six, top-nine guy (whatever term does the trick for you). An area he'll need to continue to improve on, especially if he wants to carry his success into his pro career, is his foot speed.
It's no secret Edmonton has struggled with developing prospects for a very long time. If it's any consolation, they've been very hands-on with their new crop of prospects. The Oilers sent their skating coach David Pelletier to work with Maksimov, and apparently, he was raving about his improvements. The comparison to Anton Slepyshev has been made in the past. However, it's fair to say Maksimov's overall scoring ceiling might be higher.
Related: Oilers 2017 Draft Pick Dmitri Samorukov Discusses WJC & Oilers
Slepyshev's more of a playmaker than Maksimov who's more of a scorer. An averaged size scorer with decent footspeed that could be a 15-20 goal guy in the NHL is a fair take on his abilities. It's early to say but there's something here with Maksimov. It'll be interesting to see how he does in the OHL playoffs, especially on a good team like Niagara who could go on a nice run.
Last year he put up a goal per game while the Ice Dogs were swept by the Peterborough Petes. Regardless, Oiler fans should be excited about this kid. There's some good upside with Maksimov. Unlike a lot of middle round picks Edmonton's made in recent years, this is one that could turn into something.
Edmonton Oilers regular contributor providing insight on all things Oilers including club history, prospect profiles, trade breakdowns, and everything else in between. Check back regularly for new and exciting content. Follow on Twitter @SanderTHW.