The playoffs are upon us, that is for the CHL and NCAA. The Edmonton Oilers might be far from the 2018 Stanley Cup Playoffs but several prospects are gearing up for the playoffs in their particular leagues. Tyler Benson has put himself back on track after numerous injuries caused setbacks in his development. In his final year of junior, Benson and the WHL's Vancouver Giants are looking to make some noise, and they've got the offense to do so.
Newly acquired J.D. Dudek and his Boston College squad, are looking like long shots. They need a few dominos to fall their way to have a chance at the playoffs. There's a lot of questions about the 22-year-old who was a sixth-round pick in 2014. Do the Oilers have a player with Dudek, or is he looking like another long-term college prospect?
Lastly, Kirill Maksimov signed his entry-level contract (ELC) with the Oilers last week. He will carry a $770,833 cap hit eventually, but will likely have his contract slide for the next year or two while he continues playing in junior. Maksimov is riding a hot streak with the Niagara Ice Dogs, and that team might be an underrated favorite to go on a deep run in the OHL Playoffs. Here are some thoughts on three future Oilers.
Can Tyler Benson Crack Oilers Lineup in 2018-19?
As much as Benson's been a revelation this season, it's early to suggest he could jump right into the Oilers lineup next season. Benson's wrapping up his last year of junior with the Vancouver Giants and has 27 goals and 69 points in 58 games. Only Kailer Yamamoto (1.60), and Kirill Maksimov (1.29) have better points-per-game (PPG) than Benson's 1.19.
Related: Tyler Benson Back on Track for Oilers
It's fair to suggest that Yamamoto will be penciled into the Oilers top six next season. Benson will likely do a year or two in the AHL before truly vying for a spot on the Oilers. The current projection might be 2019-20. Until then expect him to take a leading role with the Bakersfield Condors next season where he'll get top line minutes on a team with sparse forward depth.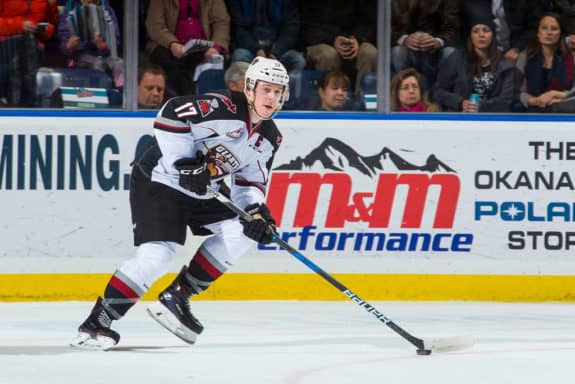 It wouldn't be outside of the realm of possibility that, similar to Ethan Bear this year, Benson gets a handful of NHL games next season to wet his appetite. To end the 2017-18 season, Benson's Vancouver Giants will take on the Victoria Royals in the first round of the WHL Playoffs. That'll be a good series with some star power. Ty Ronning (New York Rangers), and Matthew Phillips (Calgary Flames) are two other notable stars in that series.
Is J.D. Dudek Going to be a Player?
Dudek is still a bit of an unknown for most fans. When the Patrick Maroon deal came together, speculation would suggest the third-round pick was offered along with a prospect of Edmonton's choosing. Of the handful that was thrown on the table, Chiarelli took a stab at Dudek for a reason. He plays on the same team as Aapeli Rasanen and Graham McPhee. So it's easy to suggest Edmonton's scouts became quite familiar with Dudek and thought he could be a player.
Related: Oilers Five Thoughts – Pontus Aberg, J.D. Dudek, & Others
There's concern over what his NHL ceiling might be considering he's in his third year at Boston College and his numbers aren't inspiring. In their third years in college, Drake Caggiula had 36 points in 42 games, and Joe Gambardella had 37 points in 40 games. ‬Even Patrick Russell had a point-per-game in 41 games in his second year of college. Dudek has 19 in 36 games. ‪
There's the potential of Dudek forgoing his final year of college eligibility and turning pro next season. The 22-year-old would likely get a good look with the Condors next season, but his numbers don't suggest he'd be a scoring threat in the NHL. The Oilers added a prospect who can skate, isn't too shabby in his two-way skills, and could be a depth player in a few years.
Kirill Maksimov Riding Hot Streak into OHL Playoffs
We talk a lot about steals or late round gems found in the NHL Draft. That's one of the reasons people are raving about Maksimov right now. It's no secret the Oilers have struggled to find or even develop prospects found later in the draft. It's a huge reason why this franchise hasn't been able to build any continued success, and why the rebuild has failed time and time again.
Related: Kirill Maksimov – A Thrilling Prospect for the Oilers
Maksimov looks like a bonafide goal scorer with top six potential. He's got an incredible shot, seems to find time and space quite well, and is a fairly good skater. He's versatile and can play all three forward positions. Looking at the power play down the road, Maksimov could be a triggerman for Edmonton. The 18-year-old has been an absolute stud for the Niagara Ice Dogs in the OHL.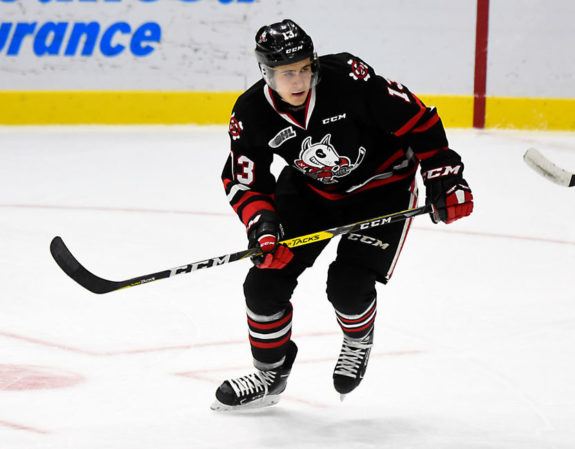 He's scored 34 goals and 80 points in 62 games, and more than doubled his totals from last year. If he didn't get suspended he would've been on pace to lead Niagara in scoring this season. The Ice Dogs will play the Oshawa Generals in the first round of the OHL Playoffs. In a limited sample size, Maksimov's proven to be a playoff performer with seven points in eight games. He's also riding a six-game point streak where he's scored two goals and 14 points.
Are you excited about these future Oilers? Will you be watching the WHL, OHL, or even NCAA playoffs? Let us know your thoughts in the comment section below!