As the off-season rears it's ugly head for the Edmonton Oilers, there's going to be plenty of questions this summer. Peter Chiarelli and Todd McLellan are front and center when it comes to the criticism and have taken plenty of blame for how the year has unfolded. Chiarelli has already put in work to try and right the ship as we head towards the upcoming draft and free agency period.
The Oilers general manager flipped Patrick Maroon, Brandon Davidson, and Mark Letestu at the trade deadline. He's since brought in several future assets like Cooper Marody, Joey Dudek, and Pontus Aberg. The latter has already paid dividends and looks like he could be a future top-six forward. Maybe Aberg becomes someone to regularly lineup with Leon Draisaitl?
Related: Should Oilers Fire Chiarelli & McLellan?
So where do we go from here? There's plenty of questions and plenty of unknowns as we enter the summer months. Here are some questions, and more questions inside those questions for Oiler fans this off-season.
https://www.youtube.com/watch?v=9DORr3WCeJc
1. Will Peter Chiarelli Be Back as Oilers GM?
Chiarelli's drawn his fair share of criticism since arriving with much fanfare during the spring of 2015. Since having Connor McDavid fall into his lap, the general consensus is that he's failed to build a team around arguably the best player in the world. Under Chiarelli, the Oilers have finished 29th, 8th, and will be anywhere from 22nd to 25th this season.
Was last year an aberration, or did the wheels completely fall off the bus for Edmonton in 2017-18? Are the Oilers a playoff team that underachieved this year, or are they a non-playoff team that overachieved last year? His work will be cut out for him as he looks to add a top-four offensive defenseman, and a goal scorer for Edmonton's top-six among other things.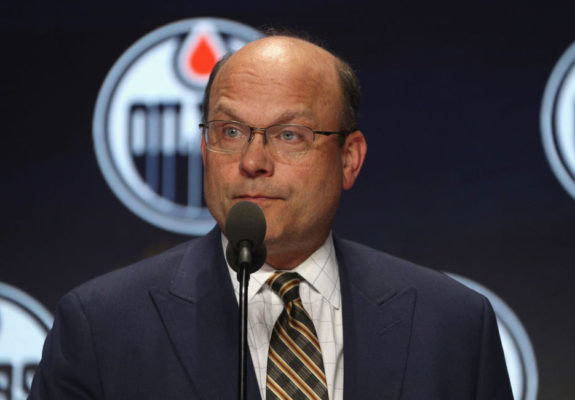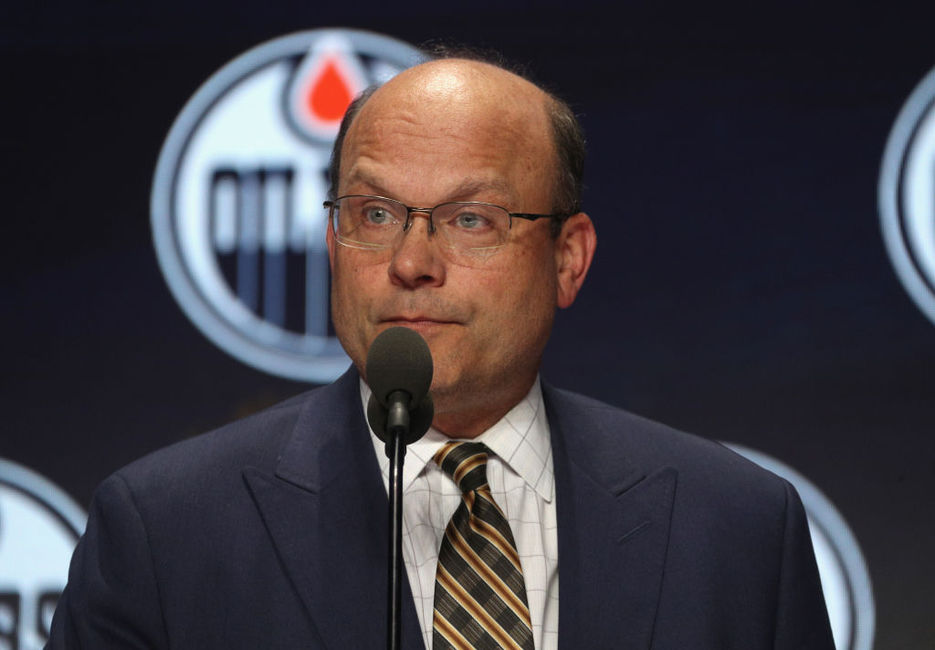 Chiarelli will also be armed with a lottery pick which (if nothing changes) has the Oilers picking seventh overall. Chiarelli and the scouts should go with the best player available strategy. There's plenty of defensemen available. Evan Bouchard is an all-around defenseman with decent size. Quinton Hughes, Ty Smith, Adam Boqvist, and Ryan Merkley are all considered strong offensive defensemen.
Related: 5 Options to Replace Oilers GM Peter Chiarelli
Oliver Wahlstrom is considered a goal scorer who can play all three forward positions (usually left-wing), and Joe Veleno is a crafty center that played most of the year with Ostap Safin. If Chiarelli sticks around through this summer only to fail to get Edmonton into the playoffs in 2018-19, is that the straw that breaks the camel's back?
2. Will Todd McLellan Be Back as Oilers Head Coach?
There was one name that many had circled, that if he became available, the Oilers should go after this summer. That was Chicago Blackhawks head coach Joel Quenneville. Now that the Blackhawks announced Quenneville will be back next year, what do the Oilers do? It's highly probable that McLellan gets a vote of confidence to stick around for another year.
However, if you're to ask who's on the tighter leash between Chiarelli and McLellan, it's likely the coach. TSN's Bob McKenzie also had McLellan on a short-list of coaches that might be fired this summer. Special teams have been a disaster this season. The power play will likely finish the year 31st, and the penalty kill 26th overall.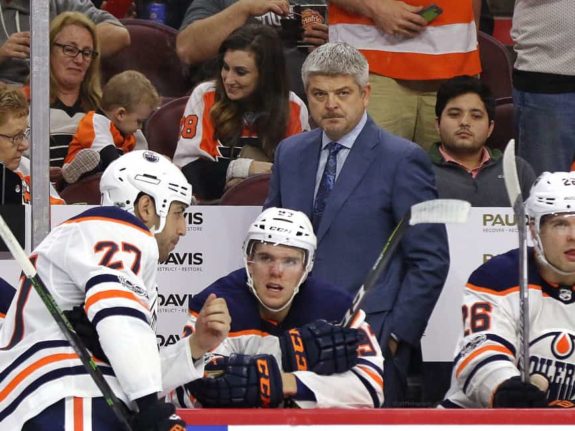 Edmonton also struggled offensively dropping from 247 goals last year to 231 (with one game remaining). Does McLellan need to let the horses run, or does the guy above him need to find him some horses? For what it's worth, the team has done much better when it comes to offense and special teams since March 1.
Related: 5 Options to Replace Oilers Head Coach Todd McLellan
Here's the bold proclamation; McLellan will be back in October. Part of that has to do with the fact there's not going to be a whole lot available in the coaching market. The Oilers also can't continue to hastily change coaches when things don't work out. That said, if the Oilers struggle out of the gate in 2018-19 fans should we expect an early coaching change.
3. What Happens with McLellan's Assistants?
McLellan may very well be back at the helm next season, but what about his assistants? It's not about firing someone just for the sake of firing someone to appease the fan base. It's about finding the right fit for the club. McLellan's been very loyal to his assistants namely Jay Woodcroft and Jim Johnson, but there might need to be a change there.
Woodcroft, Johnson, Ian Herbers, Dustin Schwartz, and Sylvain Rodrigue might be on the chopping block. Change might be a good thing. After all, Mike Babcock had something like 16 different assistants during his ten years with the Detroit Red Wings. Changing the personnel underneath the bench boss might not be a bad thing.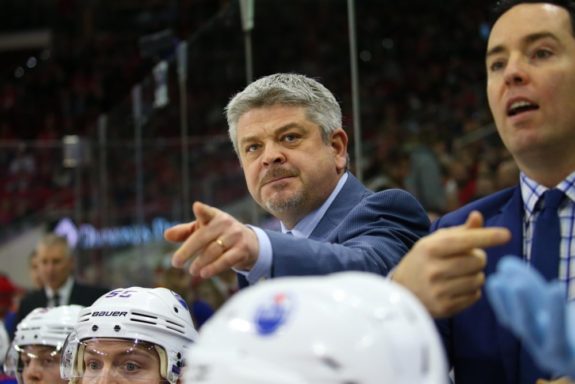 There's also the whole Paul Coffey saga where no one really knows (publically) what his role truly is. Is he being groomed to jump behind the Oilers bench? Is he going to be a skills coach? Is he just a consultant? Part of the reason for not having an official role is because he's still wrapping up commitments outside of the Oilers.
Time will tell, and in the off-season, we should get an official role for Coffey and know which direction the organization is going with him. In the meantime, does someone go to make space for Coffey behind the bench? Do they look for another veteran to add to the staff? Or do the Oilers come back with the status quo for 2018-19?
4. Is Gerry Fleming Gone from AHL Condors?
Whether it's a coincidence or not, the Oilers AHL affiliate has struggled since Gerry Fleming took over the coaching duties. When Todd Nelson left the Oklahoma City Barons midway through the 2014-15 season to become the Oilers interim coach, Fleming stepped in.
That team went from playing at a .680 winning percentage (W%) to playing .549 and losing in the second-round of the playoffs. Since moving to Bakersfield, the Condors have missed the playoffs in three consecutive years, and player development has stalled. Do they look for a new coach down on the farm?
Since Chiarelli has entered the fold, you can think of the Oilers development process as phases. The first phase saw Chiarelli picks like Ethan Bear and Caleb Jones come to Bakersfield this season. Phase two could be headlined by Tyler Benson, Kailer Yamamoto, Joey Dudek, and Cooper Marody join the Condors.
Related: Oilers 5 Thoughts – Aberg, Dudek & Others
Is Fleming the right guy to oversee the development of Chiarelli's pipeline, or do they go in a different direction? Maybe Manny Viveiros (Swift Current Broncos), Mike Johnston (Portland Winterhawks), Dan Lambert (Spokane Chiefs), Jim Montgomery (Denver University), or David Quinn (Boston University) are looking to jump to the pro ranks.
5. A scale of 1-10: How Mad Is Owner Daryl Katz?
Mad, angry, disappointed, fuming, irate, or whatever other verbs you want to use, how is Oilers owner Daryl Katz feeling right now? In the decade that Katz has owned the team in Edmonton, they've made the playoffs just once. This year they were supposed to be Stanley Cup contenders. The Oilers have regressed and now look at another lottery pick.
Katz is once again having to trust the plan set in place by his hockey operations department. It's a plan that's changed multiple times through multiple GM's, coaches, and first overall picks. Katz even brought in former Hockey Canada guru Bob Nicholson to help guide the process. He must be, at least, at a seven out of ten on the angry scale right now.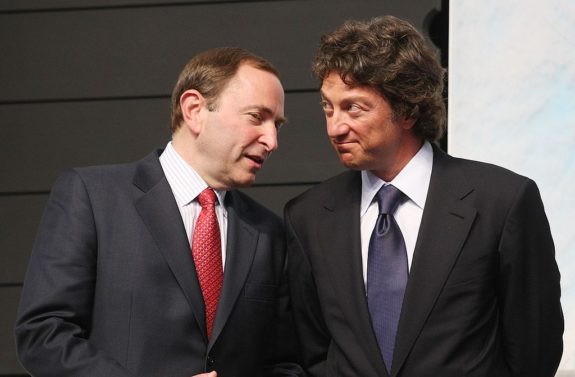 Is he truly on board with Nicholson, his trust in Chiarelli, and the plan set in place? He can't be irrational as things are starting to come together from a development standpoint. Edmonton's pipeline is starting to turn around as they've found decent players that have some hype from the middle to late rounds.
That's something that hasn't happened in years. If I were to offer any advice to Edmonton's disappointed owner it's this; if Chiarelli and McLellan are coming back, give them the summer to dig themselves out of this hole. If the plan continues to go astray by the 20-game mark of the season, then make those wholesale changes you may or may not desire.
Do you agree or disagree? Leave your thoughts in the comment section below.