The NHL trade deadline has come and gone, and the Edmonton Oilers took their lumps as sellers. When the 2017-18 season started, Oilers general manager Peter Chiarelli was supposed to be adding the final touches for a playoff push. However reality set in, the team slumbered through the first half, and by US Thanksgiving the season was on life support. It was bittersweet for fans to see the team back to square one. Now the question is where do we go from here?
Chiarelli stated he only received one credible offer for Maroon and it was nearly a last minute deal. Getting Joey (J.D.) Dudek and a third-round pick was underwhelming in the eyes of many. However, the return for Mark Letestu yielded the Oilers a young player in Pontus Aberg who could be a decent contributor down the road. Even in the days leading up to the deadline, Chiarelli got a surprisingly good return for a third-pairing defenseman in Brandon Davidson.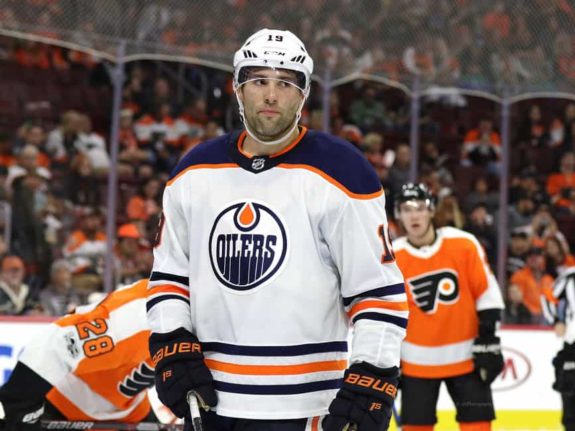 With just 19 games remaining in the season, the Oilers will be doing an internal audit. Promising prospect Ethan Bear should see an NHL game or two at some point. We might even see Caleb Jones get a glimpse as well. Ty Rattie has already earned a look, and some other members of the Bakersfield Condors could see minutes too. Regardless, Chiarelli will be under the most pressure of his managerial career to turn Edmonton around.
Related: Edmonton Oilers Trade Deadline Primer
So let's evaluate the road after the trade deadline and where Edmonton goes from here. These are five thoughts about the Oilers, namely about Aberg, Dudek, addressing the lineup and the futures of Chiarelli and head coach Todd McLellan.
The Skinny on Pontus Aberg
Newcomer Pontus Aberg spent most of his time with the Nashville Predators this season on a line with Colton Sissons and Calle Jarnkrok. At one point he did get a short look with Filip Forsberg. Unfortunately Aberg hasn't been productive this year, but as with most young players, maybe a change in scenery helps.
Aberg could potentially be a top six forward down the road for the Oilers, but in the mean time, look for him to be a middle-six player. Everywhere you look the scouting reports come back to two things; speed and offense. One is still a work in progress at the NHL level.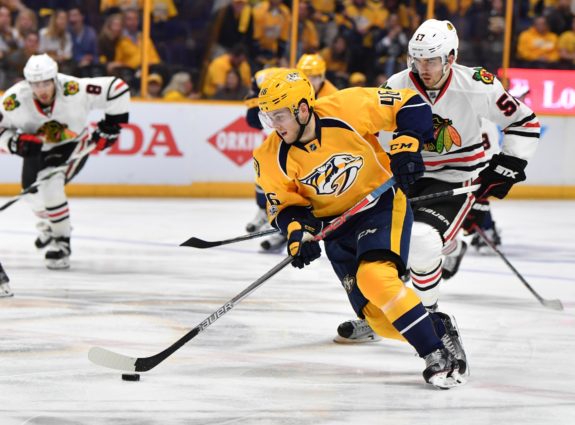 These problems caused him to be scratched in seven of his last eight games with Nashville. Looking at game logs and reports, he's really struggled to find his place in the NHL. The short summary of his career thus far is Aberg has been good in the AHL, but hasn't found his groove in the NHL yet. Upon coming to Edmonton, he donned No. 46, and picked up an assist in his debut.
Aberg lined up with Jesse Puljujarvi and Ryan Strome, and played the seventh most minutes amongst forwards in his first game as an Oiler. Overall, this is good value in return for Mark Letestu, and it's a move that could pay off a few years down the road. Contractually, he's a restricted free agent (RFA) after next season and carries a $650K cap hit. Oiler fans shouldn't be disappointed with this acquisition. After all, this is a move that saw Edmonton do something very similar with Patrick Maroon a few years back; they bought low.
J.D. Dudek A Familiar Face For Oilers
‪When the Maroon trade was announced, Oiler fans seemingly had one one question; who the heck is J.D. Dudek? The 22-year-old was a sixth-round pick by the New Jersey Devils in 2014, and is now in his third year with Boston College in the NCAA. Dudek is on the same team as two other Edmonton prospects Graham McPhee and Aapeli Rasanen. If you're looking at points amongst the three players it goes McPhee (21), Dudek (17), and Rasanen (14).‬
‪Regardless of all that talk that this was the only serious offer Edmonton got for Maroon, Dudek might've been a calculated risk, or educated flyer. Devils GM Ray Shero likely offered the pick and a choice of a handful of prospects. My assumption is that Dudek was chosen after Oiler scouts had raved about him while watching McPhee and Rasanen.‬
‪He's a right handed centerman, and similar to Aberg, he addresses Edmonton's lack of foot speed. Dudek's also described as a smart two-way player with a limited offensive upside. His numbers aren't that impressive considering he's in his third year with Boston College. For comparisons sake, Drake Caggiula had 36 points in 42 games in his third year of college. Last year's college free agent signing Joe Gambardella had 37 points in 40 games with UMass-Lowell during his third season. ‬Dudek has 17 in 33 games.
‪Dudek could possibly forgo his fourth-year of NCAA eligibility and turn pro for 2018-19. This is where the whole "finding players closer to being in the NHL" thought process comes in. If he turns pro next year, he'd join a Bakersfield Condors team that would also be adding 2016 second-round pick Tyler Benson. Where Dudek fits long-term is still up in the air. His offensive numbers don't suggest he'd be a scoring threat at the NHL level, so for now, the understanding is he might become a depth forward. Edmonton essentially took a flyer on a kid they've seen a handful of times while scouting some of their own prospects.‬ Maybe it pans out, maybe it doesn't.
‪Solving Edmonton's Lack of Scoring Depth‬
‪A lot of Oiler fans have cried foul about Edmonton's lack of scoring depth this season. After trading Maroon, Chiarelli has now moved three of the Oilers' top-six wingers in the span of two seasons.‬ We don't have to remind readers that Taylor Hall and Jordan Eberle are the other two, but I guess there's a daily quota to count how many times that has to be said, so count that as one instance. Sorry Oiler fans.
At a minimal, that's 60 goals per season removed from Edmonton's lineup. Irony is a funny thing isn't it? Now Chiarelli is hard pressed to find scoring depth. Edmonton's needs this summer are clear; find a left winger who can play with Connor McDavid. In the Oilers first game after the trading Maroon, they had Milan Lucic and Mike Cammalleri as their top two left wingers.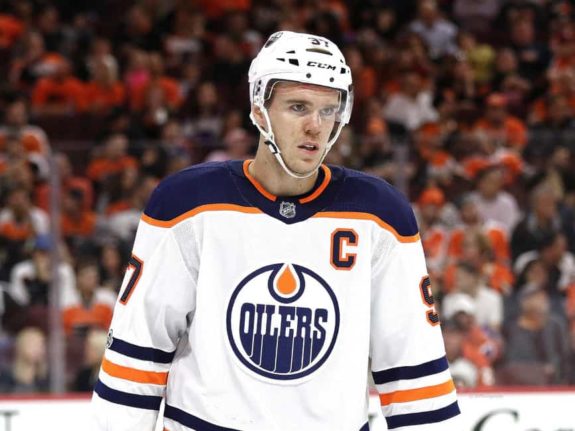 That can't happen next season, otherwise fans are in for the same dog and pony show the Oilers are going through right now. Whether they can wrestle away a Mike Hoffman from the Ottawa Senators, or another left winger who can skate and pound shots at the net remains to be seen. The consensus thought is that there's going to be some hard decisions to make this summer.
Related: What Do The Oilers Do With Milan Lucic?
One of those decisions might be what to do with Milan Lucic who looks to be entering the declining years of his career. Lucic's peak scoring years were between 2010-14, and this year he's on pace for just 12 goals and 41 points. Edmonton can't afford to have that kind of production for the next five seasons at $6 million. They might need to look into a more cost effective option, and sadly it looks like he's slowly becoming the new whipping boy in Edmonton.
Re-Evaluating Edmonton's Defense
Darnell Nurse has been a pleasant emergence this season after considering the down years of Edmonton's defense as a whole. Then again, the defense hasn't played to its potential this year either. Oscar Klefbom has been playing hurt for much of the season and already there's been talk about when to shut him down. Adam Larsson has had his hardships, and Andrej Sekera hasn't returned to last years form.
When it comes to Sekera, his knee injury has hindered his play. He's a touch slower to loose pucks, a step behind in some battles, and has lost that extra step or two in his overall mobility. He'll be 32 year's old next season and has three years remaining at $5.5 million. Edmonton's been in similar situations in the past with defensemen like Sheldon Souray and Ryan Whitney who weren't the same after suffering long-term injuries.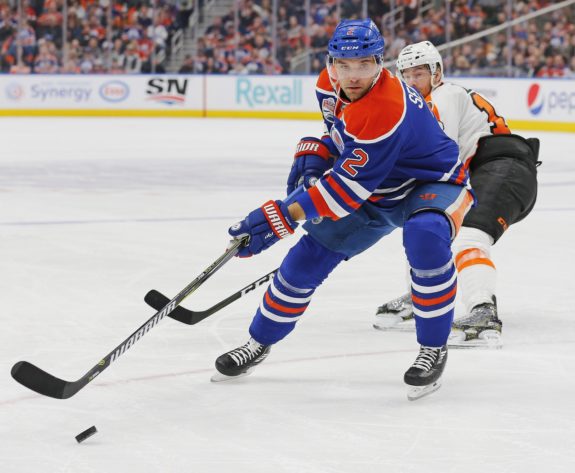 Looking at other players in the past that have had knee injuries, those are hard to come back from. For Sekera, he went from being arguably Edmonton's best all-around defenseman last year, to a No.4 this year. Much of that has to do with coming off injury, and being thrown into the deep-end onto a struggling team. It's also quite difficult to jump into the NHL when most of the league's players are starting to play in mid-season form. With an entire summer off to recuperate and find his game, can Sekera return to being the dominate defenseman he was in 2016-17?
Next season's defense looks to be set on paper with Klefbom, Nurse, Larsson, Sekera, Kris Russell, and Matt Benning pencilled in. Chiarelli might look to move one or two of those defenders, and add a top four offensive defenseman to help the power play. Maybe a Larsson trade becomes something to consider. Ethan Bear and Caleb Jones are still a year or two away from competing for full-time duties, so until then Edmonton will need to find an offensive gun somewhere on the trade market.
Chiarelli & McLellan Are Safe… For Now
It's been an ugly year, and one a lot of fans are hoping to put in the rear view mirror. For now, it looks like Chiarelli and McLellan are safe heading into next season. For Chiarelli, the challenge will be turning this ship around quickly. Edmonton can't afford to waste any of Connor McDavid's prime years by rebuilding or continually retooling the roster. Chiarelli will need to find two things this summer; a winger for McDavid, and a top four offensive defenseman.
Related: Scoring Options For The Oilers
He has six of Edmonton's own picks heading into the 2018 NHL Draft this June, with their fifth-round pick being the exception. He also has nine picks in 2019 which includes three third-round picks. Chiarelli can use these as currency to address the roster needs, packaging some of those with players to improve the team. In the end, there's a lot of distrust from fans when it comes to his ability to truly win deals. He's good at making minor deals, but he hasn't shown fans he can win any big trades. His public approval rating is at an all-time low, and if he can't find an answer this summer, it's highly probable he could be gone by next spring. That won't be due to public opinion, it'll be due to the higher ups in hockey operations pulling the plug.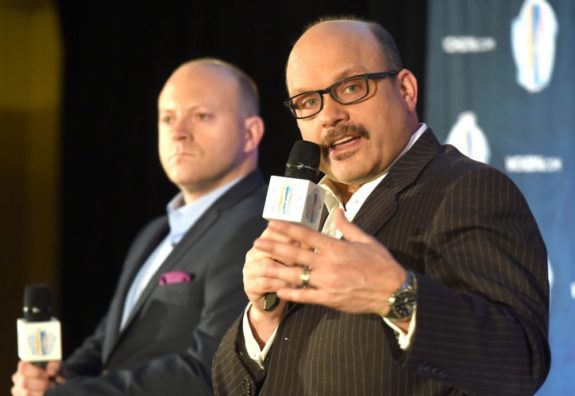 Then there's McLellan who was hired by Chiarelli. It'll be interesting to see where things go, but when it comes change, there might be some minor ones behind the bench with one or two of his assistants on the move. I'd bet on McLellan backing assistants like Jay Woodcroft and trying to earn a vote of confidence. The other members of the staff might not get that same vote of confidence from Chiarelli and the rest of hockey ops.
The key next season will be finding an answer to special teams. Part of it comes down to personnel, and that's something Chiarelli can address by acquiring those pieces. The other part of it comes down to execution, and that's where McLellan and Woodcroft need to do a better job. It's incredible to think a team led by McDavid could have one of the worst power plays in the NHL, but they do. Wherever we go from here, one thing is clear for the fan base, this team needs to find a way to get back into the playoffs next year. If they falter again, heads will roll.
Do you agree or disagree with these thoughts? Let us know in the comments below.