With as much of a disappointment as this season has been, the outlook as far as forwards go is pretty positive. The established core of Jonathan Toews, Patrick Kane and Brandon Saad will be surrounded by younger guys who are starting to establish themselves, as well as some guys looking towards a breakout season.
On defense, it's a different story. Does a defensive group of Duncan Keith, Brent Seabrook, Jordan Oesterle, Connor Murphy, Erik Gustafsson, Gustav Forsling and Jan Rutta really excite you? It shouldn't, as it is made up of aging players who are slowing down, and younger players who lack experience and could be considered a liability.
If the Blackhawks want to take some of the Boston Bruins' magic and rebuild pretty quickly, GM Stan Bowman is going to need to use some of the cap space that he has to add a defenseman in free agency. Of course, it's the first time in a LONG time the Blackhawks have extended cap space to play with, and the market for free-agent defensemen isn't the most appealing. Who would be available for them to take a shot at?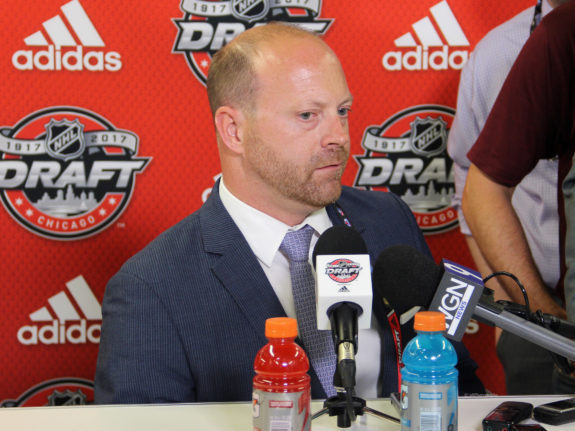 Most of the young, highly attractive defensemen on the market will be restricted free agents at the season's end, meaning their current team holds their rights, likely making it very difficult to pry them away. In this case, the Blackhawks could trade for their rights, or hope that they hit the open market.
Noah Hanifin
The former fifth overall pick is also only 21 years old and measures in at 6-foot-3. He was selected to his first All-Star game in 2018, and he is still on his entry-level contract with a cap hit of $925,000.
His age, affordability, and size make Hanifin the perfect piece for the Blackhawks to try to go after. But because he is arguably the most attractive defenseman on the free agent market, it makes total sense for the Carolina Hurricanes to hold on to him.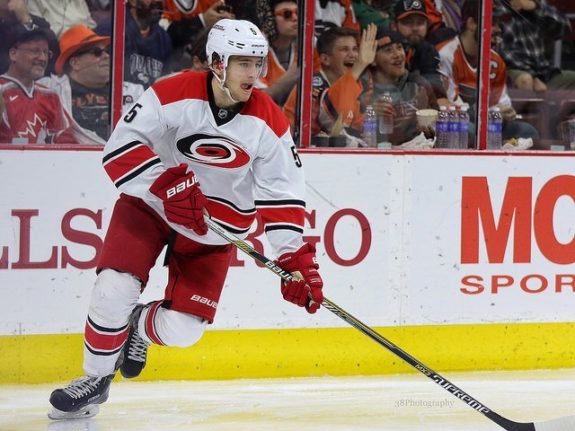 It is likely that the only way the Blackhawks could acquire him would be acquiring his rights through a trade, which wouldn't come at a small price. The Hurricanes would probably ask for a similar cornerstone piece in return, someone that the Blackhawks have no intention of giving up like a Dylan Sikura or Nick Schmaltz, plus a lot more. Because of this, I feel that it's unlikely that Hanifin makes his way to Chicago.
Jacob Trouba
Trouba is right up there with Hanifin as one of the most attractive RFA defensemen on the market. His experience, combined with youth, are what make him the most attractive. He currently counts $2.8 million against the Winnipeg Jets salary cap, but his next contract might be a little more costly.
While he is a mere 24 years old, this is also his fifth (!) season in the NHL. Through 321 career regular-season NHL games, the 6-foot-3 defenseman has 125 points and is a plus-25.
Despite being around for four full seasons already, he only has four games of postseason experience, when he recorded two points during the 2014-15 playoffs. With his Winnipeg Jets being aggressive at the trade deadline, they appear to be going "all in" this year, meaning Trouba will likely gain very valuable experience.
Samuel Morin
If you weren't aware of the Philadelphia Flyers' Samuel Morin already, you're welcome. The Blackhawks don't have anyone in their system like him, and he could be a major building block for the team.
Morin's main asset is his size; he measures in at 6-foot-3. On the flip side, he might be somewhat of a gamble, because he only has three NHL games played in his career, and he has recorded zero points. While the Blackhawks may be looking for more of a proven top-four defenseman to come in this offseason, he would a very attractive asset to have for the future.
Check out some of his skill:
Yeah, this is during the preseason, whatever. You're telling me you wouldn't like to see that on the Blackhawks?
He is on the last year of a three-year deal, and he costs a mere $863,333 against the salary cap. This means he wouldn't require much of financial commitment in the future, but this plus his size are just two more reasons the Flyers may want to keep him.
Trevor van Riemsdyk
You read that correctly, Blackhawks fans. TVR. The player most fans were begging to get out of town last year. Also the experienced and reliable player who could have helped to stabilize this year's defensive group.
The 26-year-old defenseman has spent parts of four seasons in the NHL, three of which were with the Blackhawks. He has also played in 15 career playoff games over three seasons to date, and he helped the Blackhawks win the 2014-15 Stanley Cup.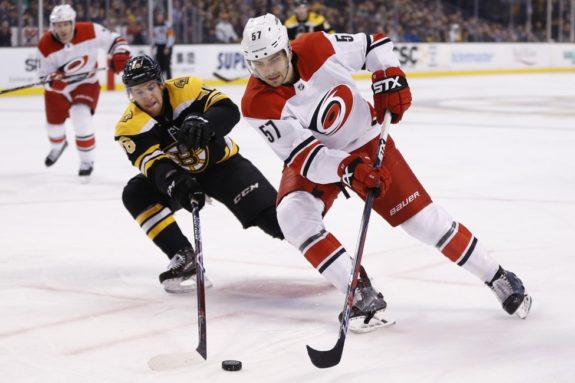 TVR was selected by the Vegas Golden Knights in the expansion draft and then flipped to the Carolina Hurricanes. He counts for $825,000 against the Hurricanes salary cap this year, and likely wouldn't be due for too much of a raise.
Familiarity, price, and experience, among other factors, could make the Blackhawks pursue van Riemsdyk again this summer. The Blackhawks have a history of bringing back former players (ex: Sharp, Versteeg, Ladd, Saad, Oduya, etc.) so this shouldn't come as much of a surprise.
Shea Theodore
Shea Theodore is likely a building block that the Vegas Golden Knights will want to keep around, but hey, stranger things have happened in this league.
He was a first-round pick of the Anaheim Ducks back in 2013. Over three seasons in the league, Theodore has played 95 games between Anaheim and Vegas. He's good for 35 career points, 26 of which are assists. The 22-year-old also has 20 games of playoff experience where he has recorded eight points.
Theodore is currently in the last year of a three-year contract that is costing his team $863,333 against the salary cap. While he will be due for a raise, he would be very affordable for the Blackhawks. Trading for his negotiation rights would likely cost the Blackhawks more in assets than it would cost them in cap space to sign him.
Cody Ceci
Cody Ceci is the last "big" RFA name on the market, and he is a player that I hope the Blackhawks stay away from. While he is relatively young at 24 years old and has decent size at 6-foot-2, he statistically is not worth the money he would command.
Through five NHL seasons, Ceci has played 346 regular season games, scoring 89 points. Not horrible for a defenseman. But his career plus/minus rating is minus-31, and his career shooting percentage is 4.3 percent. In the 2016-17 season, Ceci played 79 games, taking 143 shots, and he only scored twice. His shooting percentage that season was 1.4 percent. He only has one power-play goal in his career and 10 power-play points.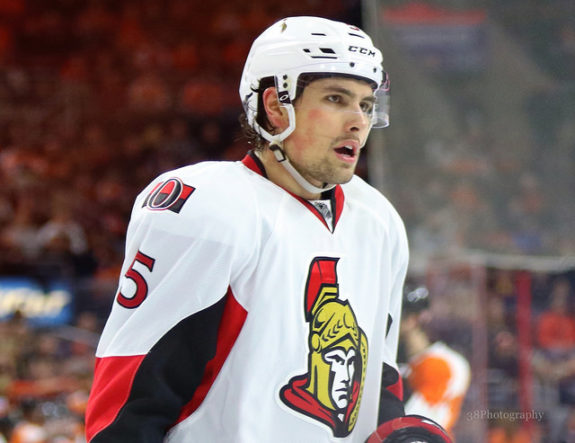 He has played 25 career playoff games over two seasons, where he put together a total of three assists and no goals. His +/- was a minus-7, and he has no powerplay points.
Ceci is currently on a two-year contract good for $2.8 million dollars against the salary cap. He is definitely going to command a raise, a raise the Blackhawks should not give him.
Ville Pokka
I'm just kidding, I thought I'd give you a little scare. While he is indeed an RFA at the end of the season, that ship has clearly, and finally, sailed.