The Winnipeg Jets have been getting an awful lot out of Jacob Trouba for a low salary. That's not going to last much longer.
The 23-year-old defenseman is in his fifth NHL season and was coming off a breakout season last year with 33 points in just 60 games. His offense has taken a step back this year, with 18 points in 48 games. His overall play, however, is still top-notch.
Despite consistently seeing the other team's best players and playing on the penalty kill, Trouba has put up relatively solid possession metrics. He and Josh Morrissey have emerged as the Jets top defensive tandem.
While Trouba is still prone to the occasional mistake, his smooth skating and puck moving ability elevate him above most defenseman. His physical play and ability to get in the face of the other team's best forwards make him even more valuable.
If Trouba had signed an extension after last season, I've no doubt he'd have commanded huge money. Think something similar to Mark Scheifele's monster extension. His offense has taken a hit this year, but his value to the team remains immense.
Speaking of his drop in offensive production, it's worth noting that as long as Dustin Byfuglien is healthy, Trouba sees very little power play time. And the underlying metrics show his offense hasn't slipped the way you might think.
Jacob Trouba is top-10, tied with Seth Jones, and just behind Victor Hedman

— Michael Clifford (@SlimCliffy) January 12, 2018
That's good company for Trouba to be keeping, especially when you add in the physical dimension to his game. So has he lived up to the expectations around his draft position?
Trouba a Cornerstone Defenseman
I remember like yesterday the grumbling in Jets nation when Winnipeg passed on Filip Forsberg to draft Trouba. While Forsberg has proven to be an excellent forward, Trouba is the kind of defenseman you build your back end around.
The Jets drafted Trouba hoping he would pan out that way, and they have indeed built around him. They drafted him a future partner, Josh Morrissey, the next year. They've stocked their cupboards with his future supporting cast in players like Sami Niku, Tucker Poolman, Dylan Samberg and Logan Stanley.
Relations between the Jets and their young star haven't been perfect at all times. Yet Trouba has said repeatedly since re-signing in Winnipeg that he wants to stay here. Winning will do that, and Trouba has been getting the right-side ice time he wanted before requesting the trade.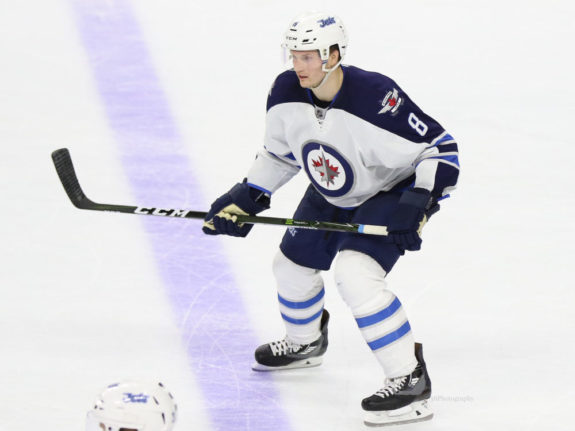 Reports out of Winnipeg from trusted sources like Elliotte Friedman indicate the relationship between the two sides has been much improved. Trouba ate up minutes on the right side last year, which is what he wanted, and has kept those minutes this year.
In fact, Trouba is second only to Byfuglien on the Jets in ice time. As the Jets try shelter Byfuglien's minutes more and more, that will change. As Trouba gets more mature with the puck, he'll start eating into Byfuglien's power play time too.
In short, Trouba is evolving into the kind of player the Jets hoped he'd be. A skilled, fast puck mover with a heavy shot who doesn't mind throwing someone around in the corner or stepping up and clobbering someone in open ice to stop the rush.
Trouba is becoming the go-to-guy on the right side on the back end. He'll get even more so as Byfuglien ages. So what will the Jets be paying for him in the offseason?
Expect Trouba to Be Costly
Looking for comparables for Trouba isn't easy. A lot of his fellow 2012-drafted defensemen are in the same boat as he is contract-wise. That said, a few numbers stick out.
In October of 2016, Hampus Lindholm of the Anaheim Ducks signed a six-year, $31.5 million contract. With an average annual value of just over $5.2 million, Lindholm's contract is one I'm sure the Jets would like to emulate with Trouba.
The problem here is that Trouba has shown in the past he's looking for more money than Lindholm, and given his value to the team, he'll likely get it. If he signs for less than $6 million per season, it would come as a surprise.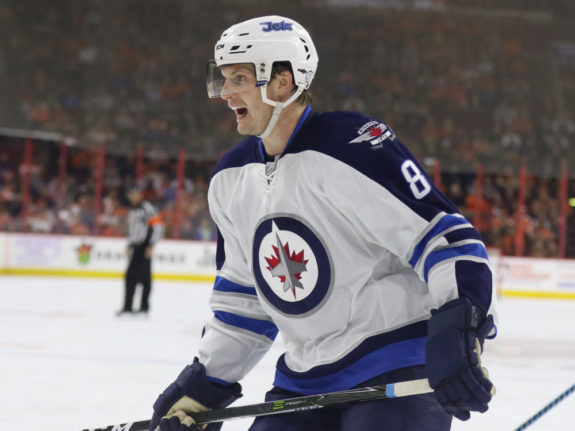 Kevin Cheveldayoff has proven in the past he's a wizard when it comes to re-signing his own talent. The extensions to Scheifele and Ehlers now look brilliant. He'll have to be smart with Trouba, too. After all, Trouba isn't the only one in line for a big raise. His defense partner, Morrissey, is nearing the end of his entry-level deal. Meanwhile, we haven't even begun to speculate what Patrik Laine will cost to re-sign.
Trouba is going to hit paydirt this offseason. In all likelihood, Morrissey will soon follow. But if that's the cost to lock up the future of the Jets defense, it's worth every penny. After all, no team wins without big contributions from the blueline.
Maybe that winning will help persuade Trouba to take a slightly lessened salary. Maybe Cheveldayoff's negotiating skills win the day again. Either way, the Jets need Trouba on board this year, next year, and long-term.
A long time hockey fan and player from Winnipeg, Manitoba. Play-by-play man with the SJHL's Estevan Bruins. Graduate of Red River College's Creative Communications program with a major in journalism. Former PxP man for the University of Manitoba Bisons. Lover of all things Jets and Avs related and always looking for a good hockey debate.