If any team has coined the phrase patience it is the Winnipeg Jets, however, patience is sometimes a form of action.
Over the last five NHL Trade Deadlines, general manager Kevin Cheveldayoff has been calm, cool and collected. In fact, that is about as much of a definition one can give to describe the tendencies of his management style.
While some teams made a splash at previous trade deadlines, the Jets didn't even dip a toe in. Contrary to popular belief, Chevy's phone was not on silent. He isn't an overly active general manager on the trade front but when he gets business done, he gets it done early.
In 2013, minor acquisitions of Eric Tangradi and Tomas Kubalik along with a couple draft picks that turned out to be Brenden Kichton and Nelson Nogier saw the departure of Alexei Ponikarovsky and Spencer Machacek.
In 2015, the Jets dealt long-time minor leaguer Carl Klingberg for the well-travelled Lee Stempniak, who has now been traded six times and has played for a total of ten clubs in his career.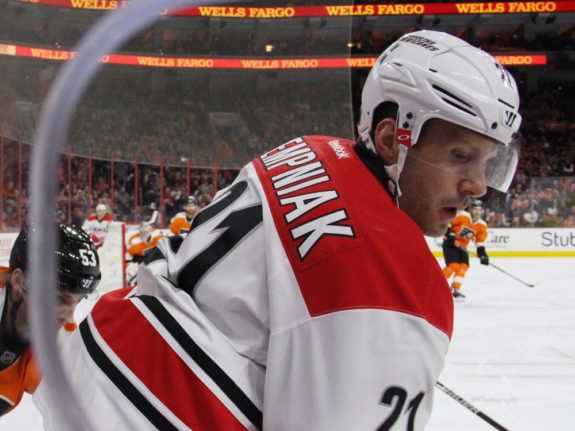 A couple of days prior to the 2016 Trade Deadline, Cheveldayoff actually made quite the significant move dealing their long-time captain Andrew Ladd along with Matt Fraser and Jay Harrison to the Chicago Blackhawks.
The Jets received Marko Dano and a 2015 first-round pick that they packaged in a trade to move up four spots in the draft to select towering 6-foot-7 defenceman, Logan Stanley, who appears to be a promising prospect.
The 2017  deadline was a snooze-fest that saw the measly flip of Drew Stafford to the Boston Bruins for a sixth-round pick in the upcoming 2018 NHL Entry Draft.
All this time Cheveldayoff and the Jets' management group remained relatively quiet, they stockpiled an impressive group of first-round picks featuring Jacob Trouba, Josh Morrissey, Nikolaj Ehlers, Kyle Connor, Jack Roslovic, Patrik Laine, Logan Stanley and Kristian Vesalainen.
This pool of draft picks that include half of the Jets' top-four on defence, four of the team's top-nine forwards as well as two quality prospects made the decision easier to swallow to acquire Paul Stastny from the struggling St. Louis Blues for a 2018 first-round pick, a conditional fourth-round pick in 2020 and prospect Erik Foley.
Paul Stastny: The Perfect Piece to the Puzzle
When contending teams enter the Trade Deadline they can risk altering the chemistry and success that got them to this point by making an unnecessary or knee-jerk move. This trade was far from a rash decision.
When Stastny entered free agency in 2014, the Jets were lining up to acquire his services, therefore they have done their due diligence to understand the on ice presence and character he will bring to an already strong locker room.
"We liked our group going into these couple of days. We liked it a lot. So we were very cognizant that anything that we were going to do was going to come with that measure of fit both on the ice and off the ice," said Cheveldayoff at his post-deadline media availability.
Stastny comes from professional pedigree as his father, Peter and his uncles, Anton and Marian all played in the NHL. The trio combined for over 2000 career points and Paul has tallied 633 to his own credit.
Coming from such deep roots in the hockey community, Stastny learned the ins and outs about being a team player and the trials and tribulations that may accompany the successes.
"He comes from a pretty strong hockey background and just so knowledgeable about the game. His dad is as smart a hockey guy as there is out there. I've had the opportunity to sit in a couple of those conversations and it's pretty awesome," said Wheeler.
Stastny, who was a teammate of Wheeler for Munich EHC during the 2012 NHL Lockout, has not only been surrounded by a blessed lineage but has a glut of former teammates classified as ultimate pros.
This list includes a pair of Hall-of-Fame forwards in Joe Sakic and Peter Forsberg, two of the most stand-up individuals to throw on a hockey sweater in Ryan Smyth and Adam Foote, and time spent with some of the brightest minds in the game today with Nathan MacKinnon and Vladimir Tarasenko.
Martin Brodeur, Milan Hejduk and Pierre Turgeon to name a few others. The point is, this is the kind of individual that should not negatively affect a unified team and frankly, add his own steady values to the culture that is already in place.
Stastny More Than Two-Way Threat
While the winter weather and apparent bad wifi are unattractive qualities about the Manitoba capital, their team has been about as competitive as any, earning Stastny's trust represented by waiving his full no-trade clause to allow the move.
The 2014 United States Olympian is widely known as a utility knife sort of player that has a gear in his game for every situation. One could argue this addition is a long-awaited replacement for the noticeable gap Michael Frolik left in the Jets' lineup since his 2015 departure.
His versatility and enticing low-maintenance game for the coaching staff to introduce systems to is vitally important, however, let us not forget that he also possesses abilities to be an offensive force on any given night.
Stastny, who has worn a letter eight of his twelve years in the NHL, was tracking to have his best statistical campaign in a Blues uniform to date with 40 points in 63 games played, which puts him on pace for 52 points in a full 82-game season.
The pending unrestricted free agent's 40 points ranked him fourth on the Blues in scoring, a total that ties him for fifth place with Connor on the Jets' roster.
He will join an already impressive group of centremen that includes Mark Scheifele, Bryan Little, Adam Lowry, Andrew Copp and Matt Hendricks, a former teammate of Stastny.
"All our centremen are really good. Now, when Stastny comes in, it looks really good… It really doesn't matter who I'm playing with," said Laine, who appears to be slotted in to play on the Jets' third line along with the new acquisition and the electrifying Ehlers.
The Jets' captain, who shares the same agent as Stastny, is rumoured to have had a role in the process of acquiring the 32-year-old such as informing him about the city, what the team is about and how he can fit.
"That's what your leaders do. They lead you on the ice and they lead you off the ice. We're very fortunate to have one of the best ones in both categories," said Cheveldayoff, a sentiment very similar to that of head coach Paul Maurice from earlier this week.
Paul Maurice w/ high praise. Calling Blake Wheeler the best captain in the NHL here.

— Travis Yost (@travisyost) February 26, 2018
The Morrow, the Merrier
Addressing depth is the secret to a successful playoff run, especially on defence. The acquisition of former Pittsburgh Penguins' 2011 first-round pick, Joe Morrow, was done to fill that need.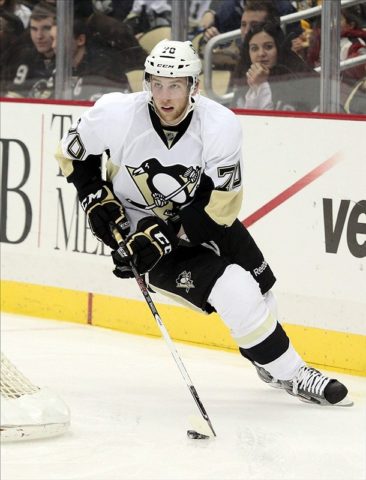 The Jets' have their top-six defenders set with Dustin Byfuglien, Toby Enstrom, Dmitry Kulikov, Josh Morrissey, Tyler Myers and Jacob Trouba. The depth comes in the form of hard-nosed Ben Chiarot and now a puck-moving option in Morrow.
Described as a smooth skater, Morrow has amassed 20 points in 103 contests with 11 of those points coming in his most recent stint with the Montreal Canadiens with whom he suited up for 38 games with this year.
The cost was a 2018 fourth-round pick which in a draft that is not expected to be very strong, is a minuscule asset to surrender.
Morrow has a number of intriguing qualities including his ability to play both sides on his defence pairing, an affordable cap hit of $650,000 and his restricted free agent status but these weren't the only attributes the Jets' liked.
"The thing I think that impressed us the most is when he played five of six games last year for Boston in the playoffs and I believe he had over 20 minutes played in those games," said Cheveldayoff on Morrow's experience being a factor. 
Morrow did average top-four minutes for the Bruins during the playoffs but four out of the five games did go to overtime which could explain why his minute totals were reaching and exceeding 20 minutes.
The Cost of Business
This management's average deadline day sees a couple of subtle moves at most but this year the price was much steeper.
Their reluctance to trade picks in previous years allowed them to go all-in this season which is why dealing a 2018 first-round pick isn't a poor decision.
It is difficult to trade prospects when the team has invested their selection, time and energy into developing this player into a role they see fit. Foley was gaining traction as a prospect and it is unfortunate to see him go.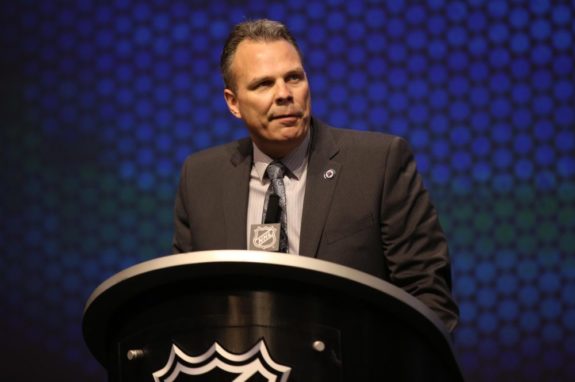 Much like their impressively large group of homegrown, drafted and developed talent on the NHL roster, players like Nic Petan, Mason Appleton and Brendan Lemieux made Foley a flexible piece.
The Providence College power-forward joins an impressive prospect pool in St. Louis that features names like Klim Kostin, Jordan Kyrou, Robert Thomas and Tage Thompson who will determine the future of the Blues' offence.
Overall, Cheveldayoff and the Jets' management team had a tremendous Trade Deadline. They did not have to completely mortgage their future for a rental and continued their gradual climb to the top-tier of Stanley Cup Contenders.