I'm going to throw a lot of stats at you quickly. Milan Lucic hasn't scored a goal in 21 games for the Edmonton Oilers. It's a cold streak that extends back all the way to December 23 against the Montreal Canadiens. Since the Christmas break, Lucic has just four assists and has only registered a point in three games. He's currently pointless in his last ten games.
It's a reversal in the script that saw Lucic pile up 13 points in 14 games during a December hot streak. Even to start the year he had 24 points in 33 games. The wheels have now fallen off the bus for the 29-year-old. So what happened? Through 57 games, Lucic has nine goals and 30 points, which is more or less where he was at this point last year (11 goals and 31 points).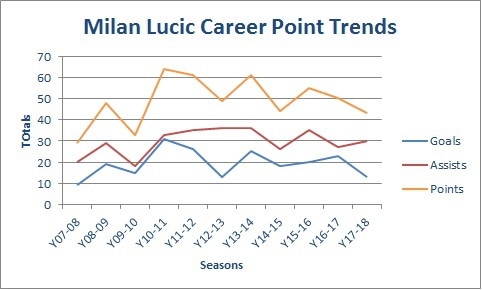 He finished last year with 23 goals and 50 points. Unless he puts up another 20 points in 25 games, Lucic projects to finish with just 13 goals and 43 points. If that projection becomes a reality, this will be one of the worst seasons of Lucic's ten-year career since an injury-shortened 2009-10 (0.40 points-per-game). Making it worse is that Lucic is just wrapping up year two of seven on a contract worth $42 million.
Everyone knew the Lucic deal was ugly when he signed it. Fans also knew there would be a point in time when Edmonton would have to try to move the contract. You wouldn't have expected it to be so soon. There's five year's left, and Lucic has already reached the point of decline in his NHL career. So where do we go from here?
Is Milan Lucic a Declining Asset for the Oilers?
When Peter Chiarelli and the Edmonton Oilers embraced the term and the money that was required to bring Milan Lucic to Edmonton, they knew that at some point in the contract it was gonna look ugly. They just couldn't predict that it would happen as quickly as this.
When you look at some of the problematic contracts the Oilers have, the Lucic and Kris Russell deals are two big ones. Aside from Connor McDavid's $100 million over eight years, general manager Peter Chiarelli has seemingly overpaid in dollar value and term for many players. The Leon Draisaitl deal is $1-2 million too much, and the Russell deal is two years too long.
When it comes to Lucic, many folks were adamant that the Oilers shouldn't have gone over four years on that deal. Looking at his career numbers, Lucic's prime years seem to have been between 2010-2014. Since the Boston Bruins traded him for the 2015-16 season, Lucic has put up 55, then 50, and is now on pace for 43 this year. That's a steady decline if I've ever seen one.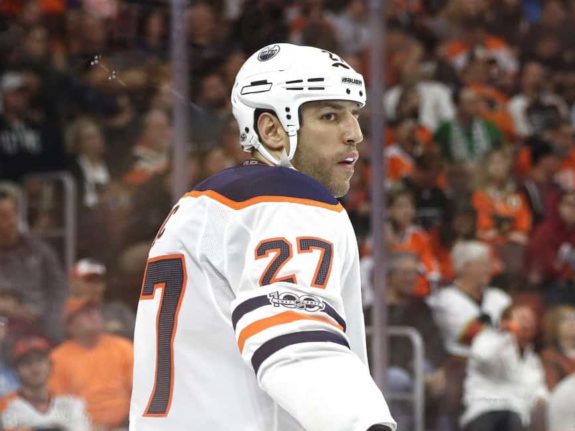 Dreger goes on to point out that Lucic was brought to Edmonton for his character, his reputation as a deterrent, and as a premier power forward. However in the two seasons he's played in Edmonton, it's grown apparent that he's not able to keep up with some of Edmonton's faster players. He started out playing with Connor McDavid but settled alongside Ryan Nugent-Hopkins last season. This year he's split his minutes between McDavid and Nugent-Hopkins.
MILAN LUCIC STATS via CORSICA HOCKEY

LW
C
RW
GP
TOI
CF%
Rel GF%
PDO

M. Lucic

C. McDavid

J. Puljujarvi

26

176.57

55.41

17.23

103.24

M. Lucic

R. Nugent-Hopkins

J. Puljujarvi

16

91.73

48.15

-0.82

101.24

M. Lucic

R. Nugent-Hopkins

R. Strome

14

61.58

51.79

1.20

96.14
You can beat someone over the head with numbers. To be somewhat brief on the numbers here from Corsica, as soon as Lucic is taken away from McDavid's line he's not productive. Then again, who is? McDavid essentially improves everyone's stats. Even an orange traffic cone would have a positive Corsi score.
Related: Why the Oilers Aren't Making the Playoffs
For the Oilers, Lucic needs to prove his value to the team away from No.97, and one solution might be to pair him up with Leon Draisaitl. The only advanced analytics from Corsica with Lucic and Draisaitl together were from last season. They had a remarkable 61.64 CF%, mind you, McDavid was also their linemate. That was the best Lucic has looked during his time as an Oiler, and maybe reuniting him with No.29 is the answer.
What Does the Future Hold for Lucic & the Oilers?
We've reached the point where things aren't looking great for Lucic. He's had flashes where he's been that dominant player, but more often than not he's been a slumbering giant. Teams know not to poke the bear, and when they don't Lucic just isn't mentally in the games like he should be. That needs to change, and head coach Todd McLellan will need to find a way to unlock Pandora's box.
When it comes to the contract, Lucic has a no movement clause (NMC), and a modified no-trade clause (NTC) for the final two years. In 2021-22, Lucic can submit a list of eight teams he's willing to accept a trade to. The following year (2022-23) that becomes a list of ten teams. However way you slice it, Edmonton can't afford to pay him $6 million per season and only put up 40 point seasons.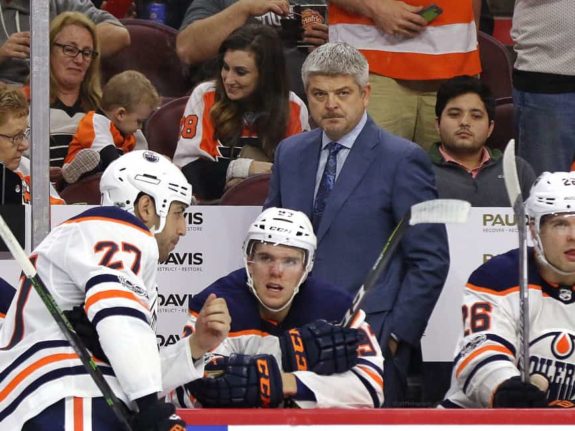 It's time to evaluate his future with this club faster than it was anticipated, and that might not be a popular choice. This is especially true when you consider the GM that brought him to Edmonton was also the GM that drafted him and won a Stanley Cup with him. If there's a deal on the table for Lucic, Chiarelli should swallow his pride and consider it. Figure out if this is just a blip, or if the Lucic slide has already started.
Related: Patrick Maroon & the Trade Deadline
Lucic isn't expected to be moved at the February 26 trade deadline. It's believed the Oilers might be able to get a first-round pick for Maroon. The two sides are still working on an extension leading up to the deadline. That said, can this team afford to have two similar players on the left side locked up long term?
The Wait & See Approach for Milan Lucic
It'll be interesting to see where the dominos fall, and what the Oilers can acquire to bolster their top six. They're in desperate need of a finisher for McDavid's line, and the options in house just aren't going to cut it. In my opinion, Lucic might get the benefit of the doubt from the management team. Everyone's had a down year, everyone overachieved to a degree in 2016-17, and it's time to find out what the Oilers really have here.
It's worth trying him with Draisaitl to see if the two can drive a line together this season. If not, do you just bite the bullet and leave him with No.97 because you have no other option? He's not exactly thriving with Nugent-Hopkins. If Lucic has another down year next season, it'll be vital to the team's long-term success that they move his declining status, and his cap hit.
It might be jumping the gun, and it might be early to suggest this for some fans. But the reality of the situation has to set in eventually. Teams don't win based off of size and physicality anymore. It's all about speed and skill. The Oilers need more of the latter, and right now Lucic isn't giving them that answer.
Let's wait and see. Hopefully things turn around for the better. It's been a tough season for everyone in Edmonton, and there's going to be some uncomfortable conversations this off-season.
What do you think? Leave your comments below!
Edmonton Oilers regular contributor providing insight on all things Oilers including club history, prospect profiles, trade breakdowns, and everything else in between. Check back regularly for new and exciting content. Follow on Twitter @SanderTHW.